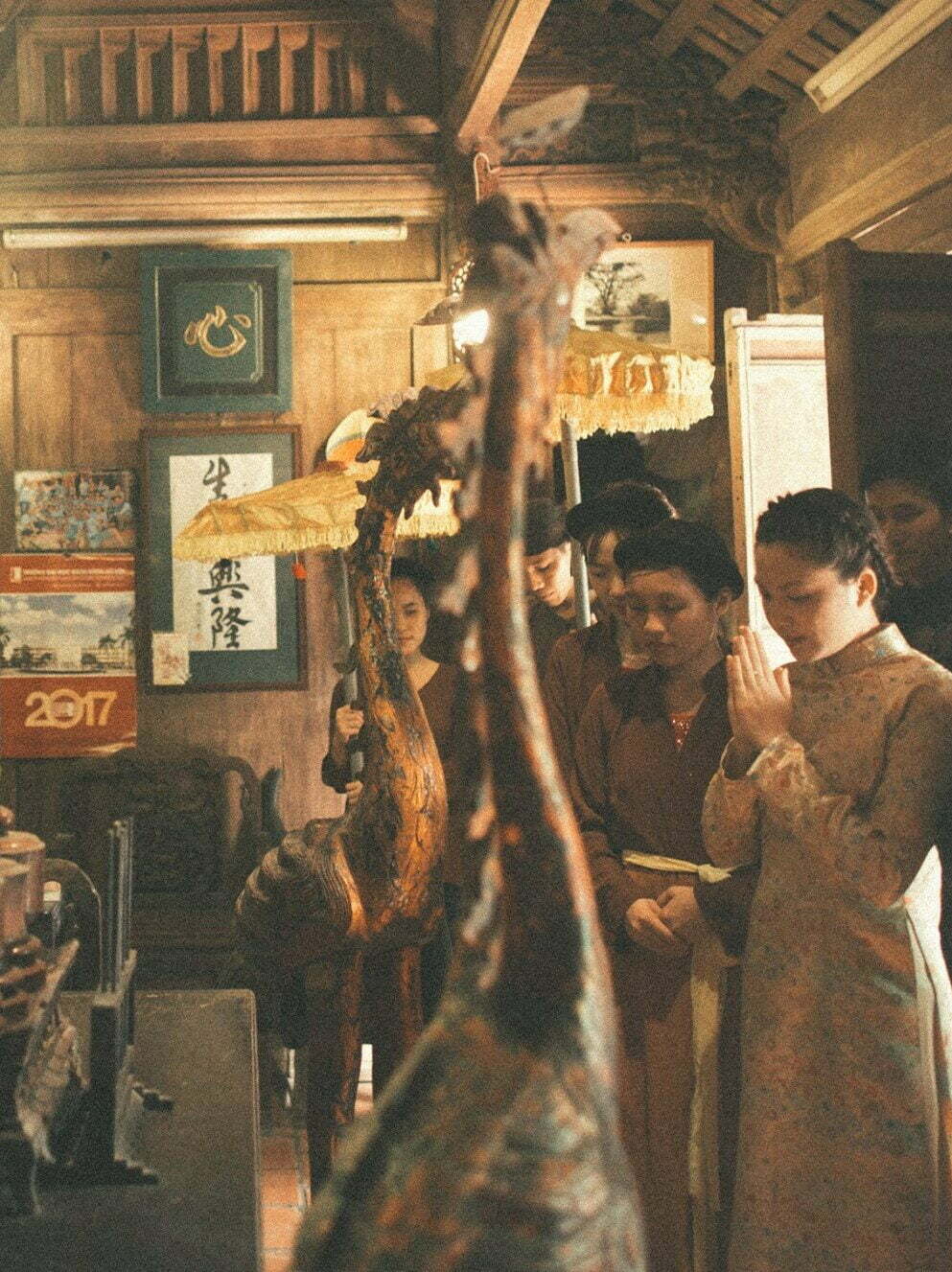 It was such a coincidence that we met Quynh Anh at the right time when she started to plan her wedding. At first, she was thinking about having an unique Pre Wedding Album . After a few talks, we quickly got to know more about each other and came up with the concept for her Prewedding album and then her wedding.
It is interesting that Quynh Anh is not only our bride but also our partner. She is now owning a wedding dress store – Lecia Bridal. Her knowledge and passion about wedding dress help her a lot in preparing her own dream wedding dress. Our very first collaboration went smoothly with the amazing success of her Pre Wedding Album named 100 hundred years of wedding in Vietnam.The idea of the album is to depict how weddings were threw in Vietnam in different periods. Each period was carefully selected to reflect the significant change in costumes and socioeconomic background of Vietnam at the time. And finally, the album gained many attention from young people, couples and even old people. It was spread all over the internet via facebook, online newspaper and television.
Next step was planning her dream wedding at a totally new venue in Thanh Hoa. When it comes to holding a destination wedding in Vietnam, most of time people will think about having a beach wedding in Da Nang, Nha Trang or Phu Quoc,.. These are beautiful destinations, however, couples may face up with over budget as the cost for travelling and accommodation in these places is significant. Quynh Anh and The Truong were so sure that they want to have a wedding by the beach but they definitely don't want to spend too much money on these categories. Our mission was to find a place that is private and beautiful enough to hold a wedding but not too far away from Ha Noi so that the expense for travelling and accommodations is within the budget of the couple.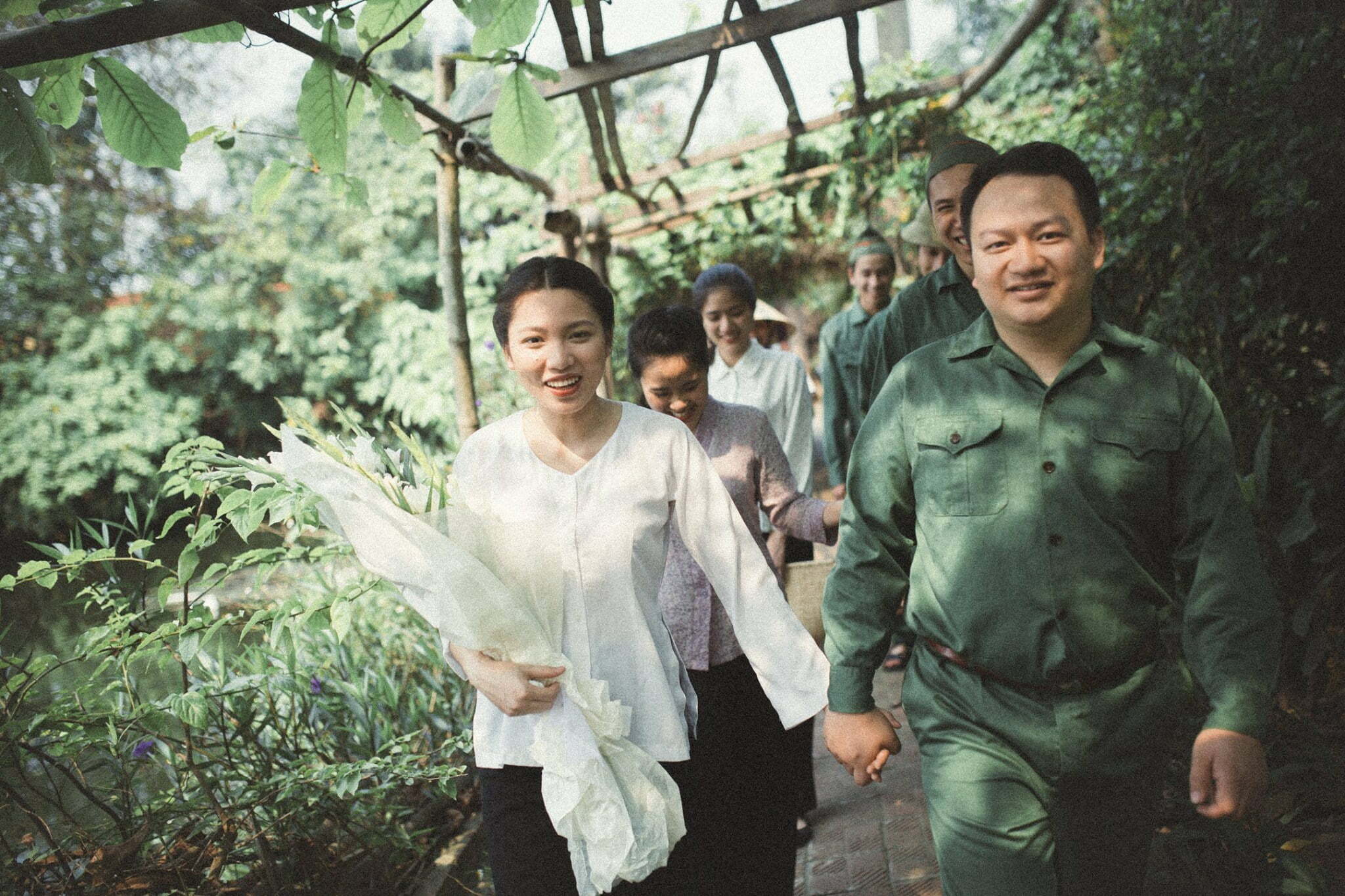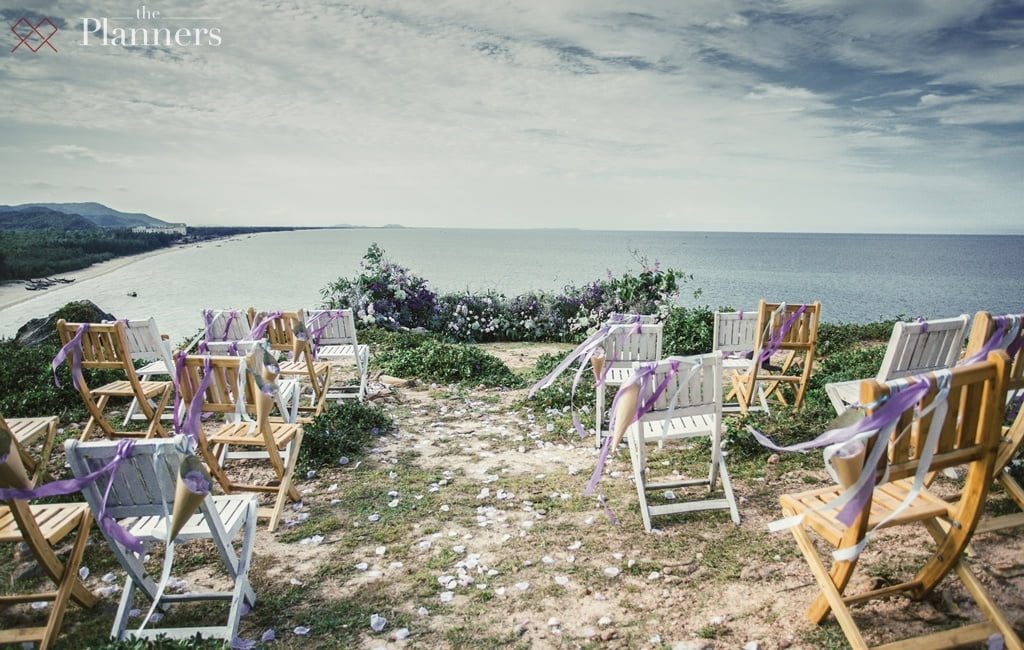 THE LAVENDER WEDDING – LỄ CƯỚI TRÊN MỎM ĐÁ ĐẦU TIÊN Ở VIỆT NAM Nếu như năm ngoái, lễ cưới In the blue cloud nine của cặp đôi Mai – Andrew gây ấn tượng với concept trang trí lãng mạn, bay bổng, xinh đẹp như trên chín tầng mây xanh được tổ chức tại resort 5 sao Hyatt Regency Đà Nẵng thì năm nay, The Planners muốn mang tới một destination wedding thân thiện hơn, gần gũi hơn với chi phí thấp hơn nhiều nhưng vẫn không hề kém phần xinh đẹp tại một địa điểm chỉ cách Hà Nội khoảng 5 giờ lái xe – Bãi biển Hải Hòa, Thanh Hóa.
Độc đáo hơn, thay vì chọn tổ chức lễ cưới ngay bên bờ biển, chúng tôi đã tìm đến một mỏm đá có tầm nhìn ra toàn bộ vùng biển Hải Hòa là nơi sẽ diễn ra hôn lễ của Quỳnh Anh và Thế Trưởng. Mỏm đá còn rất hoang sơ với những rặng phi lao rì rào, những khóm hoa dại xinh xắn và tràn ngập ánh nắng ngay lập tức được chúng tôi đặt tên là Mỏm đá Mặt Trời. Bạn có thể tưởng tượng chúng tôi đã hào hứng thế nào khi hình dung ra giữa khung cảnh thơ mộng này, nơi sóng vỗ nhịp yêu thương và gió hát lời ca hạnh phúc, Quỳnh Anh và Thế Trưởng sẽ trao nhau lời hẹn thề trăm năm ngay trước khi hoàng hôn buông.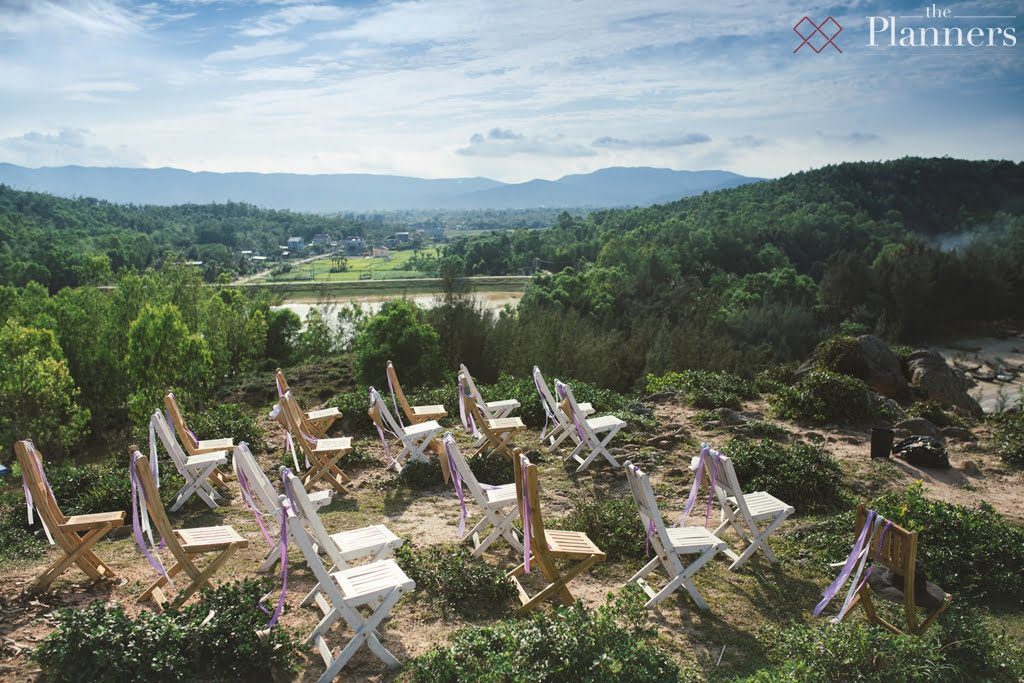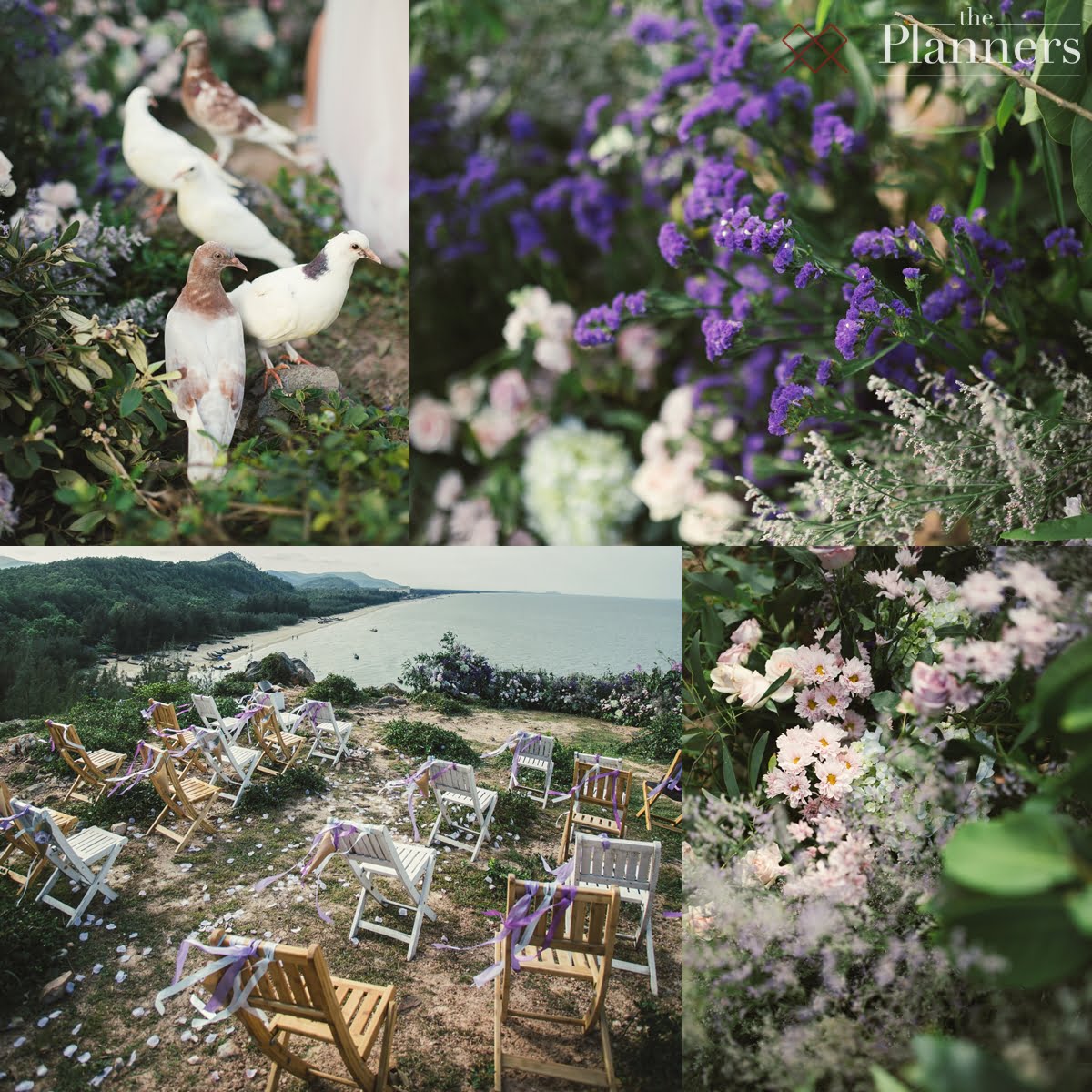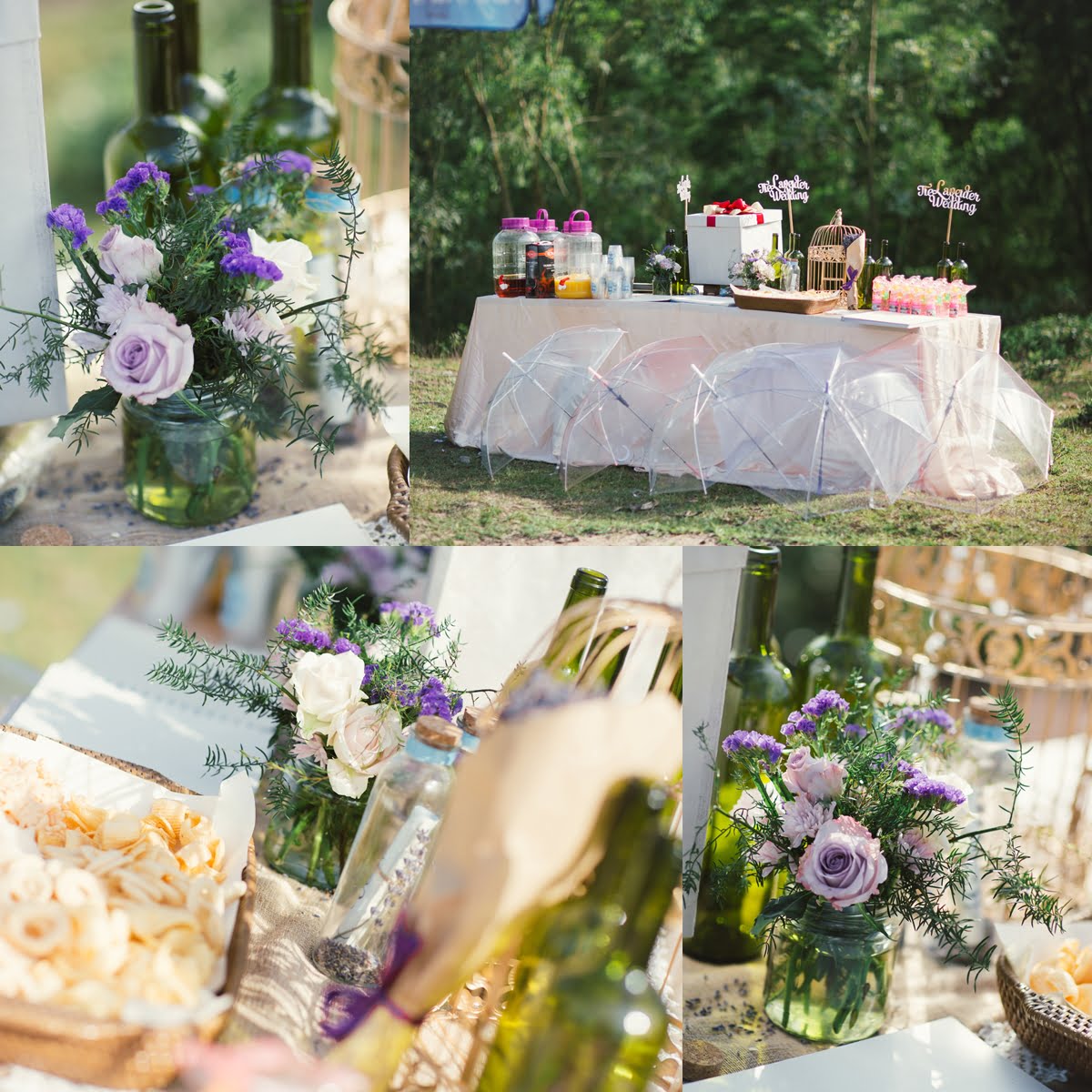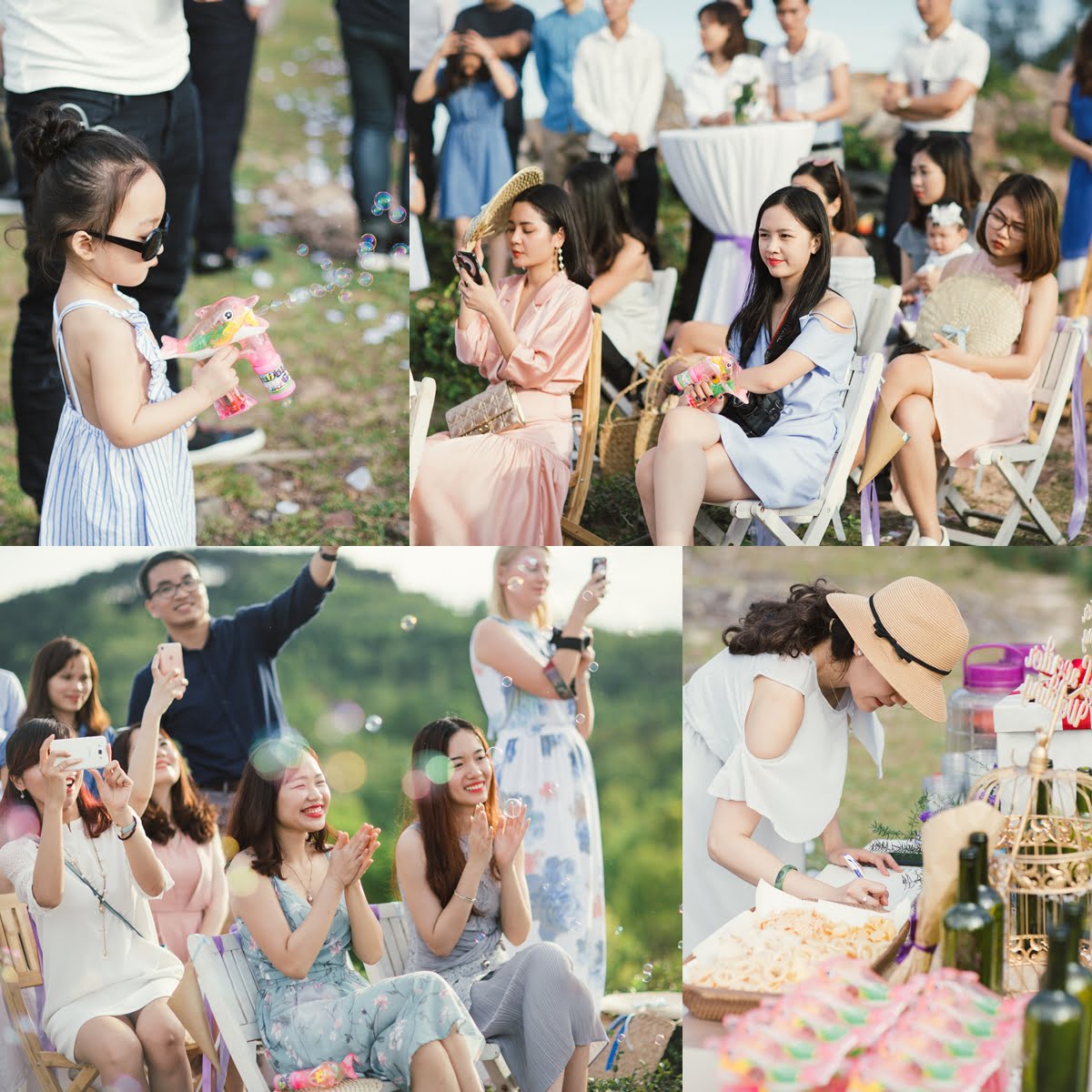 We have been always wanted to throw a cliff wedding in Vietnam as we adore much the amazing landscapes and beautiful beaches of our country. Vietnam has such a great potential to be an excellent destination for those who have always dreamt of a wedding on the beach, in the woods or even on a cliff. But most importantly, you can have everything you want at a very affordable price. And now we had a chance to throw the very first cliff wedding in Vietnam!
The most beautiful and natural aisle ever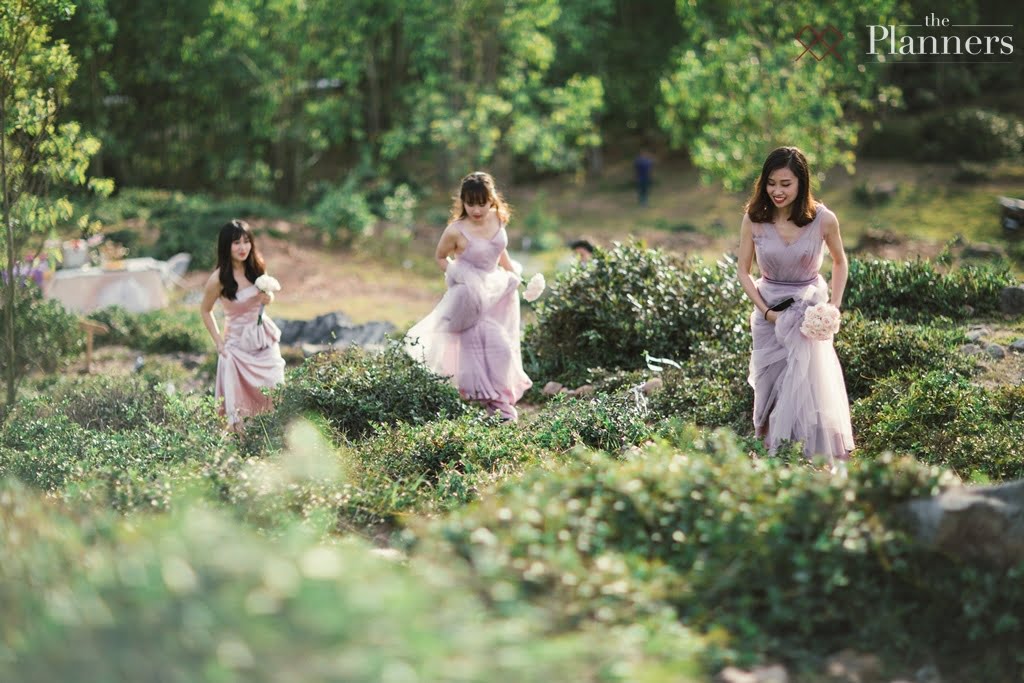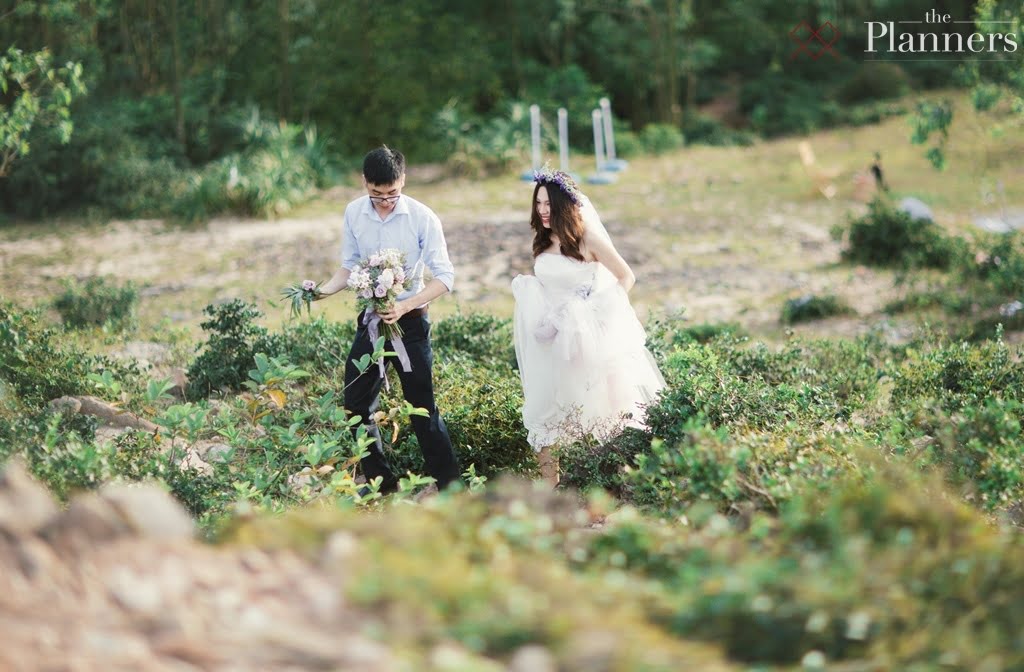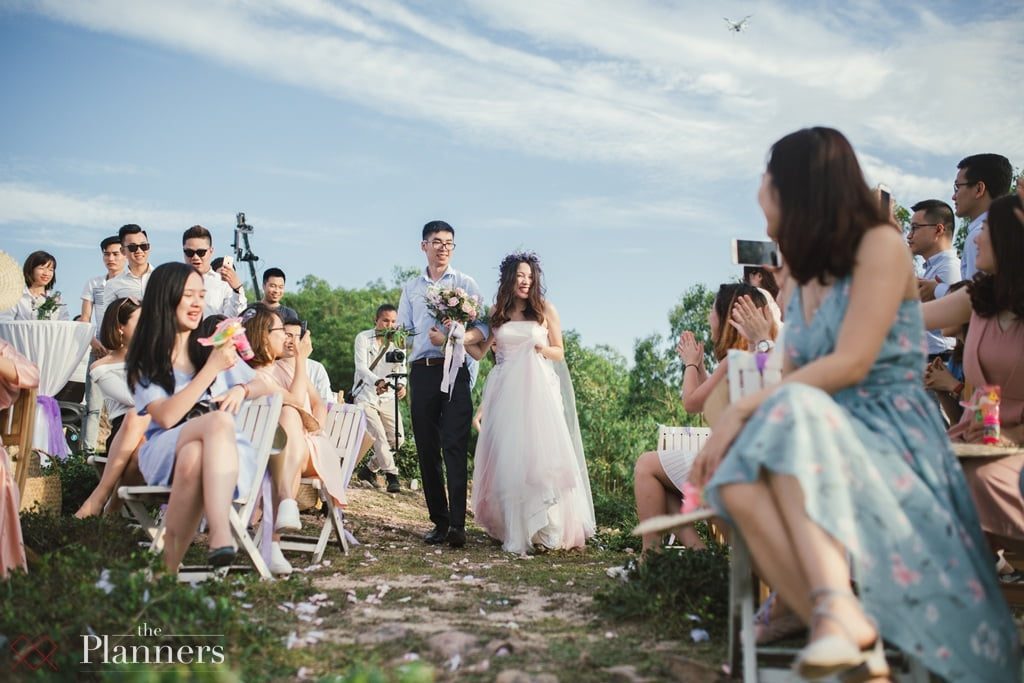 Lễ cưới với tên gọi Lavender Wedding – được đặt theo tên loài hoa mà cô dâu Quỳnh Anh yêu thích và cũng chính là chủ đề trang trí chính của lễ cưới. Thay vì cố gắng cải tạo không gian tại địa điểm, chúng tôi mang tới những trang trí thật thân thiện, gần gũi và tự nhiên, tôn lên vẻ đẹp của Mỏm Đá Mặt Trời.
Bạn sẽ thấy một "cổng hoa" khác với thông thường, được đặt ngay trên mặt đất và kết từ rât nhiều loại hoa khác nhau như lan tường, cẩm tú cầu, hoa hồng, sao tím,… Trong số đó, có cả những loài hoa và lá có sẵn ngay tại địa điểm như bằng lằng, lá bạch đàn, hoa giấy,… Và quan trọng hơn, qua những bức ảnh , bạn sẽ thấy những nụ cười hạnh phúc, niềm vui và sự hào hứng của mỗi khách mời và cả của cô dâu chú rể ngay tại lễ cưới.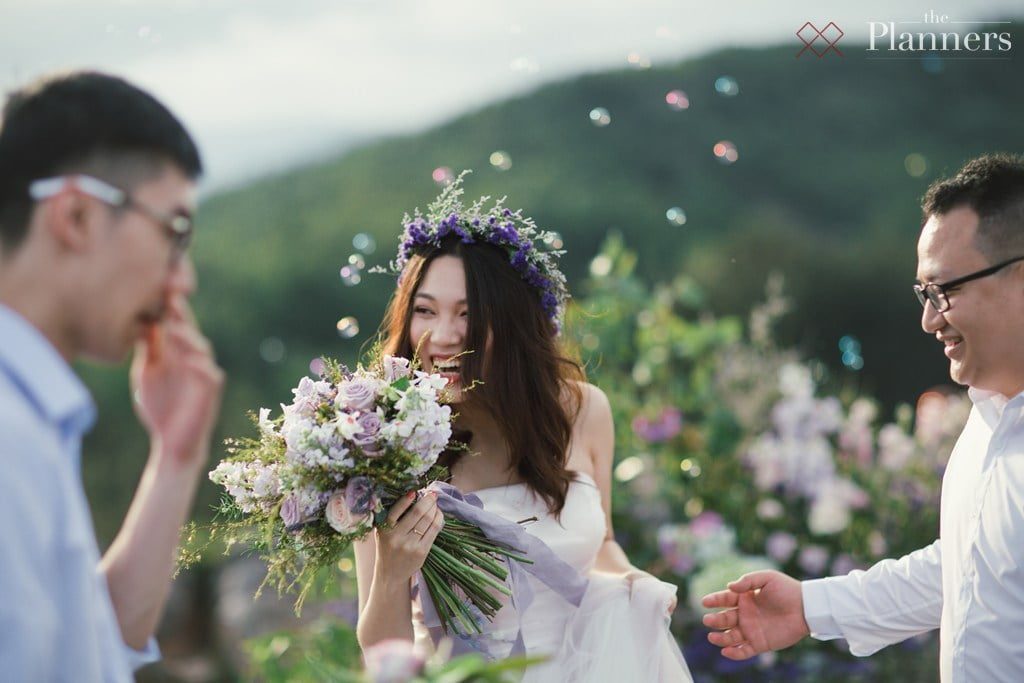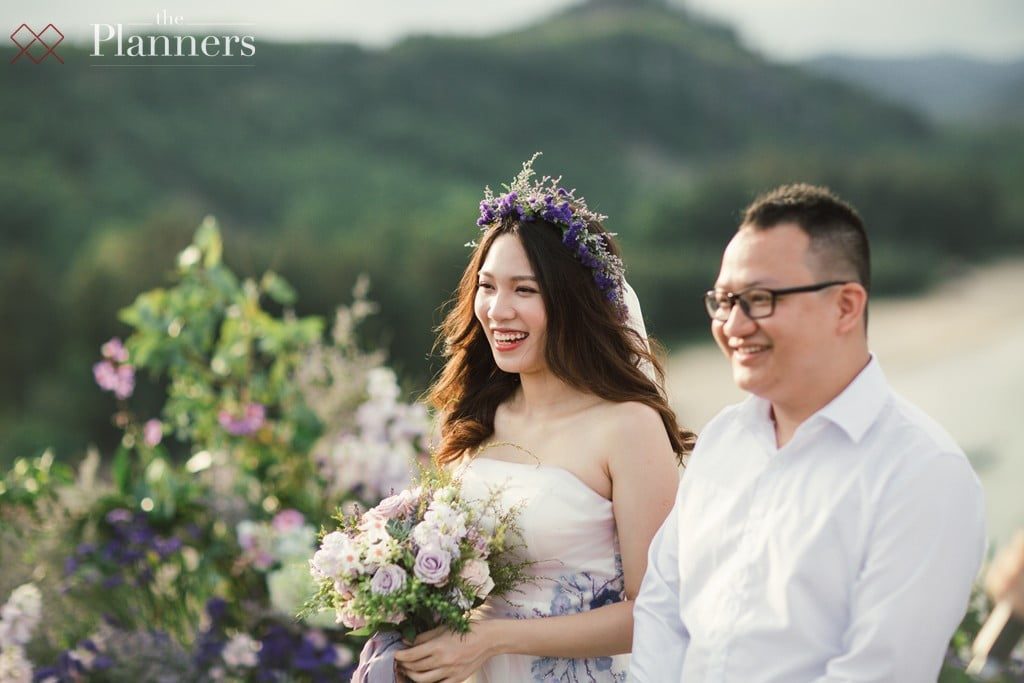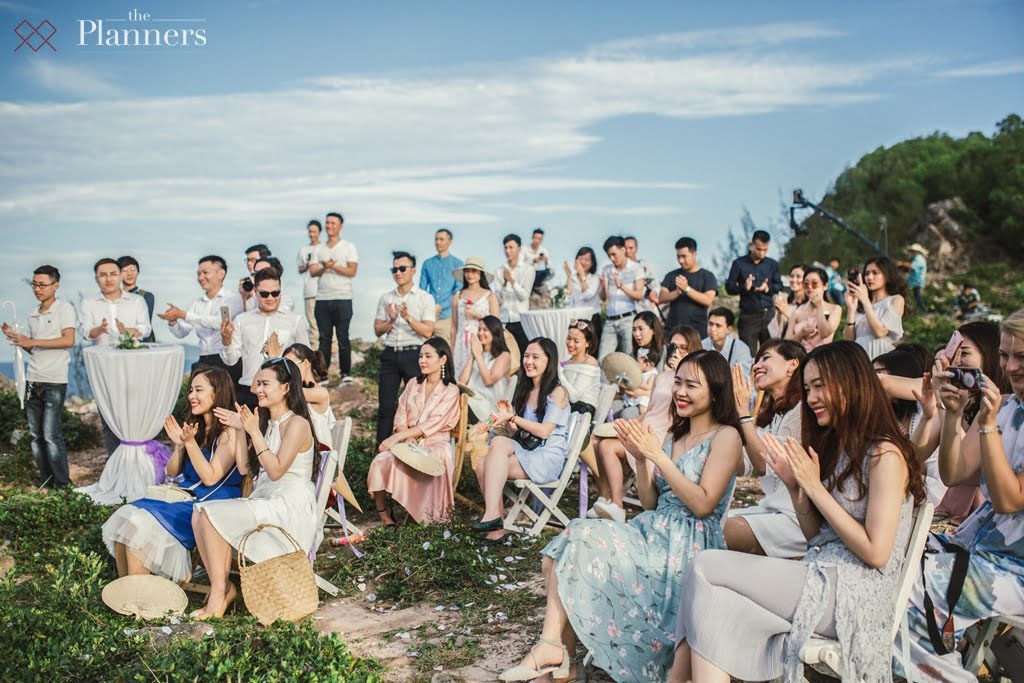 The couple made vows exchange under the sun and had a kiss right when the sun is coming down.