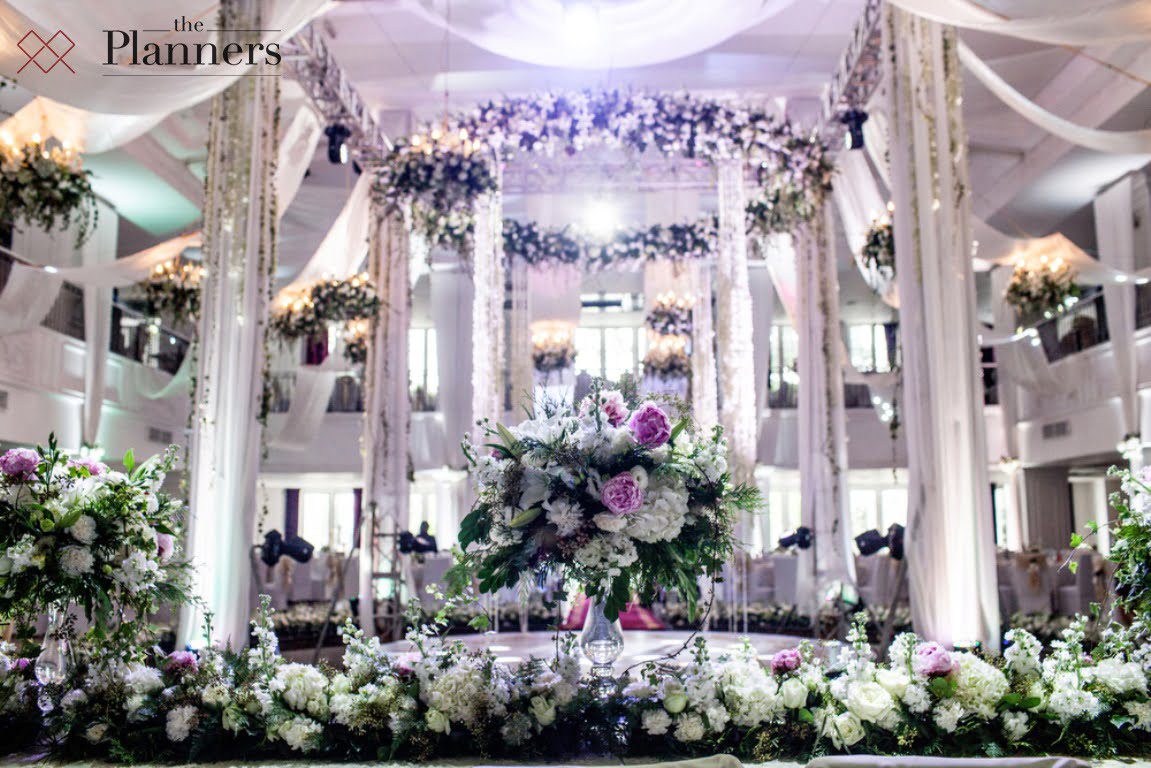 The Classy White Wedding is a huge project planned by The Planners (formerly bythuongtran) in 2014. The project showed our great competence in planning and executing high class wedding in big scale.
Star Palace – A venue belongs to Lotus West Lake Restaurant was chosen to hold the wedding. It is famous for the large front yard with Westlake view and the beautiful European architecture. In this situation, we thought there is no other way but to create a welcome- space for guests at this beautiful outdoor space. In stead of turning the venue into something new, we came up with a decoration plan based on the original beauty of the place. One of prominent details that we adore the most is the garden dome made of greeneries and white flowers that worked as a perfect natural photobooth. Mutiple sweet bars were set up at all corners of the yard, located right under the trees, did catch a lot of attention from the guests. We also put a small table on the yard where the guests can leave some wishes for the newly-wed.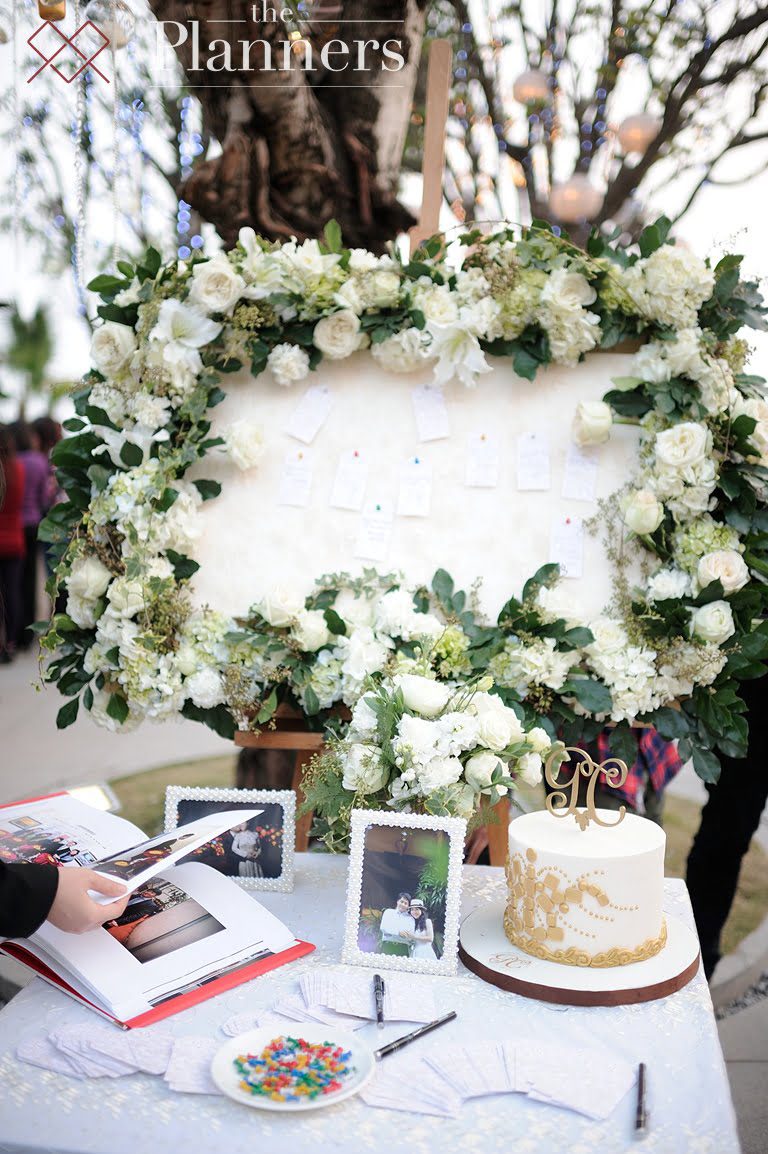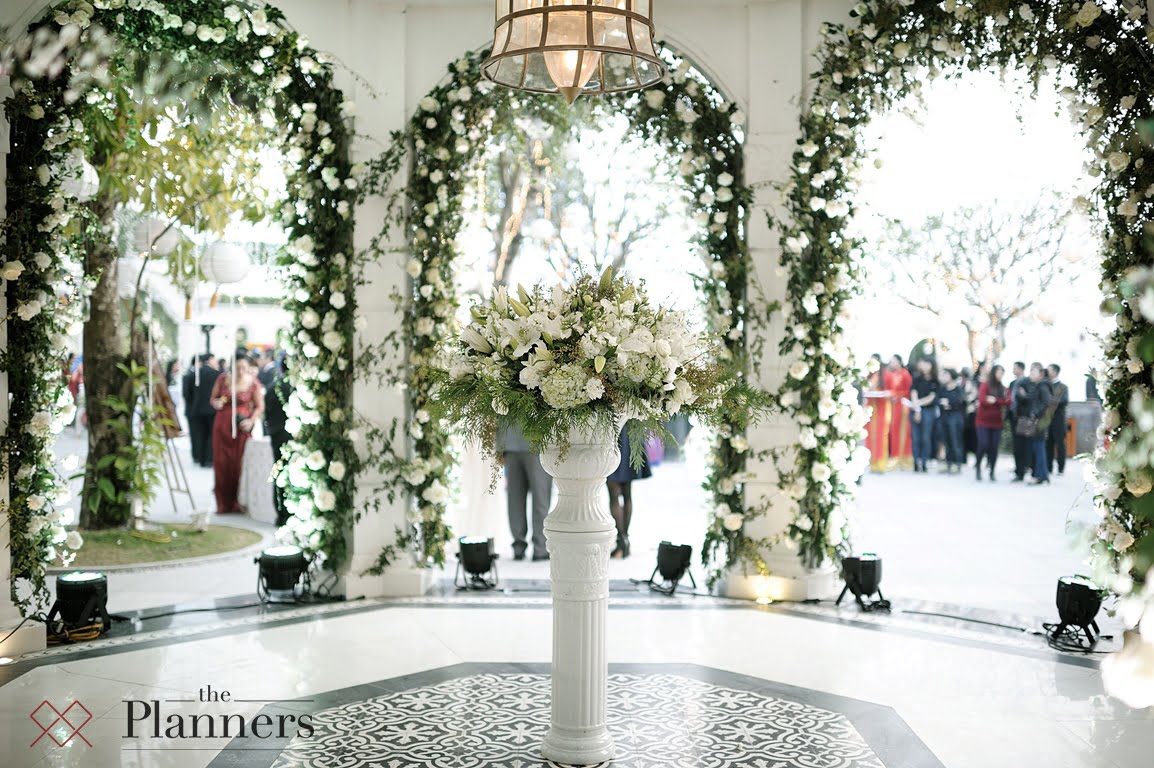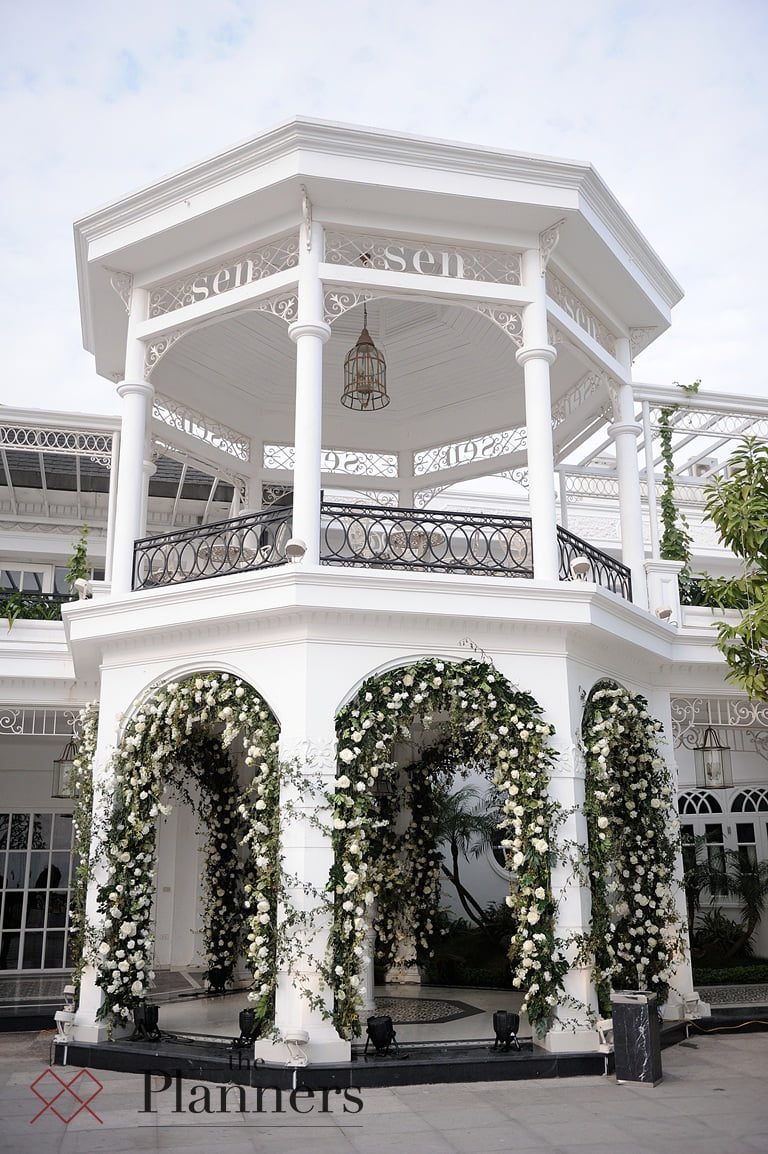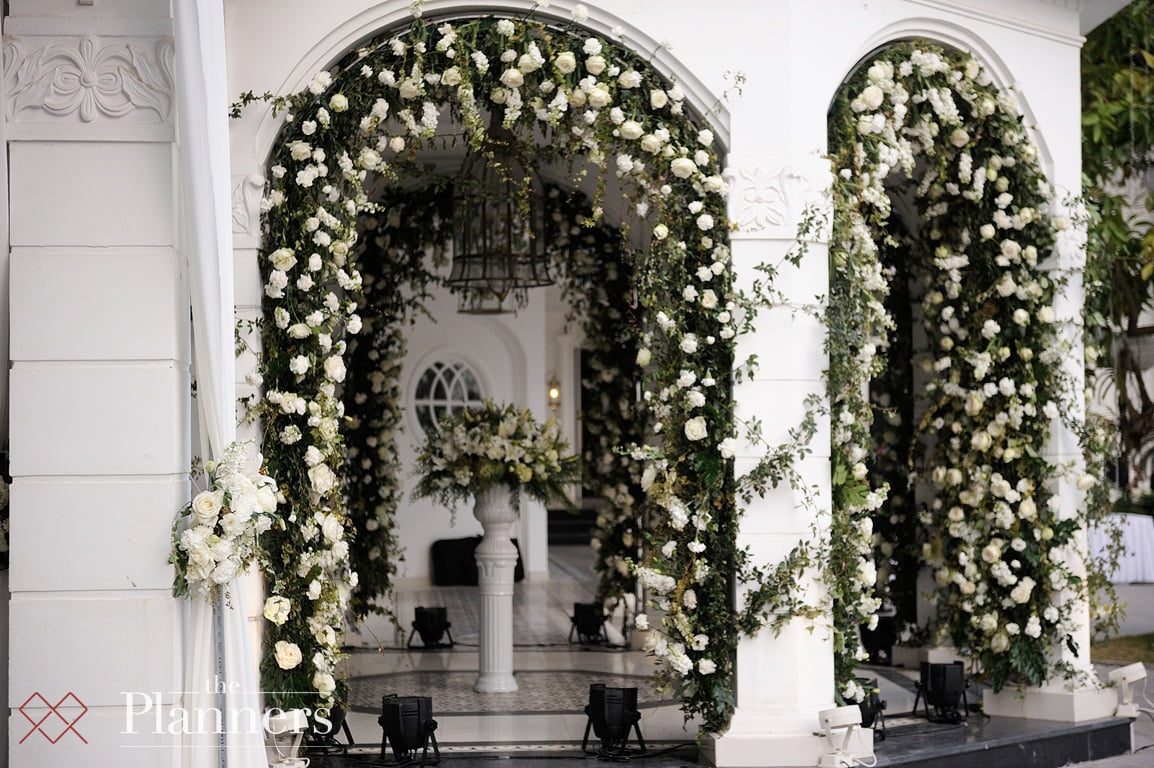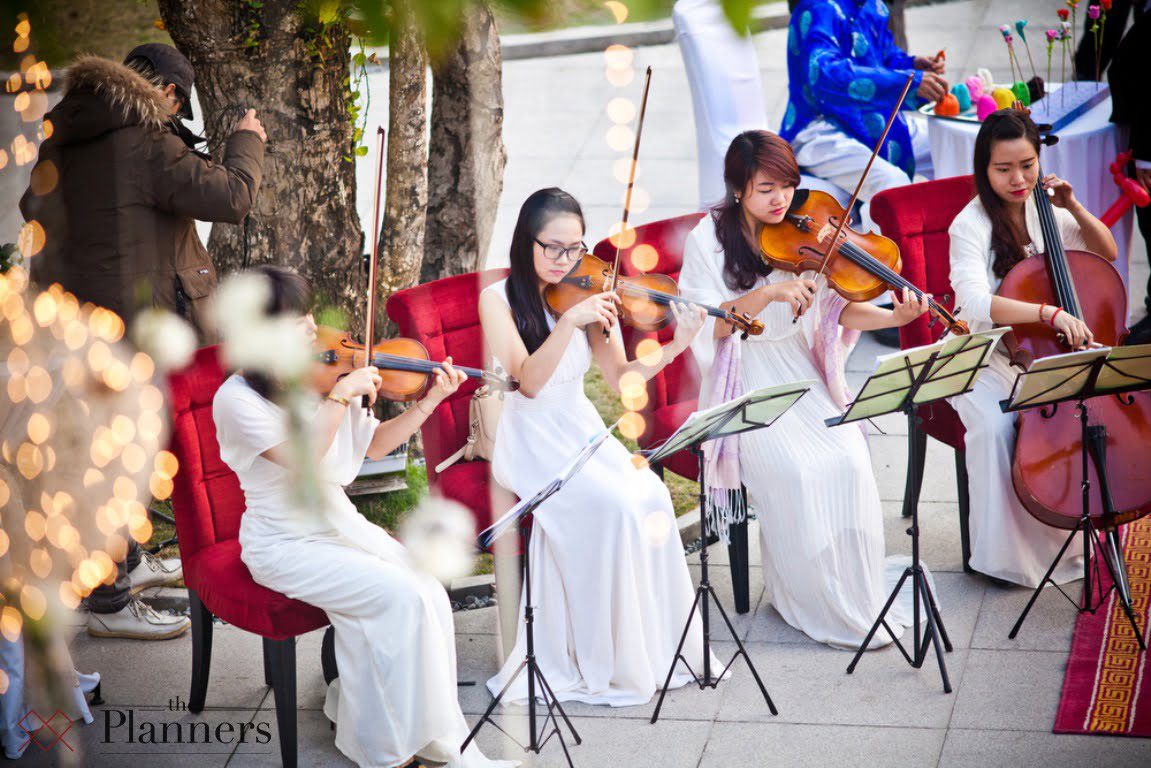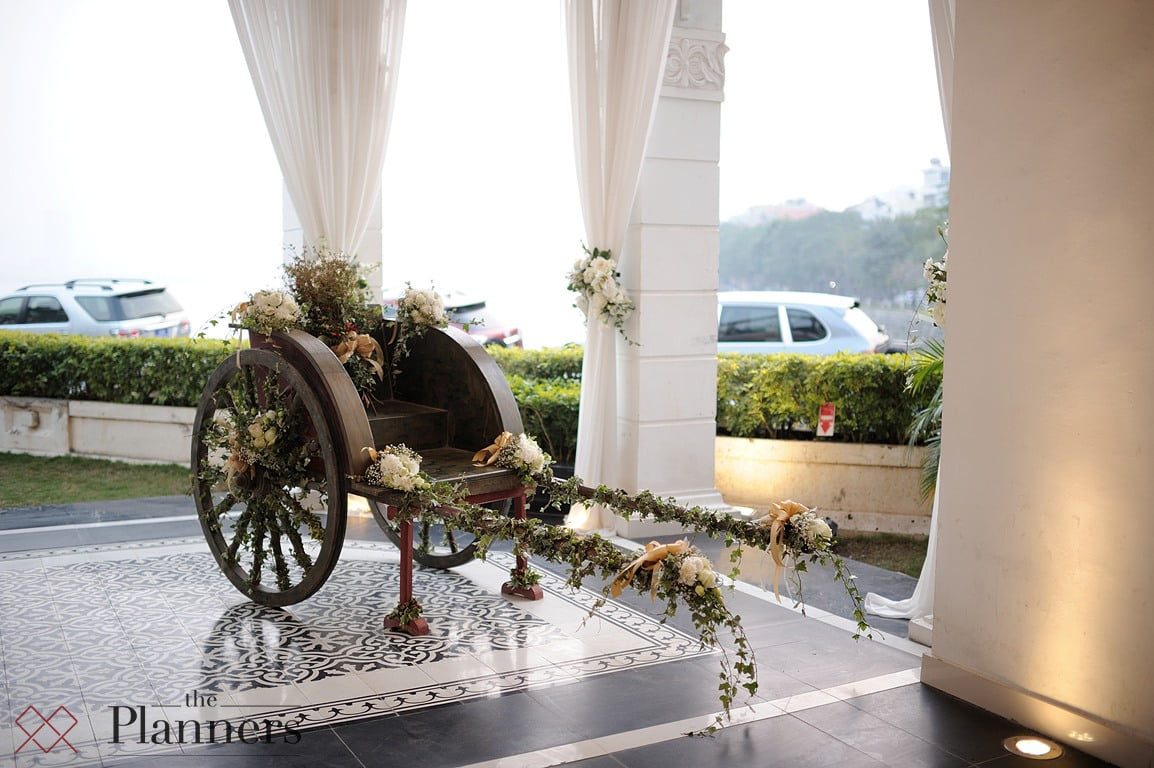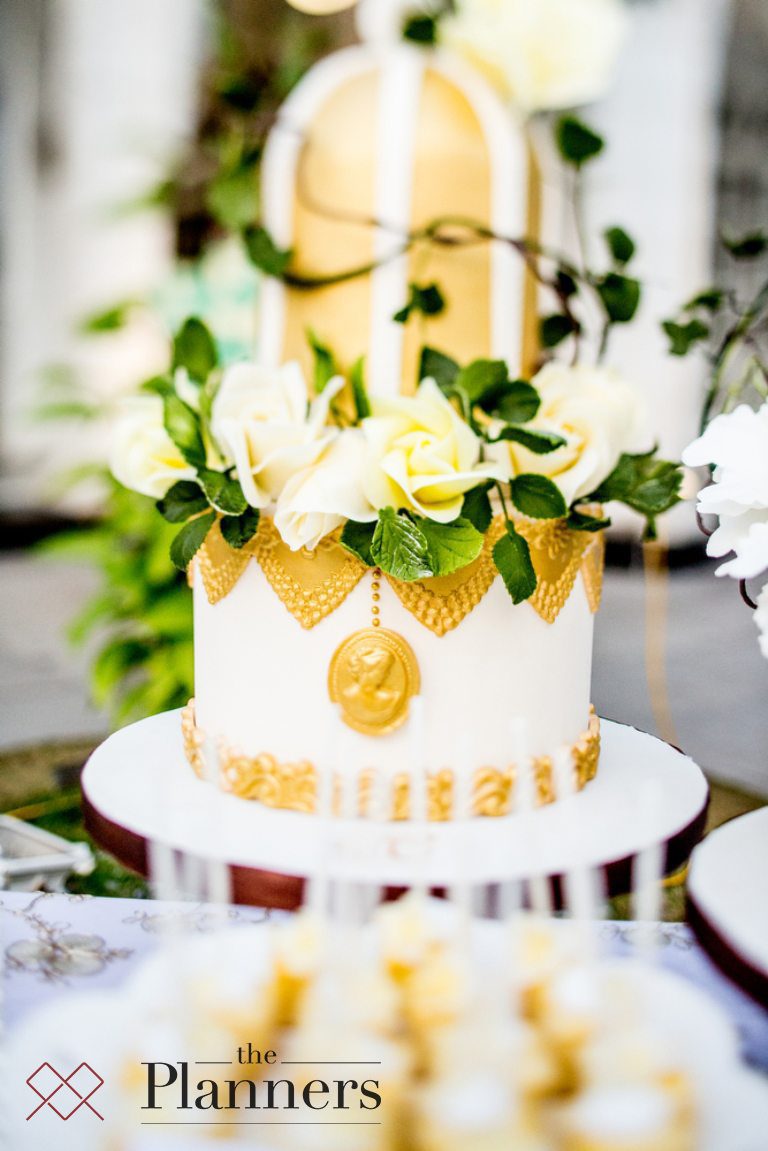 We were so excited about the very large space and high ceiling that the venue owns. As soon as we saw the venue, we knew we must bring something not only unique but also interesting to the wedding of the lovely couple. The idea of a "hanging altar" without a doubt is what we were searching for at that time.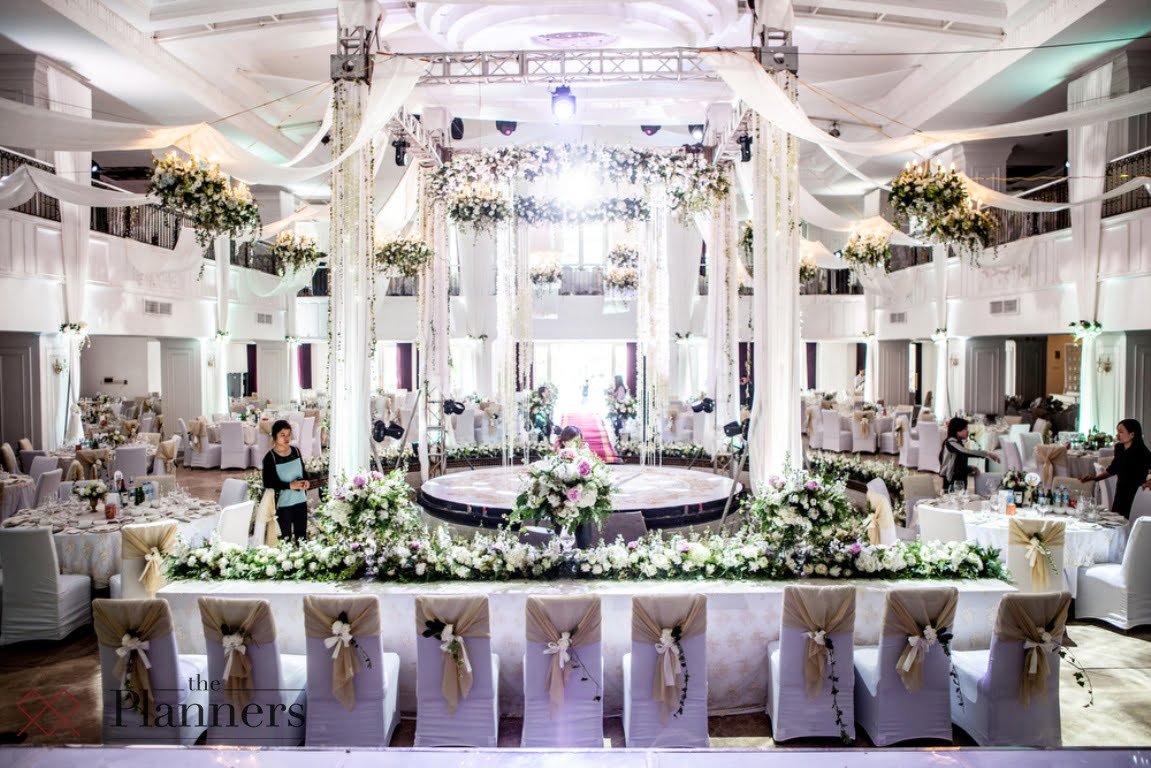 At the first site inspection, we all impressed with the architecture of Star Palace, especially the high ceiling which is perfect for many decorating ideas. And of course, to take advantage of the unique architecture of the place, we decided to have everything, including dramatic decorative items, all coming down from the ceiling. Hanging altar & chandeliers made of fresh flowers & greeneries, together with lighting & accessories successfully brought our clients, their guests and us the very vivid real picture of the concept that we had always visioned during 3 months of preparation.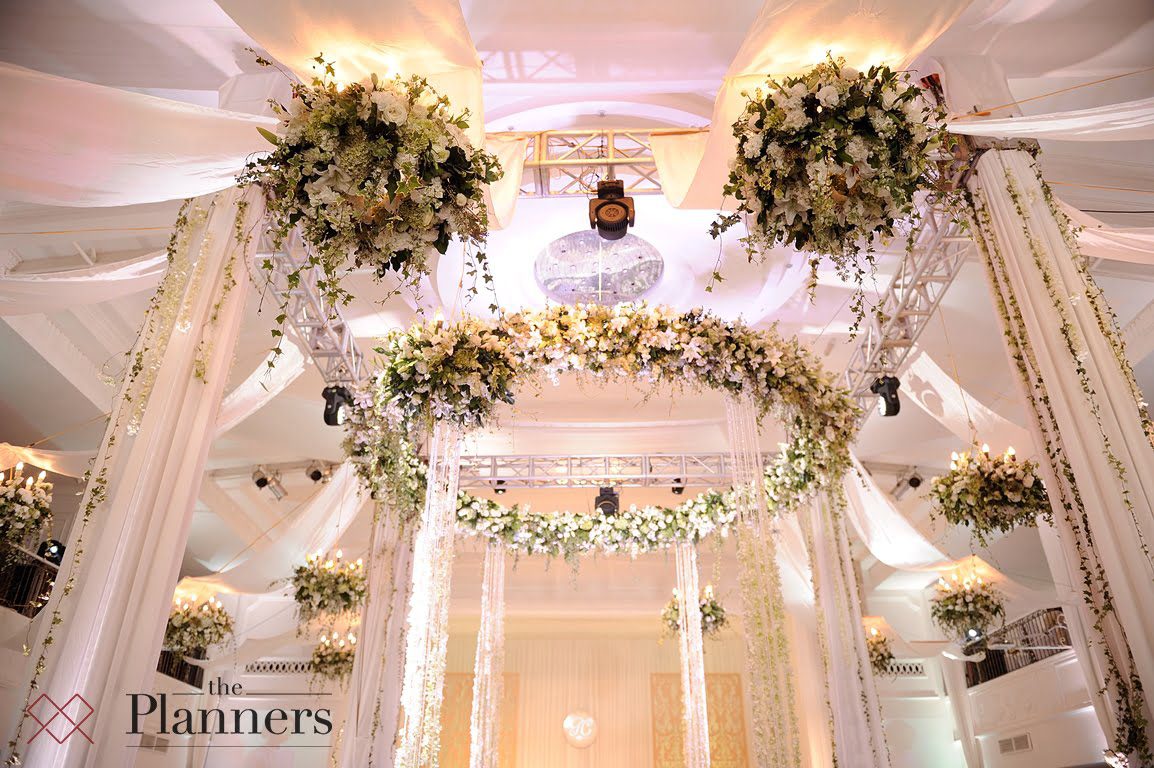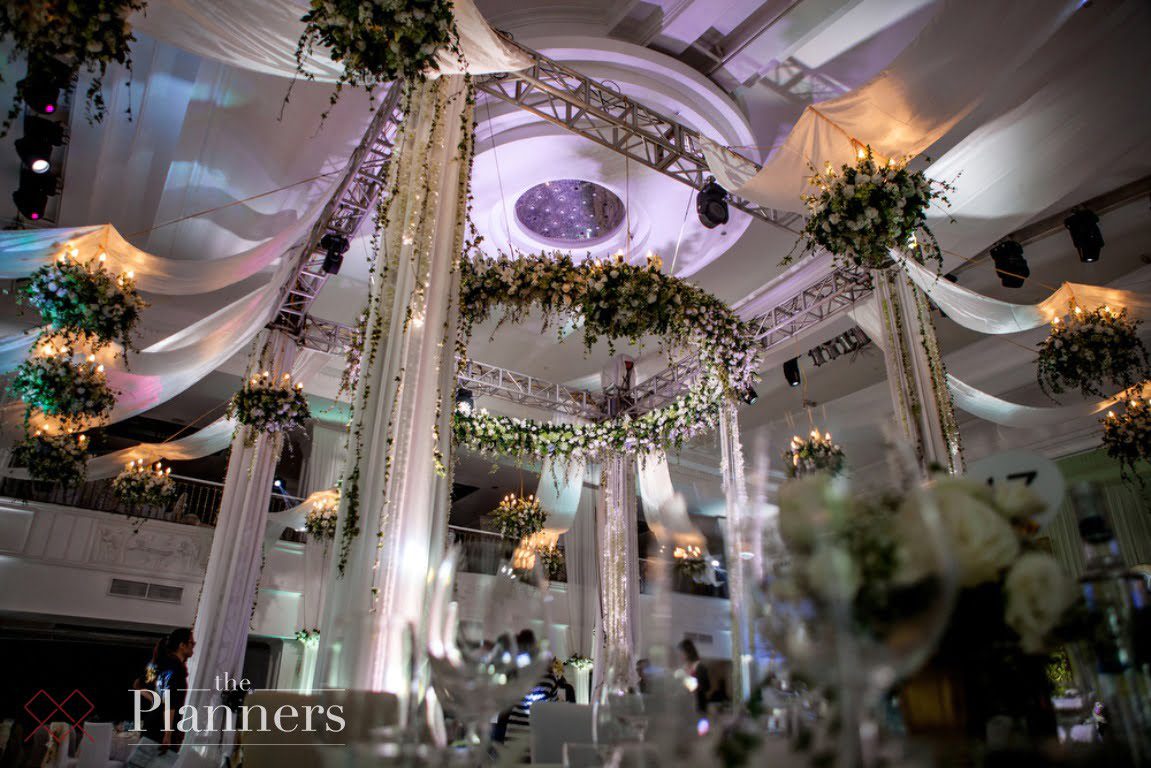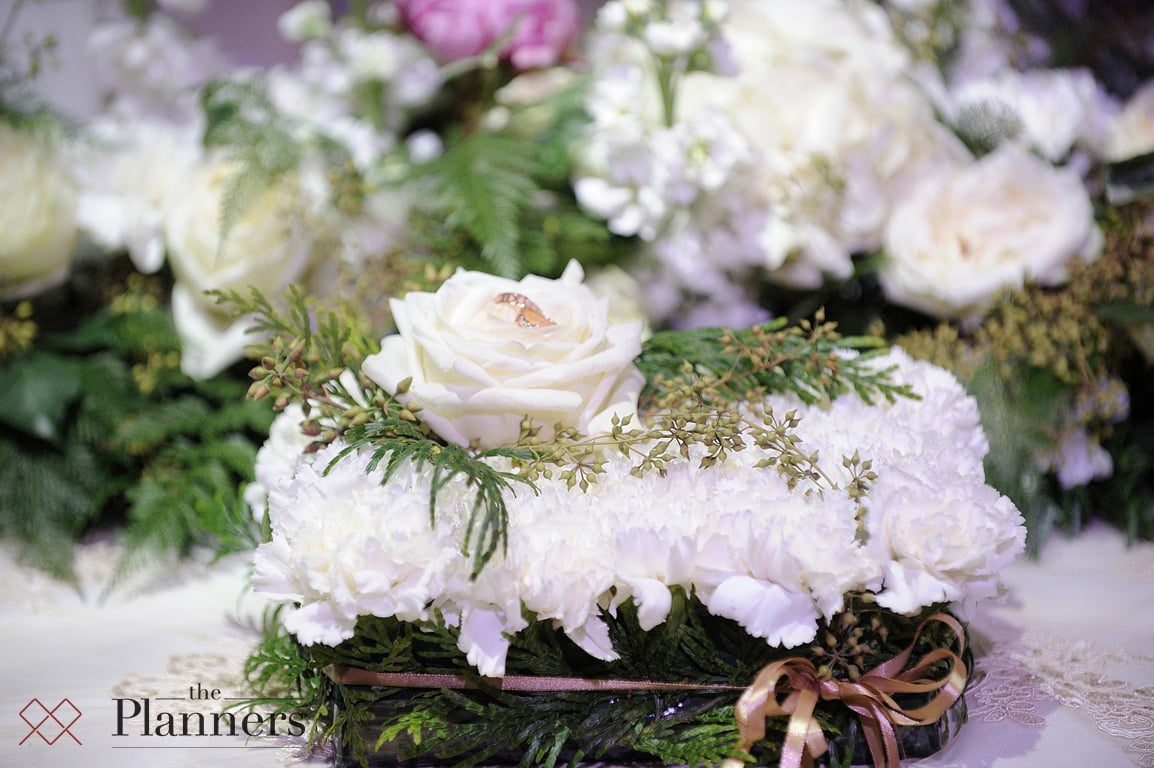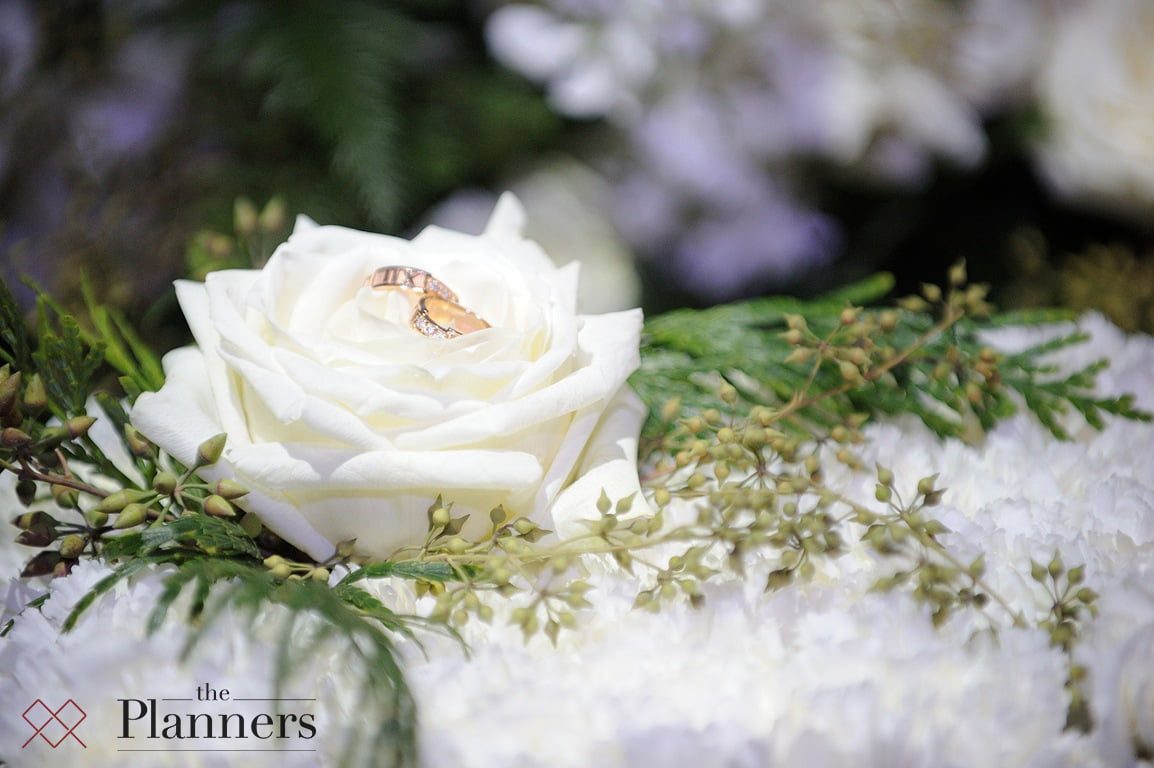 Khoảng không gian bên trong nhà hàng rất rộng với phần trần cao quả là một địa điểm lý tưởng để thực hiện rất nhiều ý tưởng trang độc đáo. Để tận dụng những ưu điểm sẵn có của nhà hàng, chúng tôi đã quyết định mọi chi tiết trang trí sẽ được treo thả từ trên xuống ở chính giữa của ballroom. Những chùm đèn lớn với nến và hoa tươi được bố trí treo ở trung tâm của khán phòng cũng chính là nơi diễn ra phần lễ của đám cưới. Vẫn giữ nguyên lối căm hoa bay bổng tự nhiên như với phần cổng vòm ở khu vực tiếp khách, chúng tôi đã tạo nên những dây hoa lan trắng kết hợp với pha lê và ngọc trai rủ xuống từ trên cao cùng với những dải lụa trắng chạy dọc toàn bộ trần nhà để mang tới một ấn tượng sang trọng lịch lãm cho tổng thể concept của lễ cưới.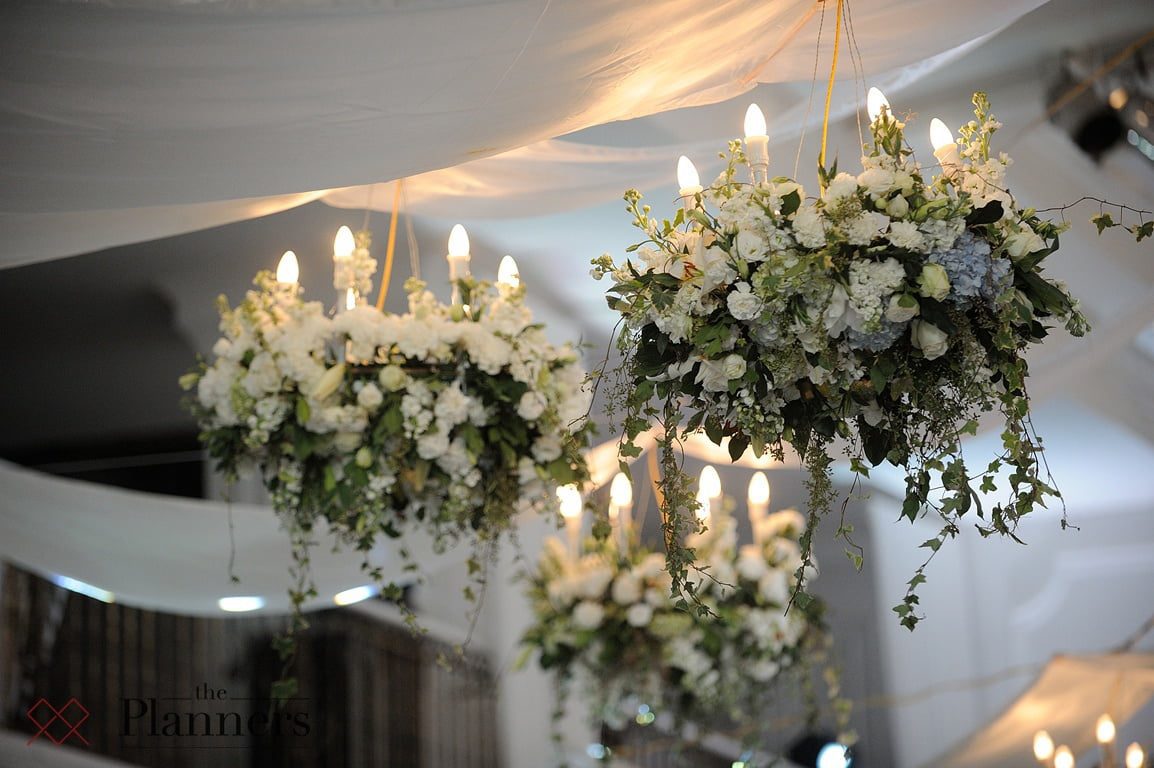 The idea of having a 1m5 high wedding cake with multiple tiers sounded crazily fantastic to us and we understand it must be as magnificent as the center of the whole ballroom. The person who can bring that crazily fantastic idea to life cannot be anyone but Hoang Anh and his Mito Sweets team. And he didn't fail to please us and importantly the client. At the moment we saw this scene, we promised to ourselves that by any means we must transfer the vivid images of the cake in the middle of the whole set up to you in both terms of how it looks and more significantly, how it feels. It took them one month to finish the cake. And if you dont look carefully, we bet you will not recognise that those are fake flowers made of fondant!