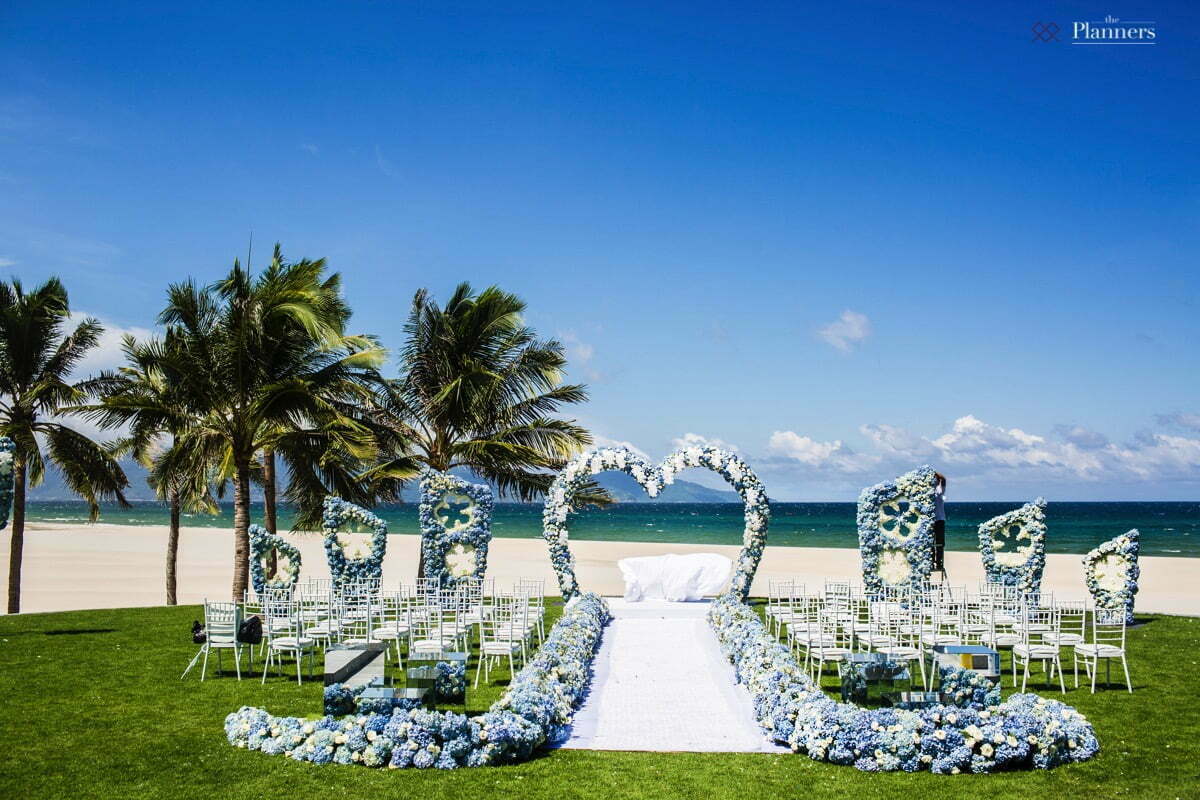 When it comes to a destination wedding, we always bear in mind that we need perfectly at least 6 months for all the planning process, making sure everything is well-prepared, given the fact that planning a beach wedding should never be like managing a local one with the close supervision and approach to all the vendors and their works. But there's indeed some exception. This time we face a real challenge of planning a beach wedding, manage logistic, accommodation and transportation for all guests & some vendors of the event, develop the concept, decoration details, programming, liaise vendors etc., all in only 1 MONTH.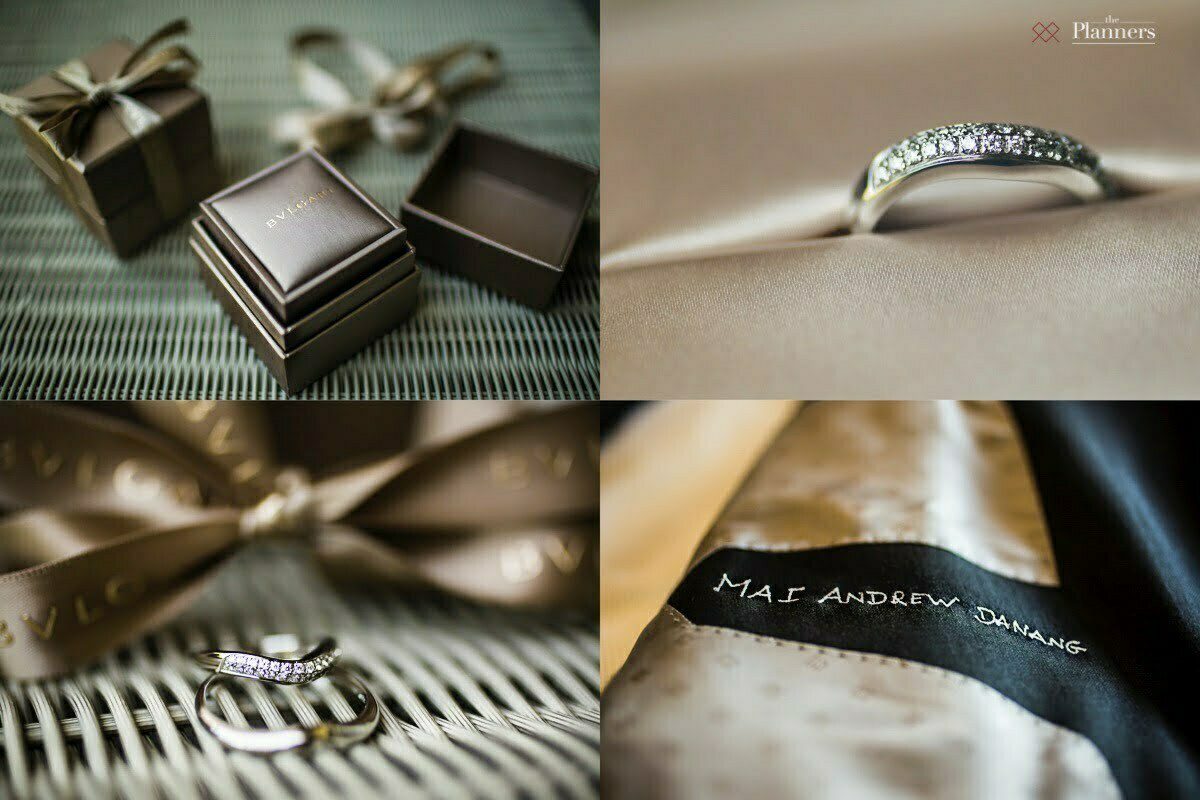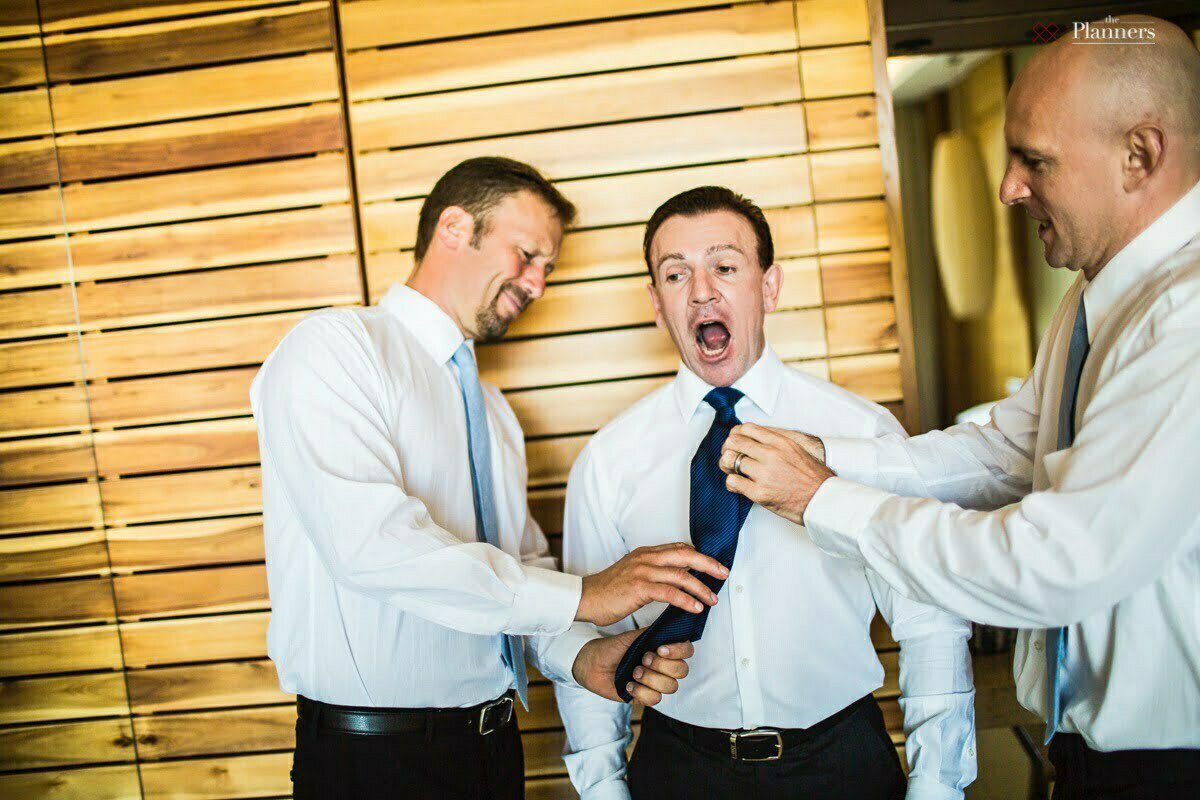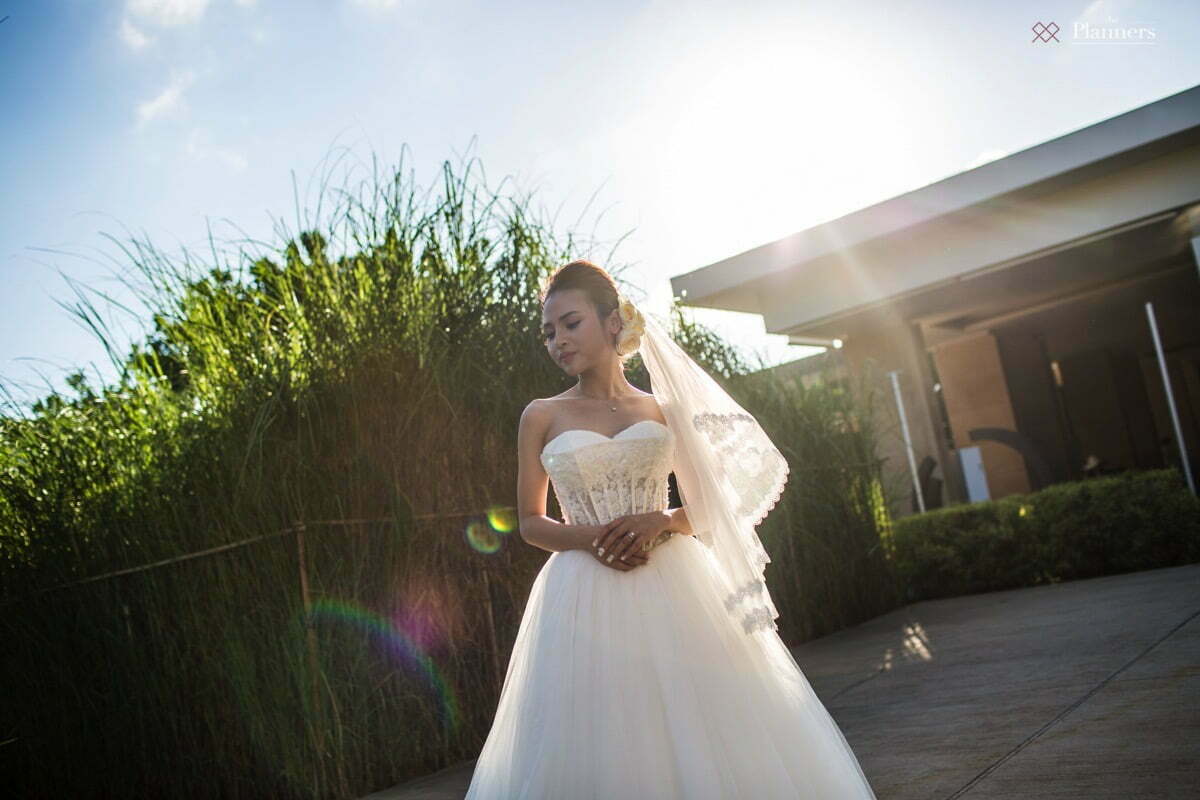 Andrew & Mai came to see the wedding planner with the idea of a modern, clean and bright venue, allowing a close look over the sea but not necessarily on the beach. Instead, They really prefer a grassy area, all for the gorgeous ball-gown wedding dress of the bride. We understand that there cannot be any more perfect option than Hyatt Regency Danang where all their requirements were beautifully met.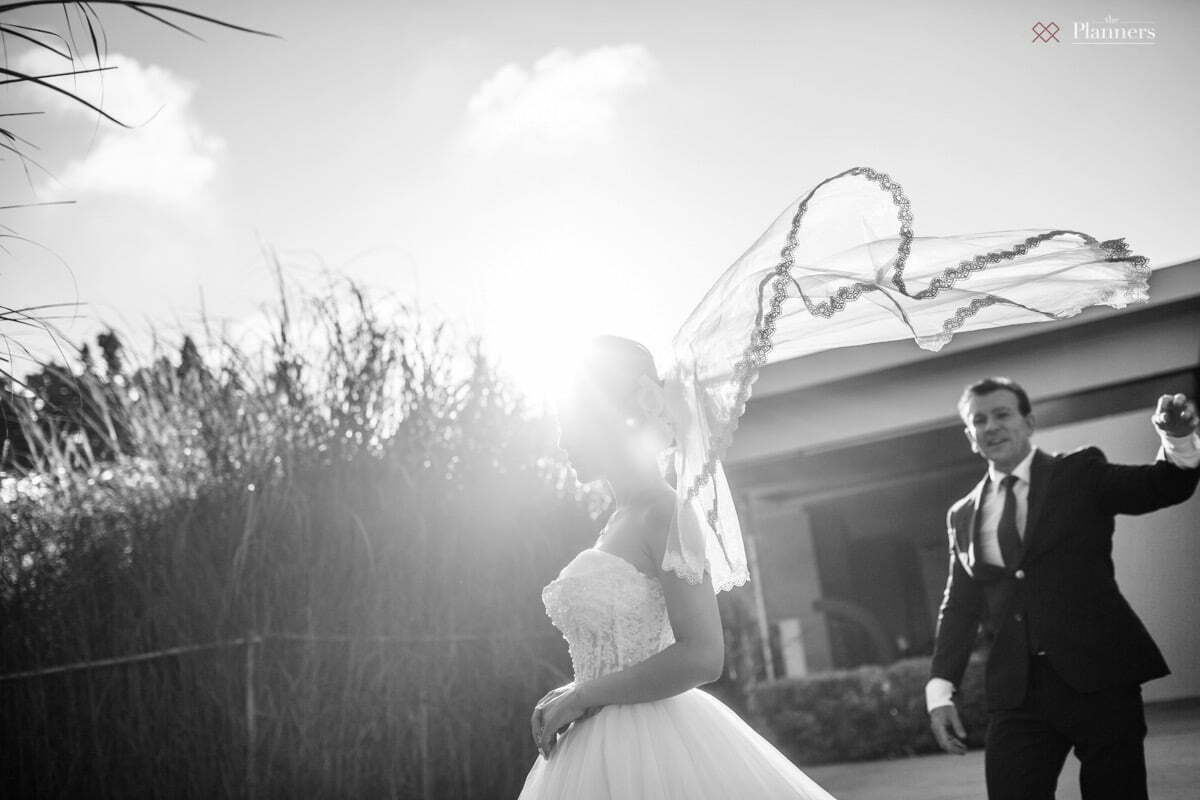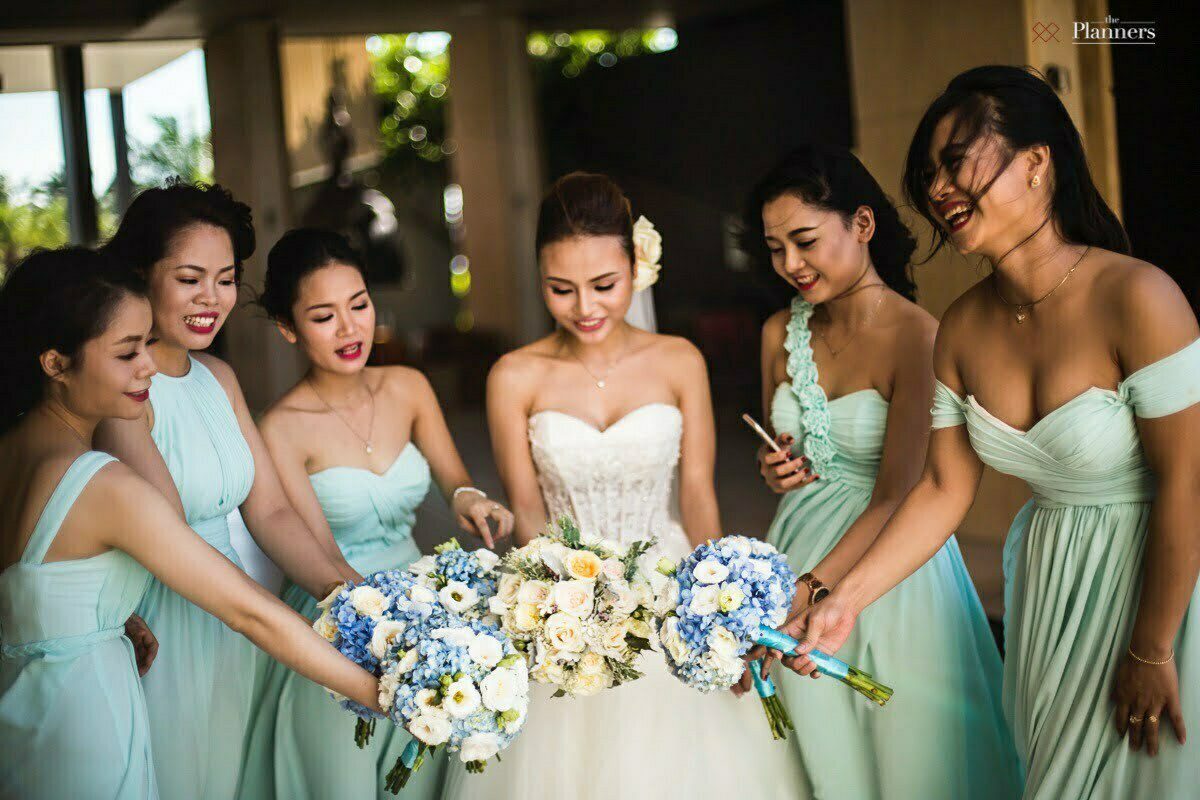 Mentioning the concept of this destination wedding, we will probably be able to summarize in one word: In the Blue Cloud 9. Client gave us no specific clue of how they want the whole picture to be, but: "We expect something new, unique and impressive", and all other things would be put into our hands. One special thing about this destination wedding is that we only work with the groom for most of the time and about almost everything. Andrew, our groom just wanted to do everything for only one reason: It's all about and for Mai, for what she likes and for whatever will make her happy. Looking at little pretty Mai – the bride and the big love her man is giving her, we were inspired very much to create the concept of this destination wedding: something pure blue & white, heaven-like, fluffy like cloud, matching the summer blue sky and at the same time deep blue ocean background, like a princess walking in her cloud 9 dream.
A Heart-shaped arch represents the best for Mai & Andrew's love was placed at the center. On two sides, 6 wings extended the ceremony's main altar, allowing a wider look for the ceremony space, utilizing the large grass lawn area. Flowers, a lot of flowers and nothing but flowers are the crucial things in this wedding. In such "blue-ish" and fluffy concept, blue hydrangea is perfectly chosen as the main flower to be used and decorated in all categories. One special thing we would tell you is that to prepare for this beach wedding, our florist had had to keep his whole hydrangea garden for us for the whole month, so that the hydrangea could bloom to its maximum size and then achieved its complete blue color.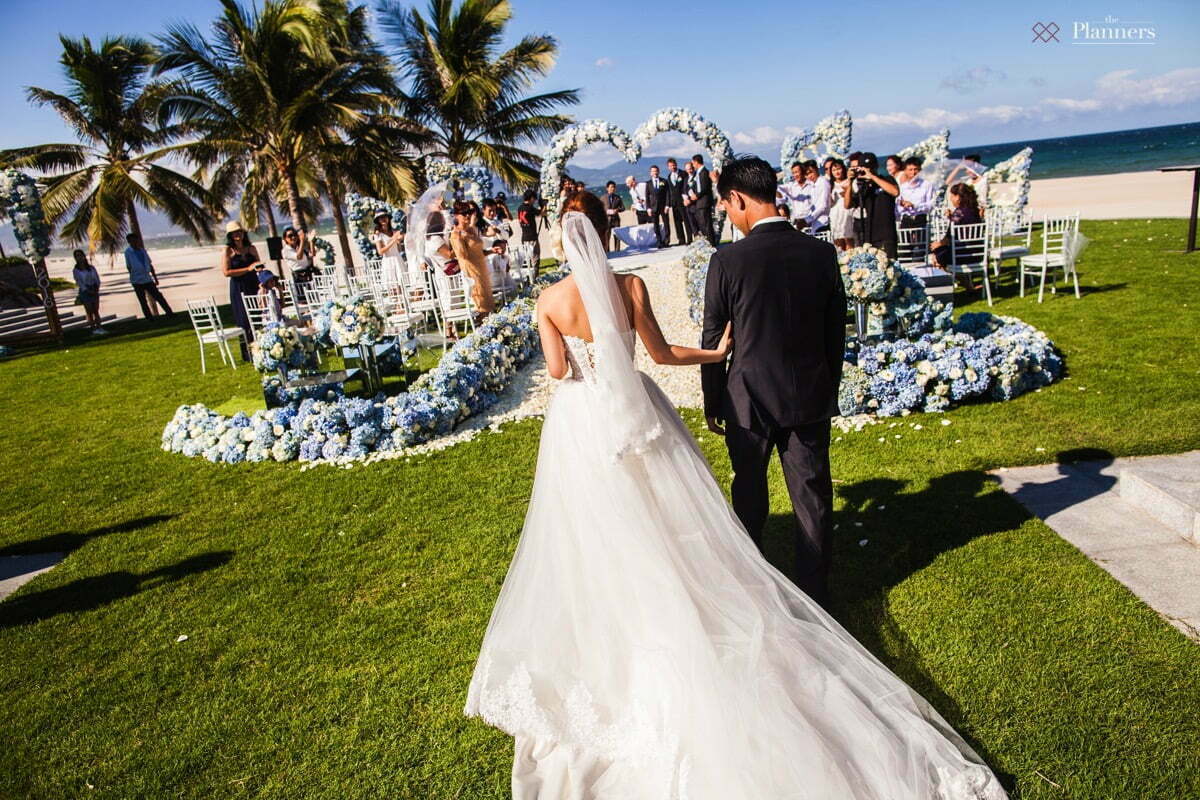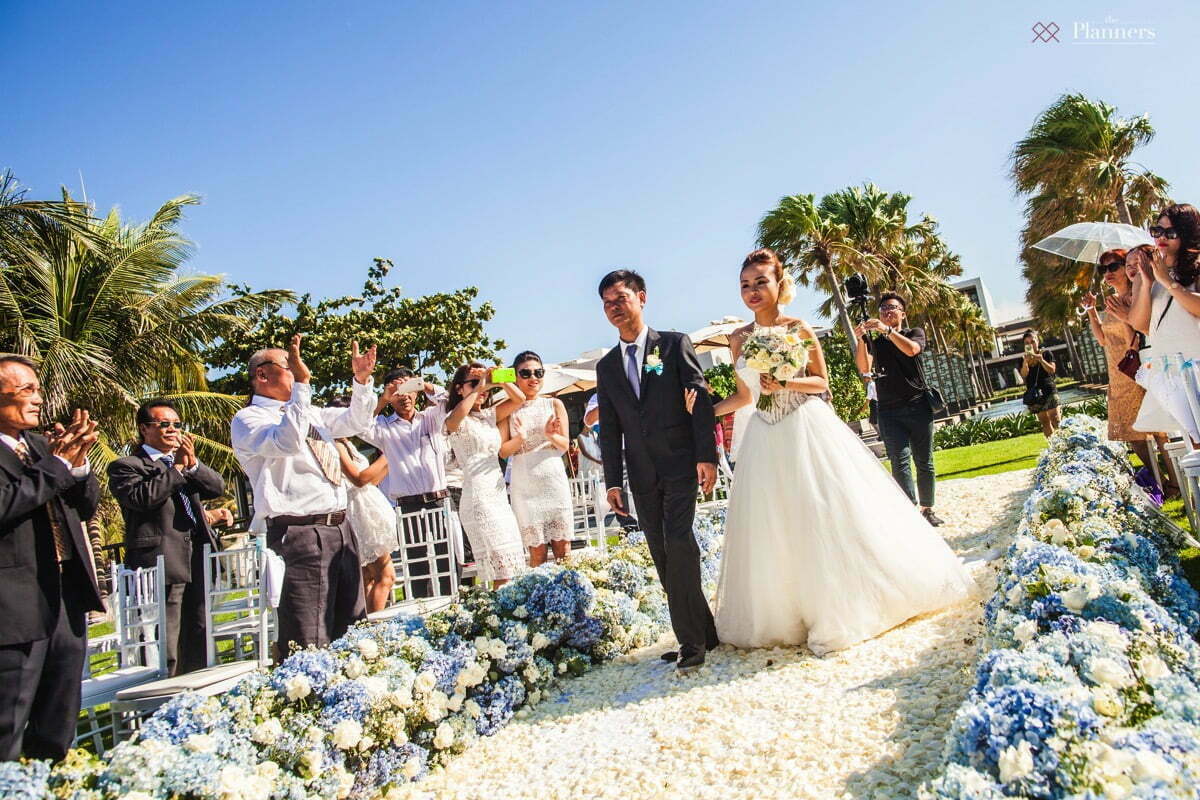 The moment Mai walked in on the cloudlike aisle seems to be the most precious to Andrew. He noted us a lot about the aisle which should be very much concentrated and safe for her and her gown, even though the ceremony took place on grass, the aisle still had a wood palette base to make sure the bride wont feel any sink-in while walking. We put a lot of white petals on to bring about the cloud feeling and this aisle did match her princess gown very beautifully.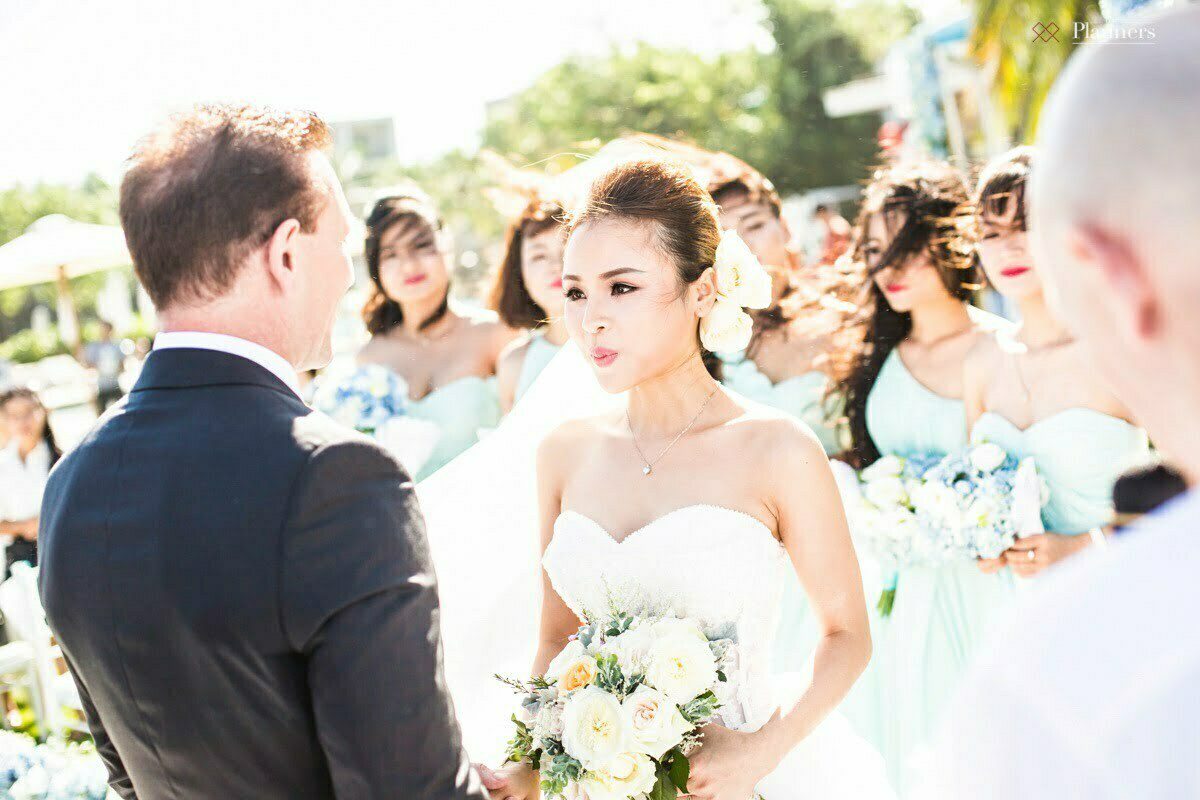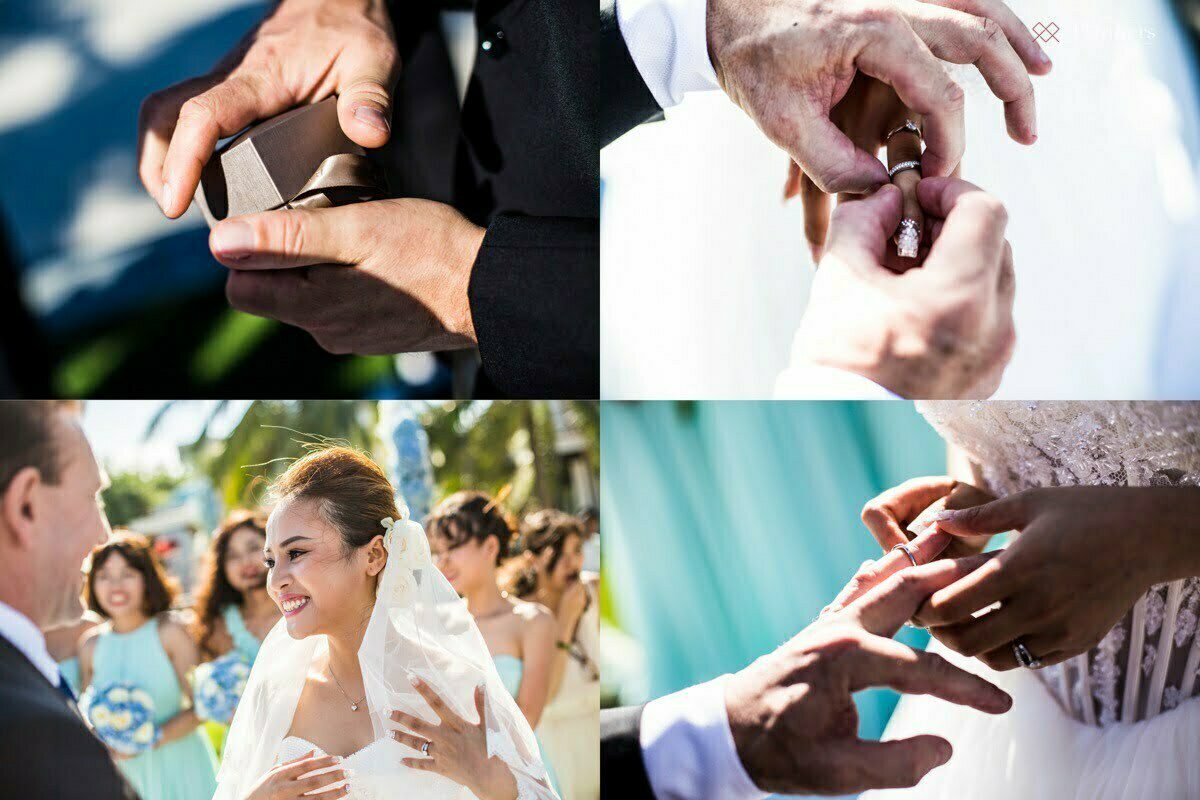 If you had been there with us at the moment Mai & Andrew was announced Mr & Mrs Delios, and they gave each other the best emotional kiss we have ever witnessed in our career, you would have felt like all of us, we were literally frozen. Mai & Andrew was there at the altar in their utmost blissful time, we found us in the middle of a real romantic happy ending scene of a fairy tale in real life. With all of our faithfulness, we wish the couple all the best eternity.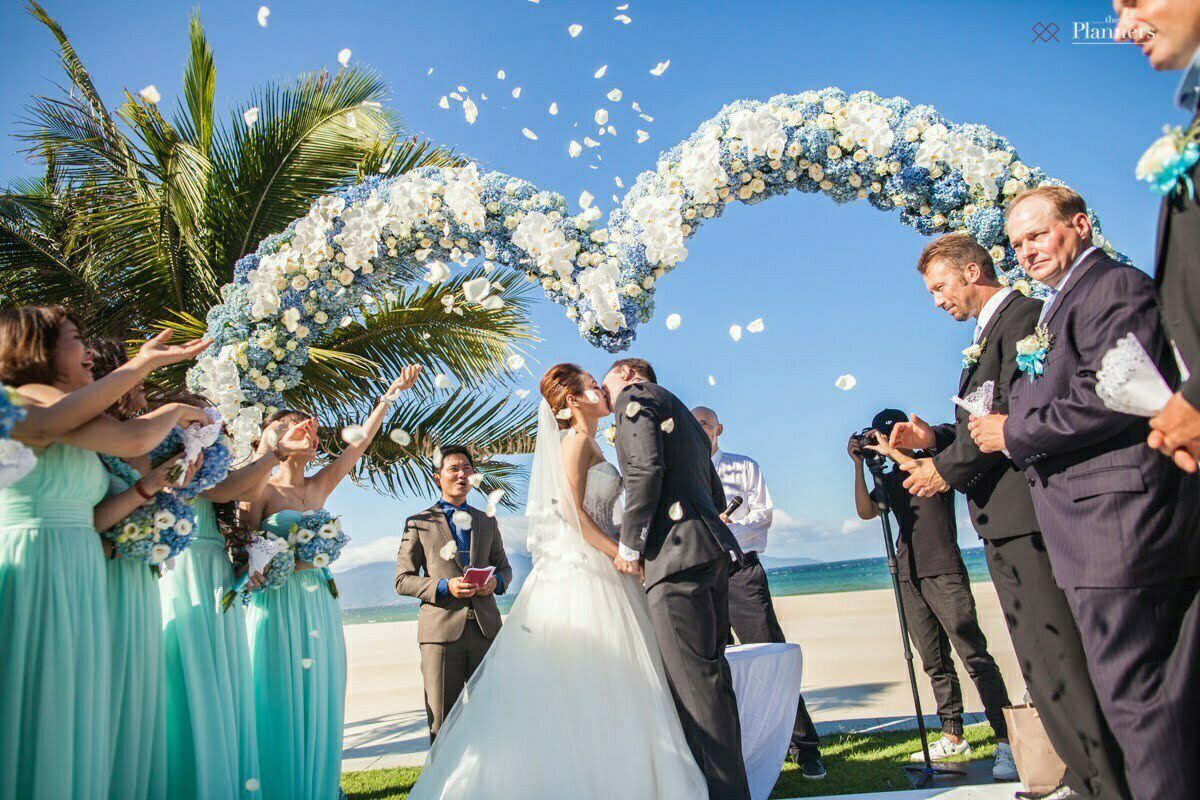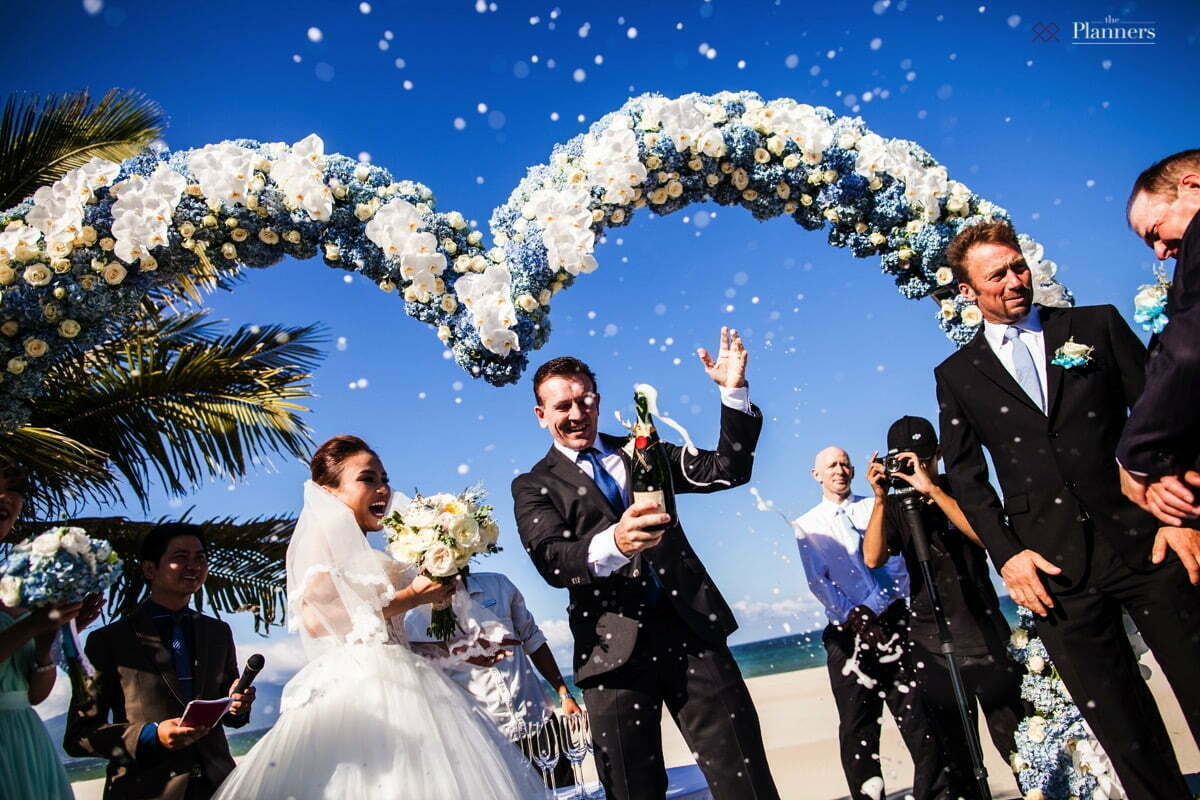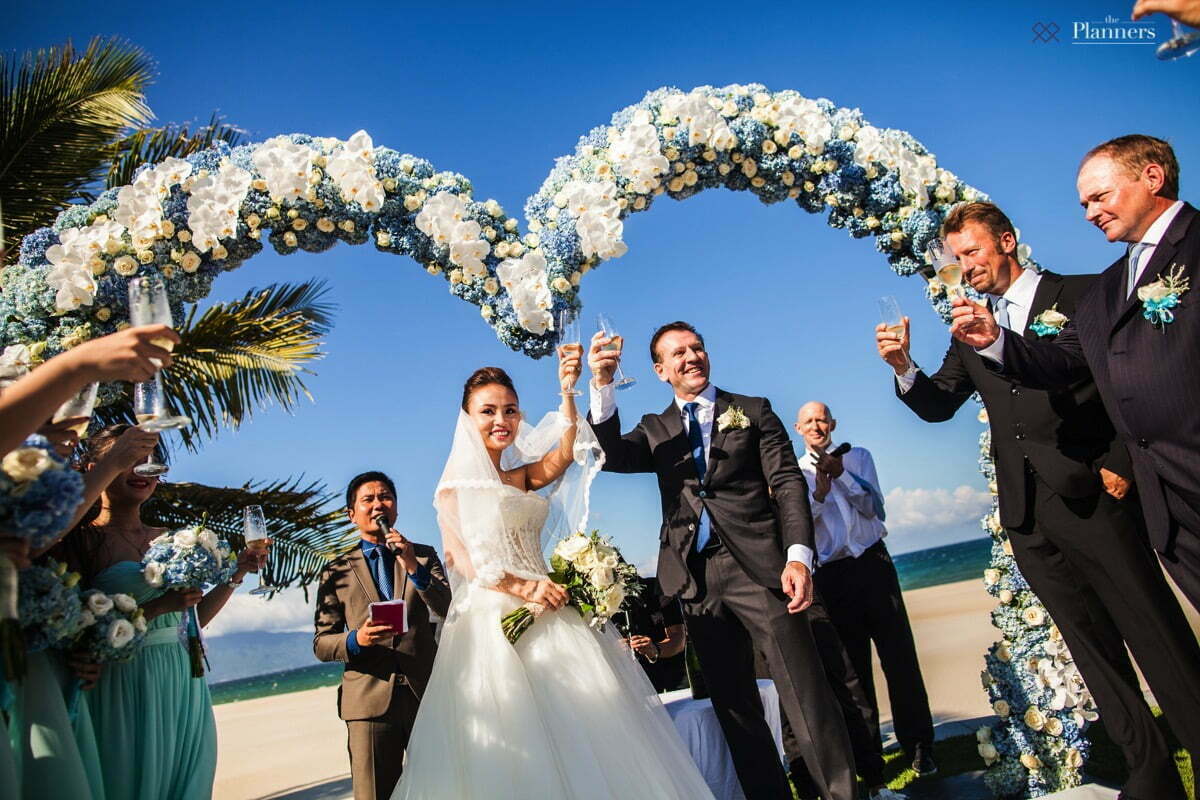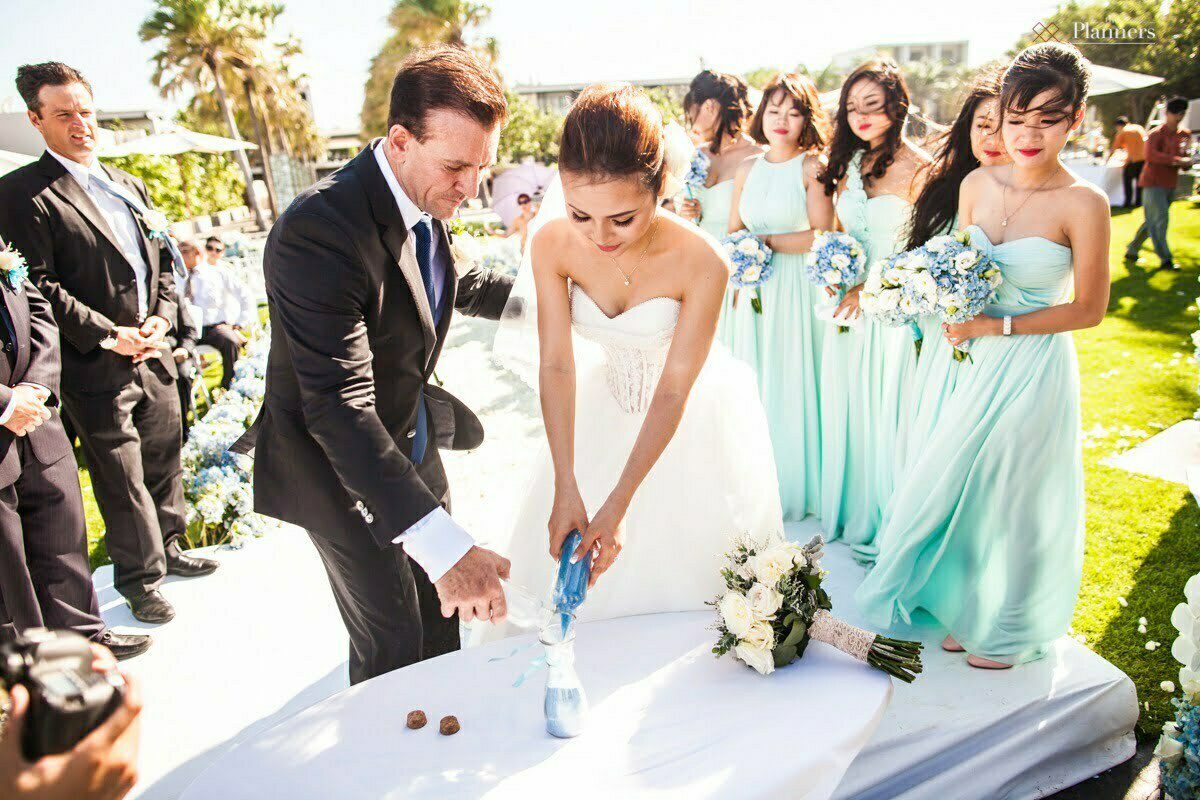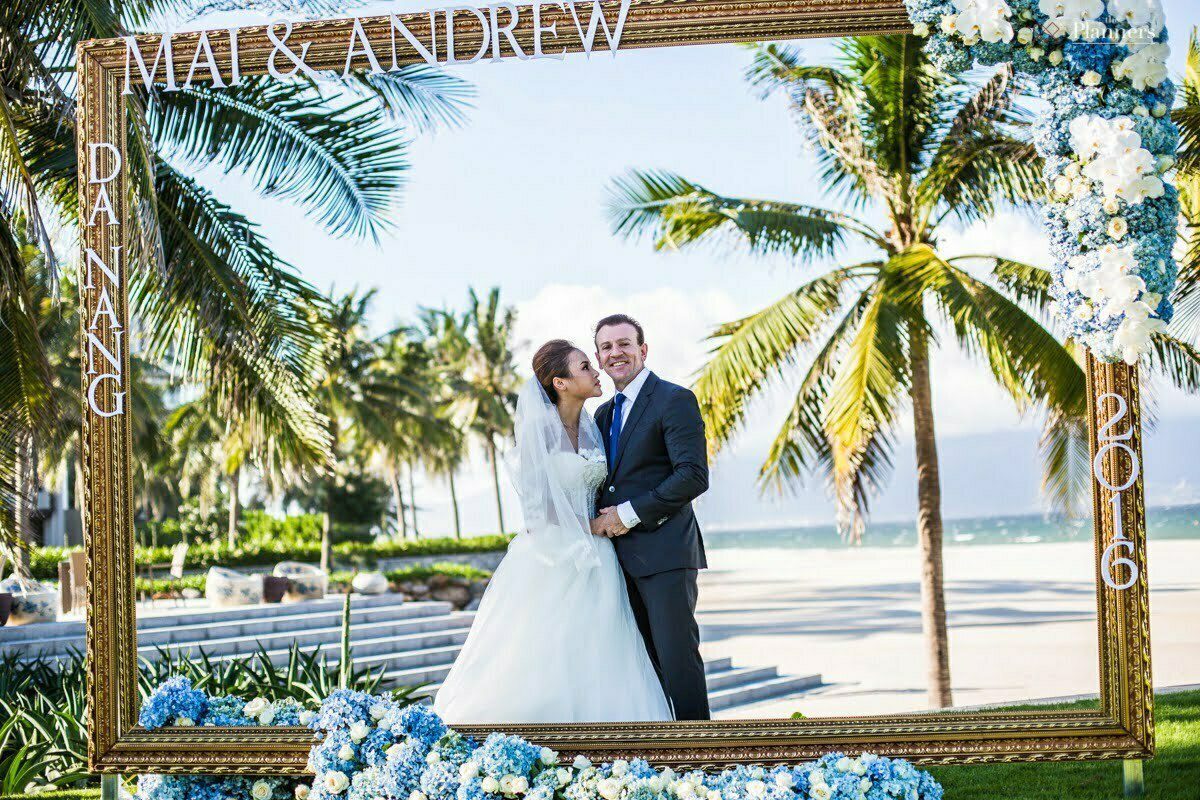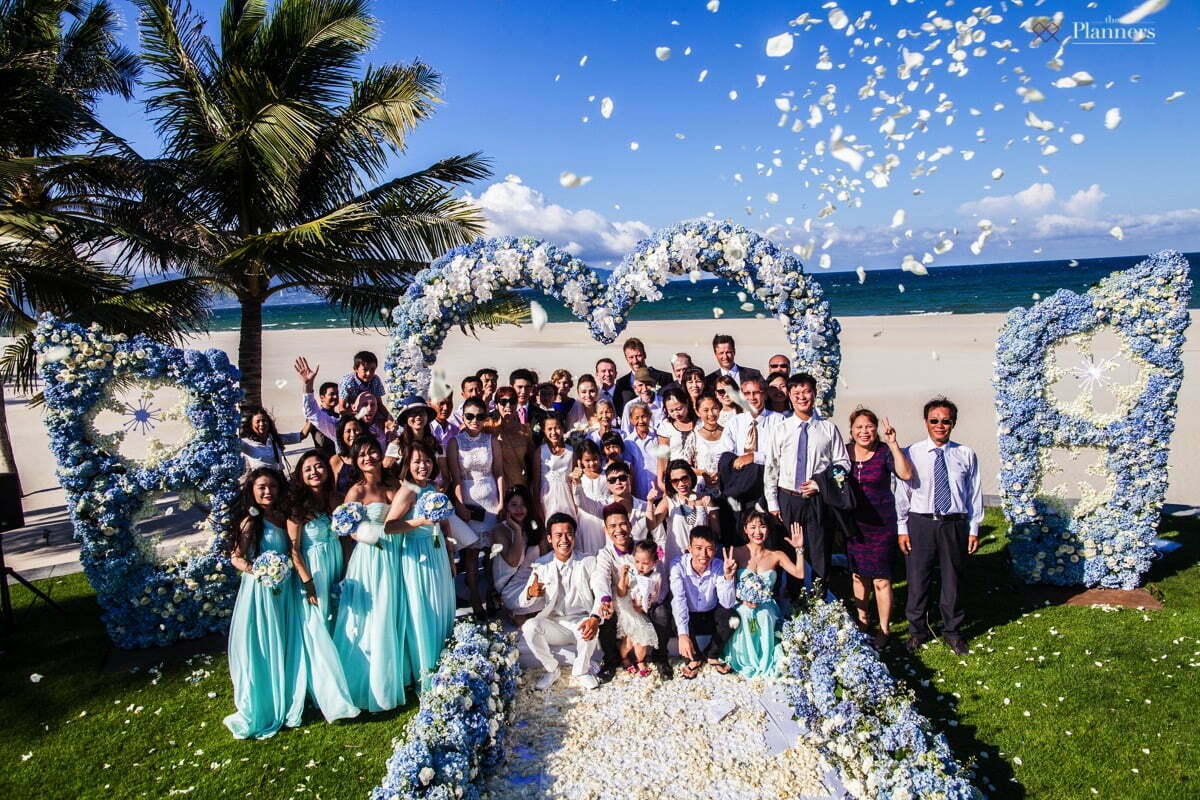 If you take a closer look, the 6 wings not only helped extending the look of the altar, but also carried a very meaningful message. The peach blossom (following the meaning of Mai's name) cut-out is a small but charming detail we wanted to send to the bride as a gift on the groom's behalf. This lovely detail is a nice surprise to all the guests, once again emphasizes the big love Andrew has for his woman, wherever he is and he goes, Mai will always be there and present with him.