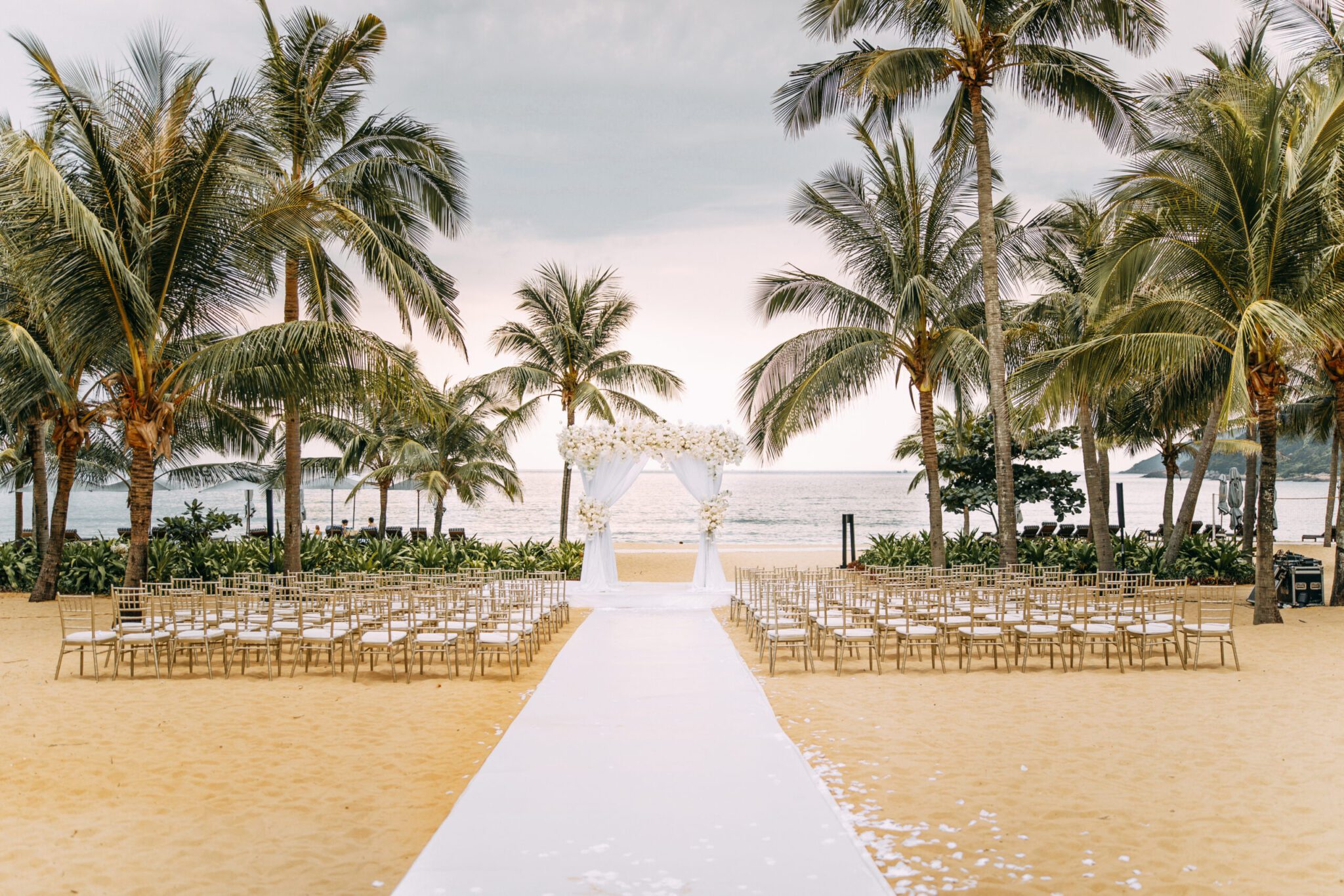 With a long coast line and warm weather, Vietnam is definitely a paradise for beach lovers. It is not just a perfect place to spend a vacation but also a great destination to hold beach weddings. Most of our destination weddings have been held on the beach and after years of planning weddings, we are certain that Vietnam has numerous advantages for you to plan a beach wedding: amazing long beaches, nice weather and various choices of resort, even some of the most luxurious resorts in the world are in Vietnam.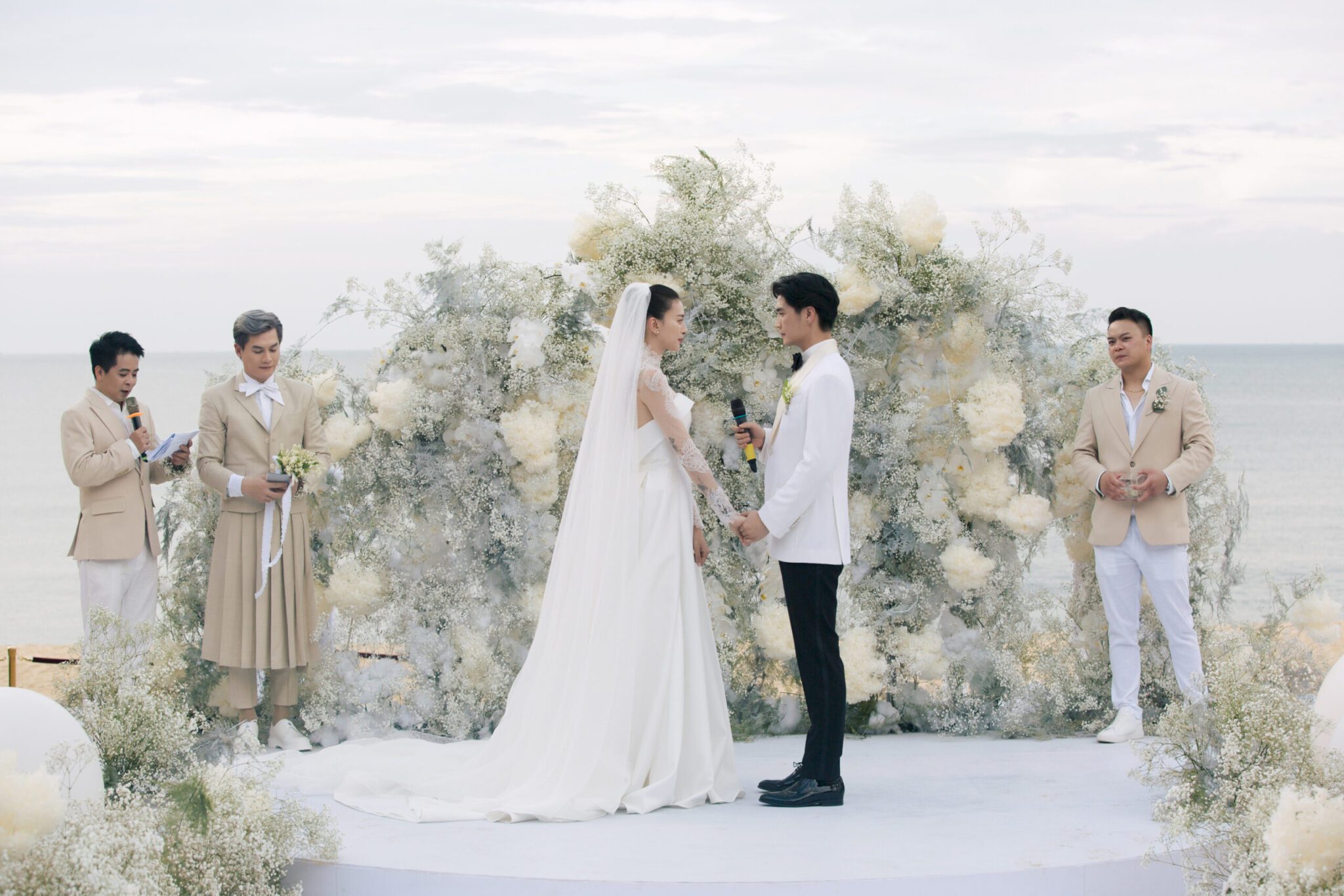 After years of planning wedding across Vietnam, we have travelled to a great number of resorts from the north to the south, holding different types of wedding with various styles and sizes for both local and foreign couples. With no further ado, here goes our list of 5 best resorts for beach wedding in Vietnam. This blog will walk you through a list of 5 best resorts for beach wedding in Vietnam, voted by wedding planners of The Planners. Let's keep in mind, the list was created based on 3 criterions:
It should be a 5 star resort.
It is located on a good location with a long beach view.
It has spaces to hold both indoor and outdoor wedding.
The reason why we added indoor space as one of the criterions is that it is always a must to have a back up plan for an outdoor wedding, especially beach wedding. The weather can change quickly in just few hours on the day and having an indoor space to move the wedding inside is a must to make sure the wedding will go on smoothly.
1. Romantic beach weddings Hyatt Regency Danang Resort and Spa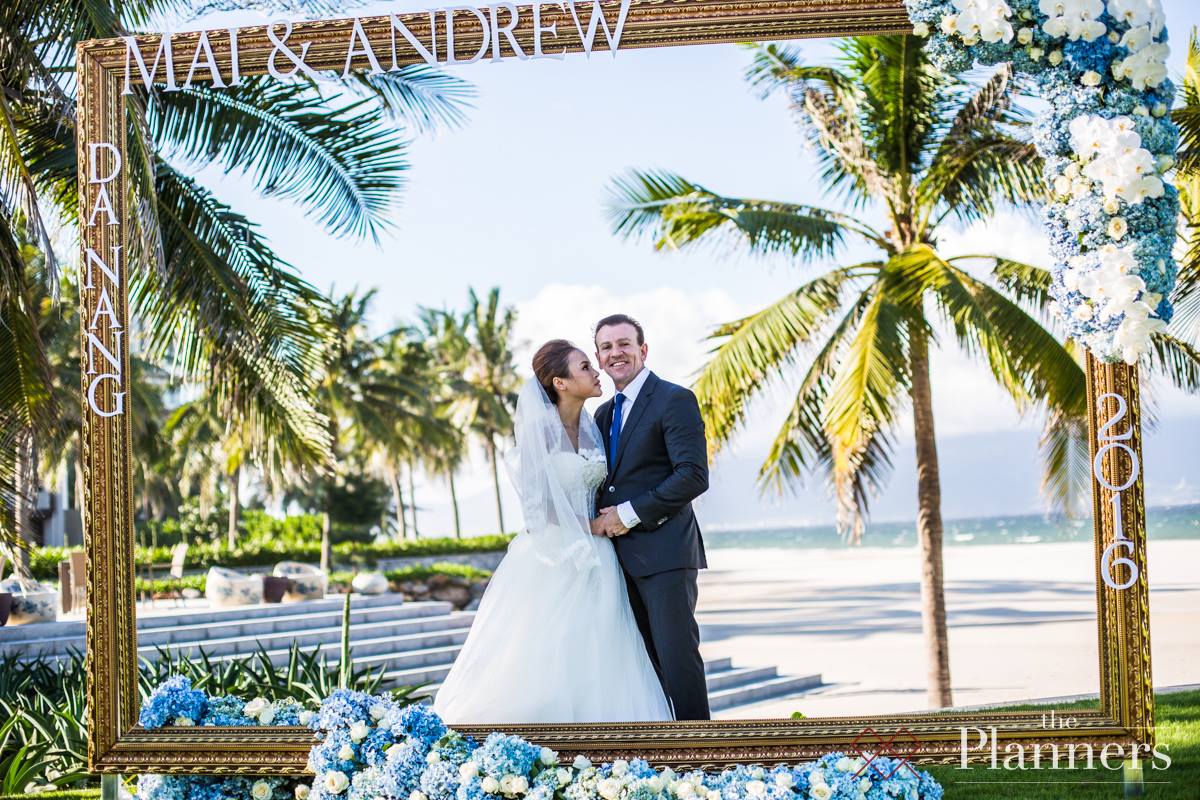 Located in Danang, Hyatt Regency Danang is a great option for those seeking for both the beach and the city. This 5 star resort lies on a picturesque white-sand beach at the foot of the fabled Marble Mountain, reflects contemporary design accented by distinctly Asiatic and native architectural elements. It is 8 kilometers away from the Museum of Cham Sculpture and 10 kilometers away from Dragon Bridge. You can have a great day sunbathing at the resort and discover the city at night, enjoying local dishes without worrying about the distance.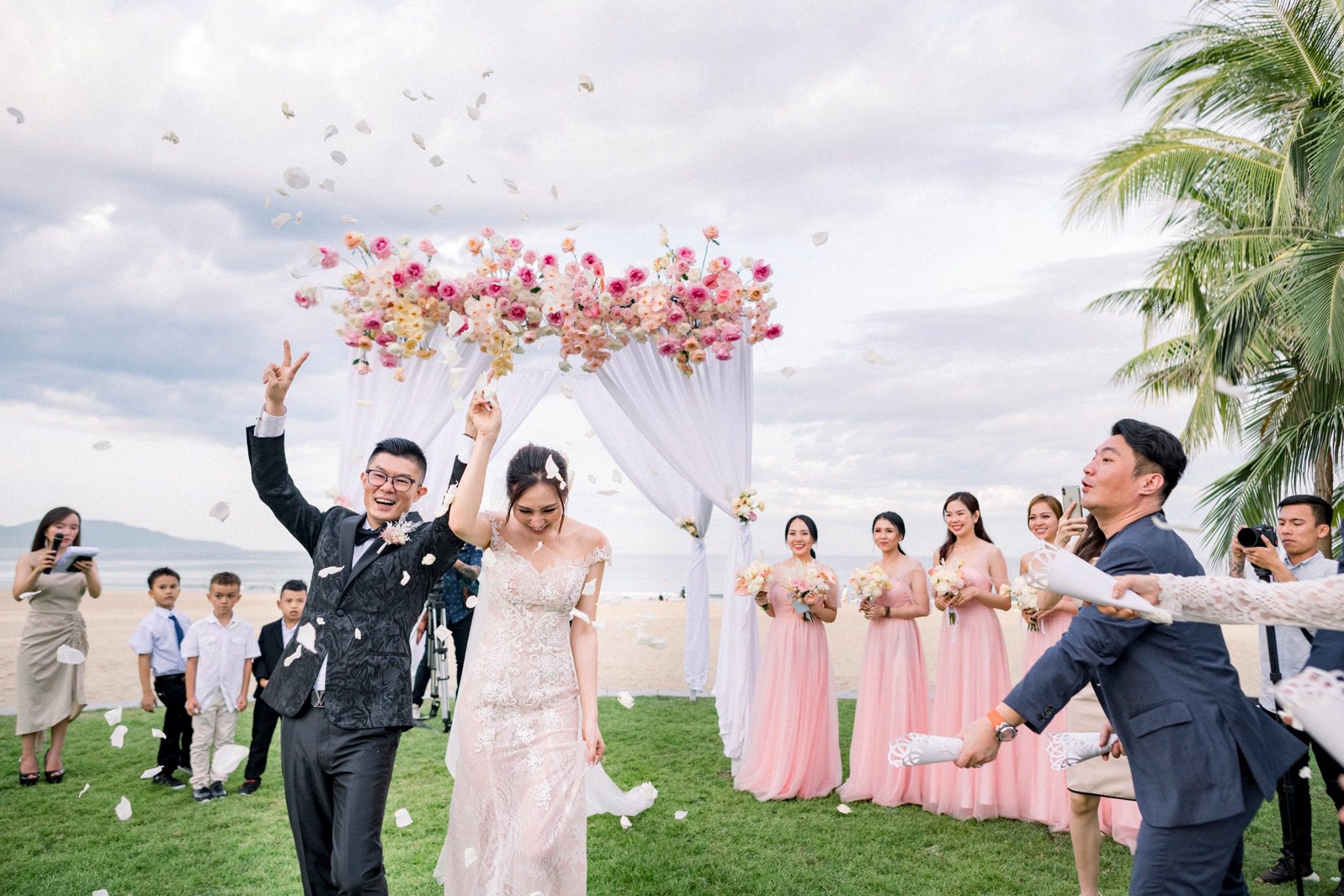 Hyatt Danang Regency offers various choices of space to hold both indoor and outodoor wedding.
Outdoor Area:
– Pool House Lawn (Up to 80 – 100 seats for ceremony)
– Beach House Lawn 1 (Up to 60 – 80 seats for ceremony)
– Beach House Lawn 2 (Up to 300 guests for dinner banquet style)
– On the Beach
Indoor Area:
– Regency Ballroom (Up to 270 guests for banquet style)
– Regency Ballroom Courtyard (From 80 to 150 guests)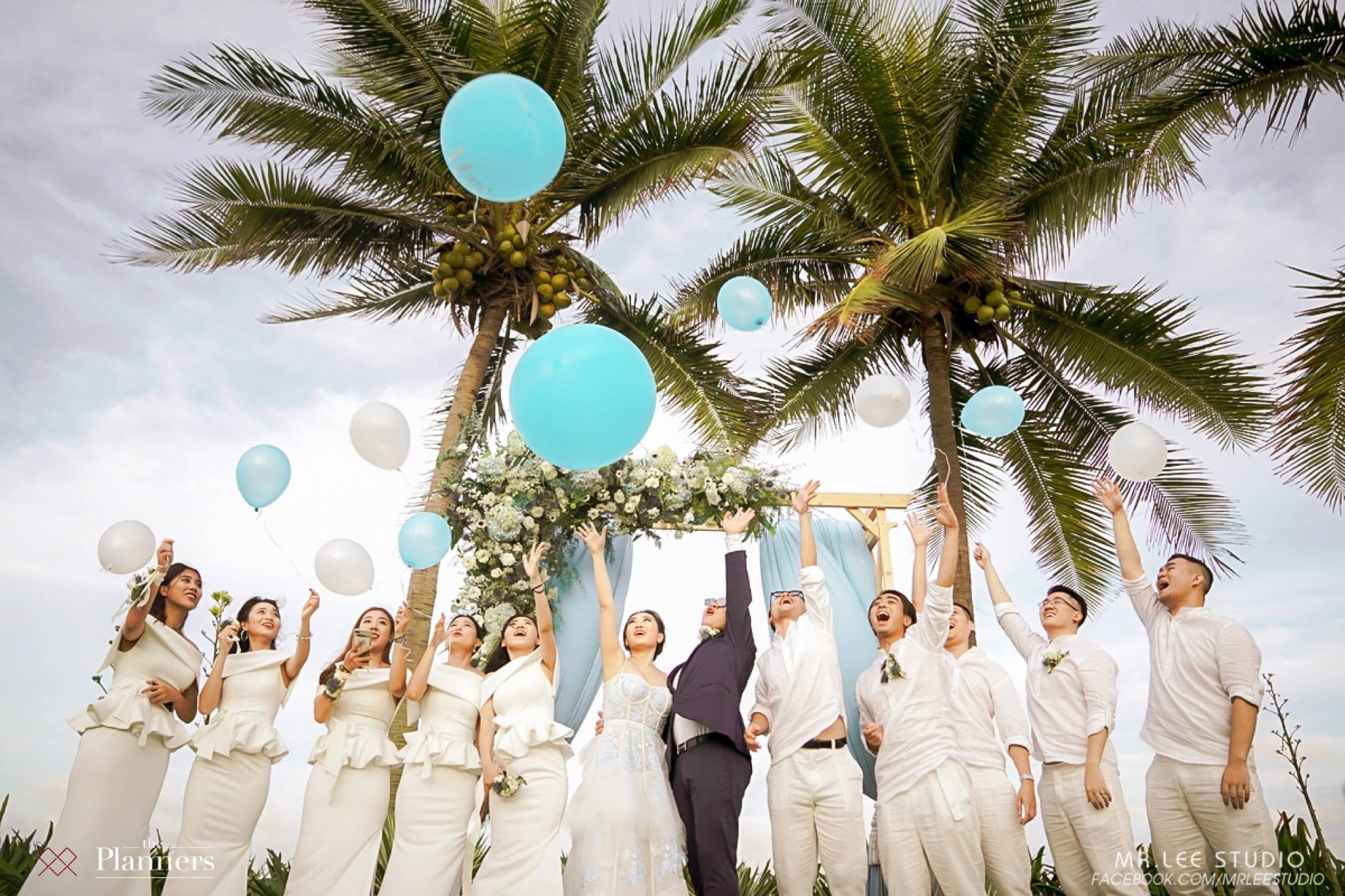 The resort also has some of the best lawns to throw an outdoor wedding with a broad view to the sea and easy to access. Some of our guests prefer to hold their weddings on the grass to the sand since it is more comfortable for the bride and the guests to walk on.
2. Dreamy weddings at Naman Retreat Danang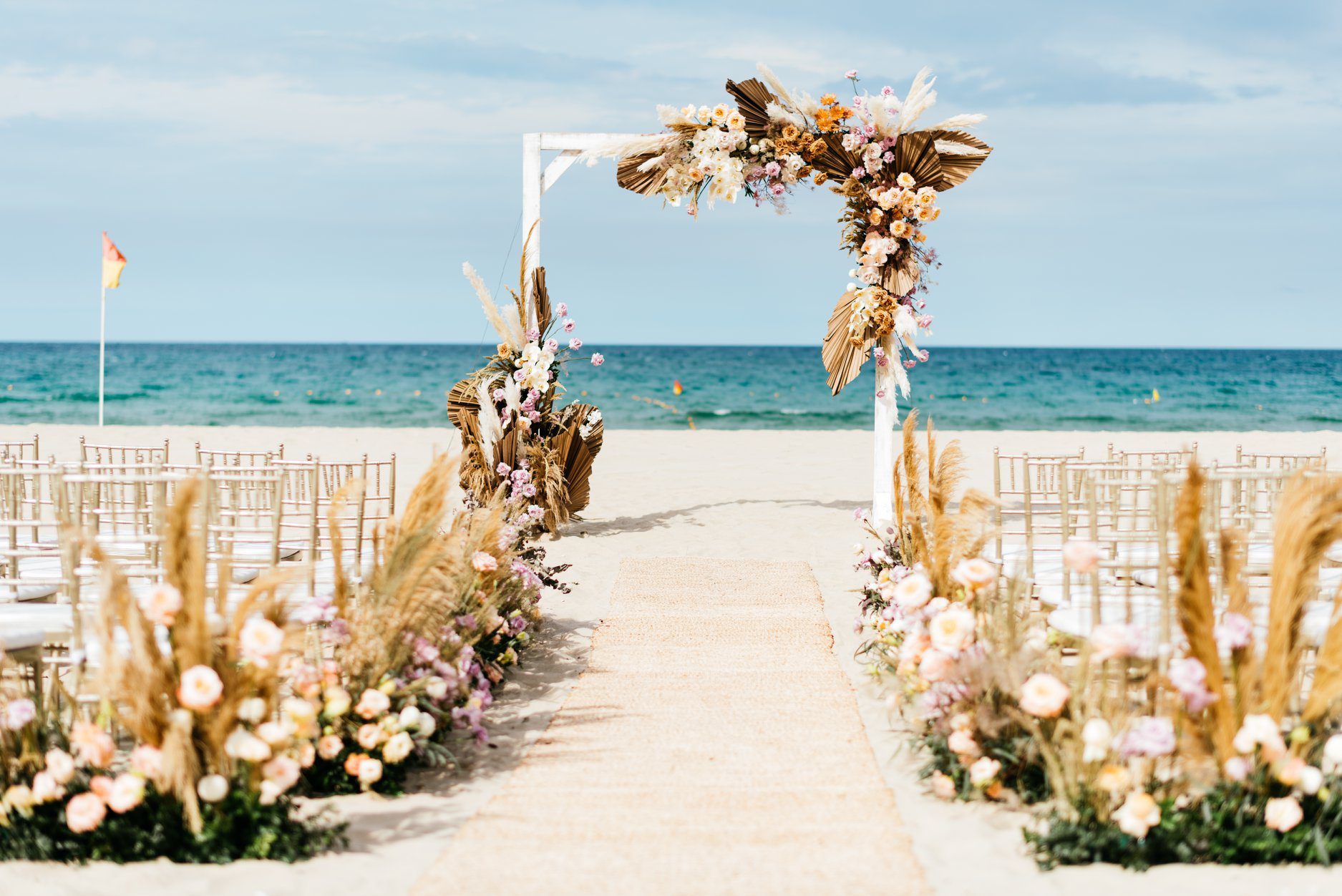 Looking for a fusion resort in Danang? Naman Retreat would be a perfect venue wedding for you. The resort is well-known for its unique traditional bamboo architecture, represents a seamless blend of Vietnamese culture with luxurious modern charm. Naman Retreat nestles between two of the finest golf courses in Southeast Asia – Greg Norman's Danang Golf Club and The Montgomerie Links and just a 15-minute drive from the world-famous Hoi An Ancient Town. Its perfect location makes it easier for the wedding crew have some activities inside and outside of the resort.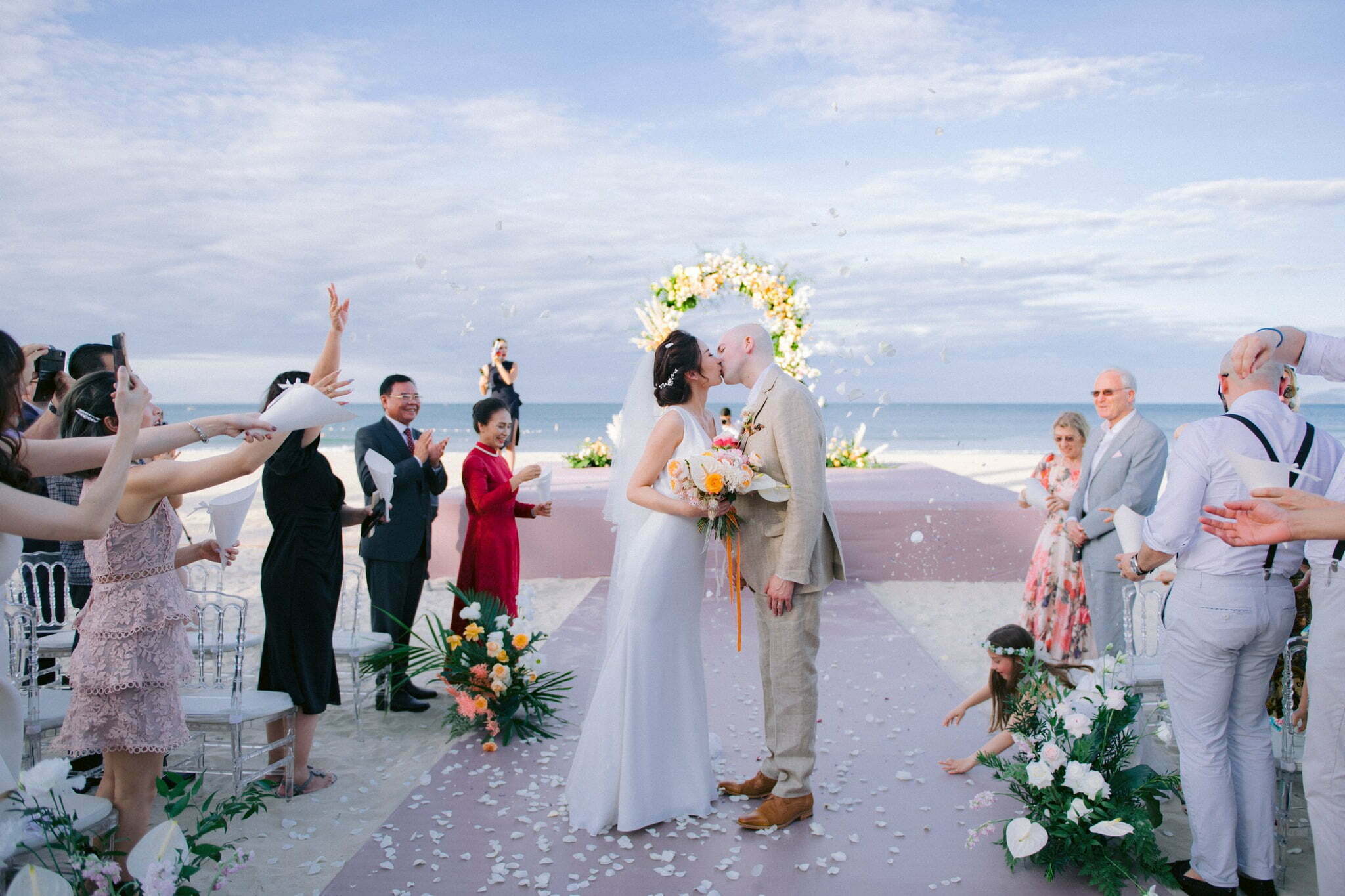 Naman Retreat offer you different choices for accommodation. They have villas with 1 bed room to 3 bedrooms with each villa having a private pool and BBQ stations, which allows you to throw an after-party in your own villa. Beach front villa is usually the go-to option of couples when staying here.
Just like Hyatt Regency Danang, Naman Retreat has various options space for different types of wedding.
Outdoor Area
– On the beach (Up to 160 guests)
– On the lawn (Up to 160 guests) –
– B-Lounge (From 25 to 80 guests – boardroom, classroom, theatre)
Indoor Area
– Conference Hall (Up to 160 guests)
The Lotus Ballroom of Naman Retreat impresses people with its bamboo architecture, designed by one of the most famous architects in Vietnam – Vo Trong Nghia. Those who are interested in eco-friendly architectures should definitely pay a visit here.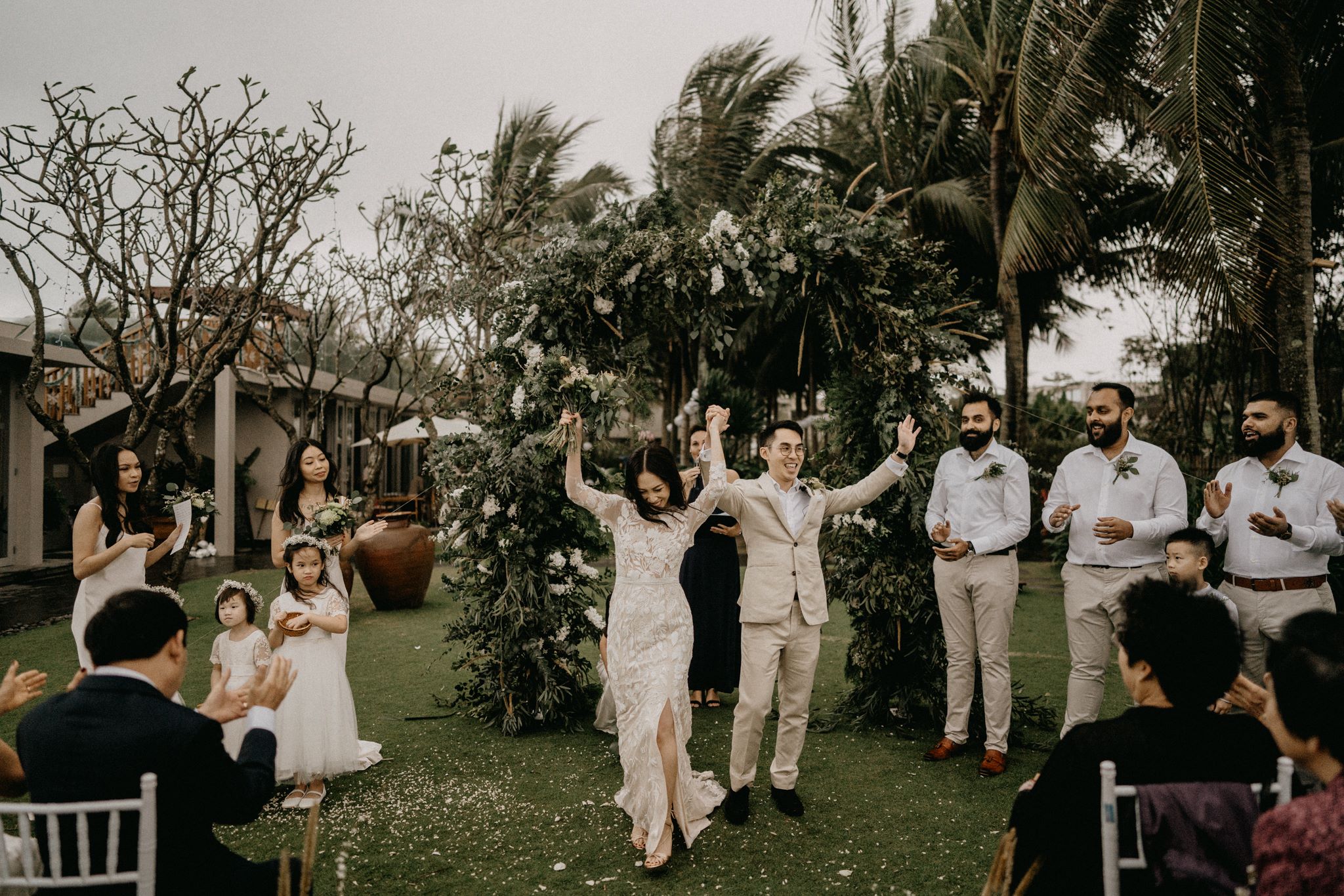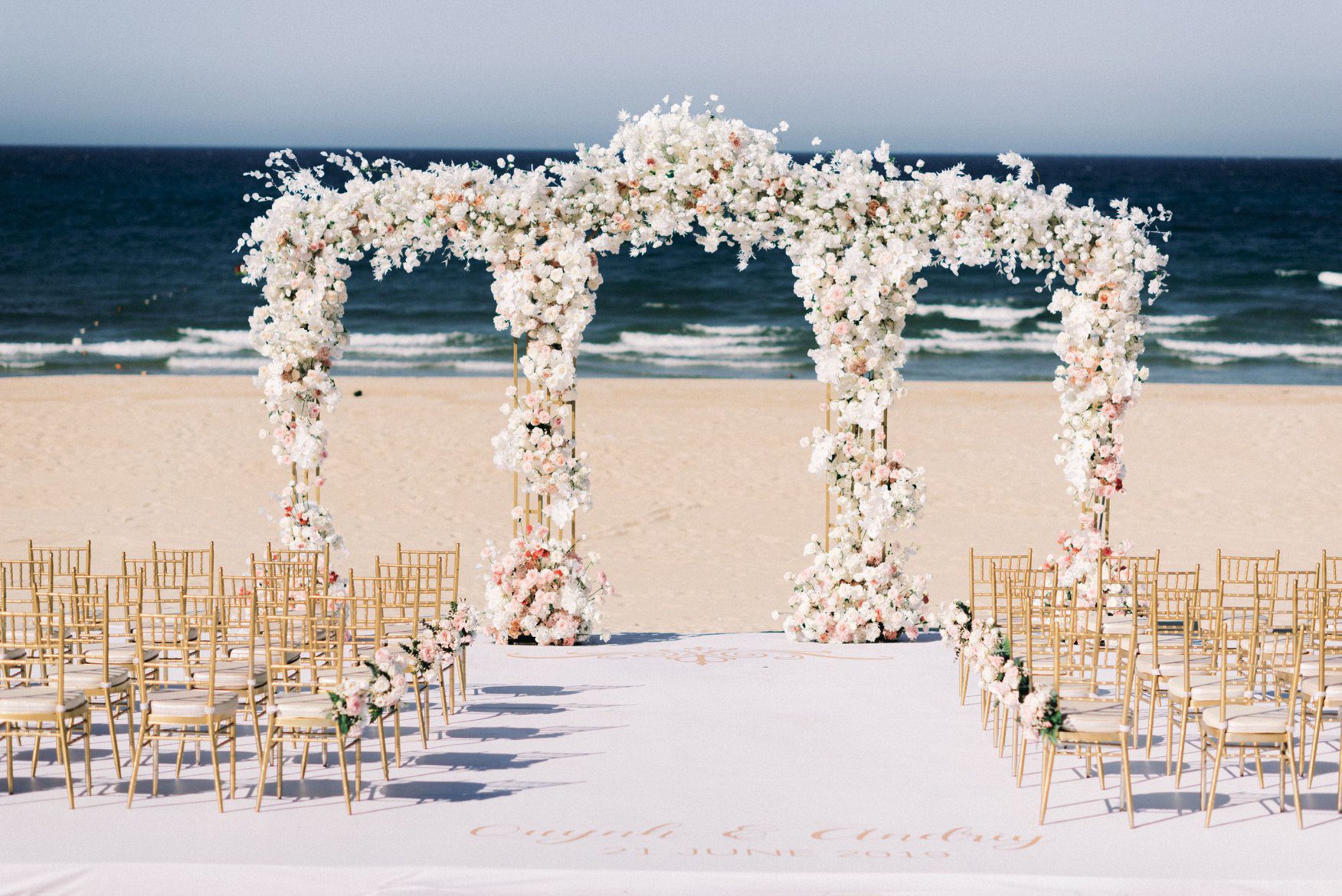 3. InterContinental Danang Sun Peninsula where your fantasy comes true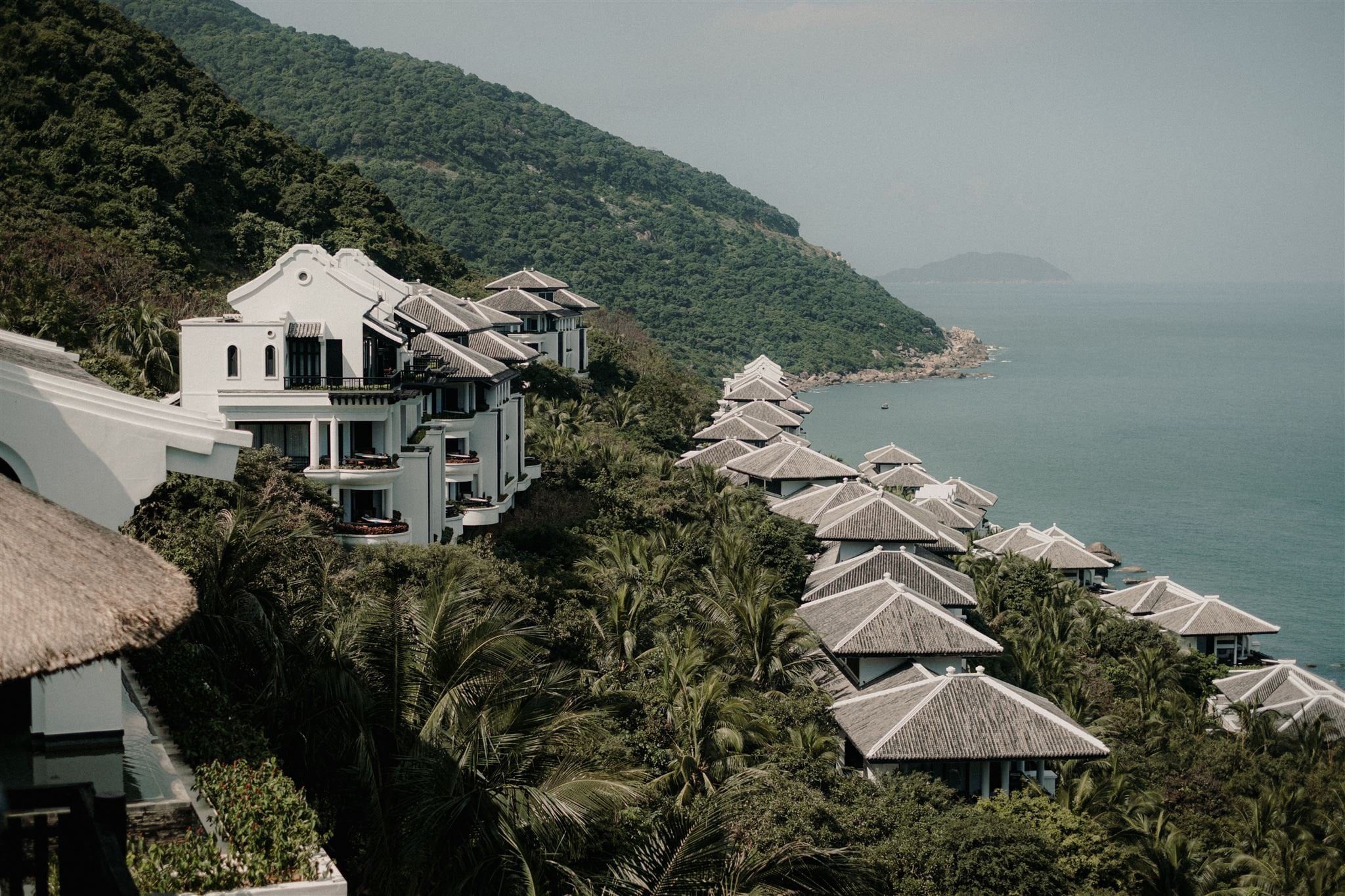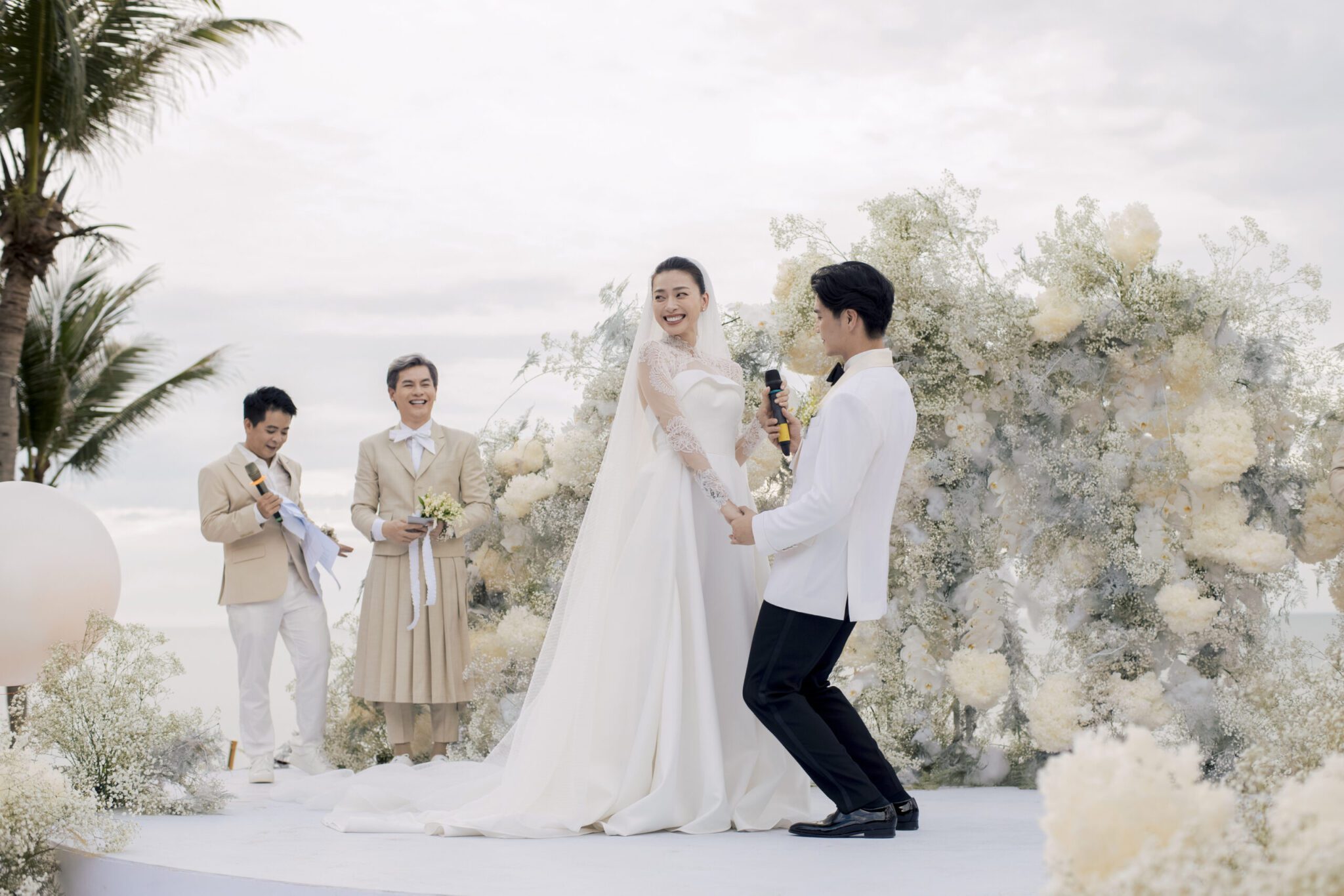 Danang has a variety of options for luxury resorts and the most famous resort in this city is definitely InterContinental Danang Peninsula. The resort is nestled in the heart of Son Tra Peninsula Nature Reserve in Danang City, wedged between the lush mountain and the ocean and only 30 minutes driving from the city center.
Exquisitely designed by the renowned architect Bill Bensley, InterContinental Danang Sun Peninsula has gained many awards from WTA, recognized as one of the most Instagrammable hotels in Asia. Every single time we visit this resort, we found something new and interesting. It is an ideal place if you are planning for both a stunning wedding and a luxurious vacation.
You might have heard of the above wedding of Ngo Thanh Van and Huy Tran, but you can see more about it here: The wedding of Ngo Thanh Van and Huy Tran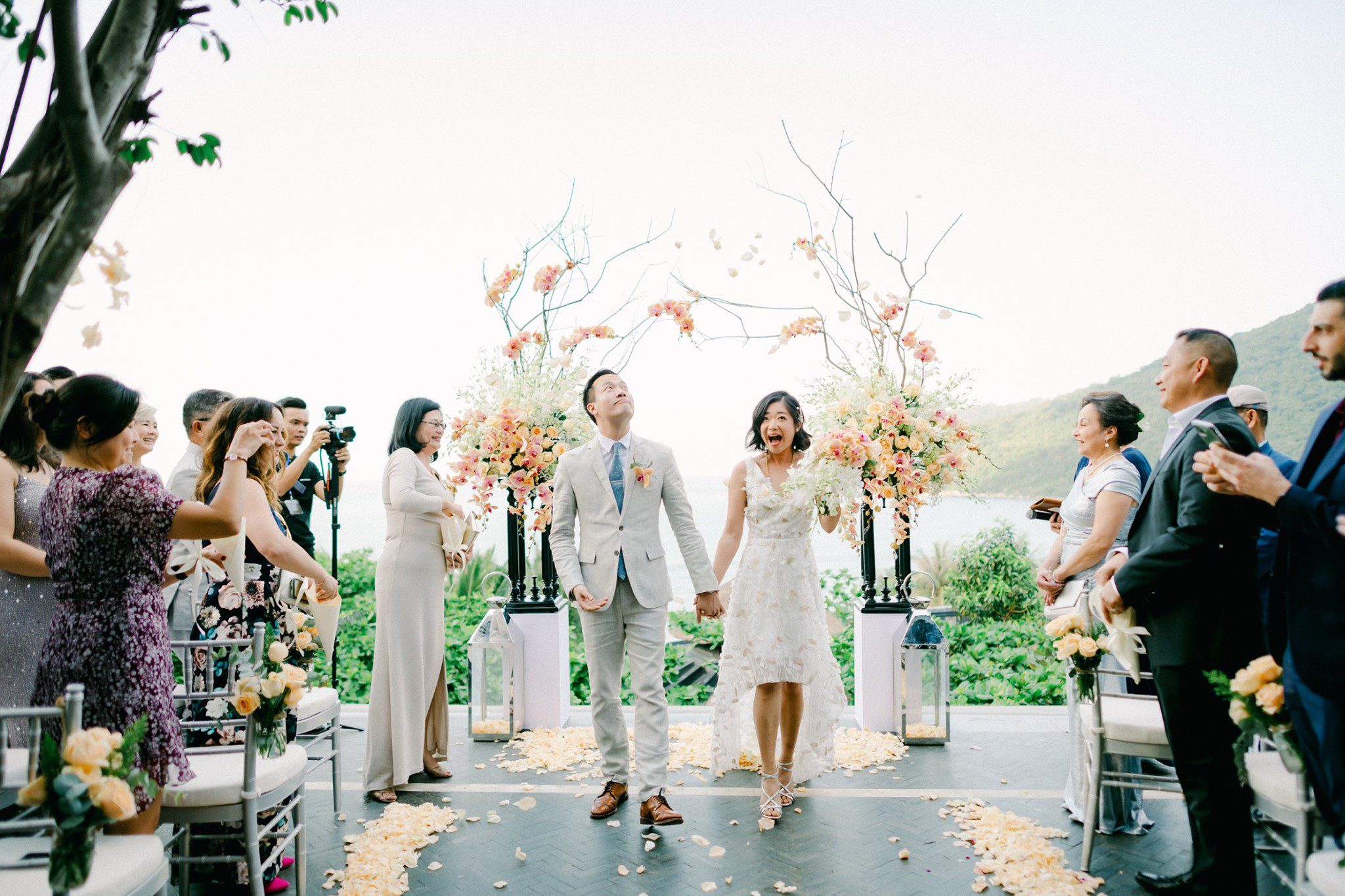 InterContinental Danang Sun Peninsula has different spaces for different types and different sizes of wedding. We have planned beach weddings, cliff weddings and indoor weddings at InterContinental Danang Sun Peninsula and each wedding has its own charm, bring new experiences to all of us.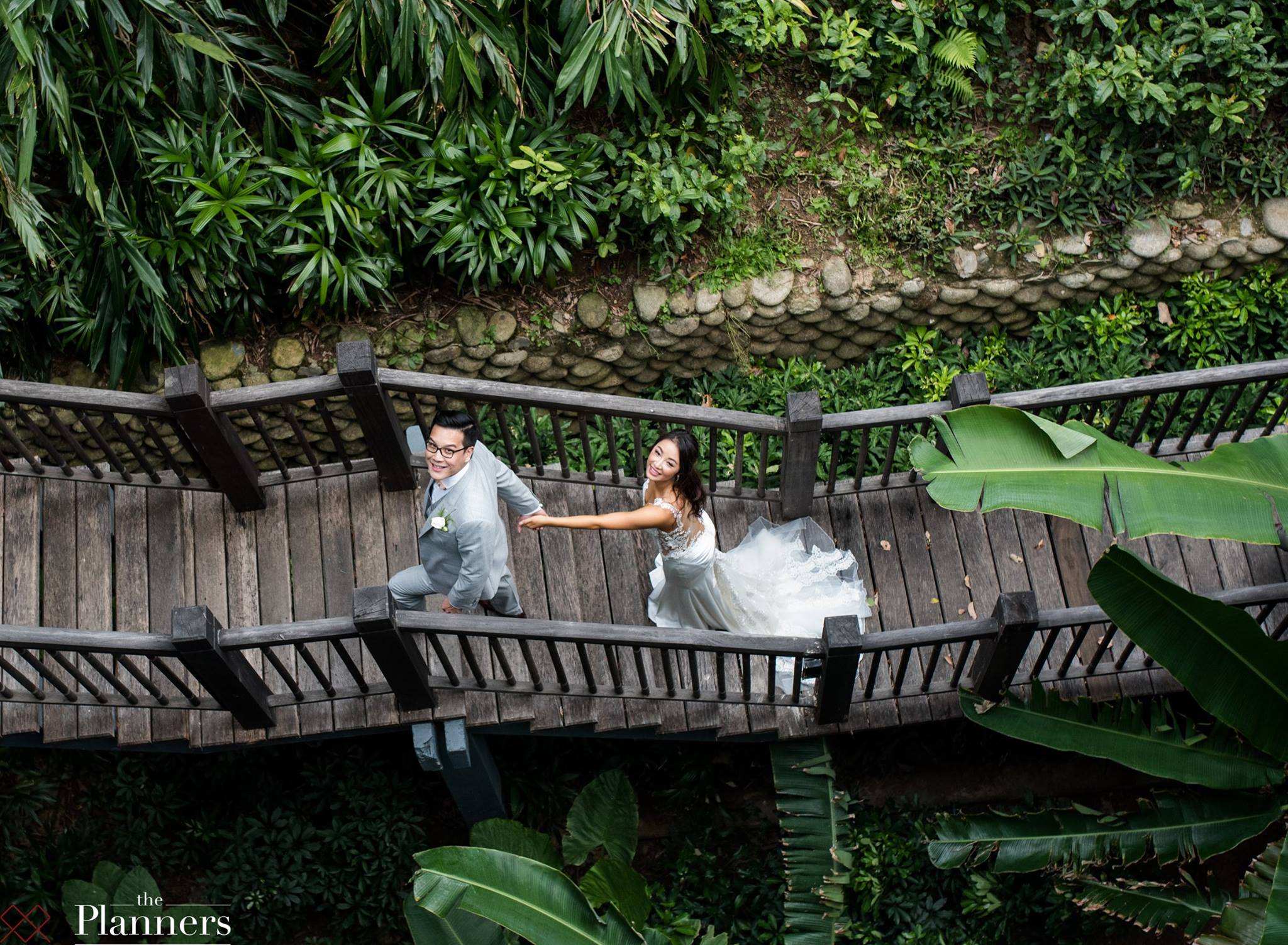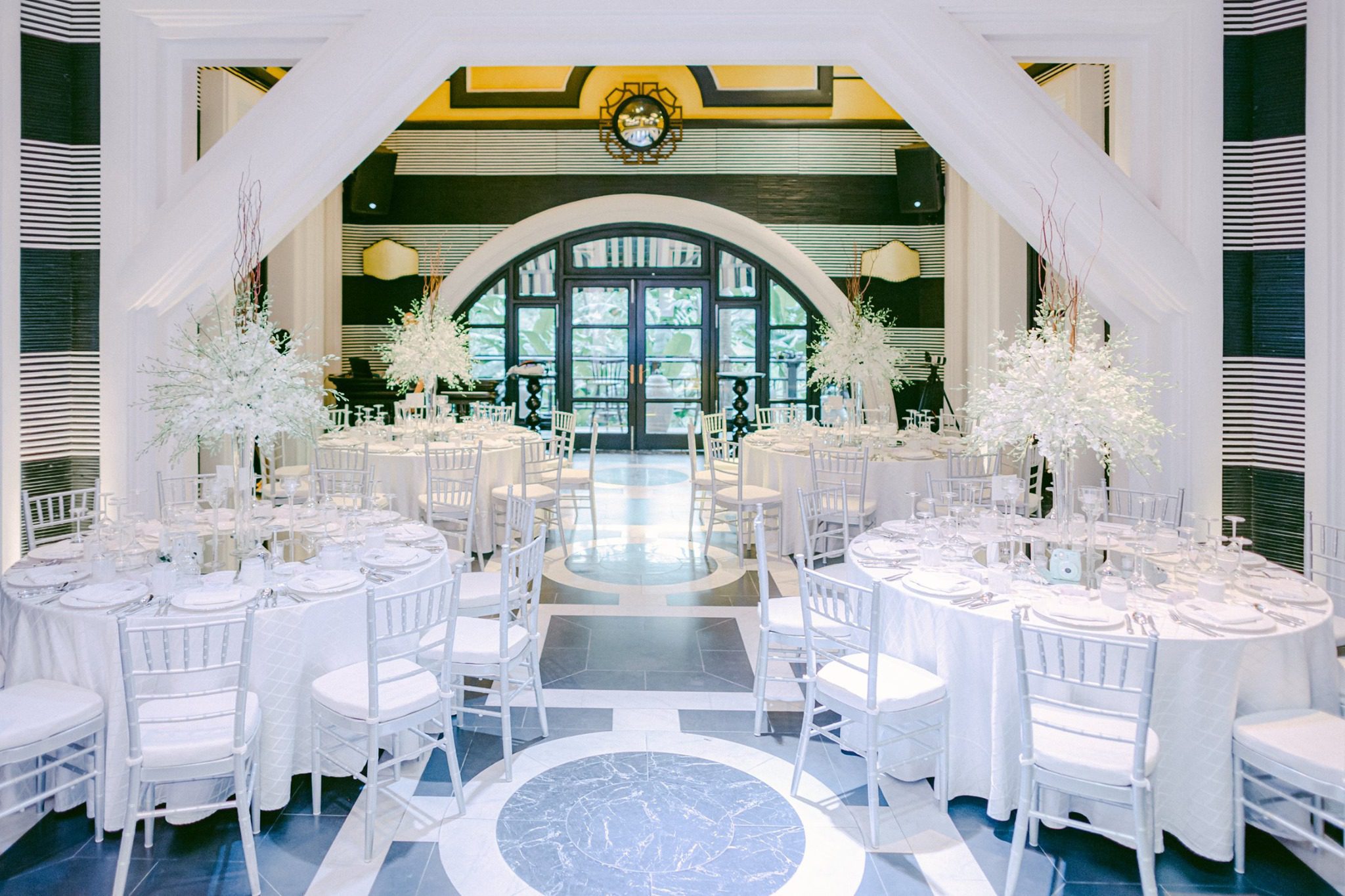 Outdoor Area
– On the beach (Up to 200 guests for ceremony and dinner reception)
– On the lawn – tropical garden ( Up to 70 guests for ceremony)
– La Maison 1888 Terrace (Up to 60 guests for ceremony)
– Terraces overlooking the mountains and the lagoon spa (Up to 200 guests for ceremony)
Indoor Area
– The Summit Hallroom (Up to 200 guests for ceremony and dinner reception)
Bill Bensley did a wonderful job of creating different spaces to deliver fresh experiences to visitors. Apart from its open spaces on the beach and on the lawn, we find the Summit Ballroom spectacularly amazing for its luxurious all-white design.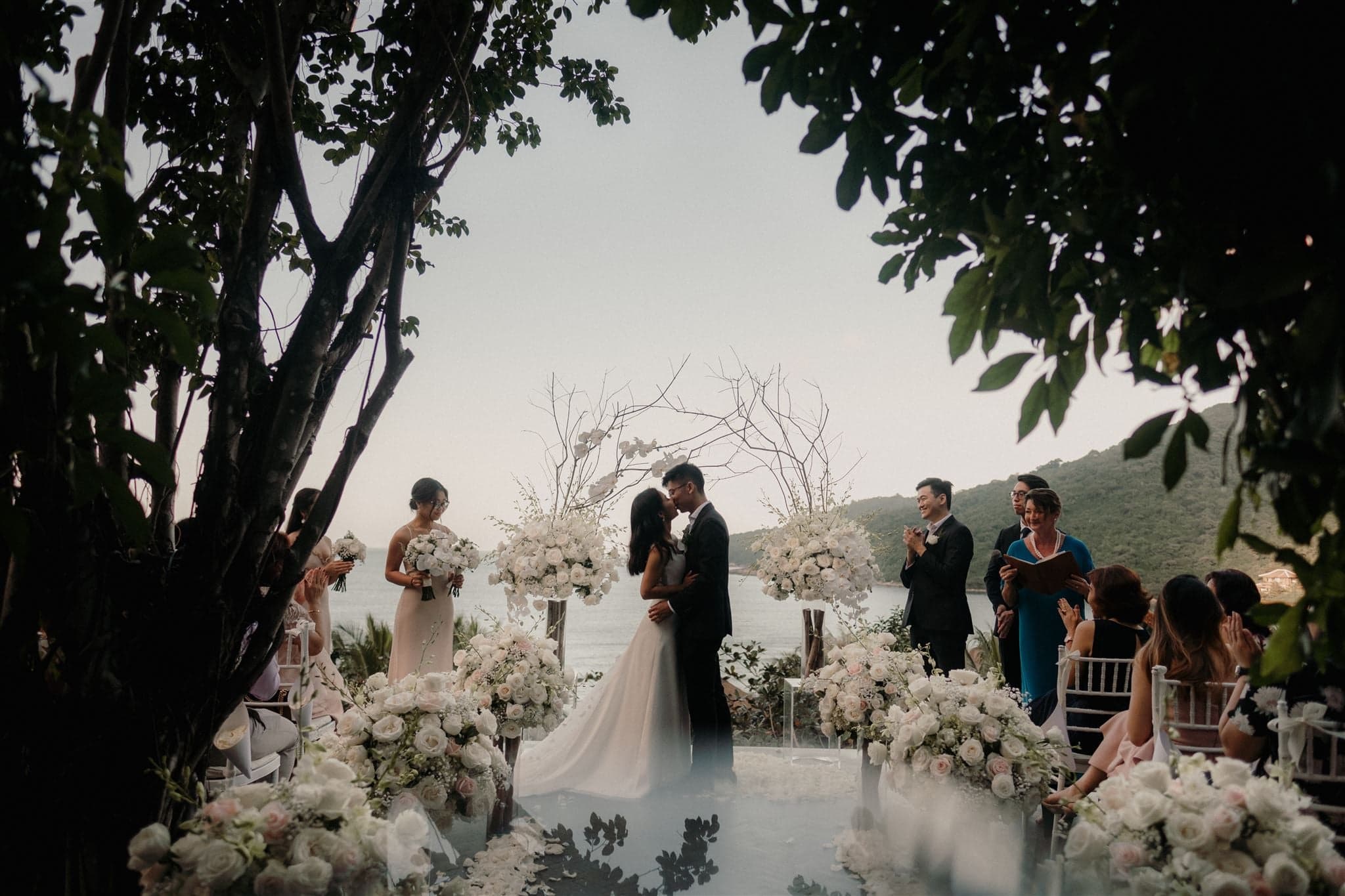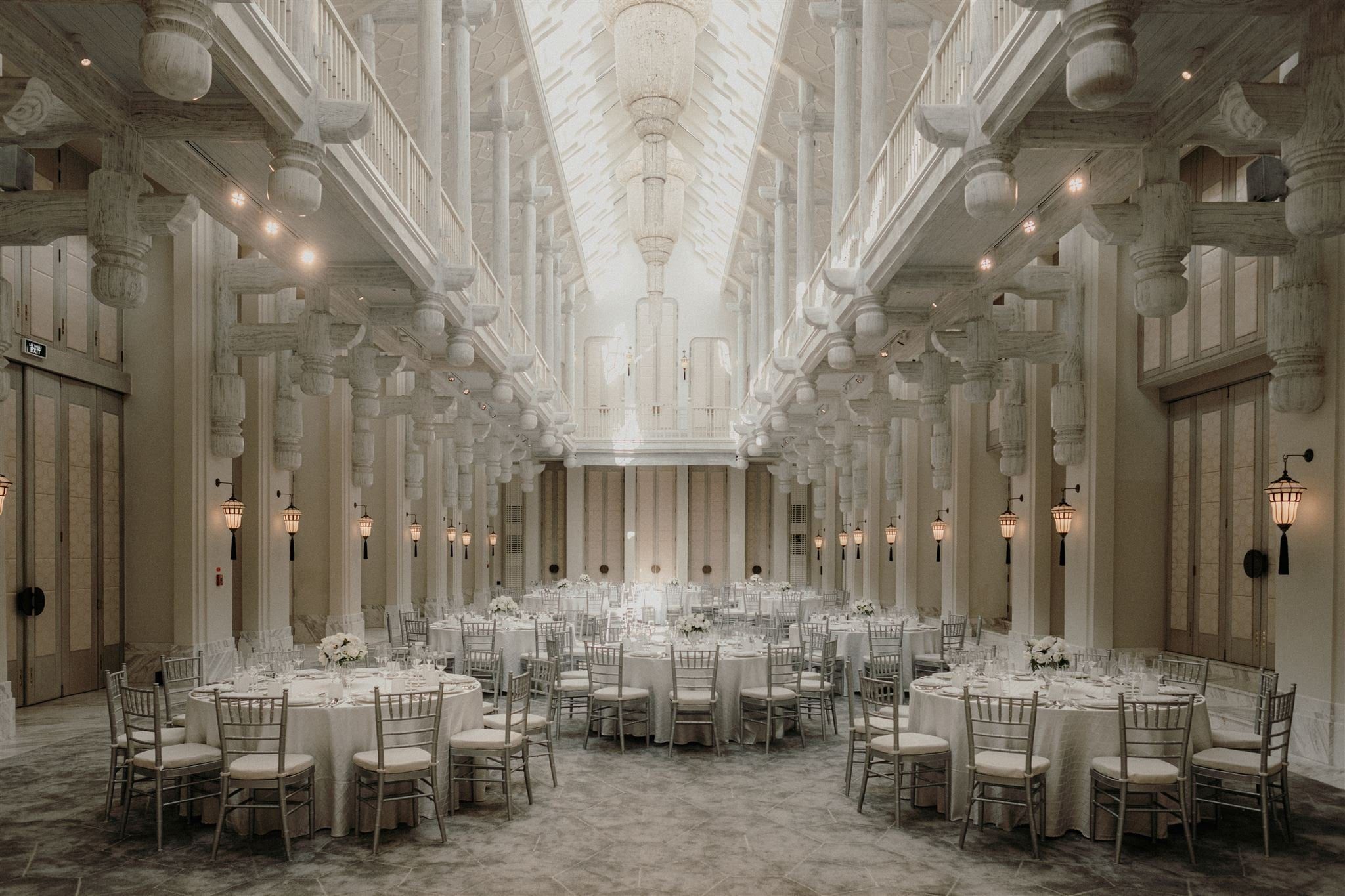 4. The Anam Nha Trang, always a great choice for beach weddings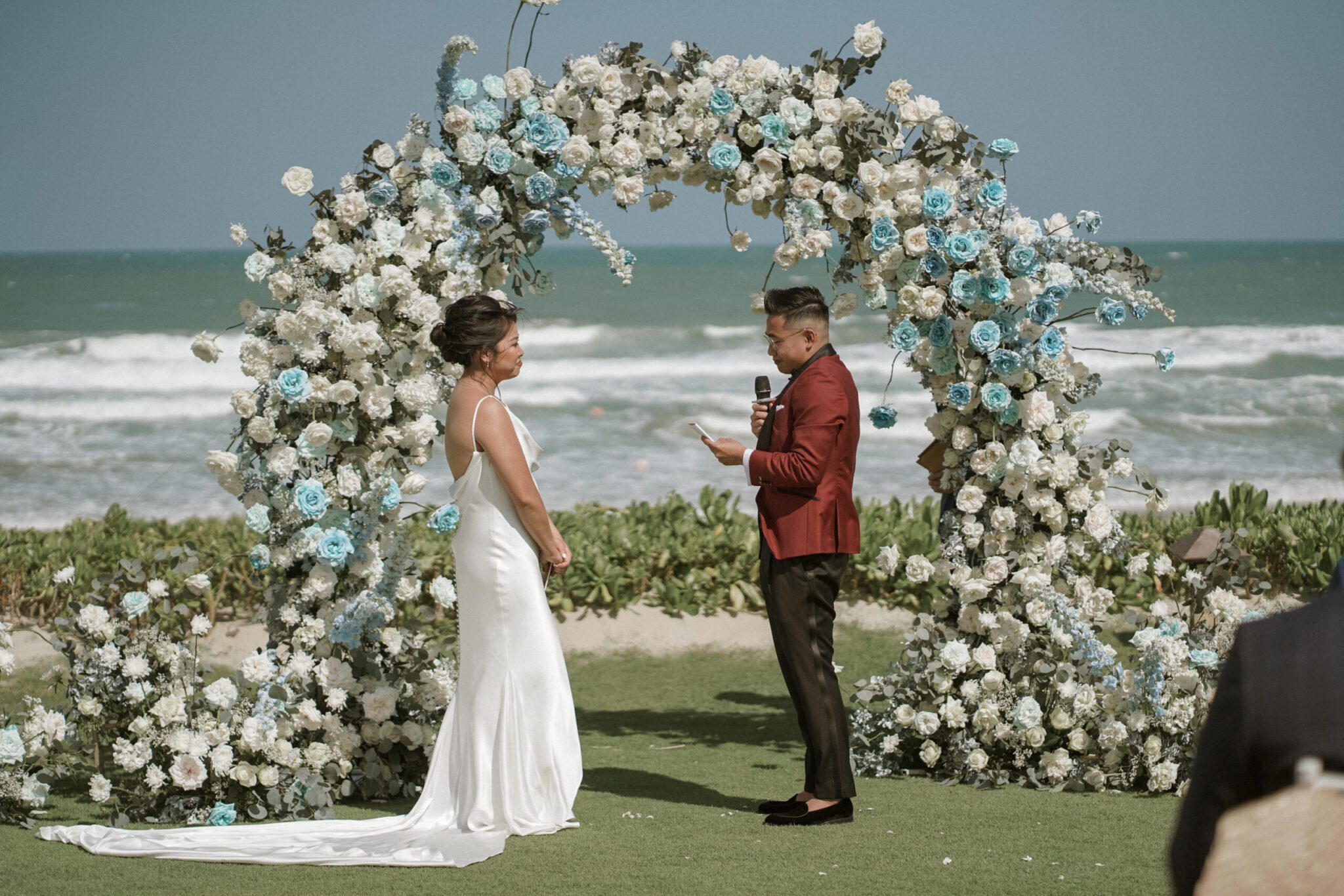 Moving further to the south, there is another nice 5 star resort that could draw your attention from first place. Located in Nha Trang – a famous beach city of Vietnam, The Anam Nha Trang Resort has "colonial era charm with warm-hearted Vietnamese service". The resort is set in Cam Ranh, one of the world's most beautiful bays and only 20 minutes away from Cam Ranh International Airport, and you can fly there in 45 minutes from Ho Chi Minh City.
Nha Trang is recognized as one of the 29 most beautiful bays in the world, bestowed with 19 big and small islands. It is a perfect destination for couples who love scuba-diving and discovering the nature.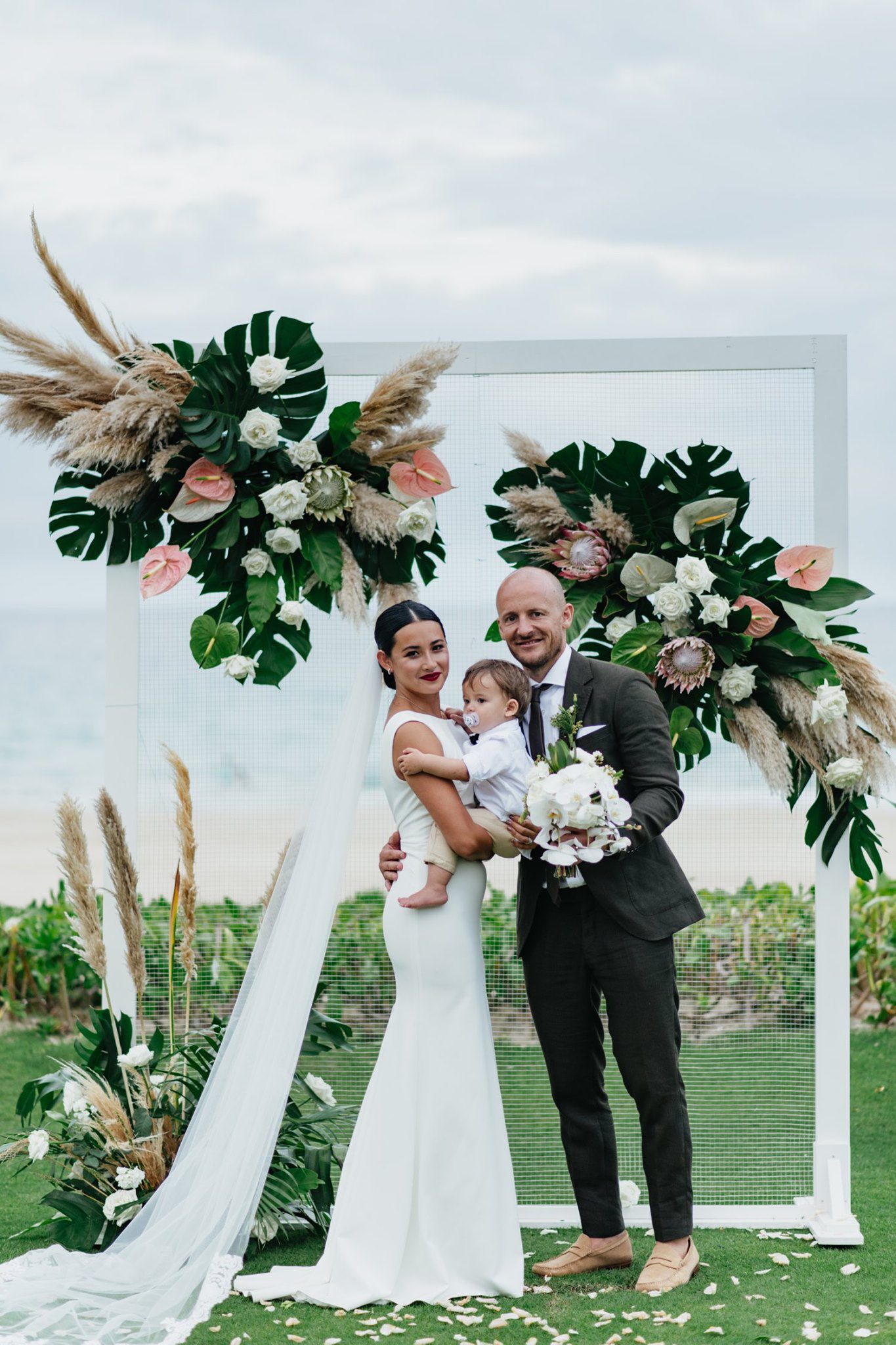 The resort has the largest lawn among 5 star resorts in Vietnam, according to our experience. If you were planning for a big beach wedding with under 200 guests, Anam Nha Trang would be a good option.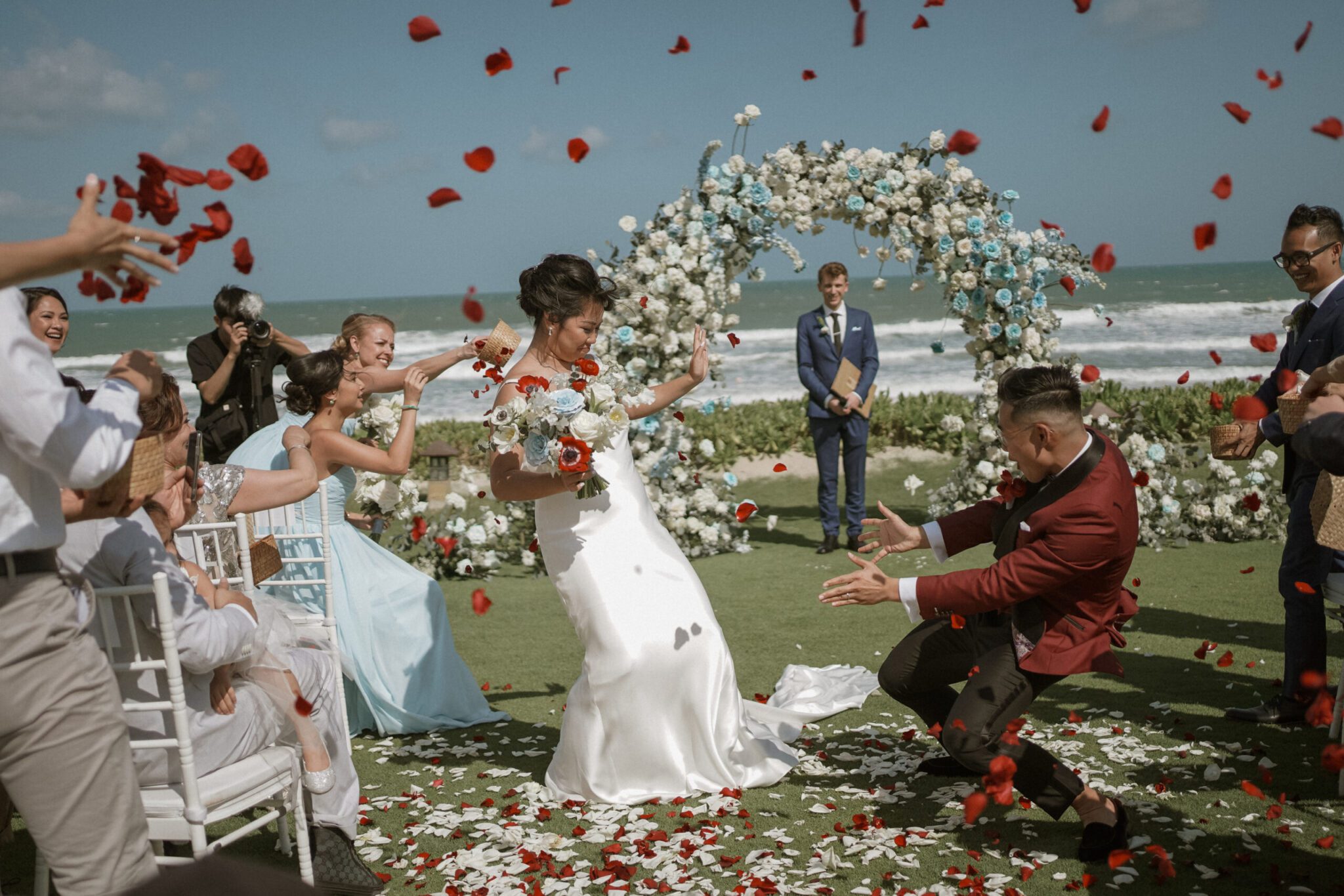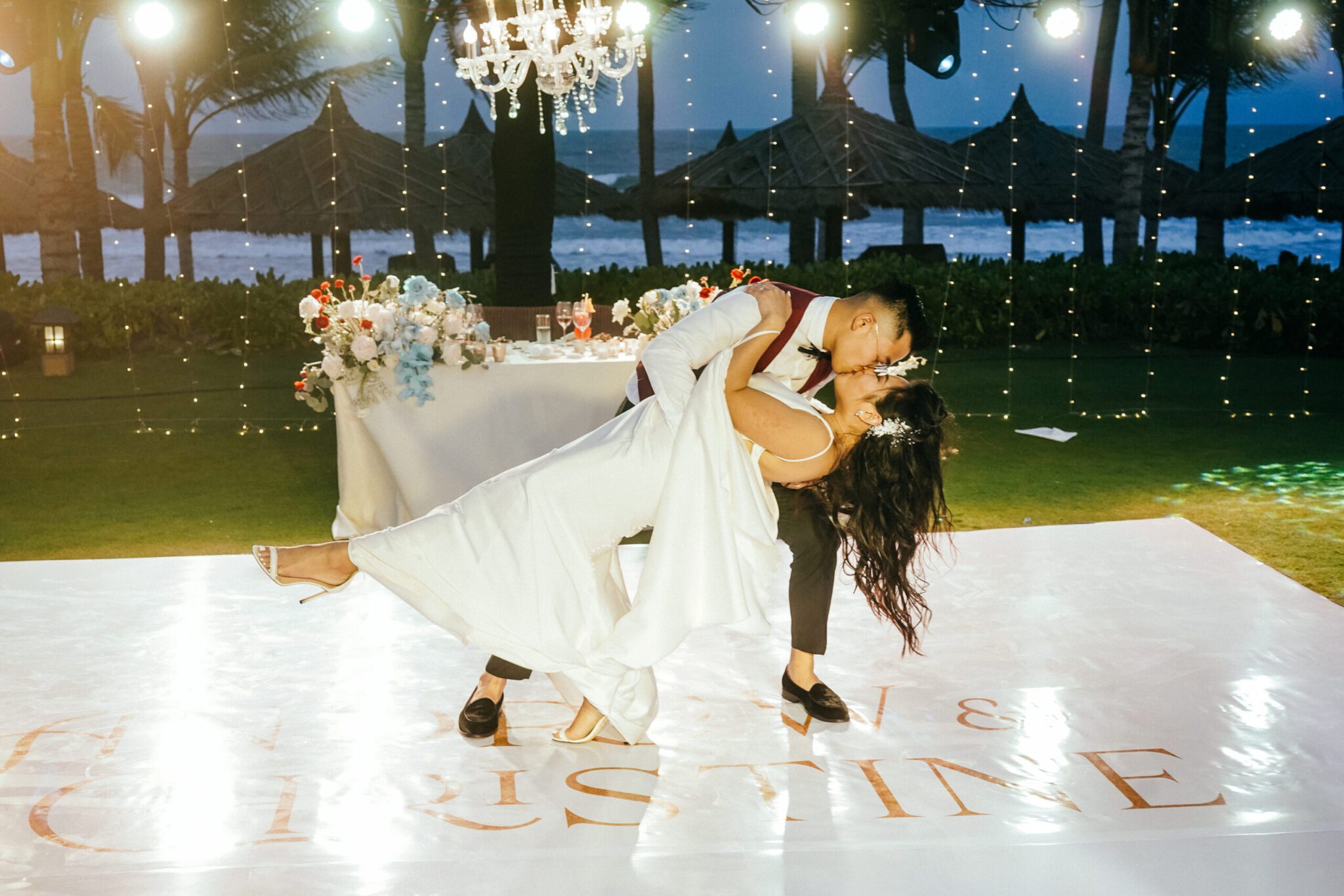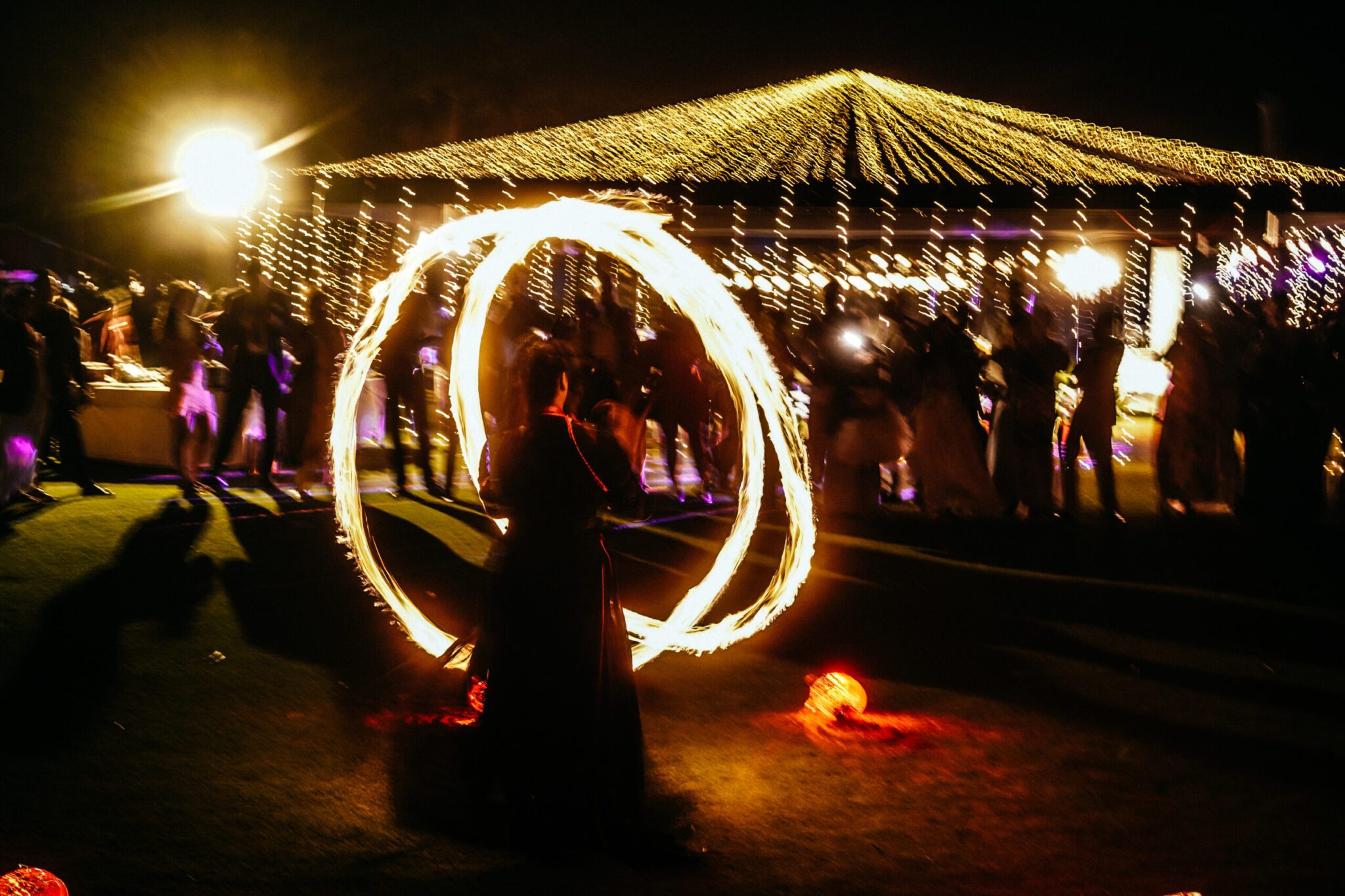 For indoor wedding reception, the ballroom of Anam Nha Trang has a capacity of 100 guests. They also have 2 restaurants, in case couples are looking for a more intimate space, each restaurant can host up to 60 guests.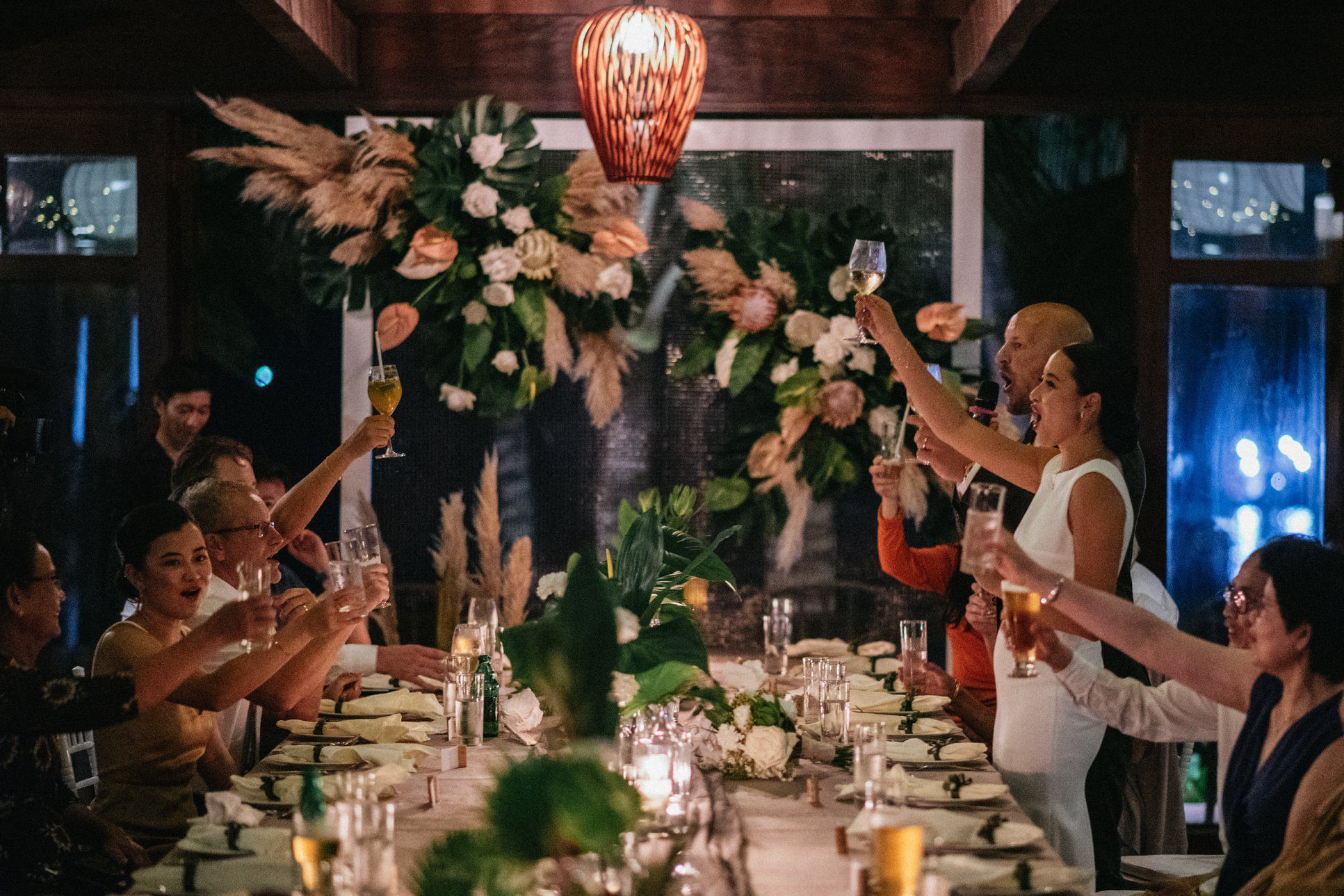 5. InterContinental Long Beach Phu Quoc – a great pick for destination weddings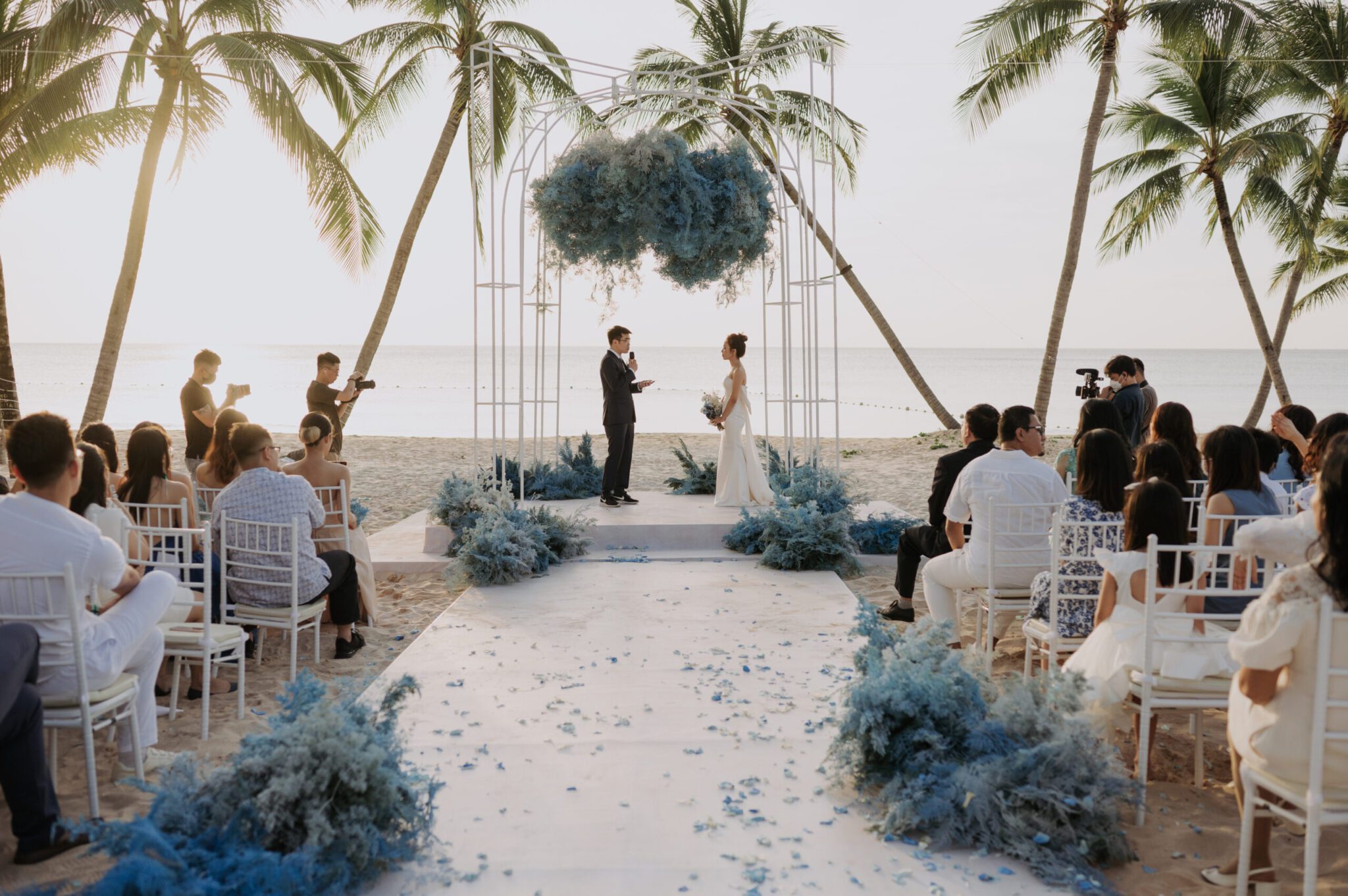 Located on a stretch of white sand beach on the west coast of Vietnam's largest island, InterContinental Long Beach Phu Quoc immerses in the richness of nature on a tropical island. The resort is just a 15-minutes drive from Phu Quoc International Airport, and 20 minutes away from the main town on the island.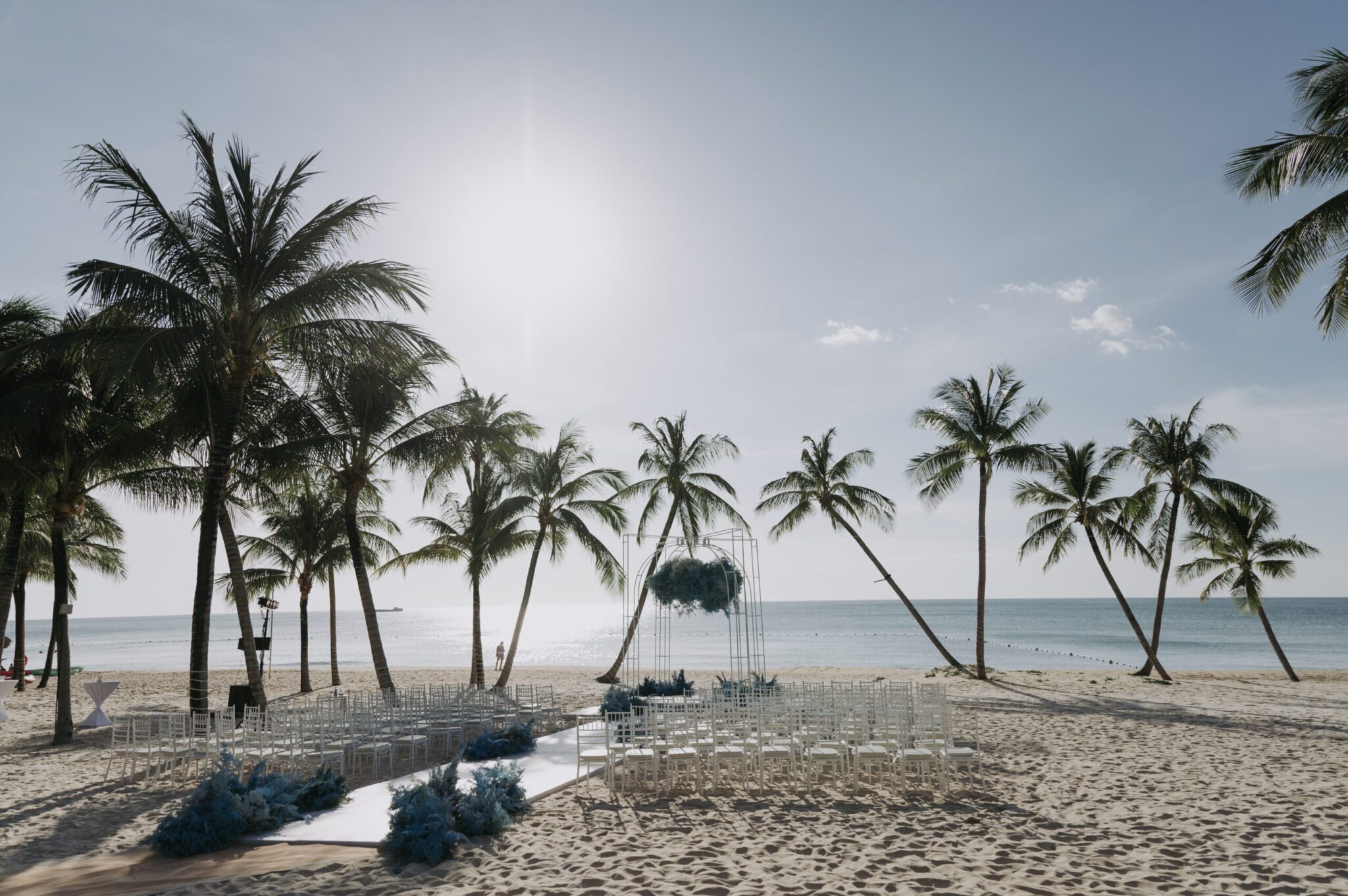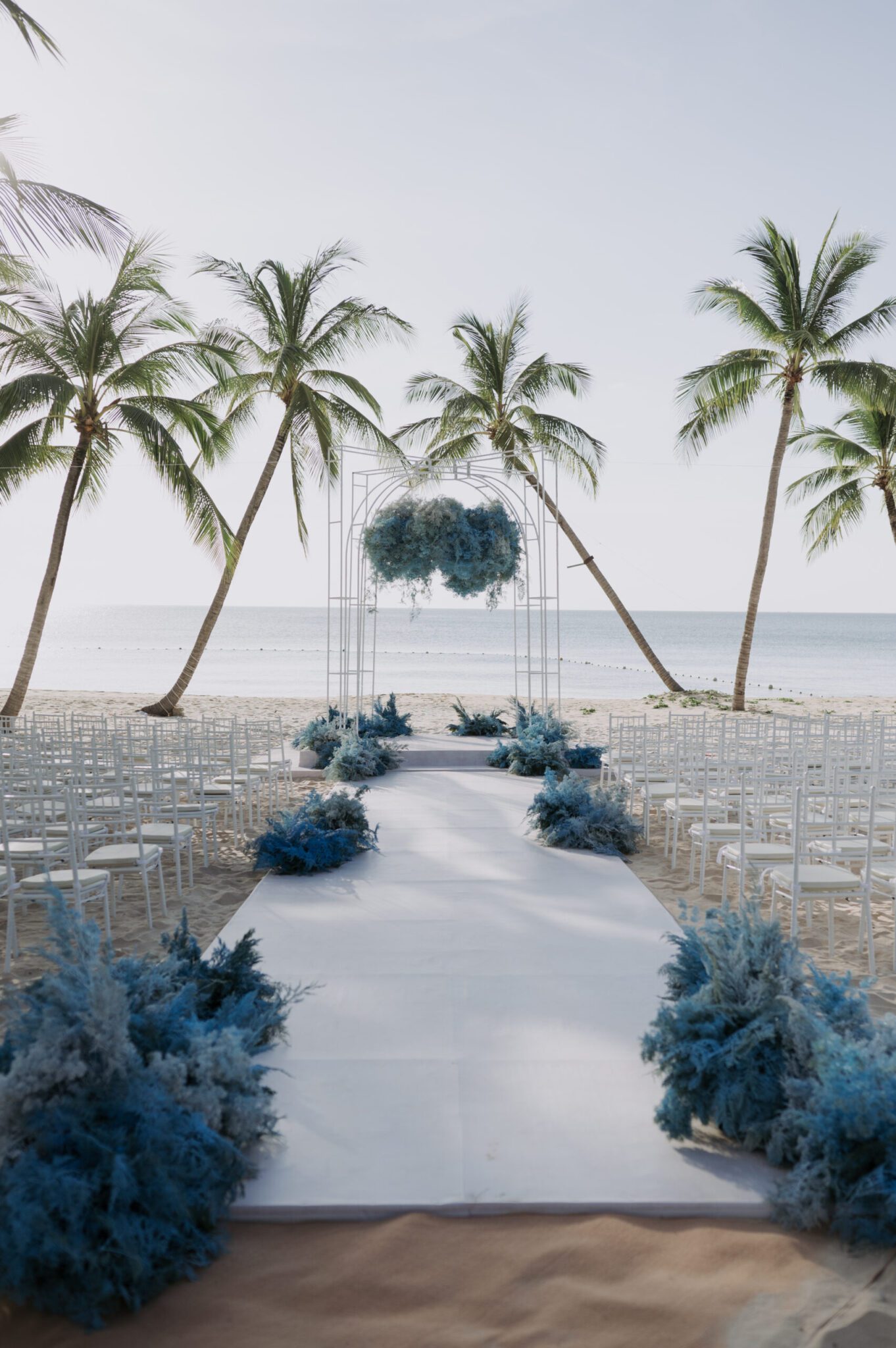 InterContinental Long Beach Phu Quoc was also designed by Bill Bensley – the same designer from InterContinental Danang – well-known for his amazing works for 5 star resorts in South East Asia. You will find InterContinental Phu Quoc's architecture more vibrant with spontaneous mixing and matching of colors on interior objects.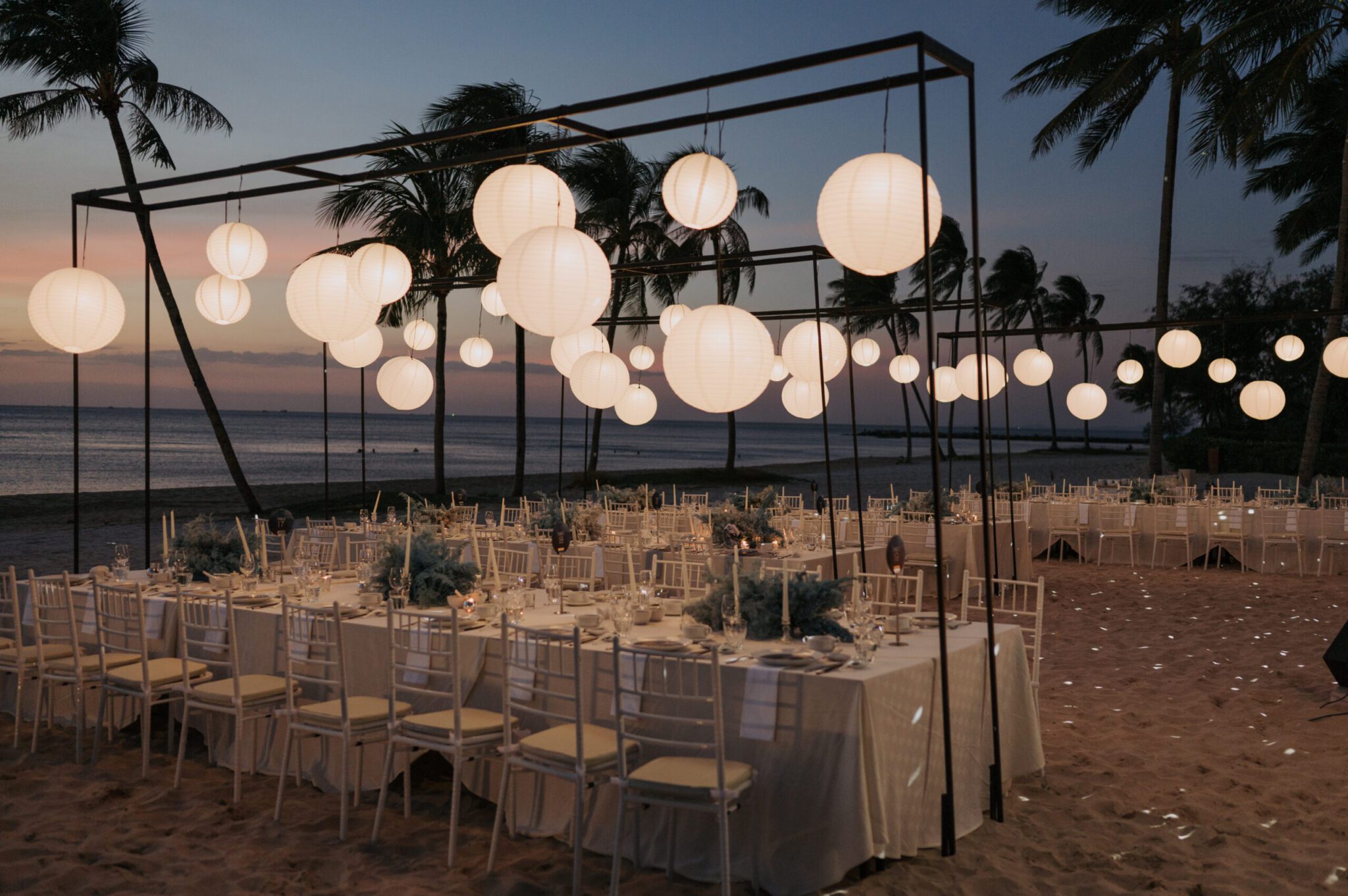 Also, the scenery is a plus point for those who plan a wedding in Phu Quoc. Phu Quoc island has the best sunset view in Vietnam and InterContinental Phu Quoc has the best sunset view on the island. We would love to come back here for more sunset weddings and if you are dreaming of it, send us an email!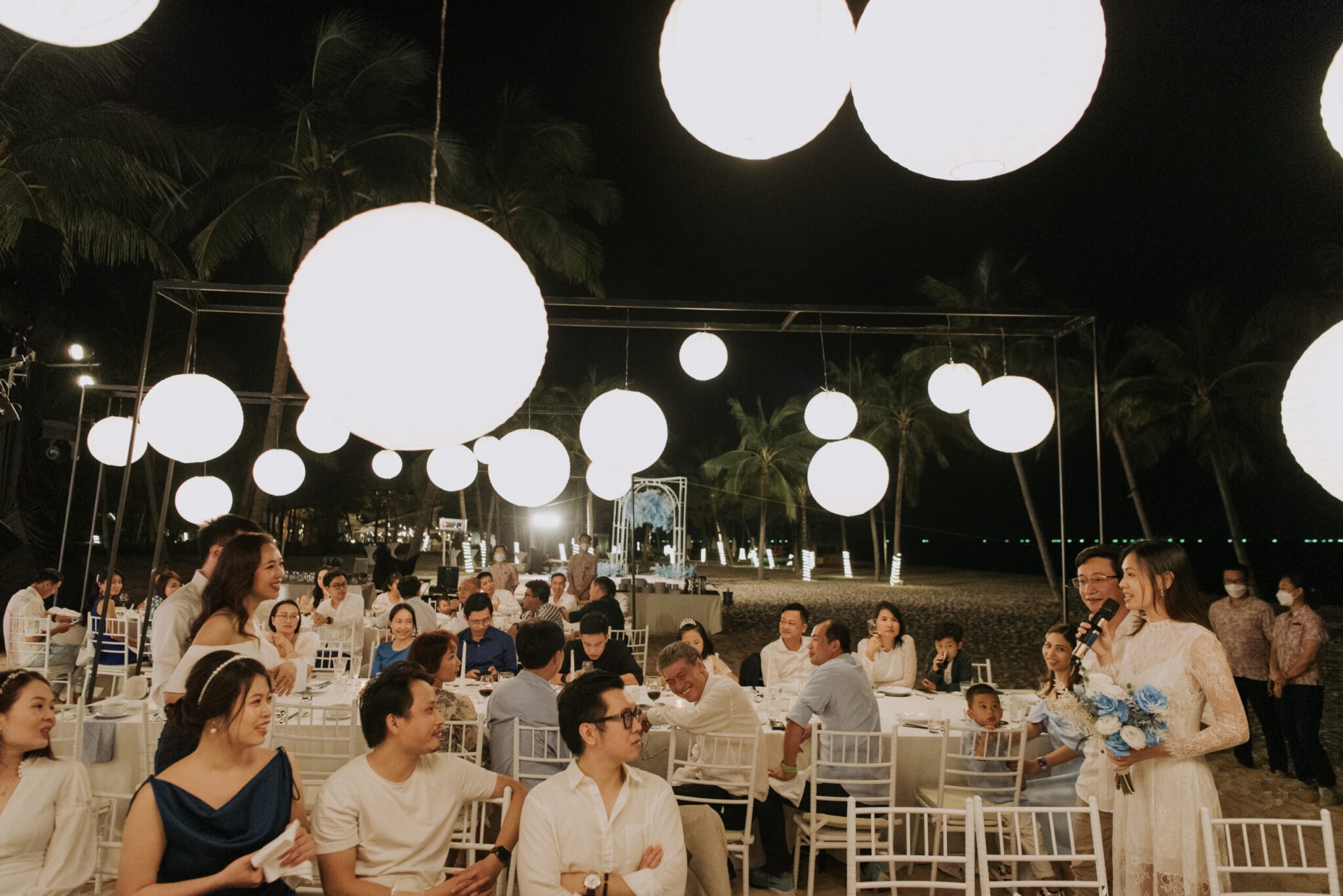 You can host a 100 – 150 guest wedding on the beach, whereas the Grand Ballroom can accommodate up to 600 guests for banquets, and is also divisible into three sections for smaller gatherings, offering you various choices for weddings of any size.