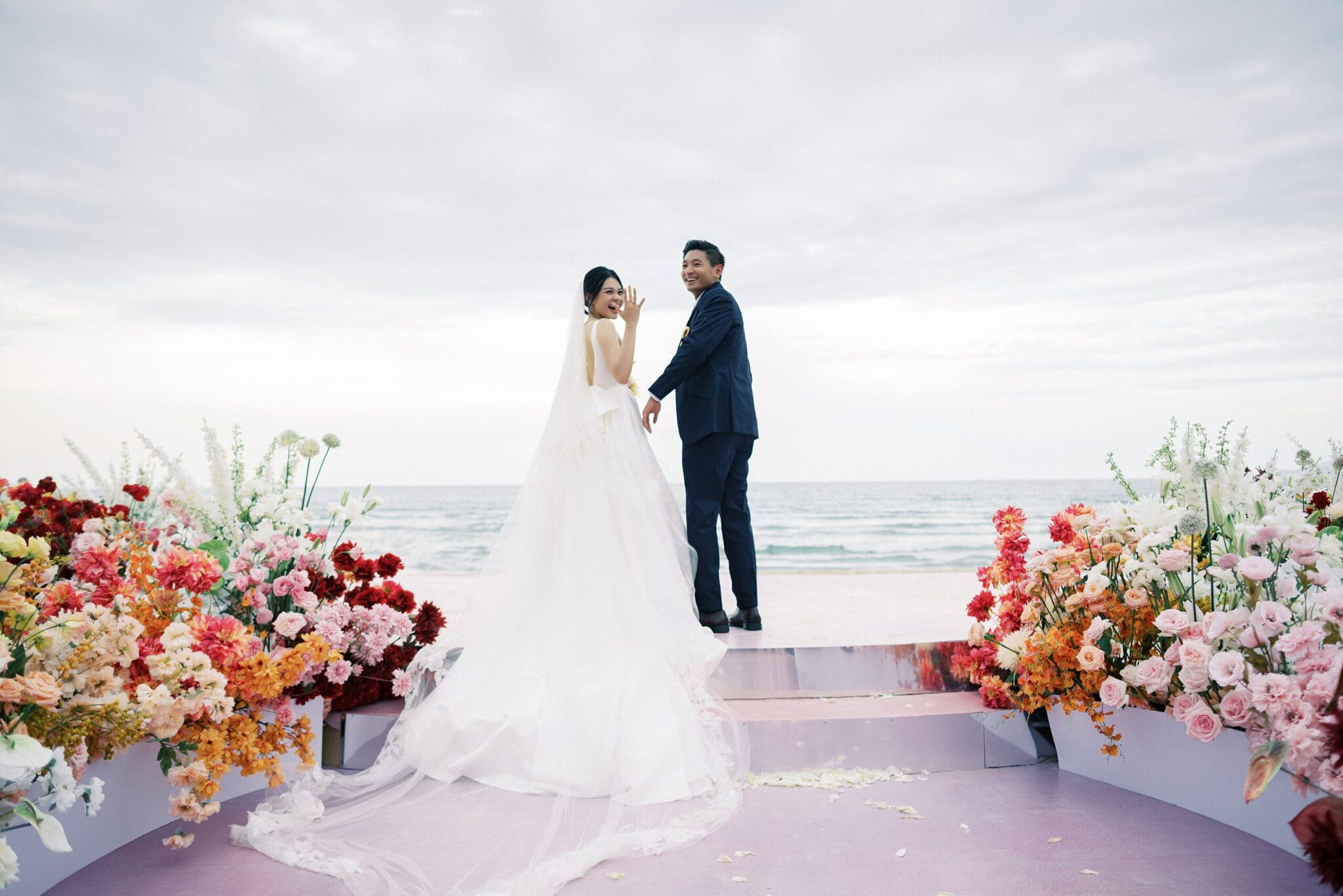 Planning a destination wedding means a huge amount of work, from managing your guests' schedules, establishing the itinerary to countless logistical tasks. However, the moment you decide to have a destination wedding in Vietnam, the first thing that comes to mind is definitely picking the location and venue for it.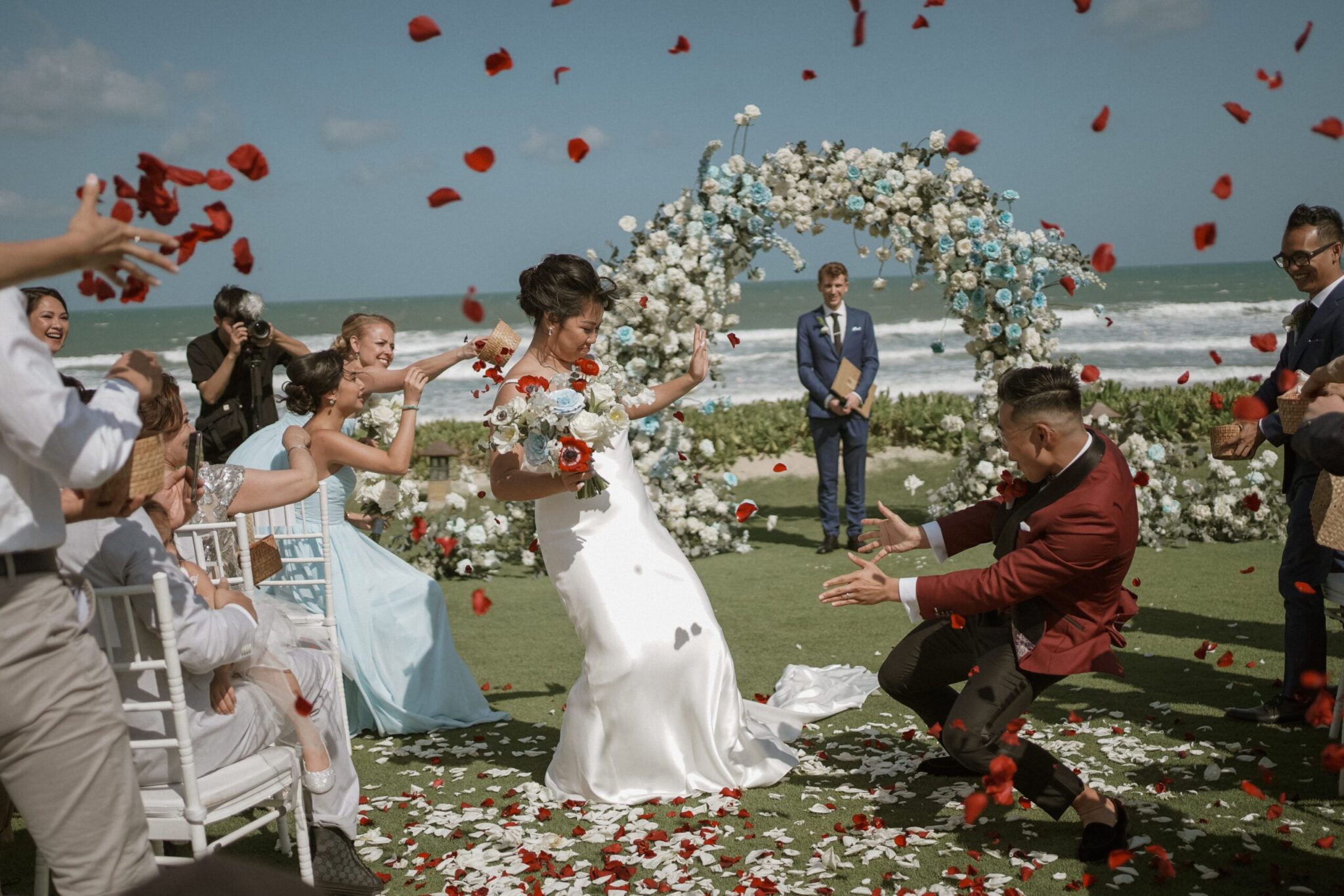 In recent years, more and more Vietnamese couples have ventured into the idea of holding a destination wedding, hence the rising developments of resorts and wedding venues in tourism centers of the country. In this blog, we will showcase our top 5 locations with the potential to hold a pitch perfect destination wedding in Vietnam, based on the opinions of our team of destination wedding planner.
If you are specifically looking for resorts to hold your beach wedding, visit our previous blog: Ideal resorts for beach weddings in Vietnam
1. Sapa – a gem on the mountain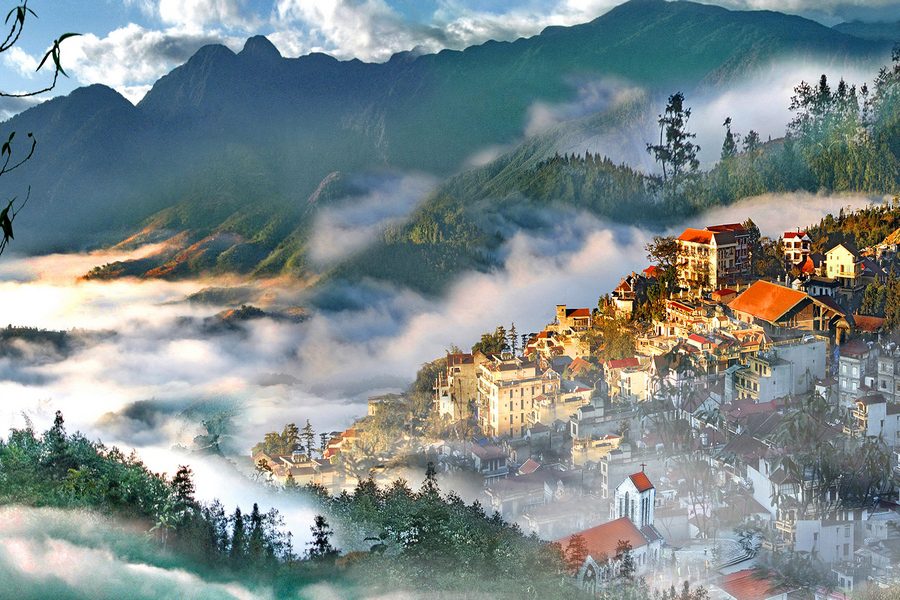 As The Planners have recently made our first wedding in Sapa, we shall indulge ourselves and put it at the first slot of the list. Nevertheless, this dreamy town lying on the mountains is worth all the praises it has been given. If a beach wedding seems to not satisfy you and your special ones, how about an upward endeavor to a magnificent mountainous landscape?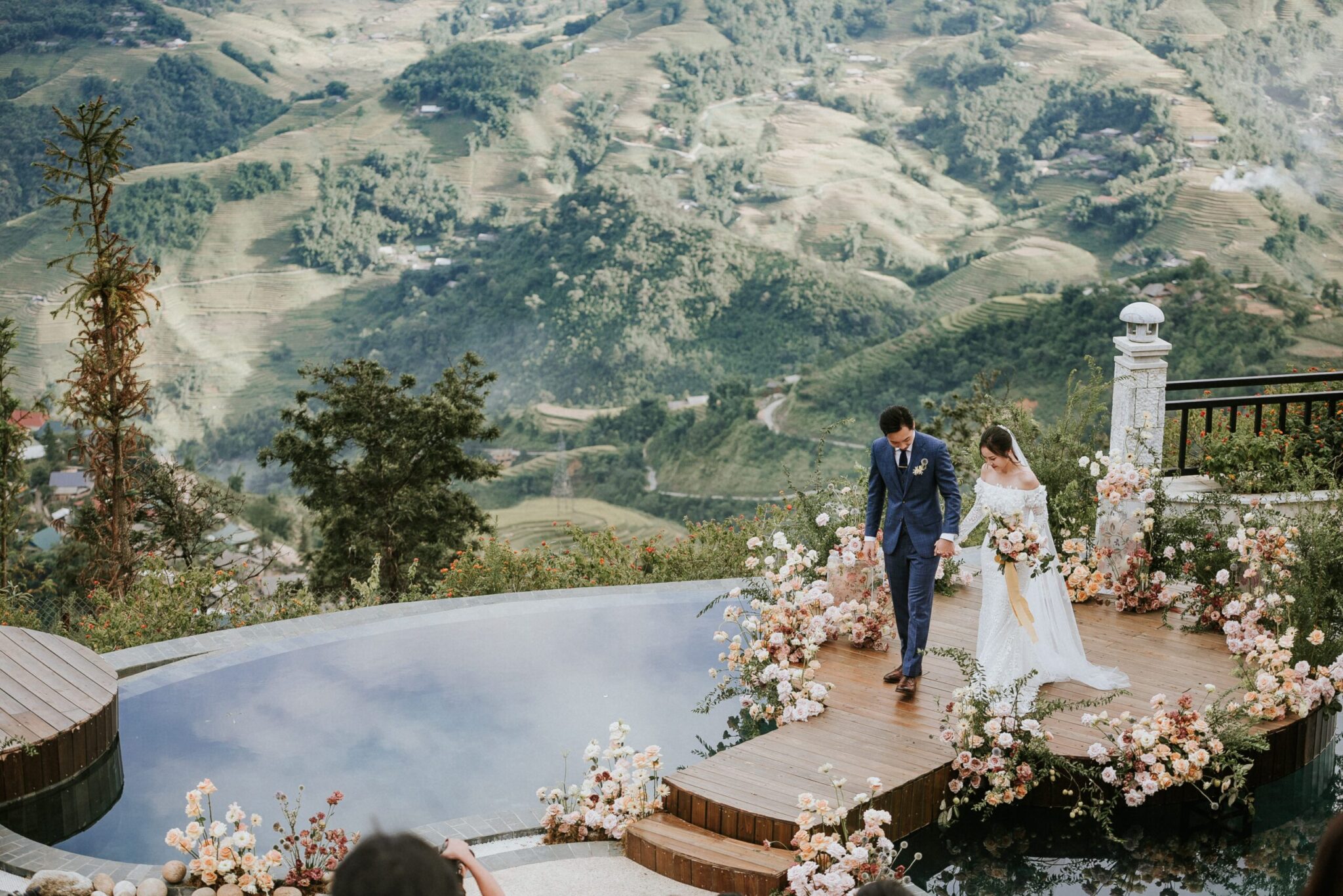 If you decide to hold your wedding in Sapa, you are guaranteed to be able to enjoy chill weather (no more worries about getting all sweaty during your wedding ceremony!). In addition to that, speaking from our own experience, the grandeur of mountainous sceneries will undoubtedly blow you away! What better way to celebrate your tying the knot than standing on top of the world among the clouds?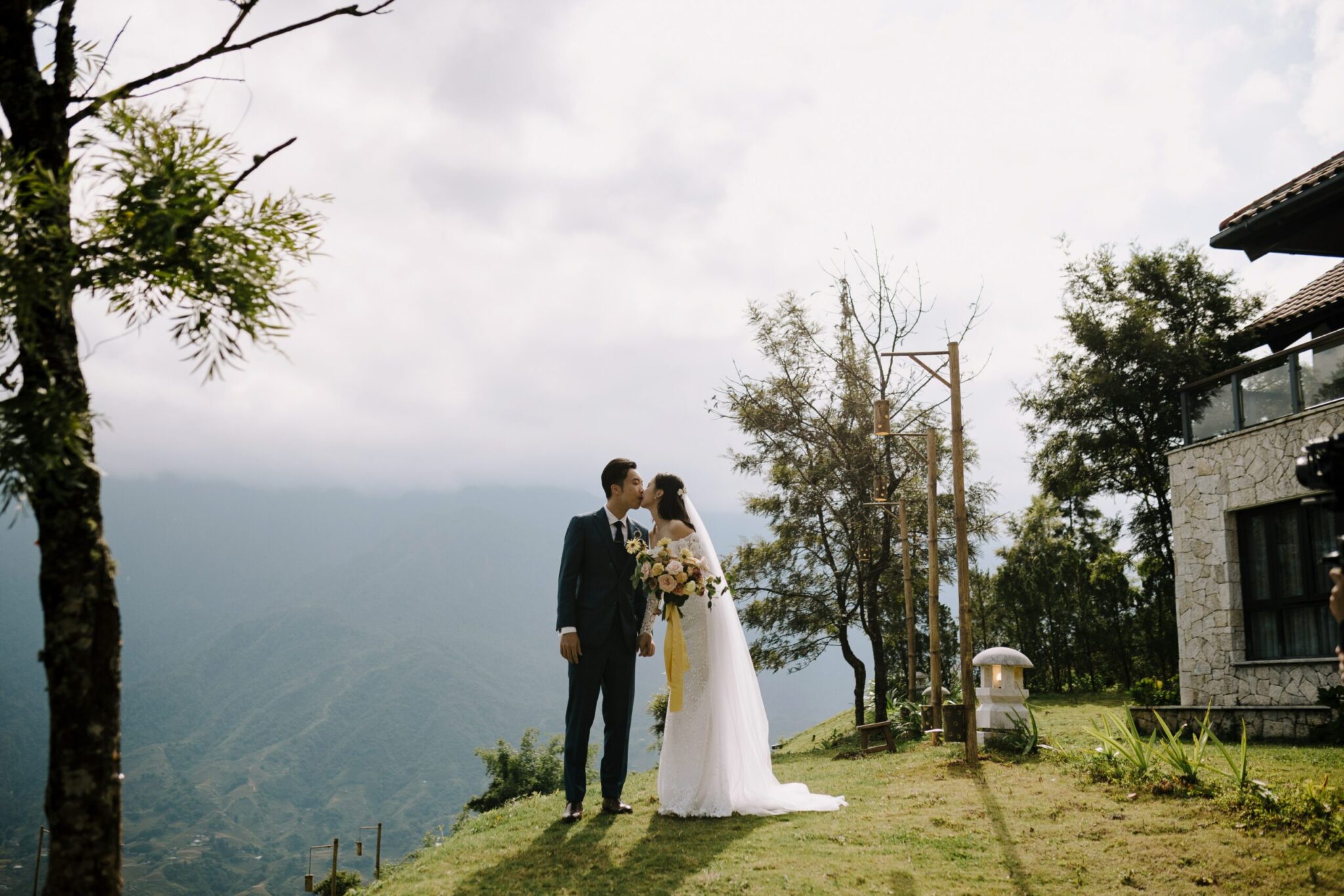 If beach weddings bring tropical vibrancy, weddings on mountain possess a lovely sense of intimacy and coziness. With Duy and Tram's wedding, the most captivating moment for us must be their gorgeous dance in the sparkling lights of chandeliers and disco balls. The chill and foggy weather are perfect catalysts for a warm and mellow dinner reception!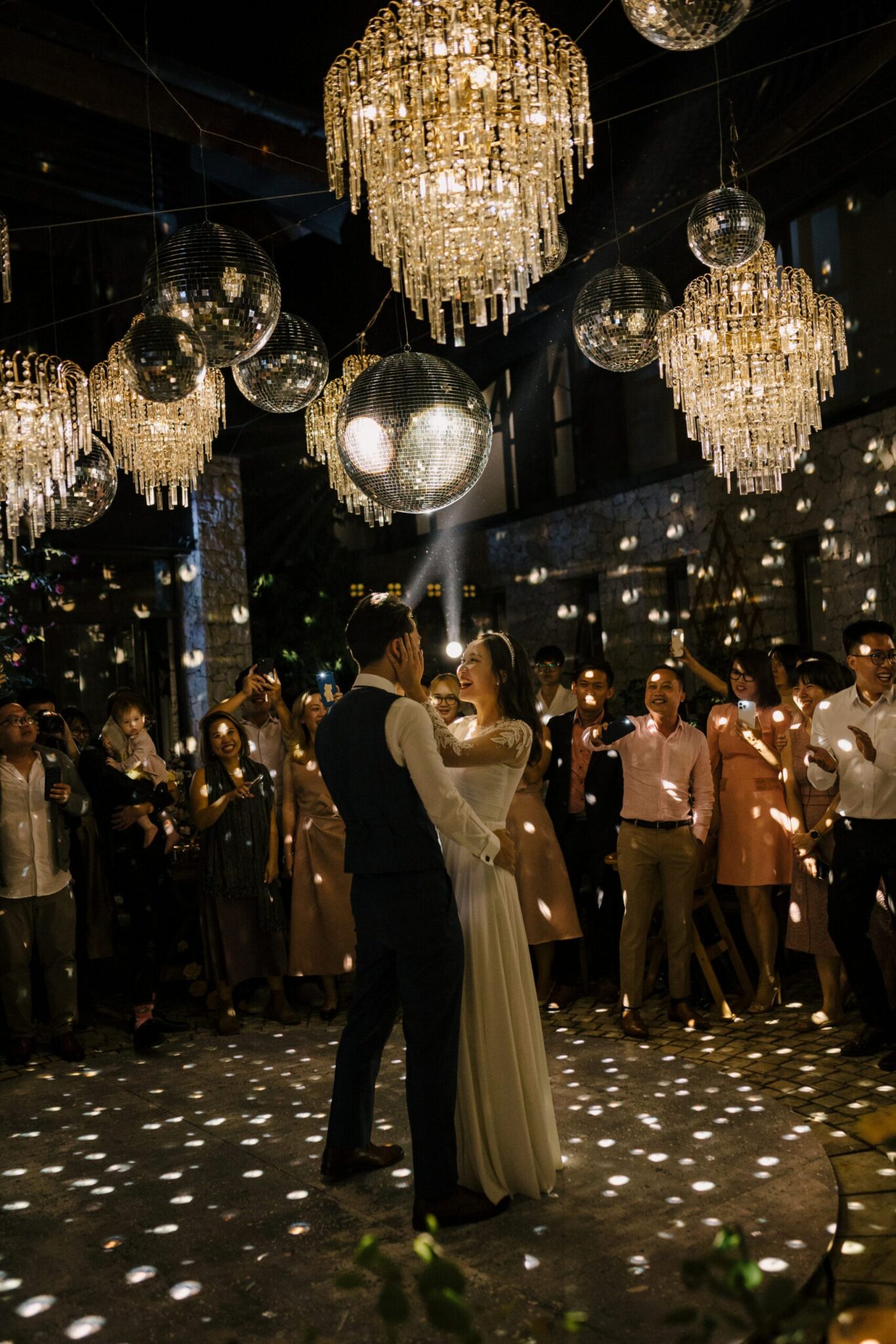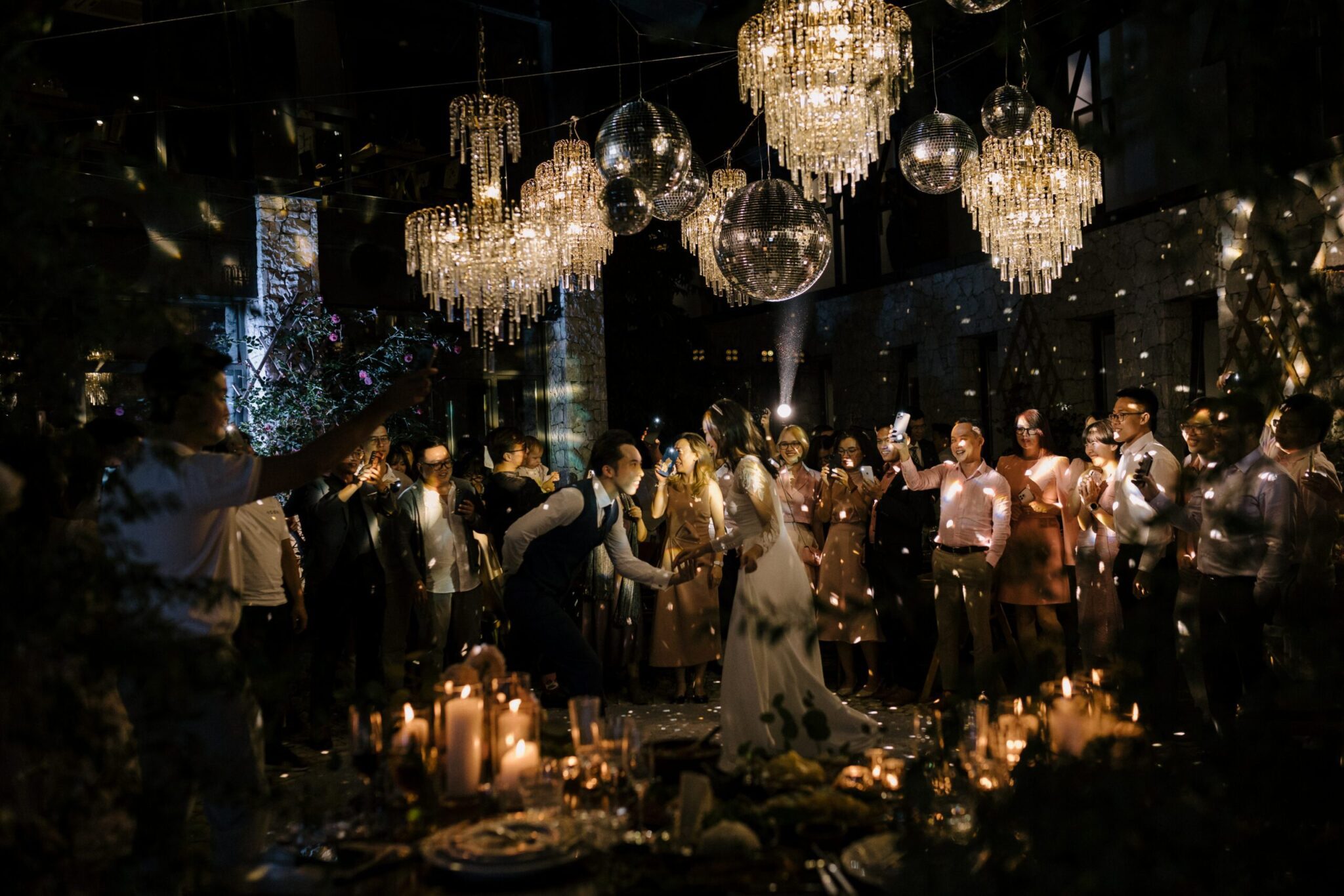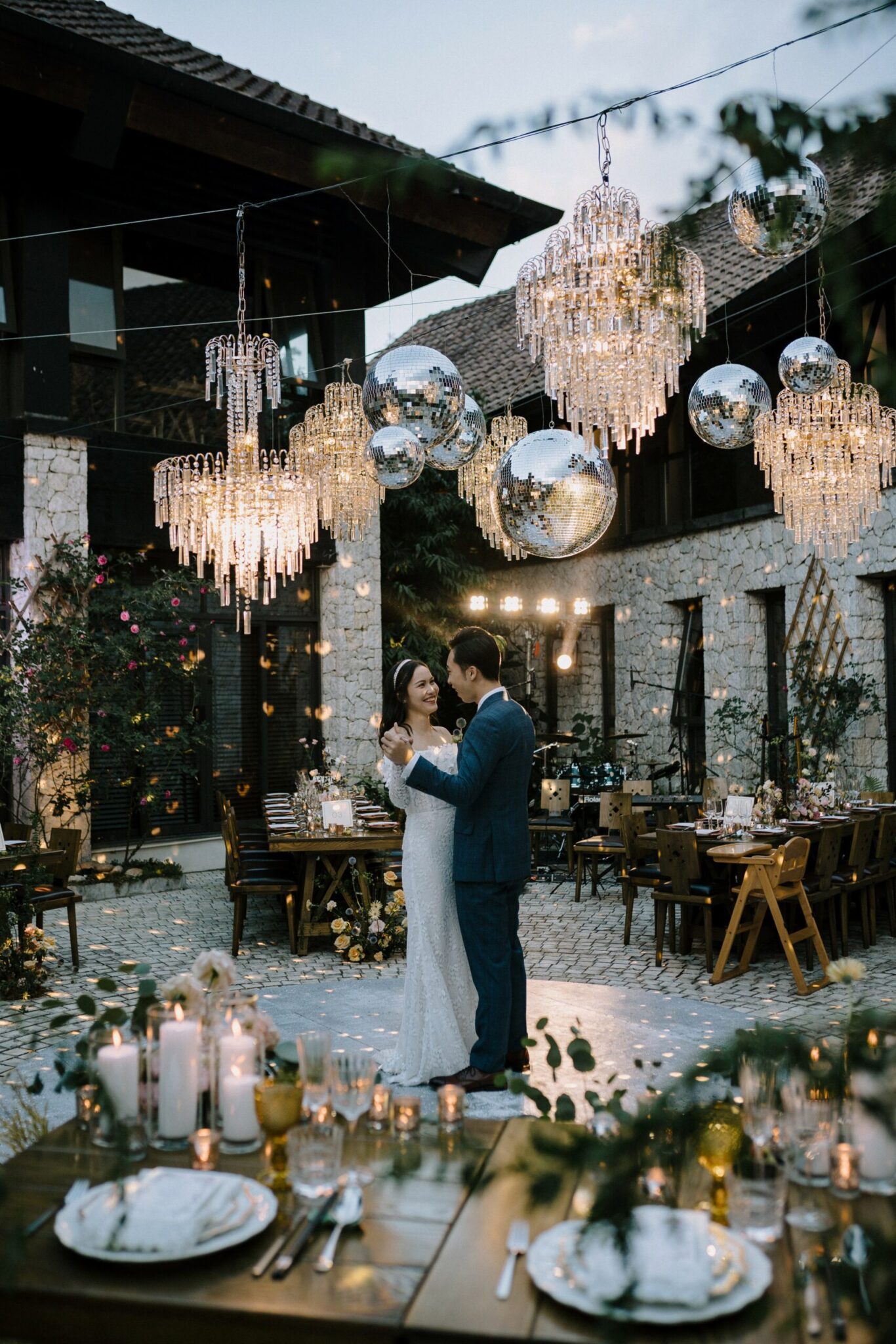 2. Halong – a charming coastal city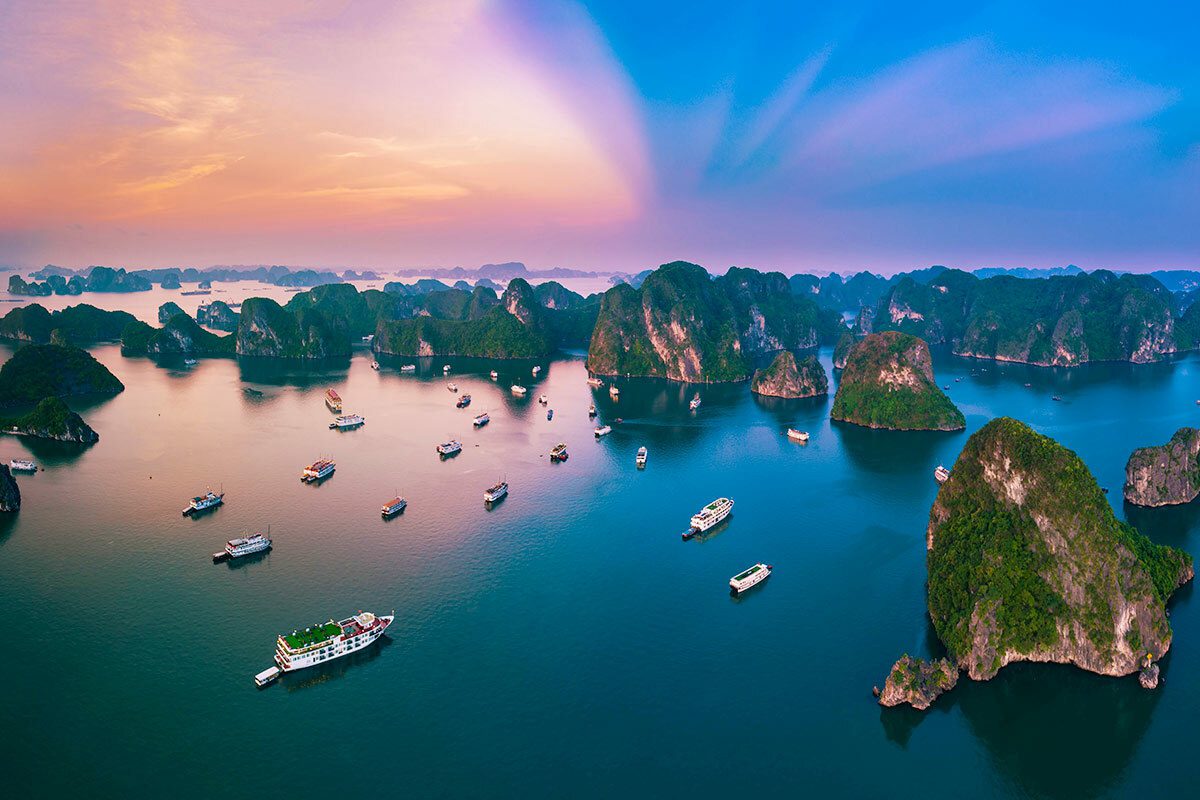 You may have known Halong as a tourism city, but did you know that it is becoming a rising choice for many couples as a wedding destination? With its infinite resource for tourism, the charming coastal city of Halong holds advantages to be an ideal location for destination weddings.
The resume speaks for itself: UNESCO World's Natural Heritage Site Halong Bay, pleasant weather almost all year long, an explore-worthy city for food lovers,… There are countless activities for not just you but also your guests should you have your wedding here, both before and after the wedding day. And did we mention Halong possesses amazing beaches as well?
The internal and external traffic grid of Halong City include: road, railway, airline, river way and sea way, therefore you can access the city in whichever traveling method you like. If you travel by car from Hanoi, it will only take about 2 hours to get to Halong City!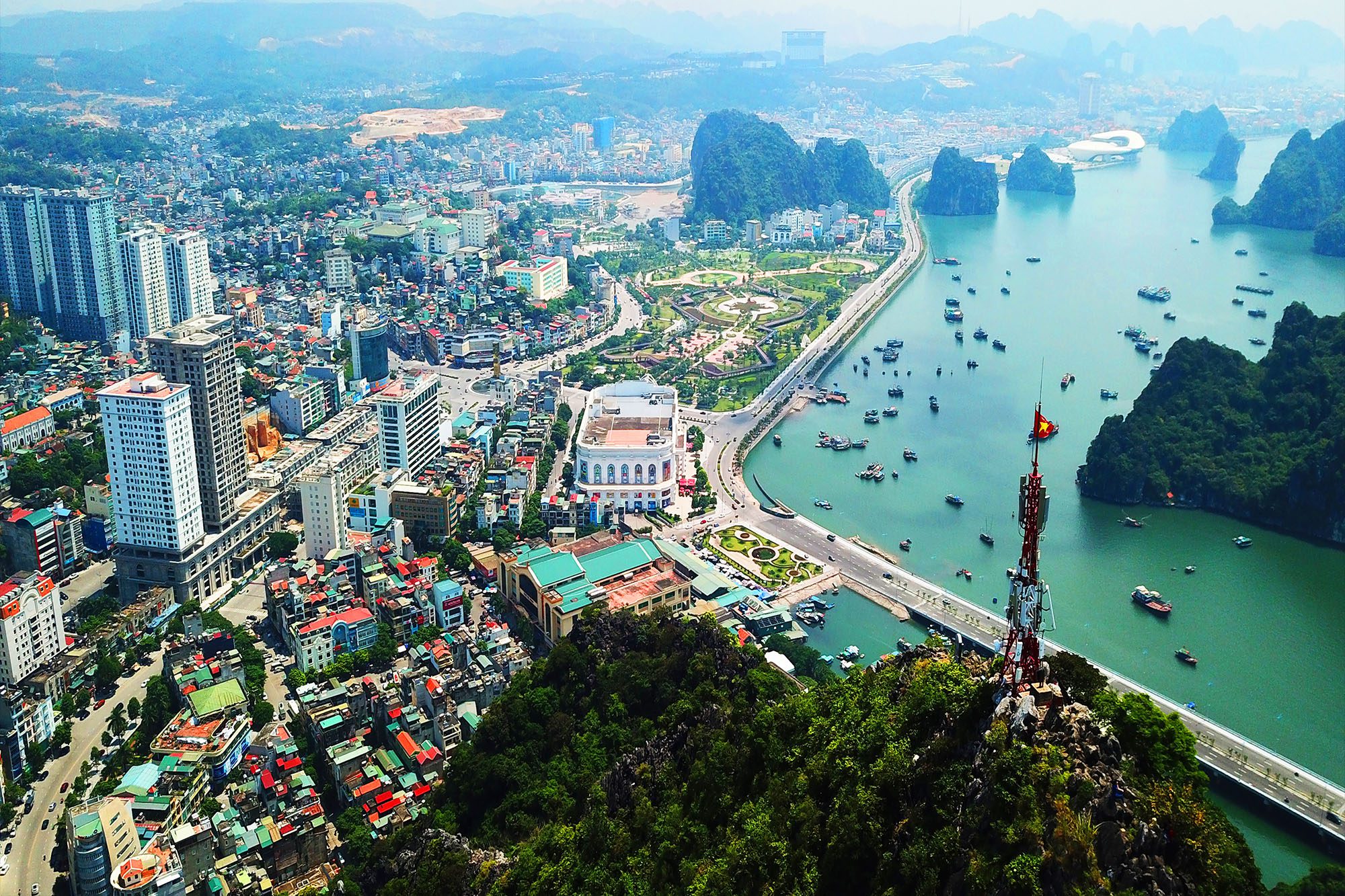 There are various options for wedding venues as well: Vinperal Halong – the floating castle, wondrous cruises in Halong Bay, state-of-the-art hotels and resorts,… Visit our previous blog to know more about the ideal venues to hold your wedding in Halong: Top wedding venues in Halong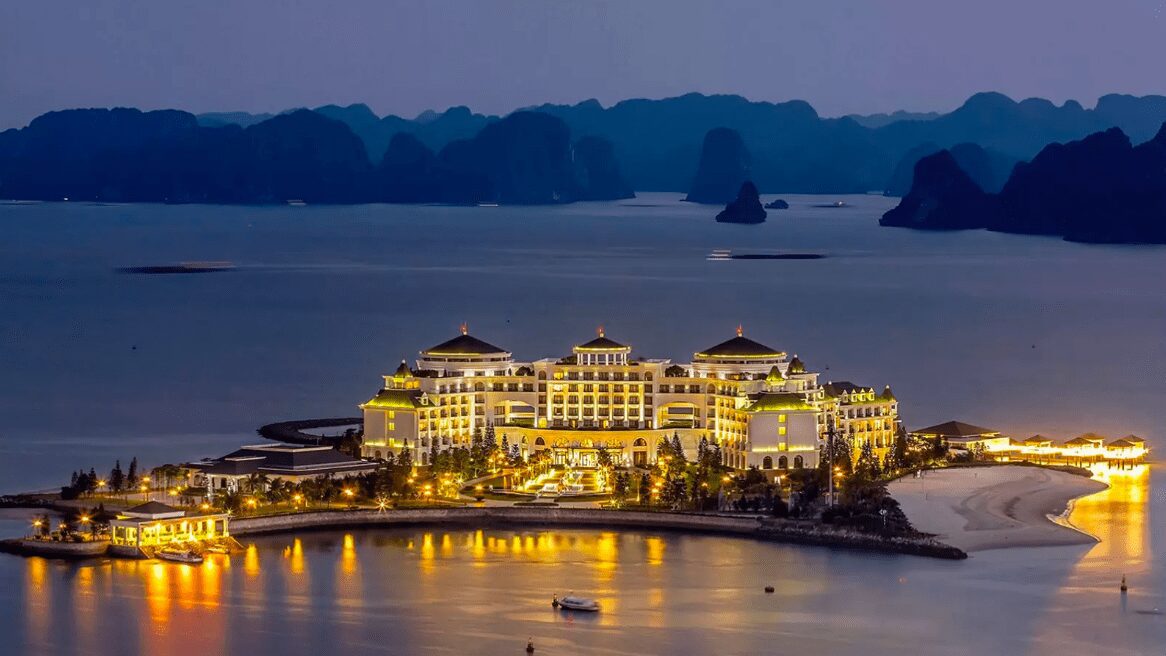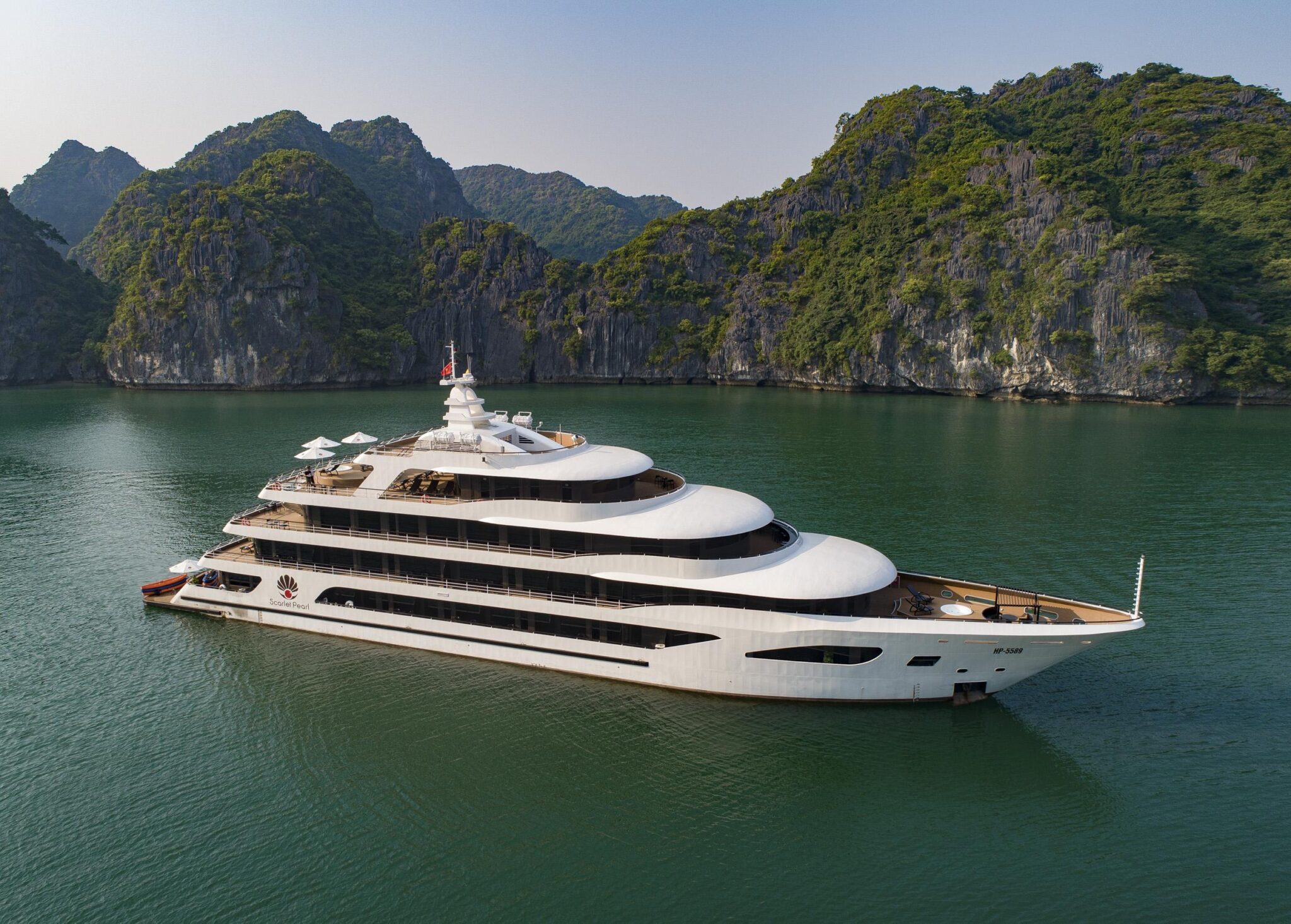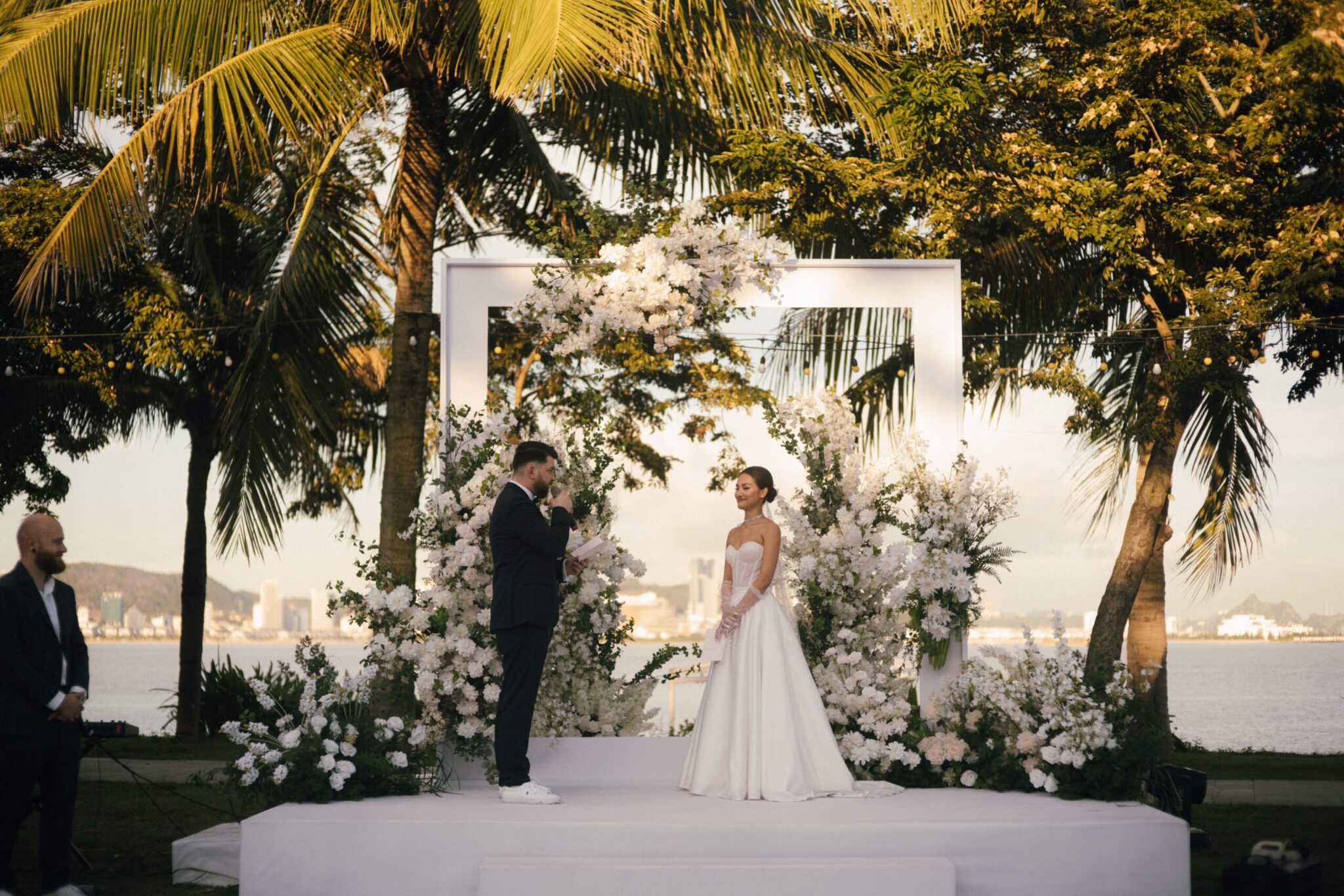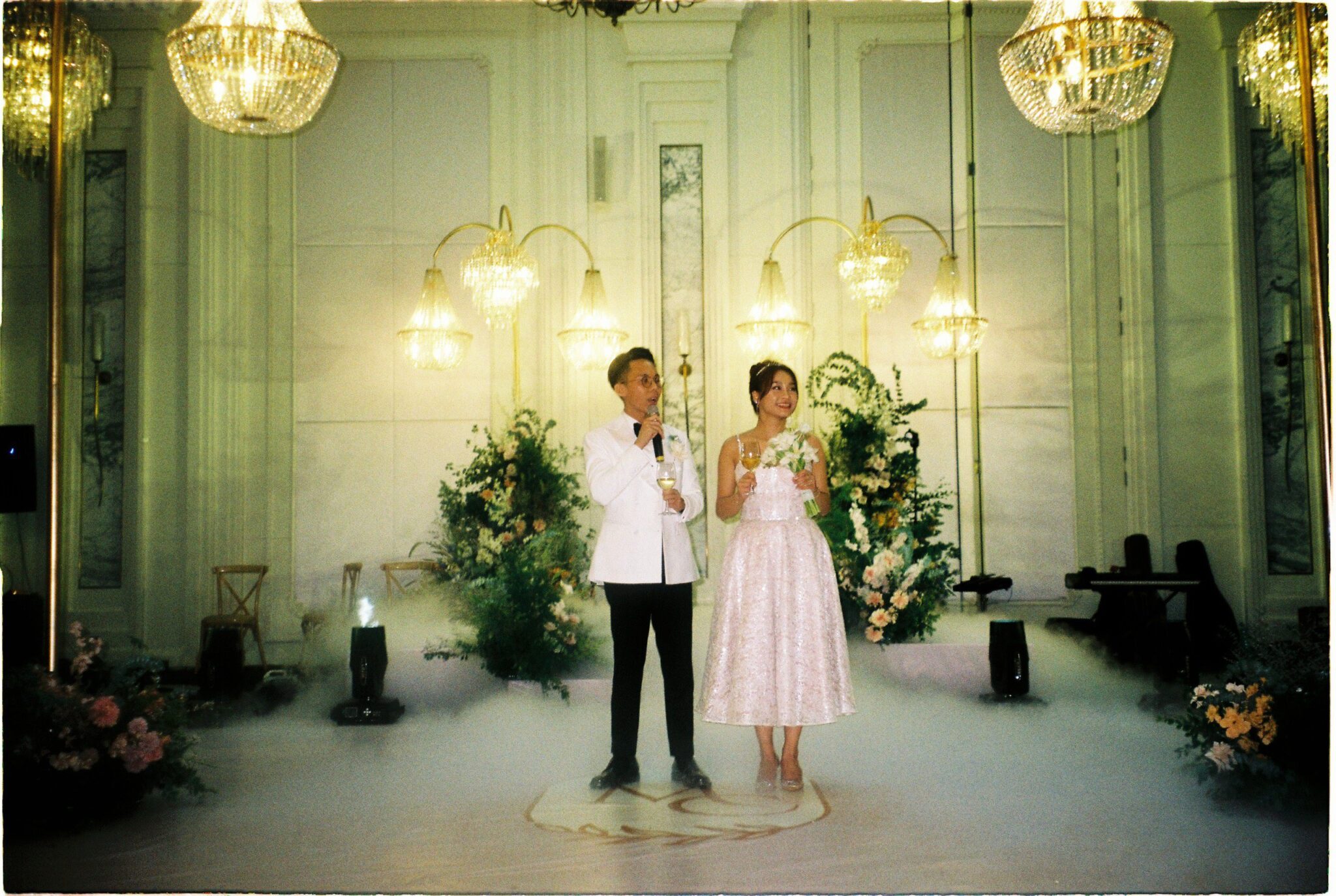 3. Danang – the No. 1 option to hold a destination wedding in Vietnam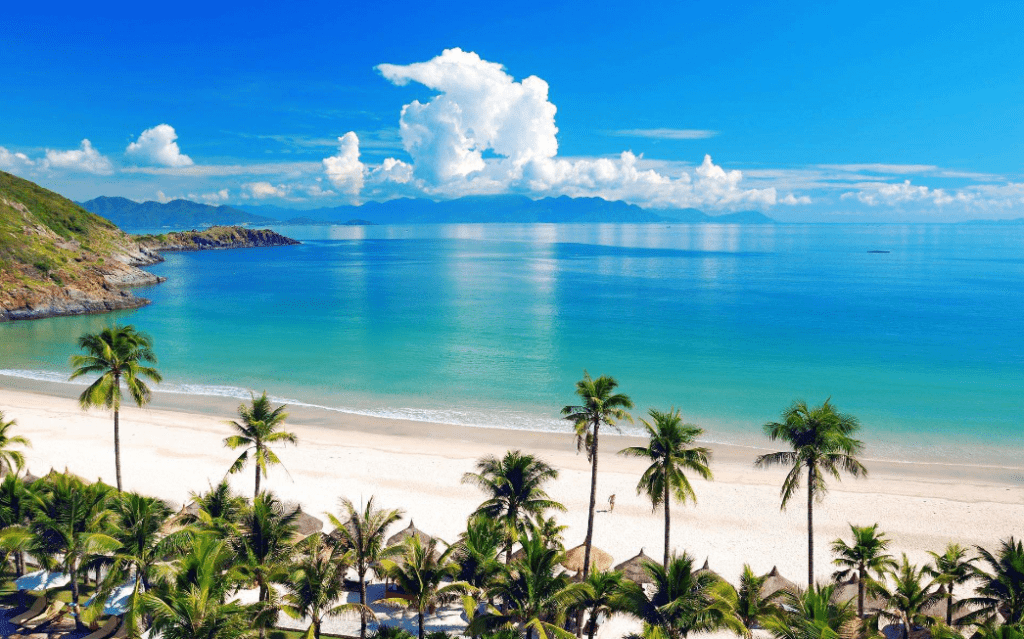 Dubbed as "the best city to live in Vietnam", Danang should unanimously be put as the number one option for destination weddings. As experienced destination wedding planners, we can say with confidence that Danang is the best location to hold a destination wedding with its gorgeous natural landscapes, pleasant weather and adorable people.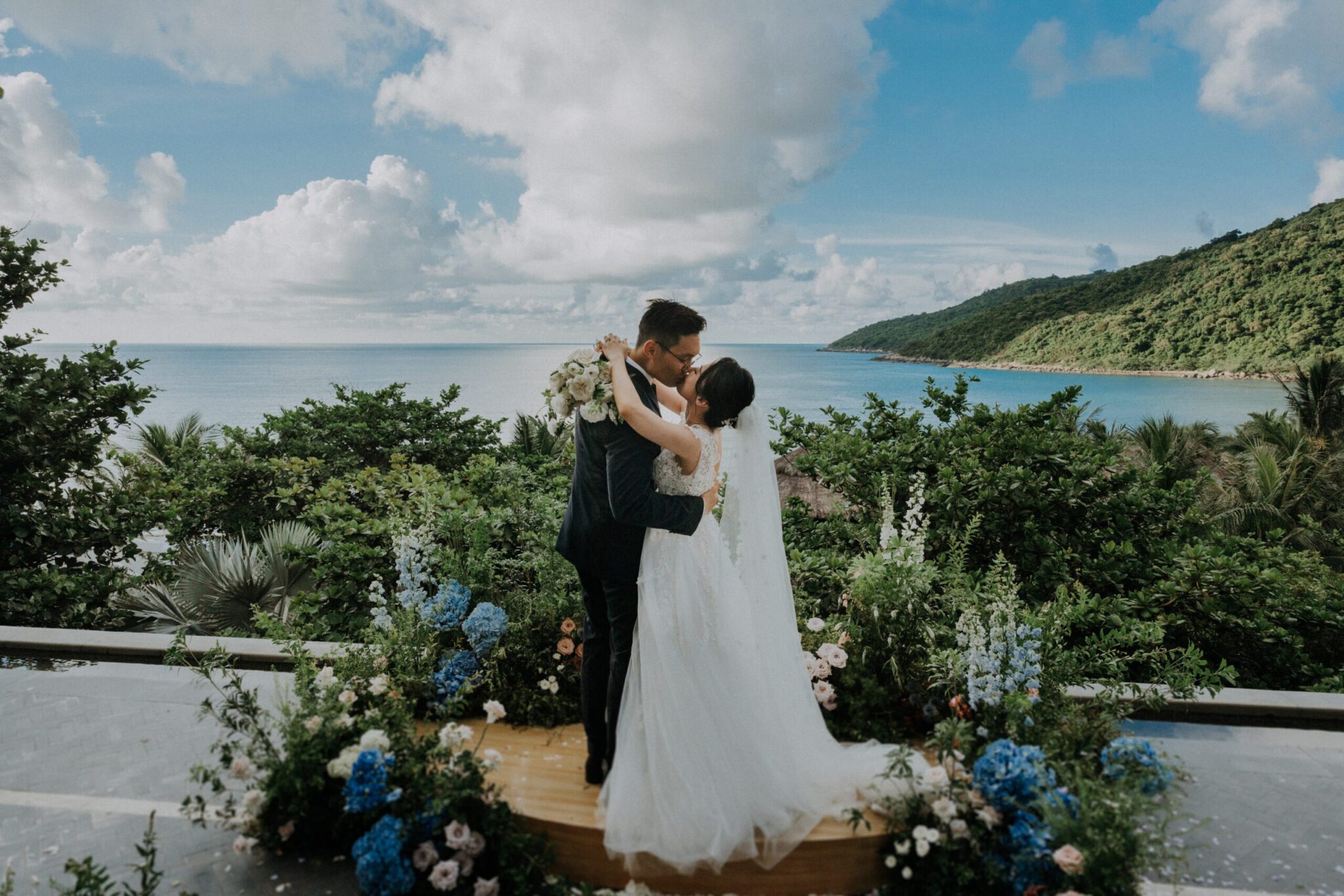 Blessed by Mother Nature, Danang possibly has the most beautiful beaches in all of Vietnam. My Khe, Lang Co, Non Nuoc, Bac My An are all internationally recognized in the top beaches on the planet, and that is just to name a few. Therefore, you will have numerous choices of resorts with each of them having their own distinct charms.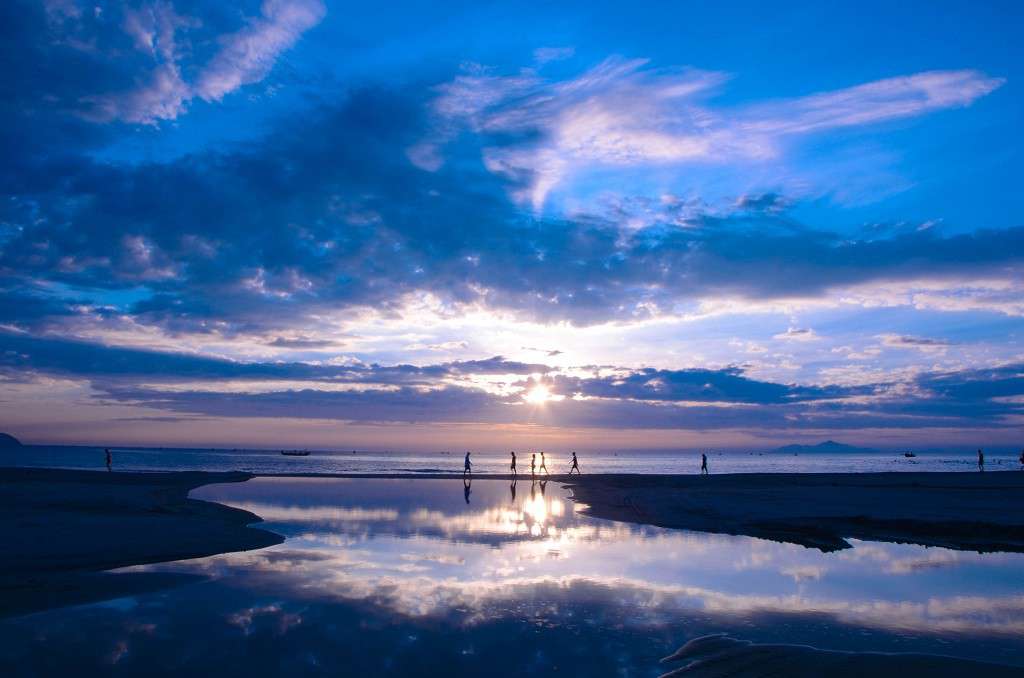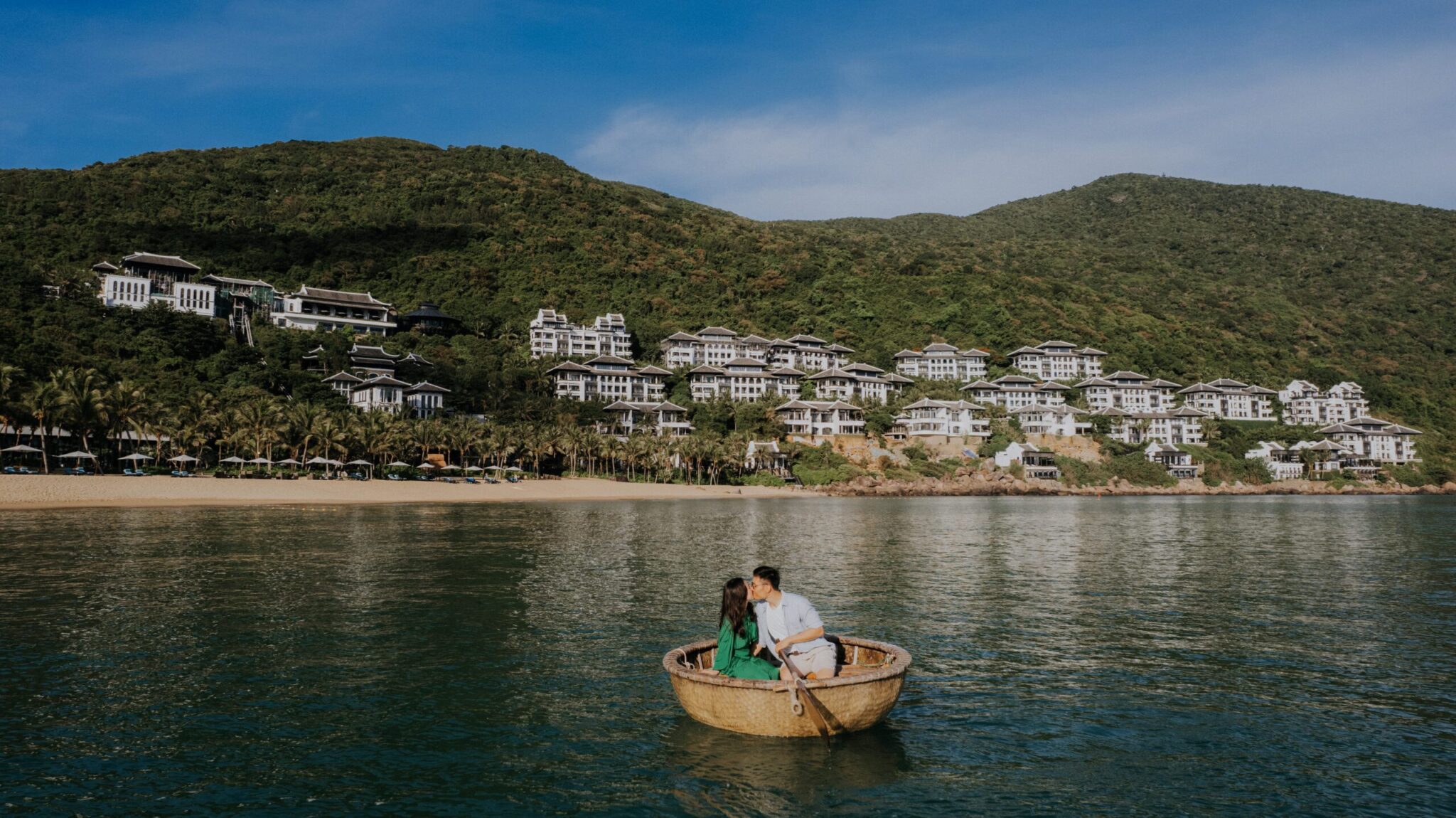 An ideal honeymoon destination
Additionally, there are numerous places for you and your guests to visit during your wedding weekend in this tourism city. Ba Na Hills, Hoi An Ancient Town and My Son Sanctuary are all romantic destinations to spend time at with your significant other.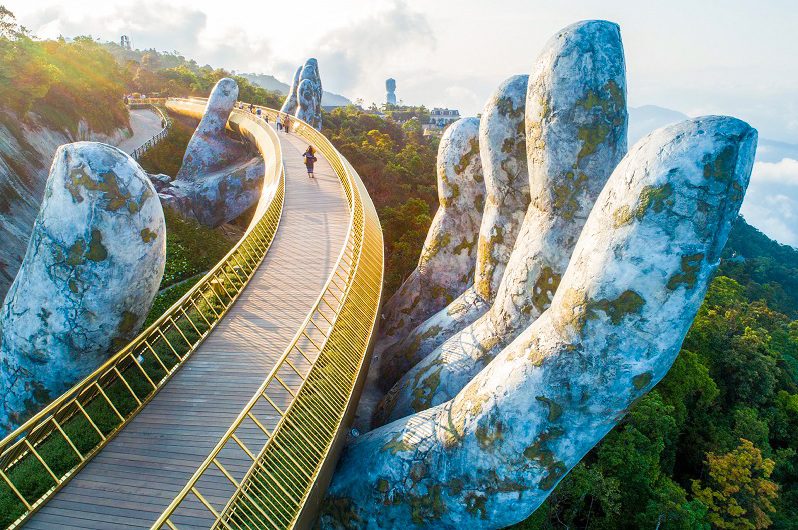 Moreover, the costs of holding a destination wedding in Danang are reasonable and considerably lower than in Bali or Phuket. If you are planning a beach wedding within your budget, look no further as Danang certainly has everything you ask for! Allow us to showcase some of our most memorable weddings in Danang just within this year alone.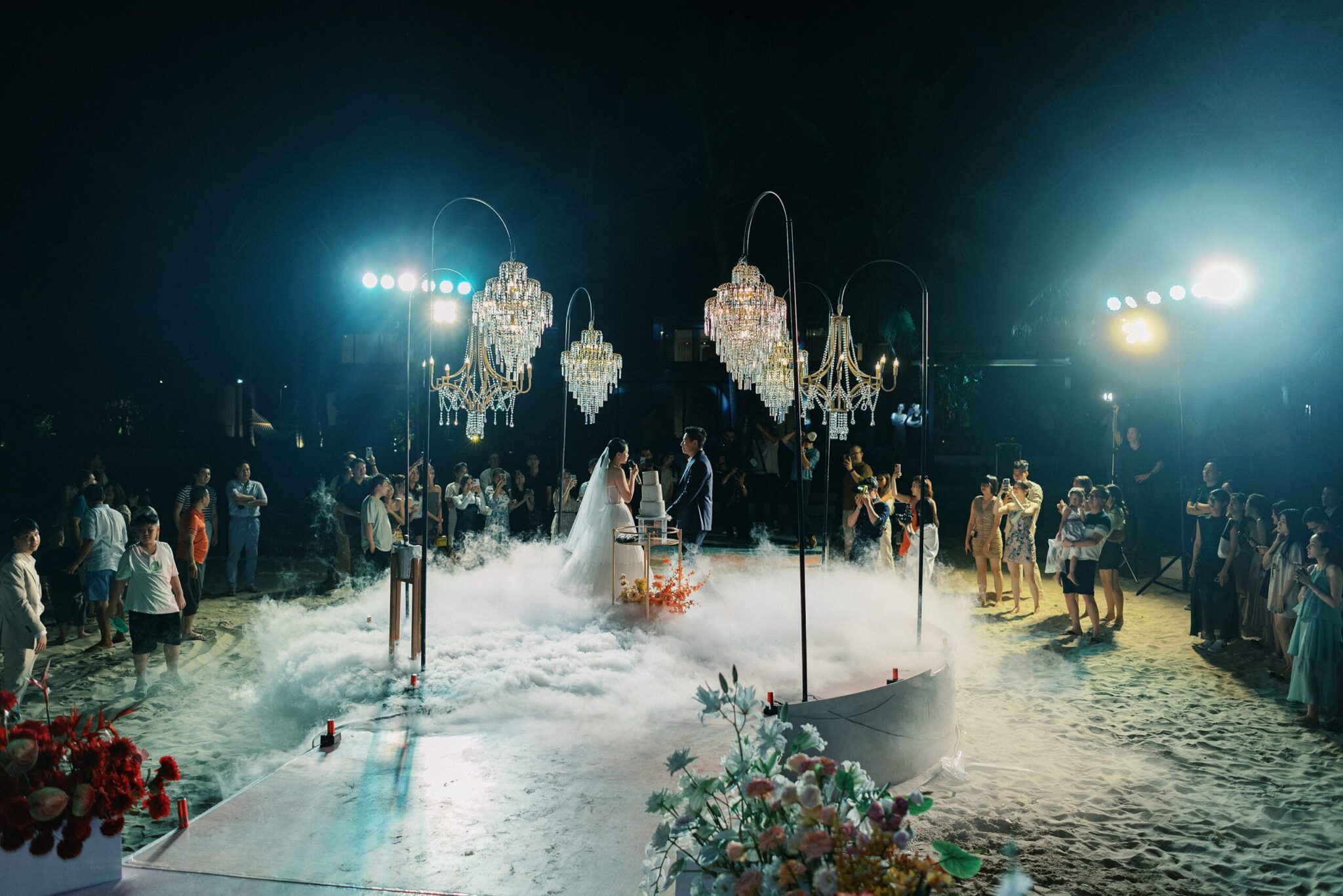 H&P's had an once-in-a-lifetime, romantic and electrifying beach party at Naman Retreats Danang.
Despite the rain, Jasmin and Dennis' vibrant ballroom wedding at Sheraton Grand Danang captured everyone's heart.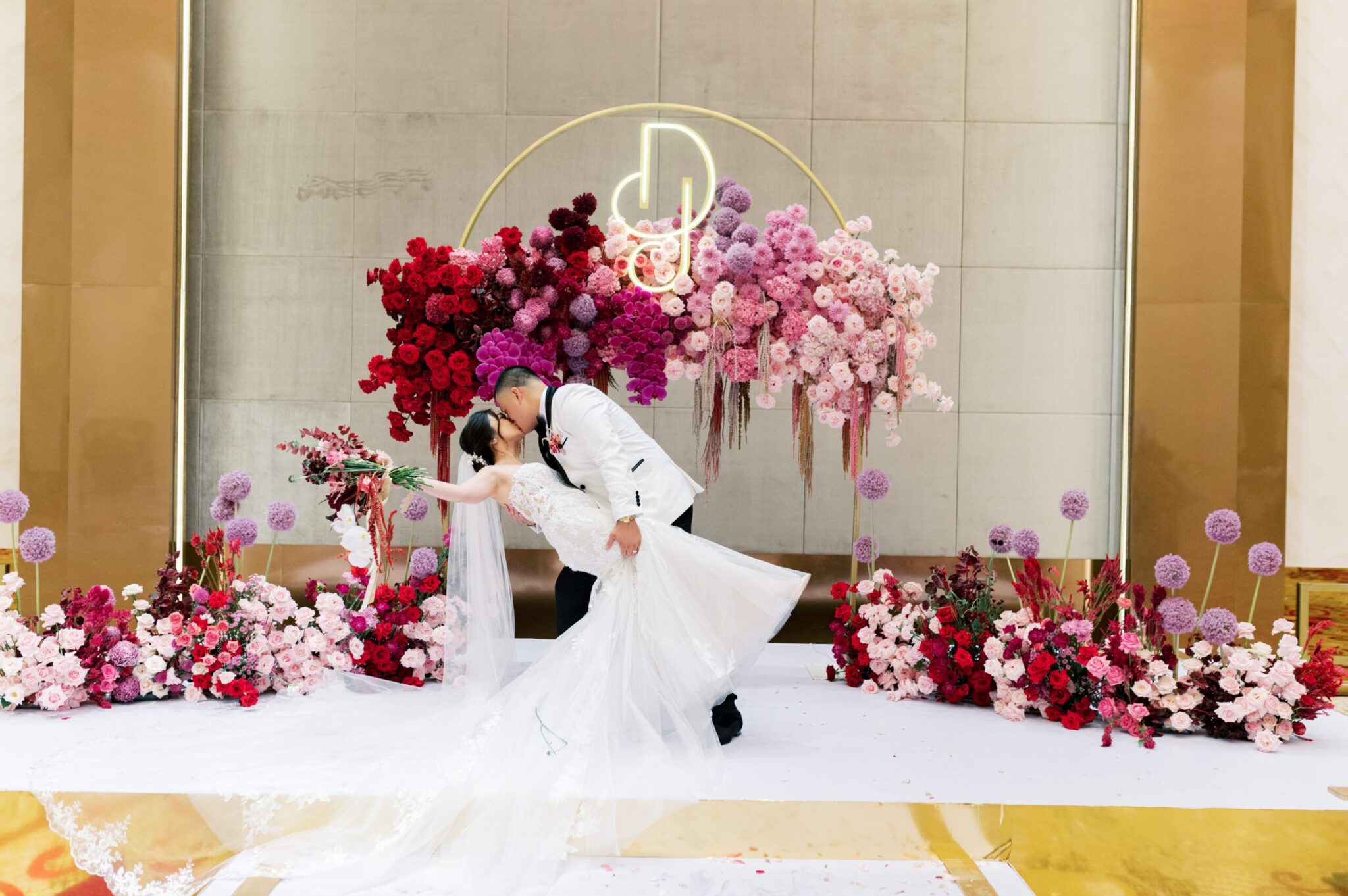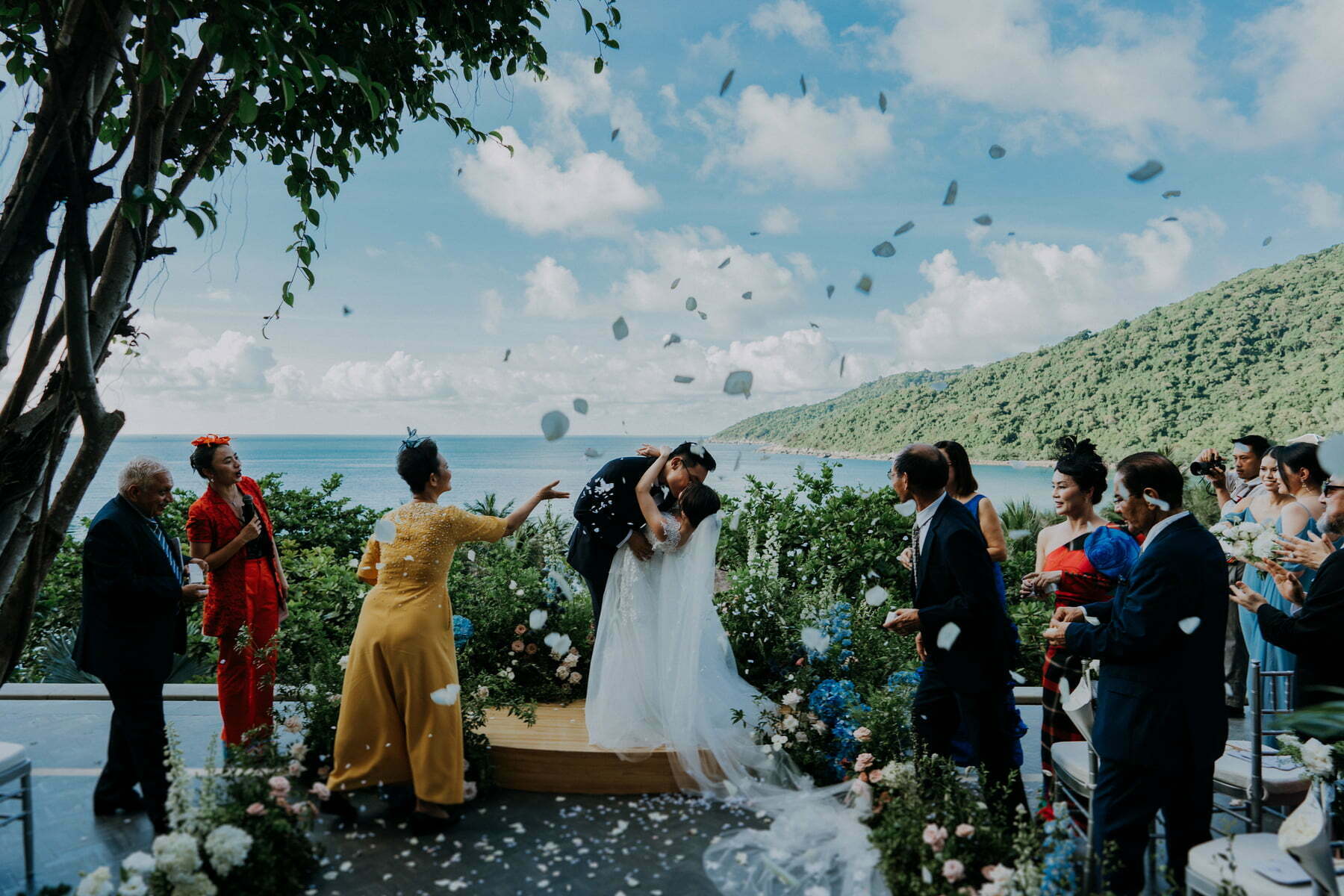 "Blue Garden" – the exciting wedding at our much familiar venue InterContinental Danang.
4. Phu Quoc – a tropical paradise
"Where is the most amazing sunset in Vietnam?" – people would tell you it's Phu Quoc island without hesitation. The glorious seascape of Phu Quoc allows it to be one of the most sought-after choice for destination weddings in Vietnam. The idea of holding a beach wedding on an island sounds already wonderful itself, but Phu Quoc provides more than that.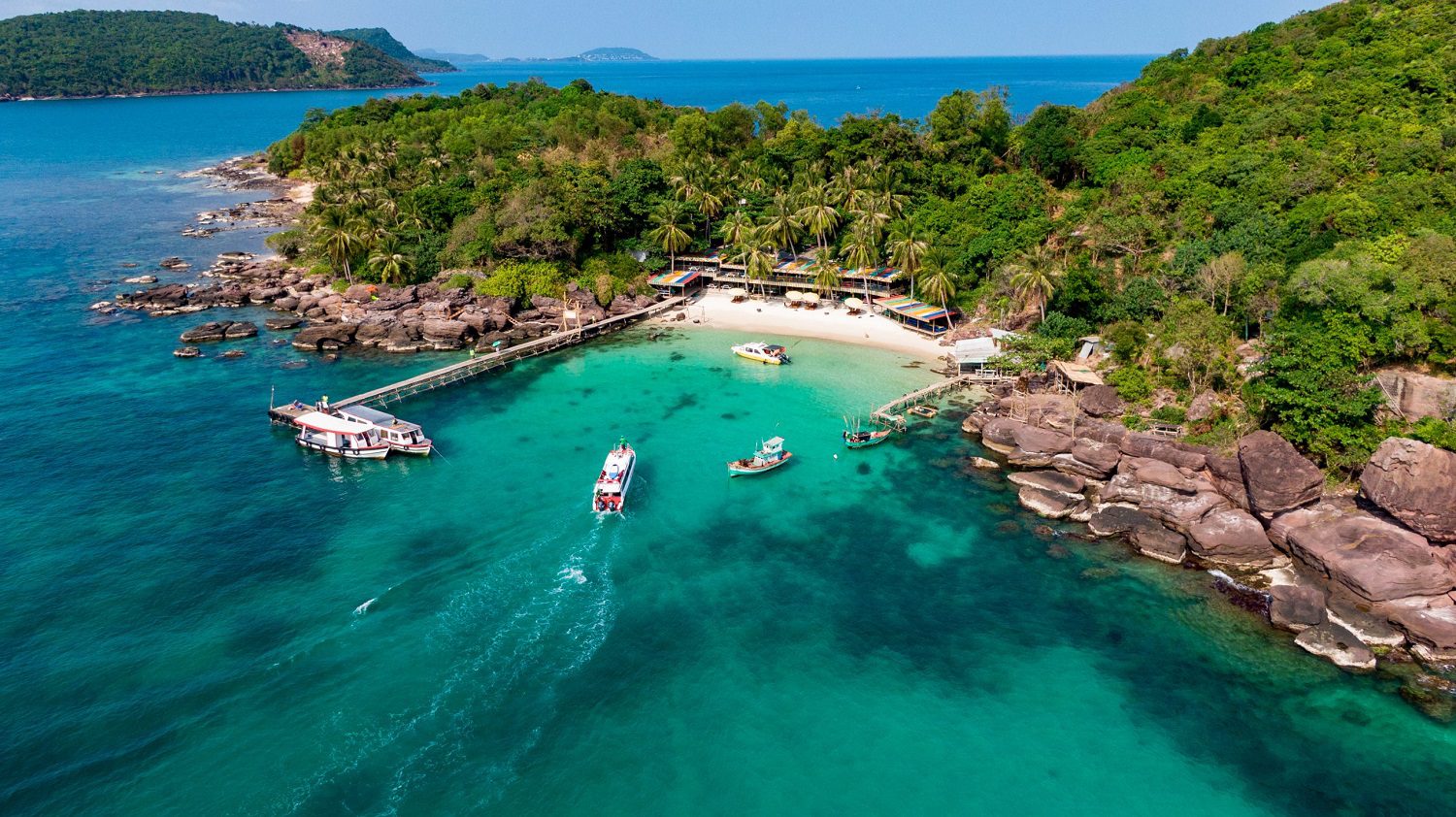 With its continually developing tourism, it is obvious that you would have a multitude of options for resorts, as the big names are all available there: InterContinental, JW Marriot, Regent Phu Quoc,…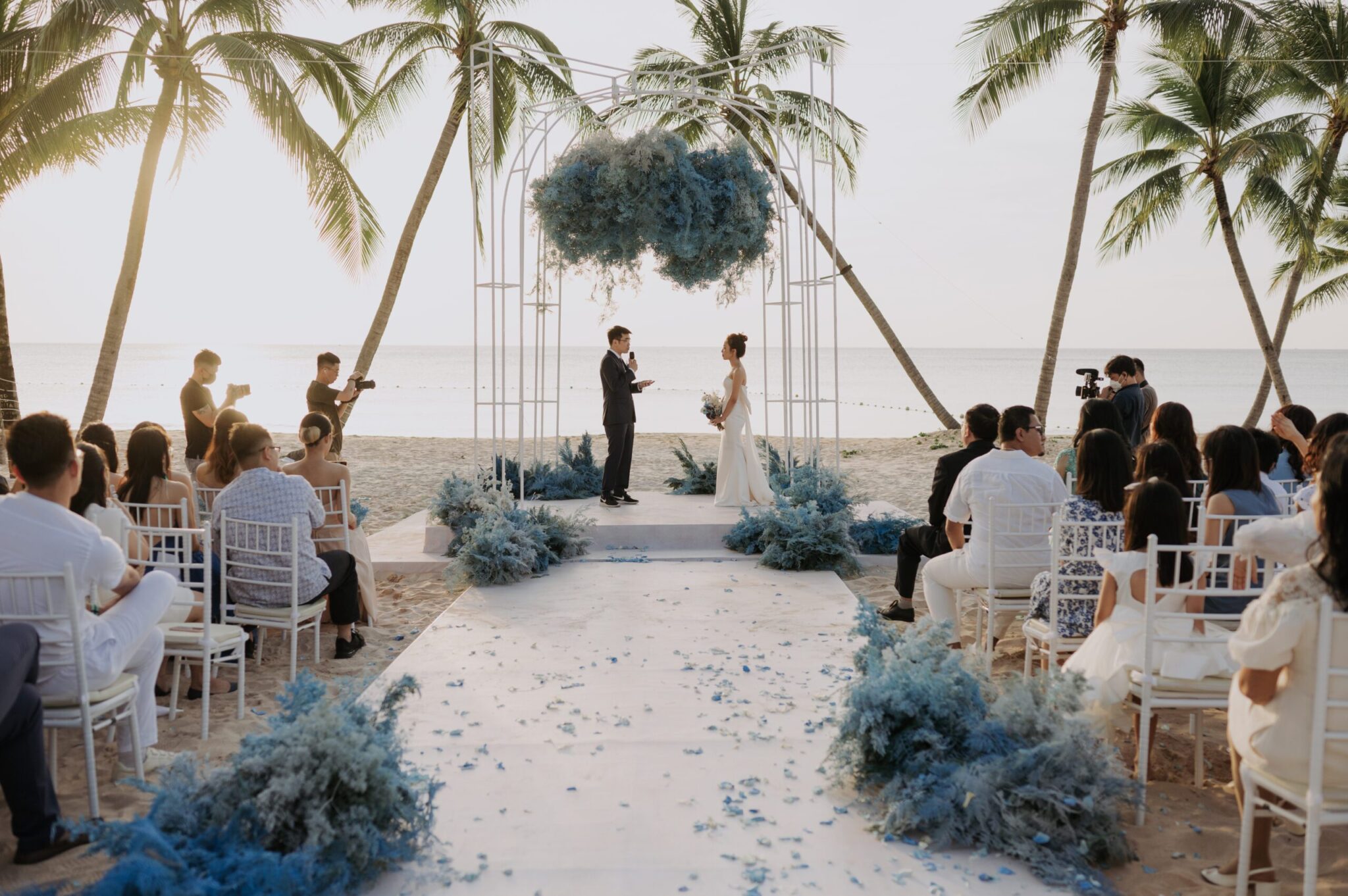 Enjoy your time in Phu Quoc
Similar to coastal locations such as Danang, Halong or Nha Trang, there are numerous things to enjoy doing in Phu Quoc before emerging yourself in the romantic spectrum of its sunset. A cruise tour around the island, scuba-diving and watching the dazzling coral reefs, exploring local seafood dishes,… are all wonderful must-try ideas when in Phu Quoc.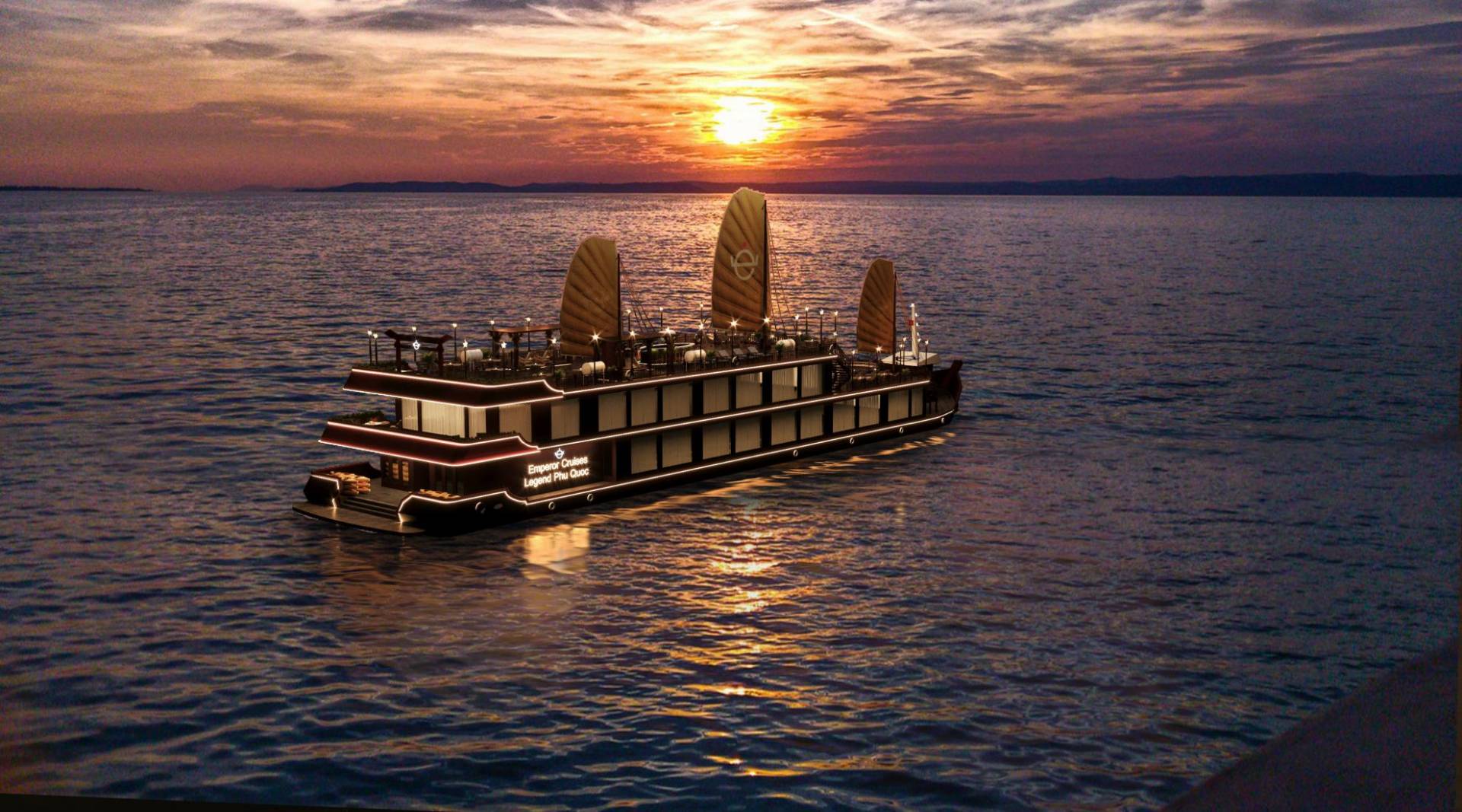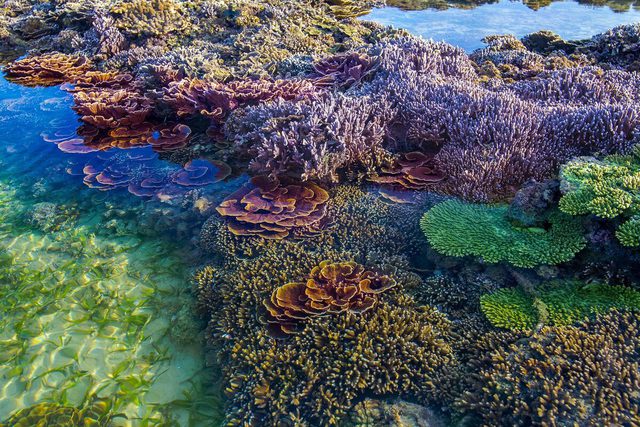 We got to witness the glorious sunset in Phu Quoc earlier this year at Thi and Linh's wedding. The picturesque scene at their beach wedding was nothing short of serene, euphoric and charming.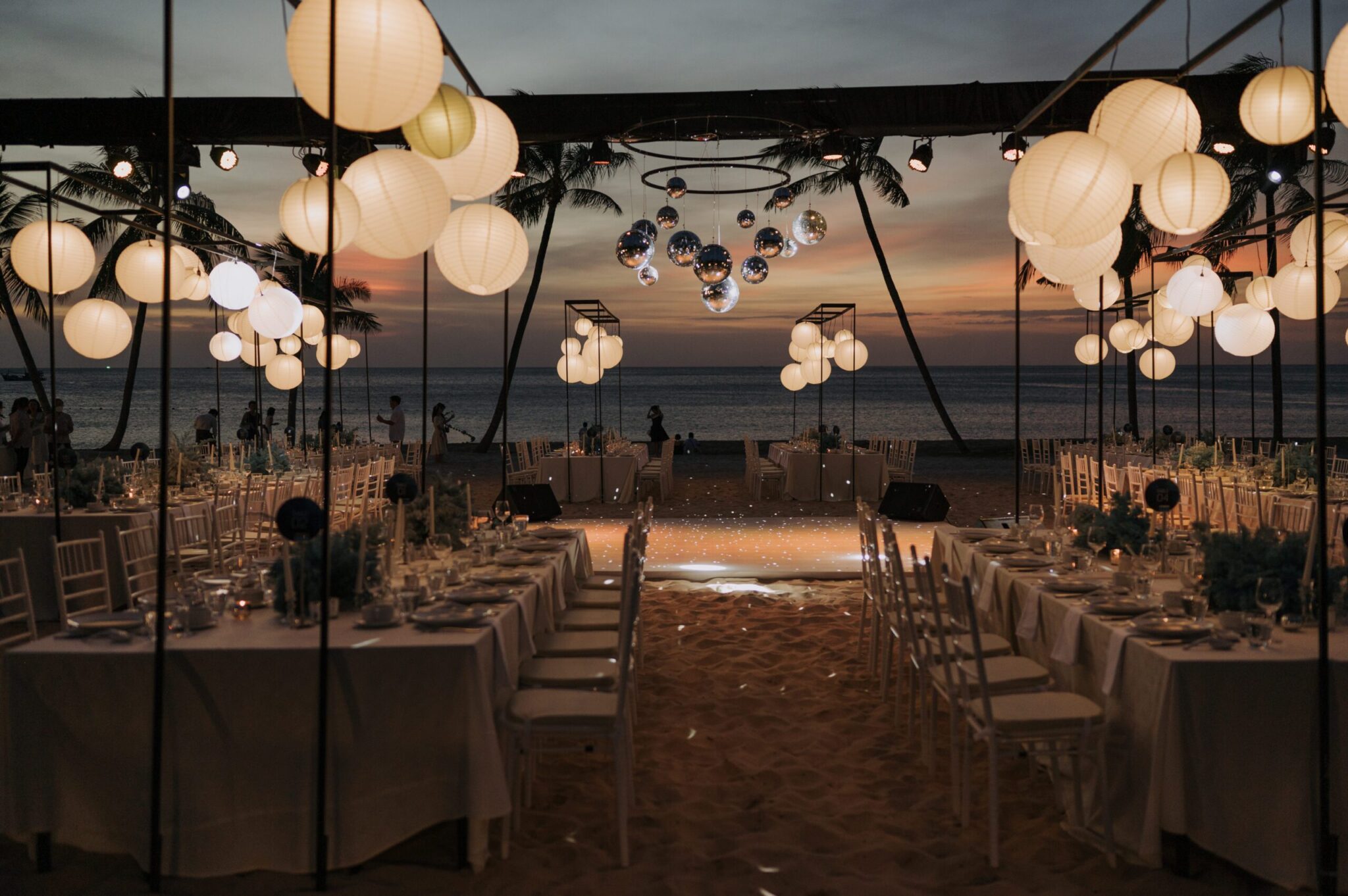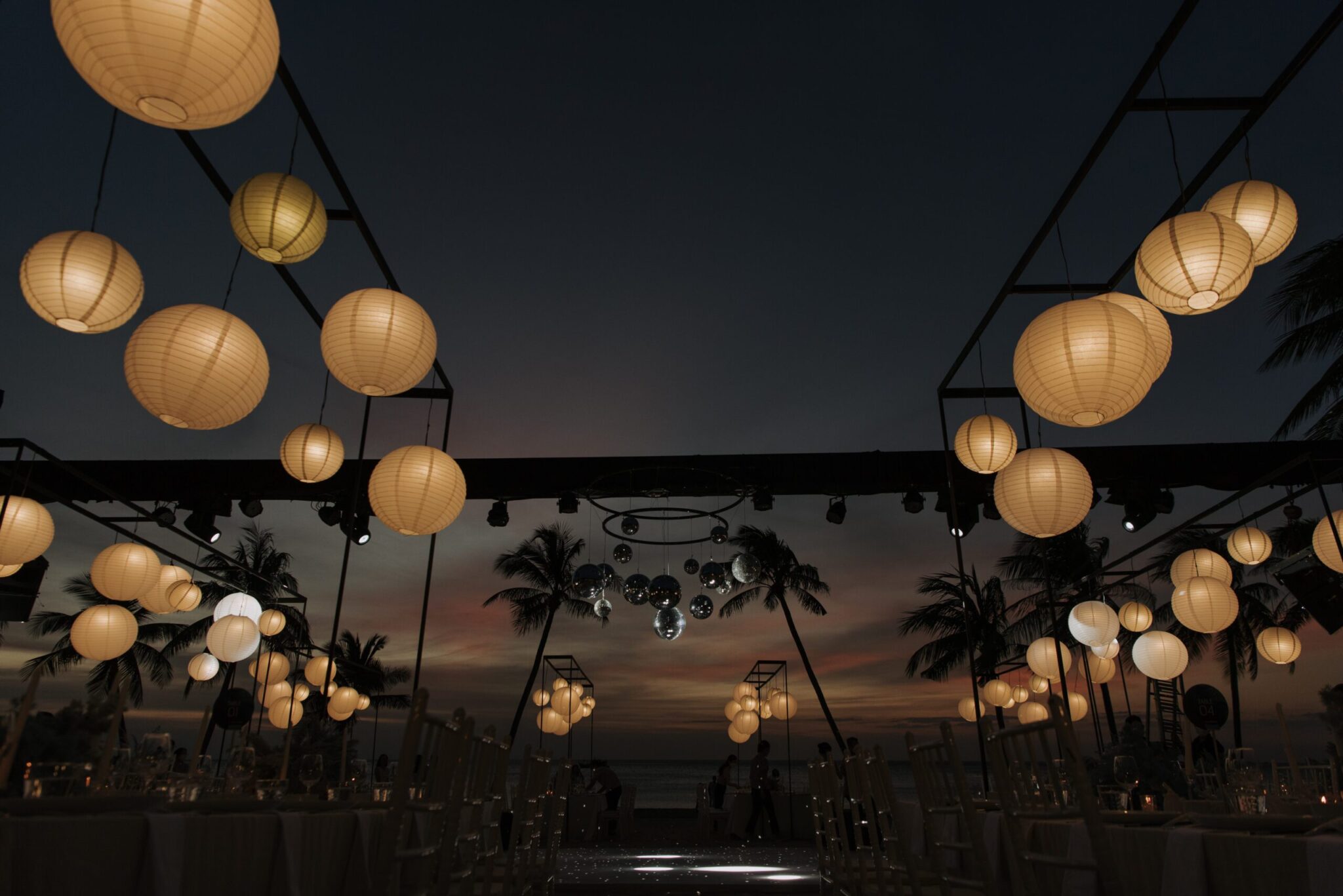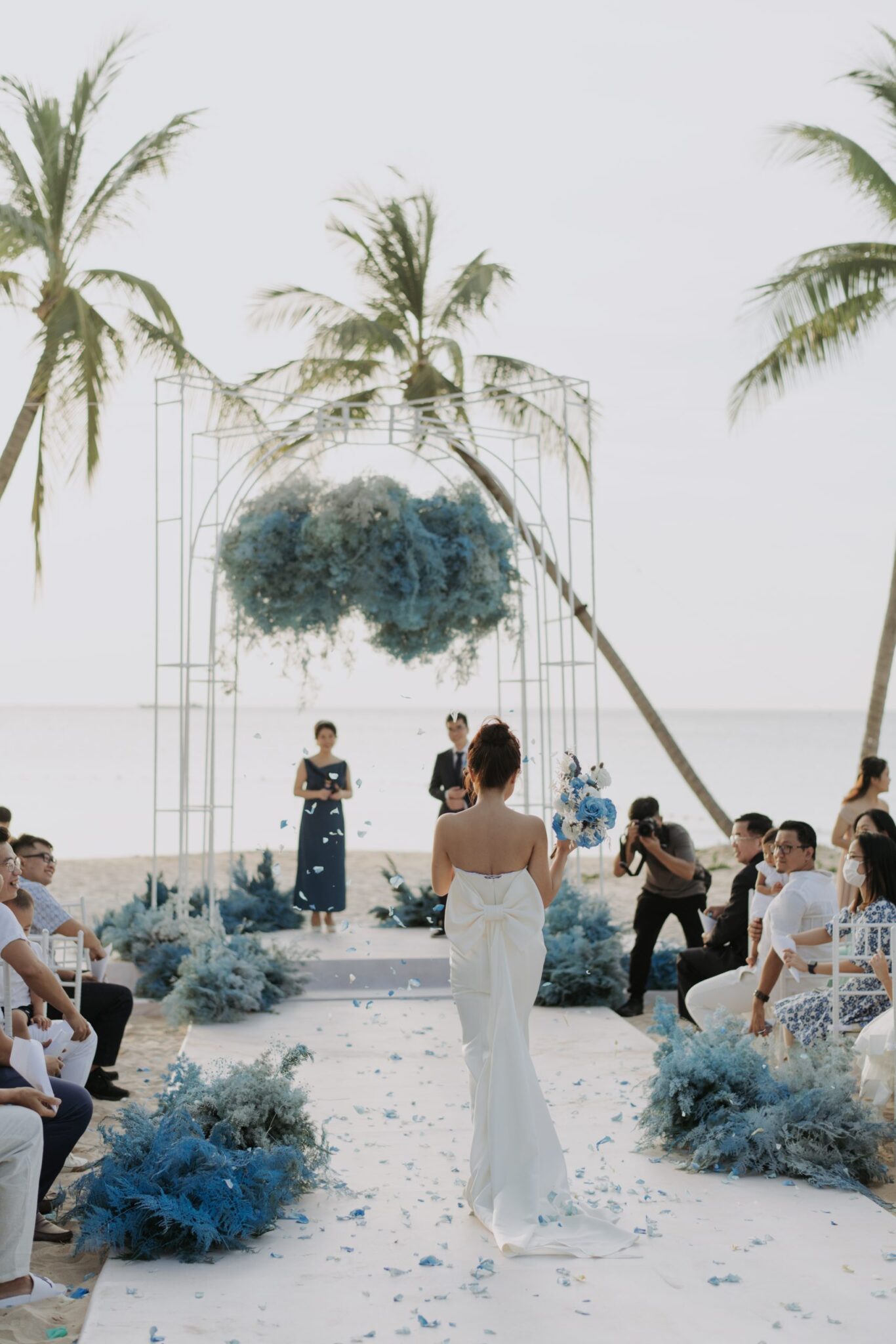 5. Dalat – the city of love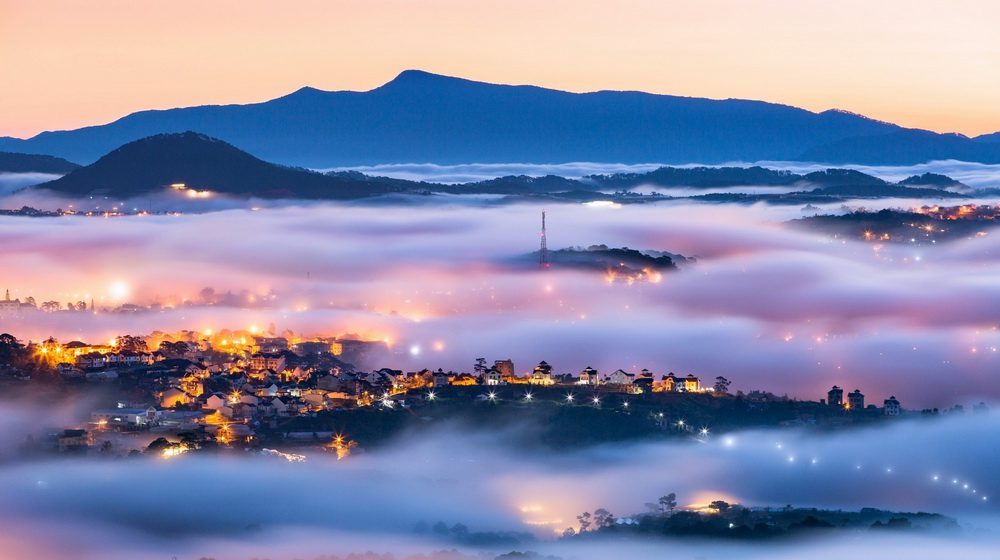 Literally known as "The city of love", a place where almost every couple in Vietnam has travelled to, Dalat seemingly generates magical vibes that enchants us all. The chill weather, (arguably the city with the best weather in Vietnam), mystic foggy mountains, ancient pine forests,… all make Dalat one of the most ideal and romantic locations in the country to hold destination weddings.
Though there is no beach in Dalat, this city offers a wide array of alternatives: forest wedding, lake wedding or garden wedding. Its mysterious yet charming vibes automatically give out a naturally mesmerizing atmosphere for destination weddings held here. Imagine the serenity you could experience while holding a fascinating wedding by Tuyen Lam lake in the golden hour!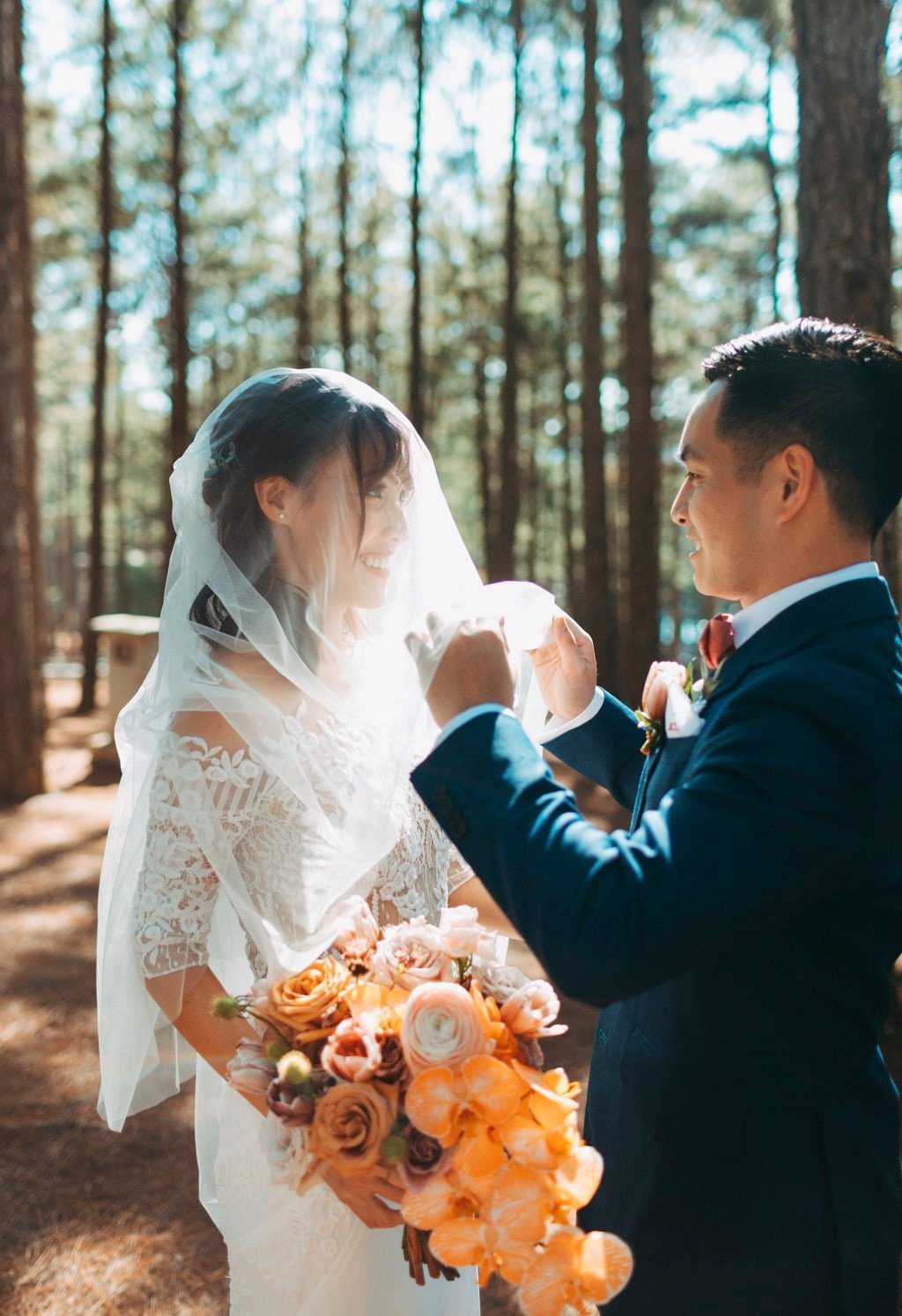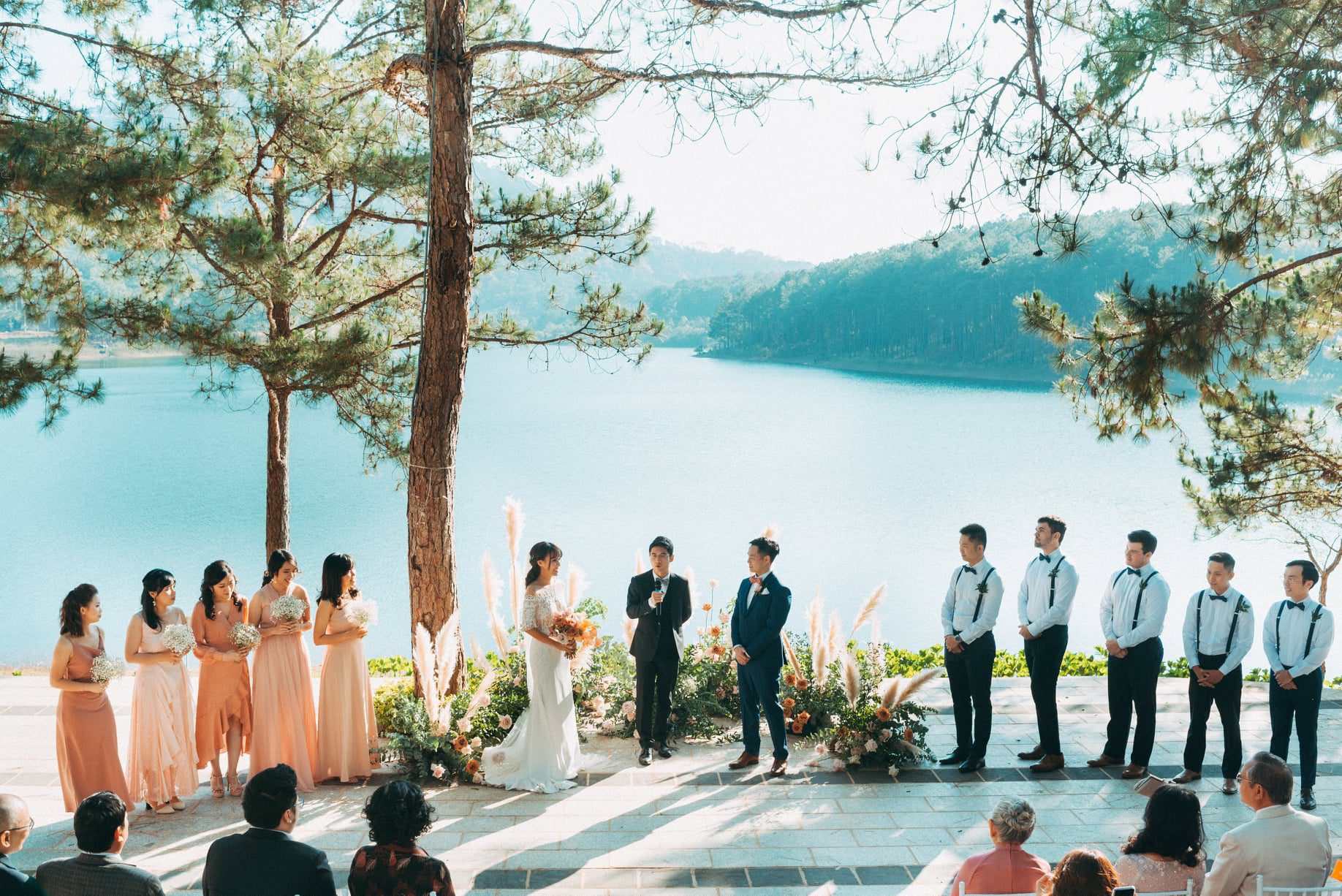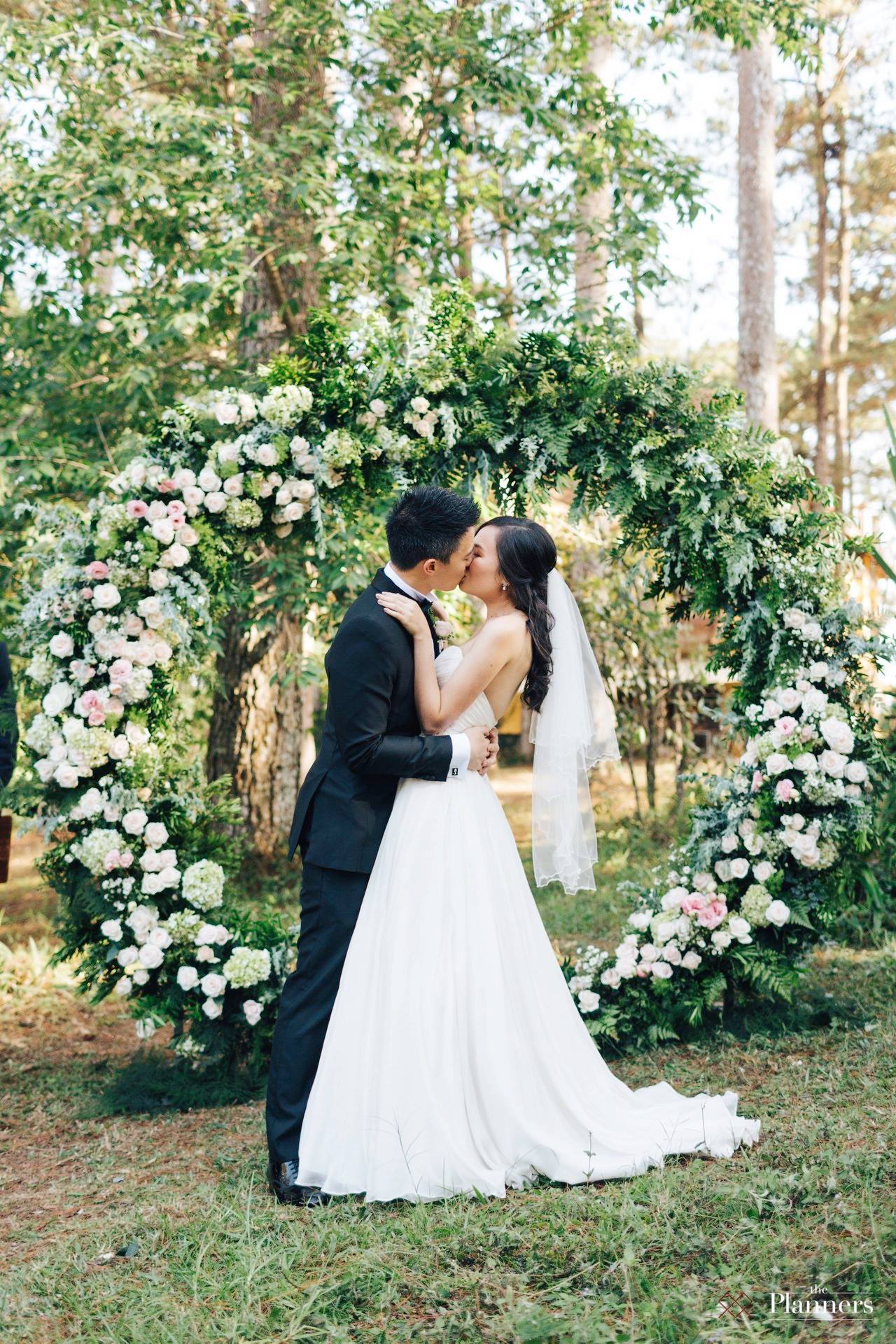 Whether you wish for a lake wedding or a forest wedding, Dalat surely offers everything you ask for. A destination wedding in Dalat also means less travelling time and there are direct flights from major cities as well.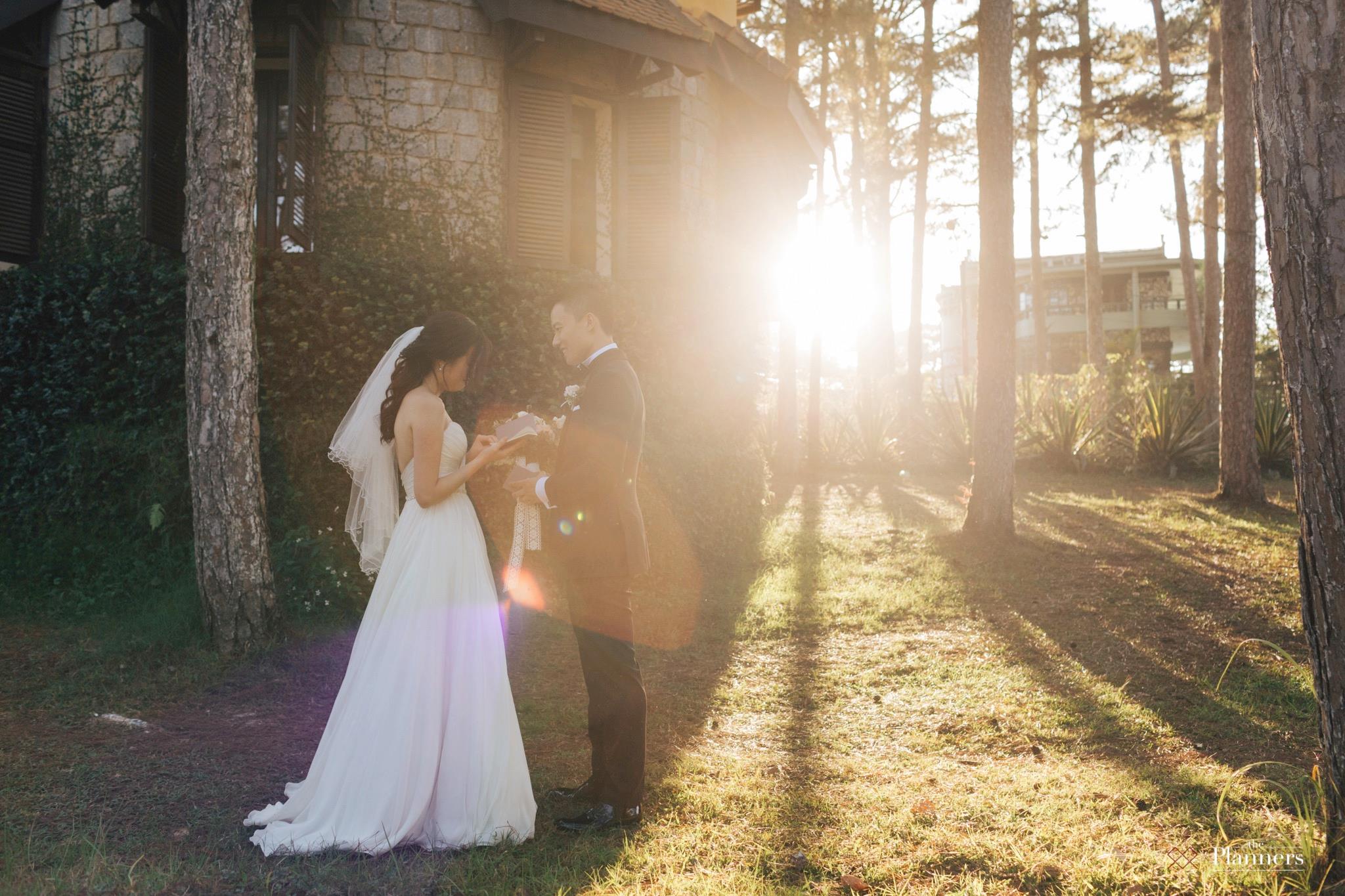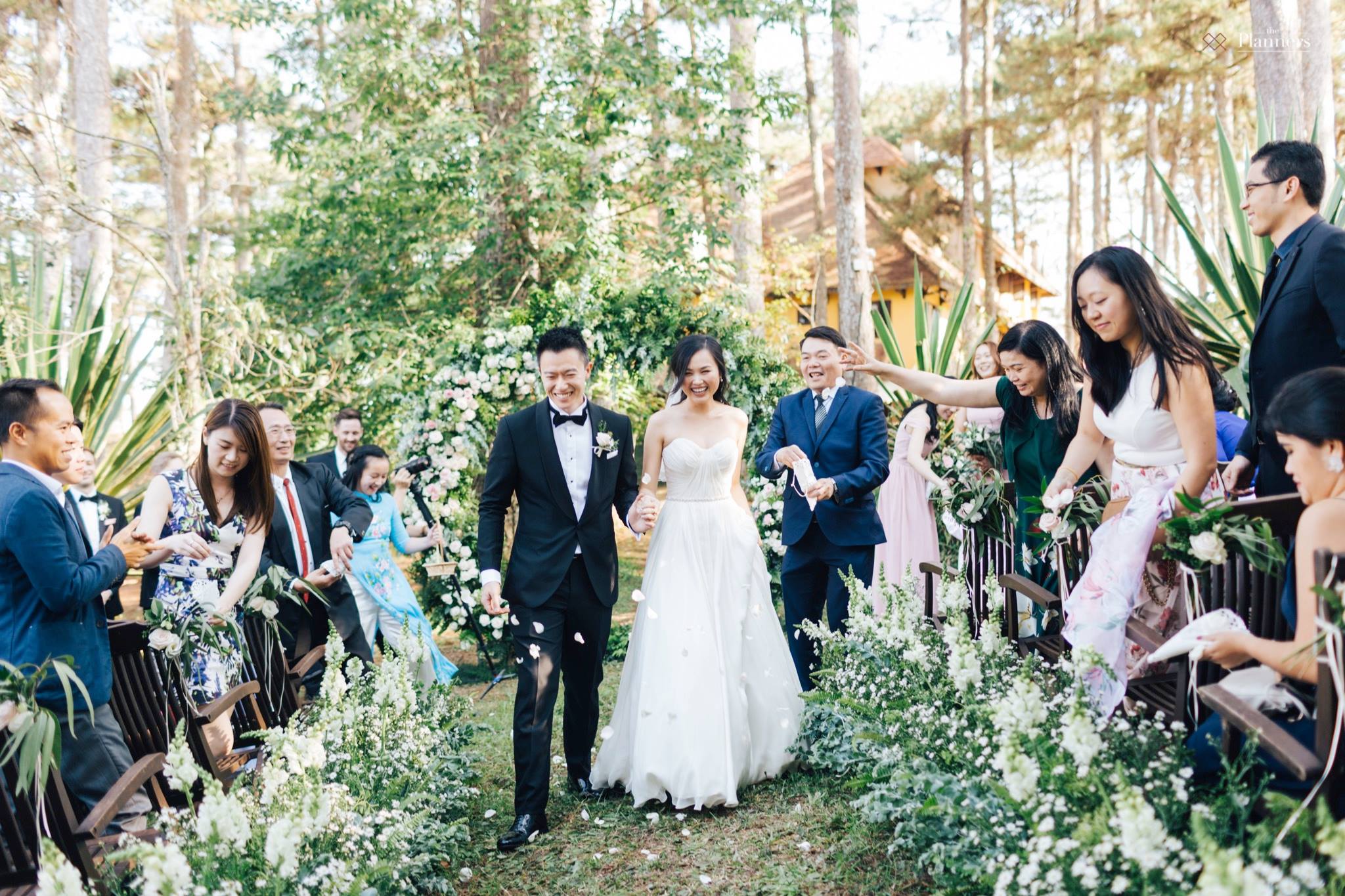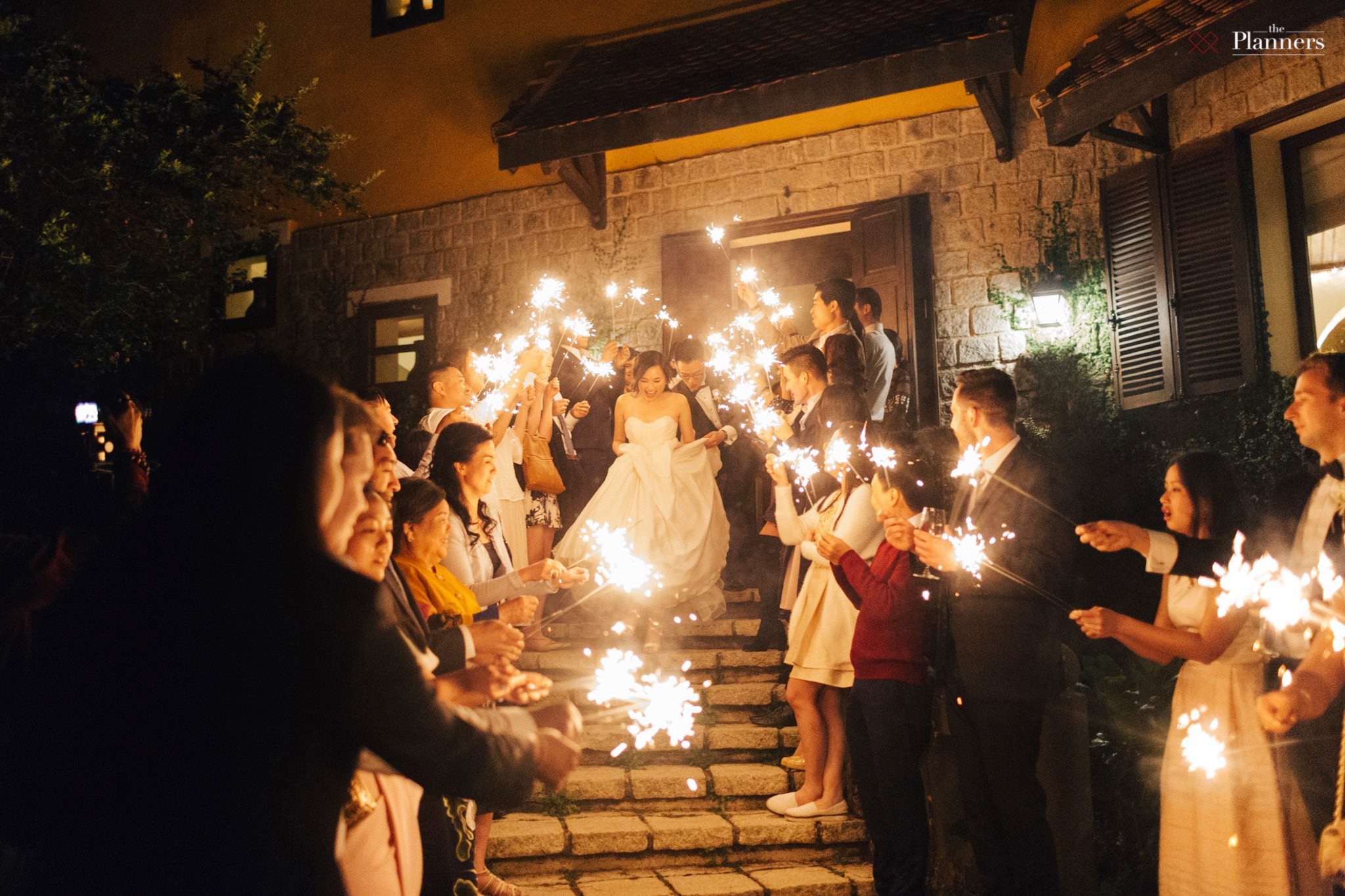 From our years of experience of making countless destination weddings in Vietnam, The Planners can assure you that these locations are prominent for a perfect destination wedding! If you are seeking a premium destination wedding planner, contact us now!