When it comes to wedding florals, there aren't many things are as iconic as the bridal bouquet. It's one of the wedding aspects that our brides love designing most—and some even opt to press or dry their bouquet after their big day is over to hold onto those precious petals for years to come. However, with so many bridal bouquet styles to choose from, how do you define which best complements the overall aesthetic of your wedding? Not to fear, our brides-to-be! Today, we're breaking down the ins and outs of five iconic bridal bouquet styles and with our advice, you'll be able to identify the right shape that best suits your bridal look and overarching wedding theme.
1. Round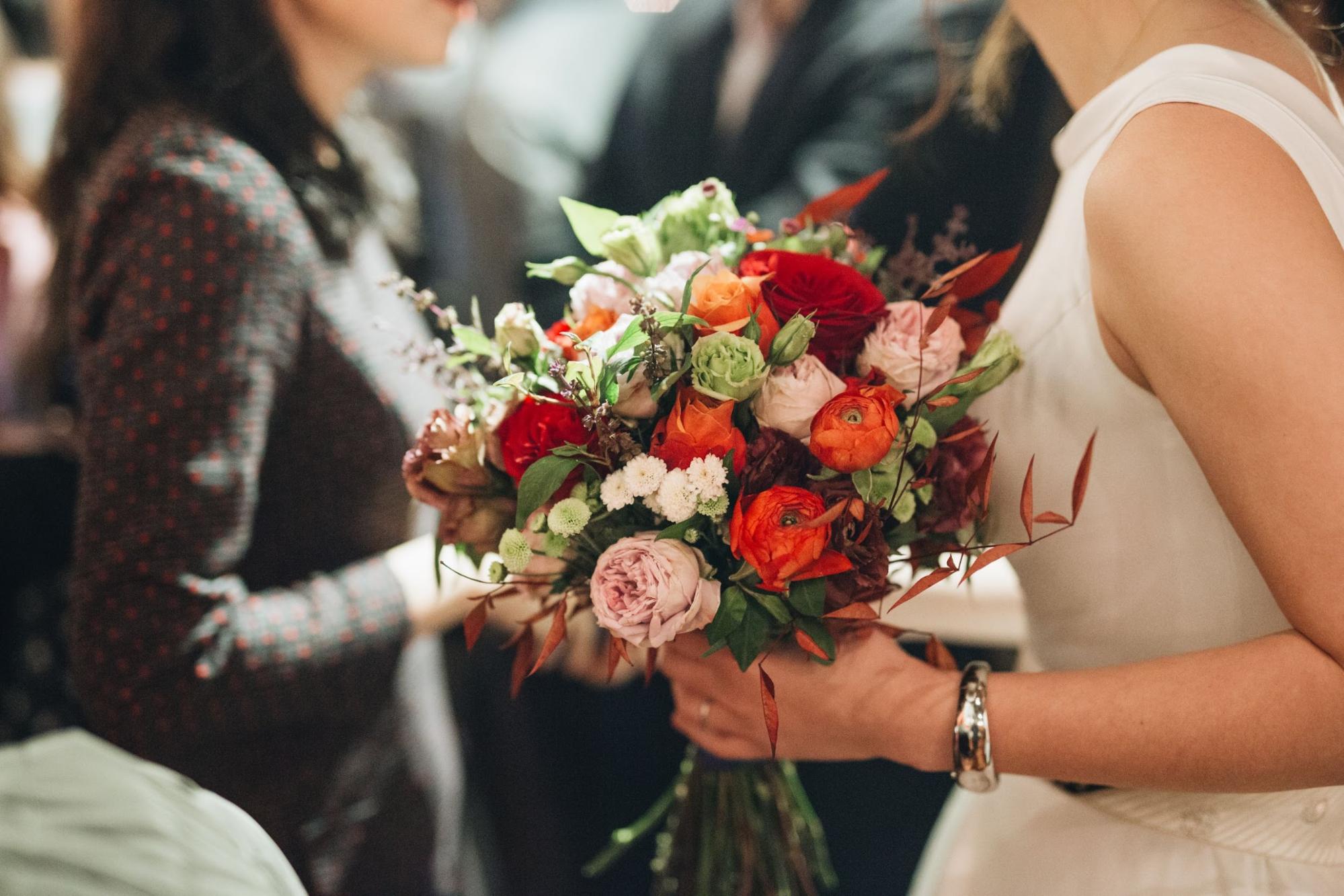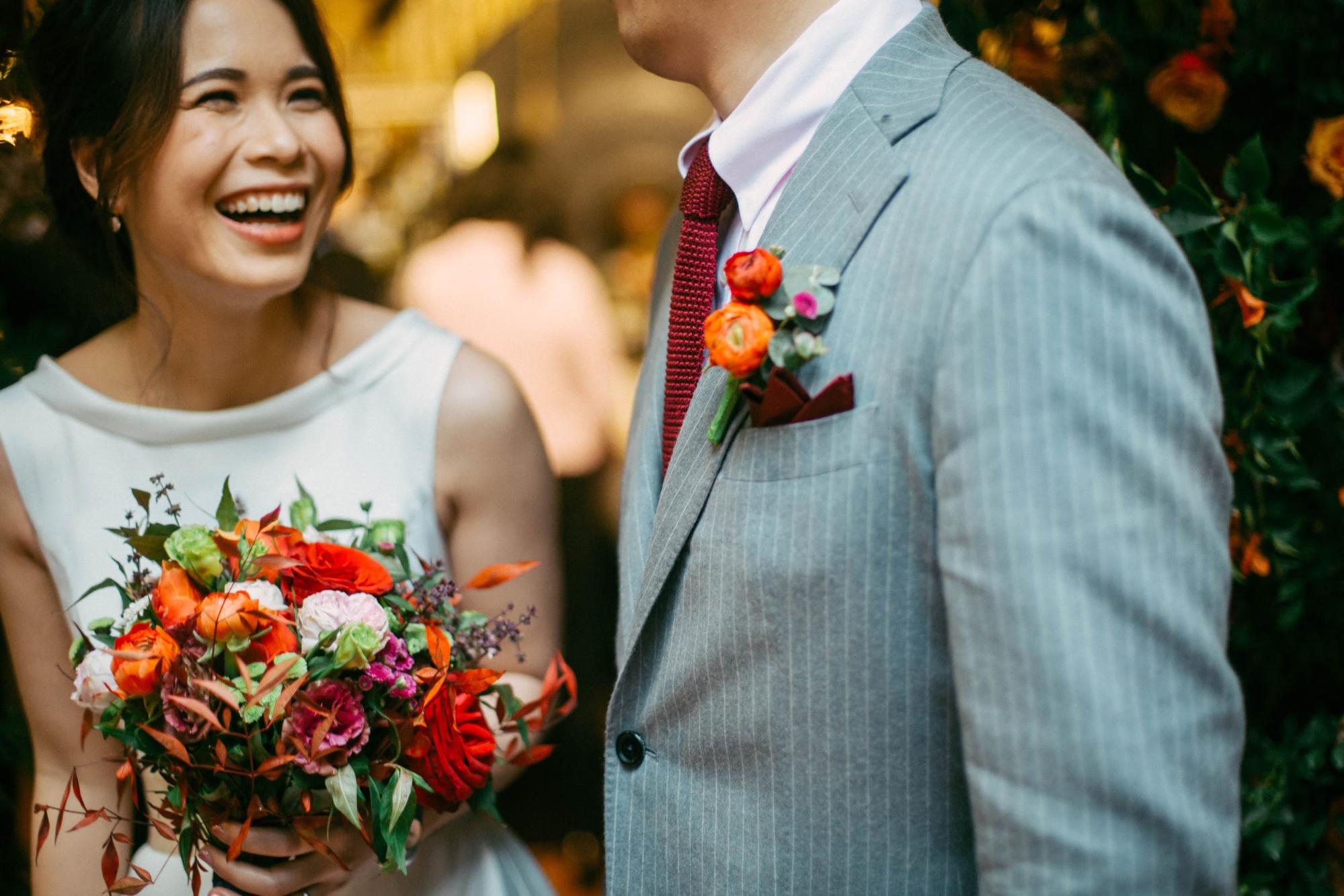 It's important to think about which types of flowers you want to have in your bouquet, since they will influence the formality of the bouquet. This type of wedding bouquet can be easily tailored in cost because of its ability to be compromised in either the same type of flower or an assortment of varieties and sizes.A round bouquet, should connote a voluminous ball of blooms—it's 360 degree construction also eliminates the need for a front and back (it's a beauty from all angles!). If you're considering this classic type, know that using only one type of flower can be really effective.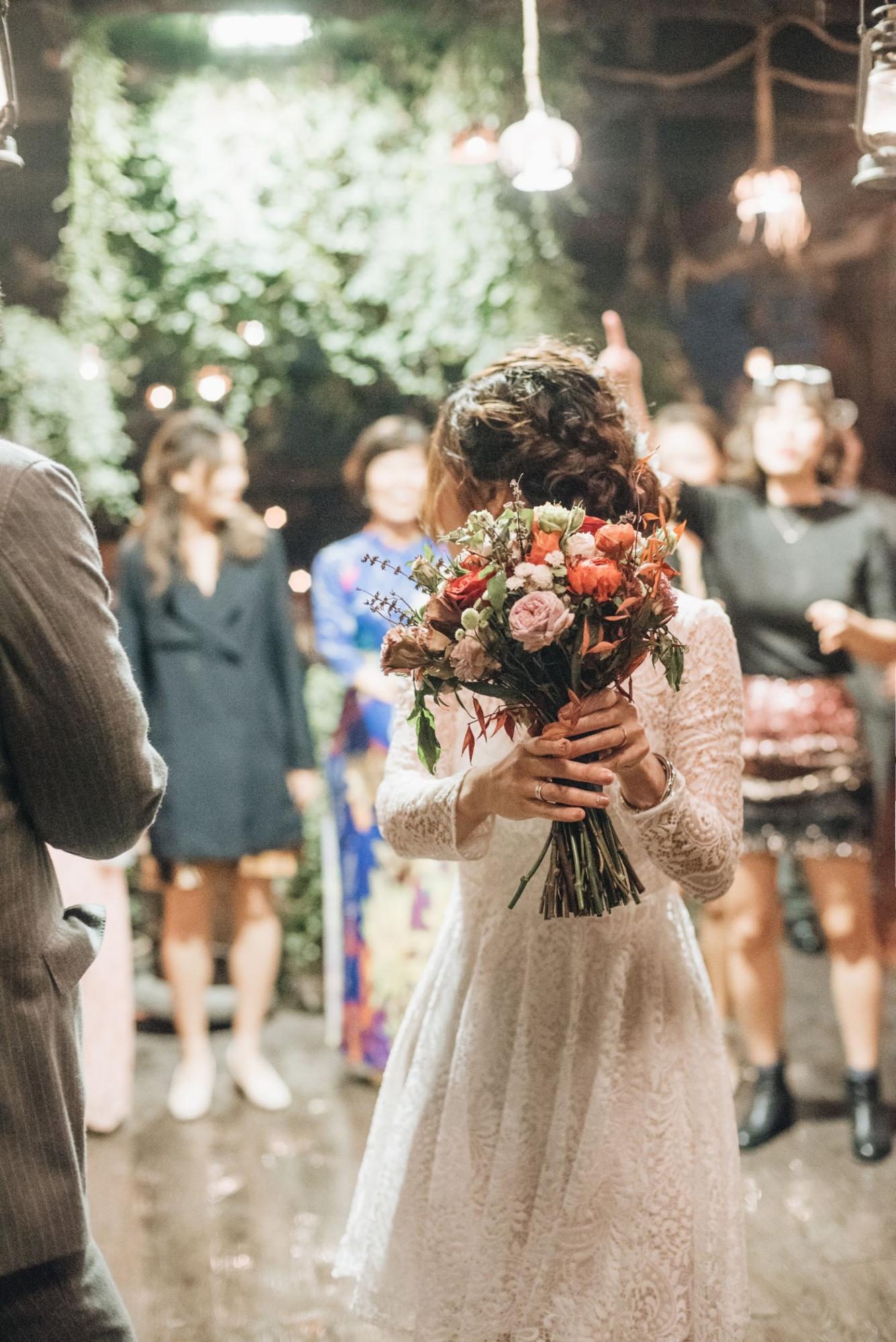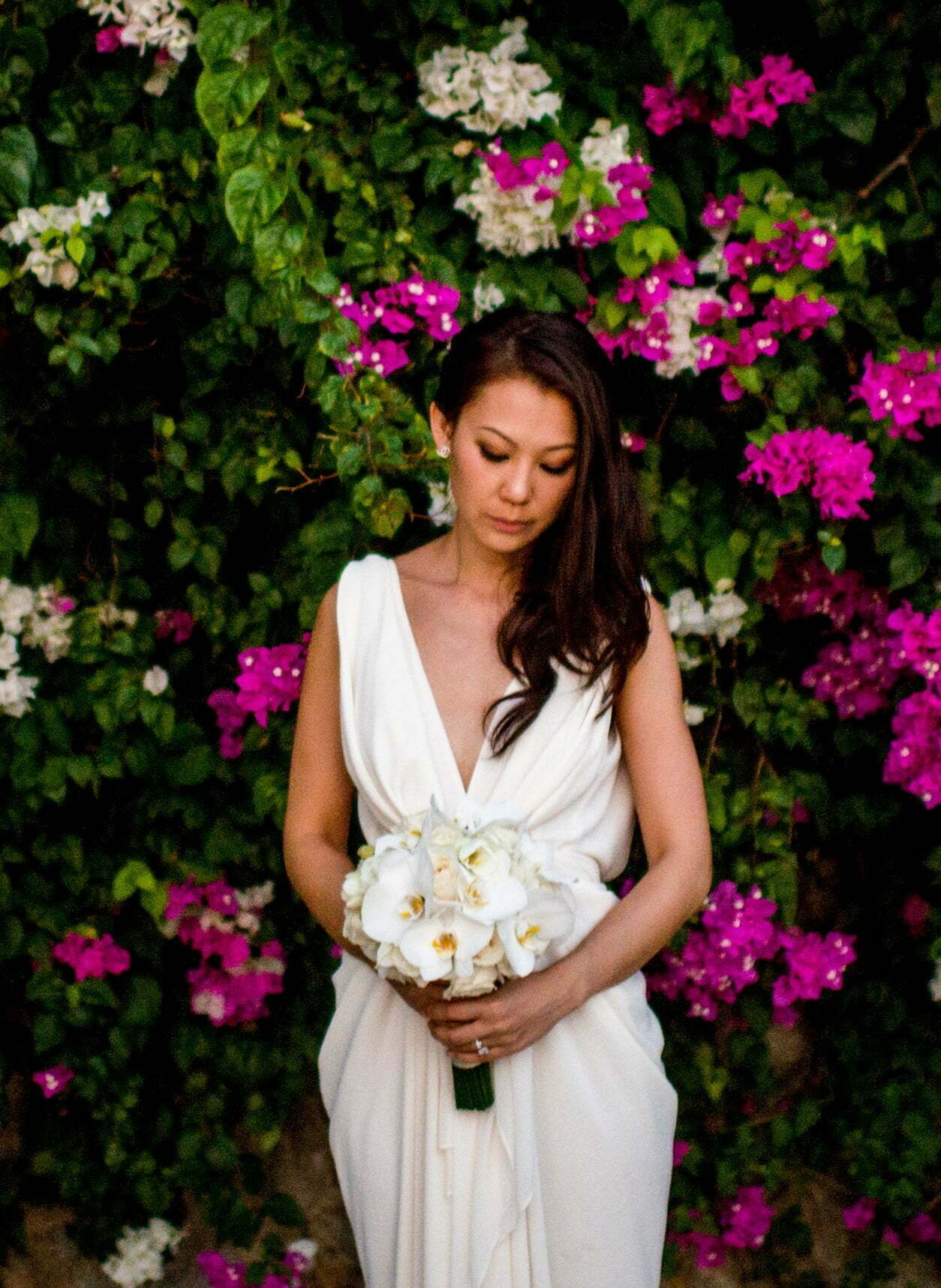 It's a simple, yet elegant and traditional bouquet shape and can be designed as either a tight cluster for density, or loosely for an "airy" feel. A round bouquet is the most popular shape for weddings and are just that: round! Round bouquets typically consist of a single type of floral (or varying types of florals in a single color) arranged in a perfect dome. Stems are typically wrapped tight with a silk ribbon.
If you are looking for the most timeless and elegant of all bridal bouquet styles then this is the one for you. Round bridal bouquets have been popular in weddings for years—and they're not going out of style anytime soon. If you're rocking a princess ball gown and/or going for a classic, formal wedding aesthetic, a round bouquet is your best friend.
A round bouquet is a true classic, so you'll want to make sure it fits with the overall aesthetic of your wedding. (They don't fit as well with super modern, playful, or boho weddings.) Keep in mind round bouquets typically make the strongest statement when they're monochromatic or consist of all one type of flower. They also look best kept to a moderate-to-small size, so if you're dreaming of a massive, lush bouquet, you might want to consider the hand-tied, pageant, or cascading style instead.
2. Pageant/ Presentation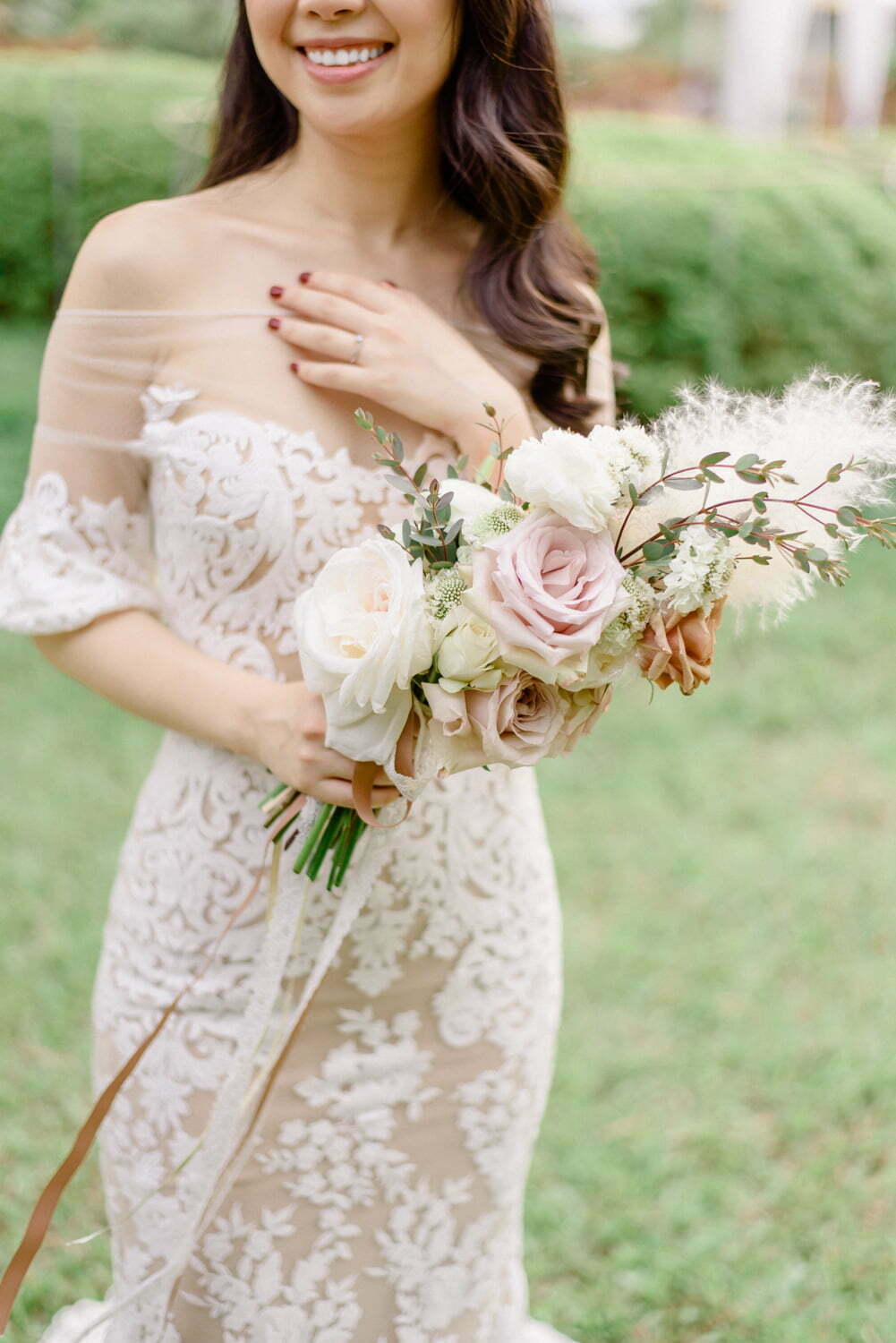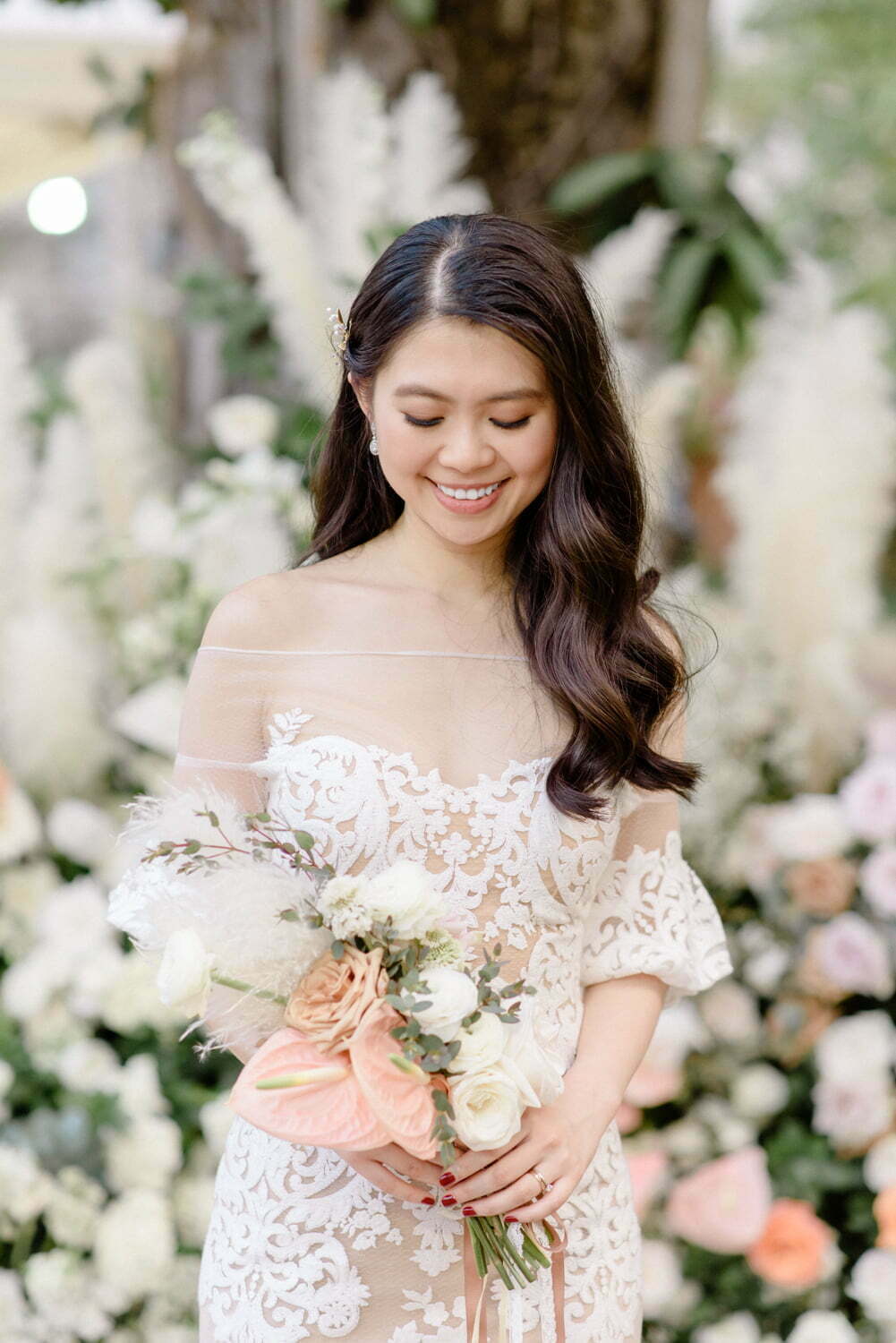 Called a pageant or presentation bouquet, this bouquet style typically has longer stems and is designed to fit into the crook of a bride's arm (rather than held in her hands like with typical bouquets). A pageant wedding bouquet is also referred to as an "arm sheath" bouquet because of the long stem flowers and foliage that the bride cradles in her arm and you should carry this one exactly the way its name implies – as if you've just been crowned a pageant queen.
This bouquet is a stunning alternative for your modern wedding and it is possible to make this type of bouquet as modestly or elaborately designed as desired. The stems of this bouquet shape may show at one end, or can be arranged without them showing by adding a ribbon-tied finishing touch. Popular floral choices to include are dramatic blooms like calla lilies, gladiolus, orchids, long-stemmed roses, delphiniums and larkspur. If you decide to walk the aisle with a pageant bouquet then sweet peas, as seen in this bouquet, are also a good option.
Pageant bouquets are gaining popularity in modern boho weddings. They're perfect for the bride who loves the look of long stems and wants a bouquet that's out of the box, super lush, and extra dreamy. As you can see, Milan – our beautiful bride are totally pleased with her wedding bouquets choice.
3. Cascade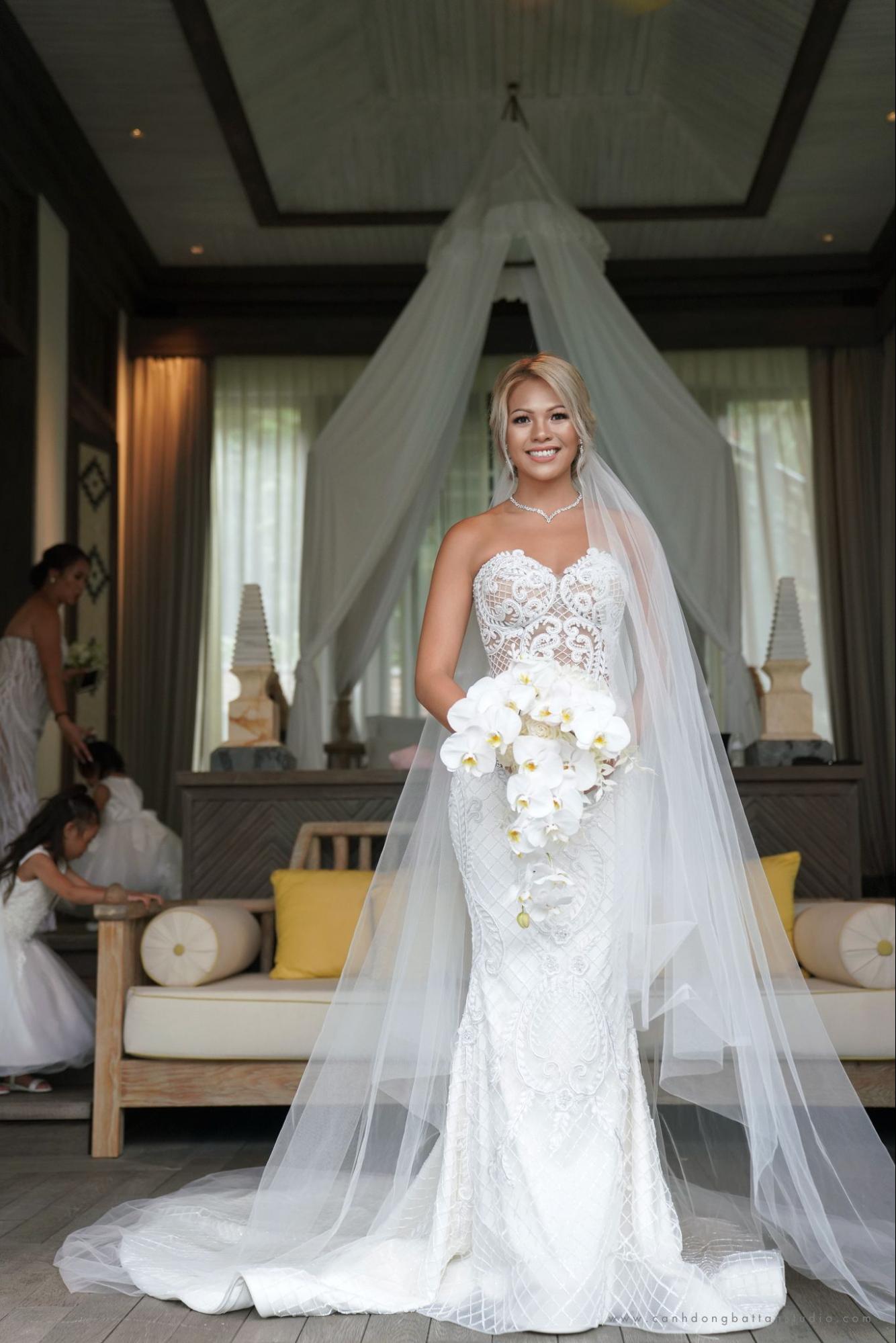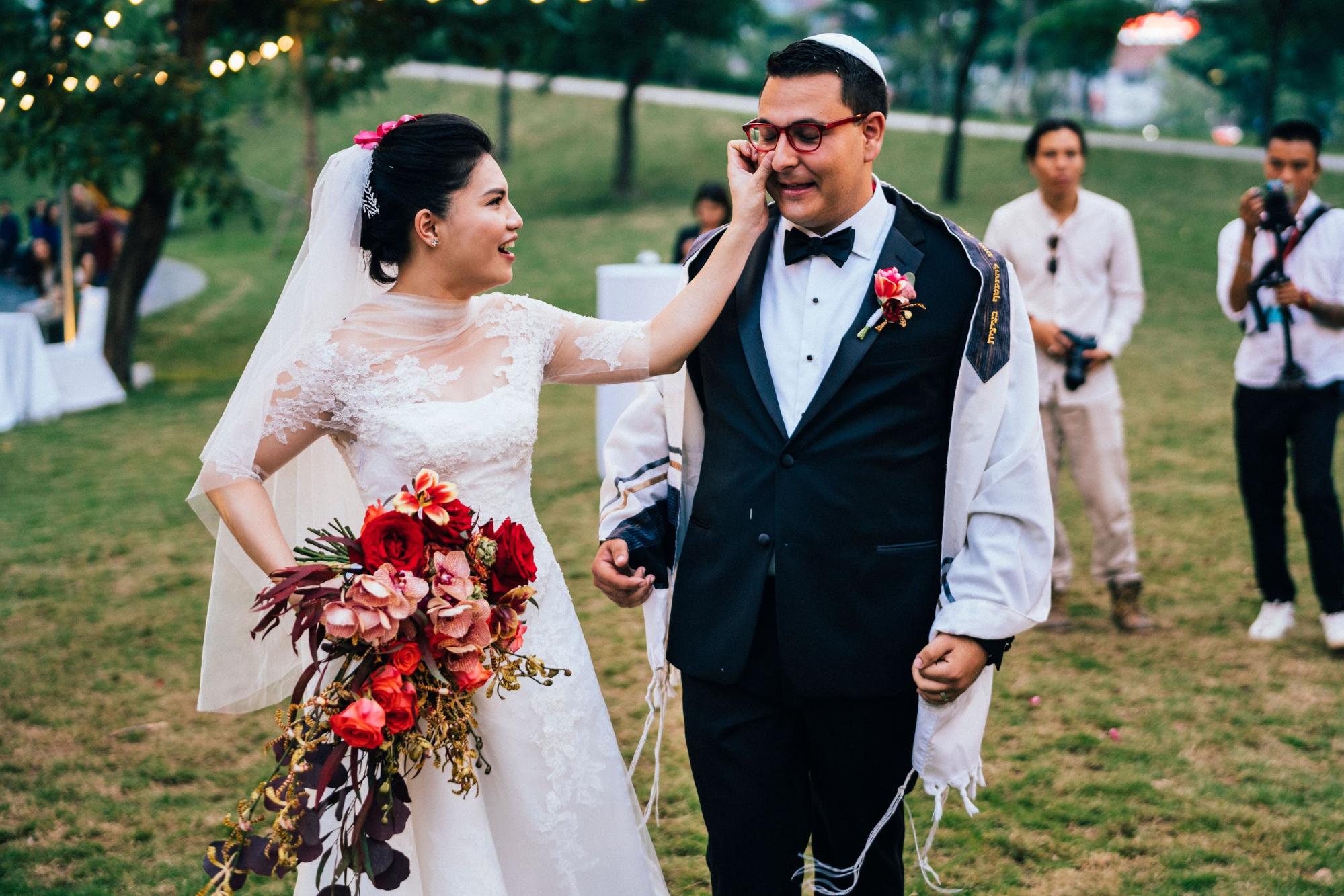 Cascade wedding bouquets are initially referred to as "shower bouquets" and are just what they sound like: arrangements that cascade downward (like a waterfall). This type of bouquet is the most formal and most traditional, and is designed to gracefully spill over the bride's hands as it flows downward for a sophisticated and stylized look.
The bouquets are roundish at the top and narrows into a point at the bottom. You can basically use any type of flower for this bouquet so there's lots to choose from. We would recommend adding in orchids since they have a natural cascade to them already, and they can be complemented by peony, holly hock, Japanese anemone, clematis, sandersonia, scabiosa, poppies, lupine, foxglove, and fritillaria.
Consider yourself the queen of all-things whimsical and dreamy? Then do not hesitate to choose cascading bridal bouquet for yourself! The waterfall shape of these can feel super feminine and fairytale-like, so they're perfect for charming garden weddings, stunning ballroom weddings, and classic cathedral weddings alike. If you're using lots of vines and greenery throughout your other florals, a cascading bouquet might just be the perfect option to tie everything together. As you might know, the late Princess Diana also carried this style as her impressive bridal bouquet.
One thing to notice about this type of bouquets is they are a sight in and of themselves—so they don't typically pair well with super elaborate wedding gowns as they can be overpowering. Instead, they're the perfect way to complete a simple, understated bridal look. If your gown is crazy detailed, a cascading bouquet might end up taking away from or competing with your day-of digs.
4. Loose/ Hand-tied bouquet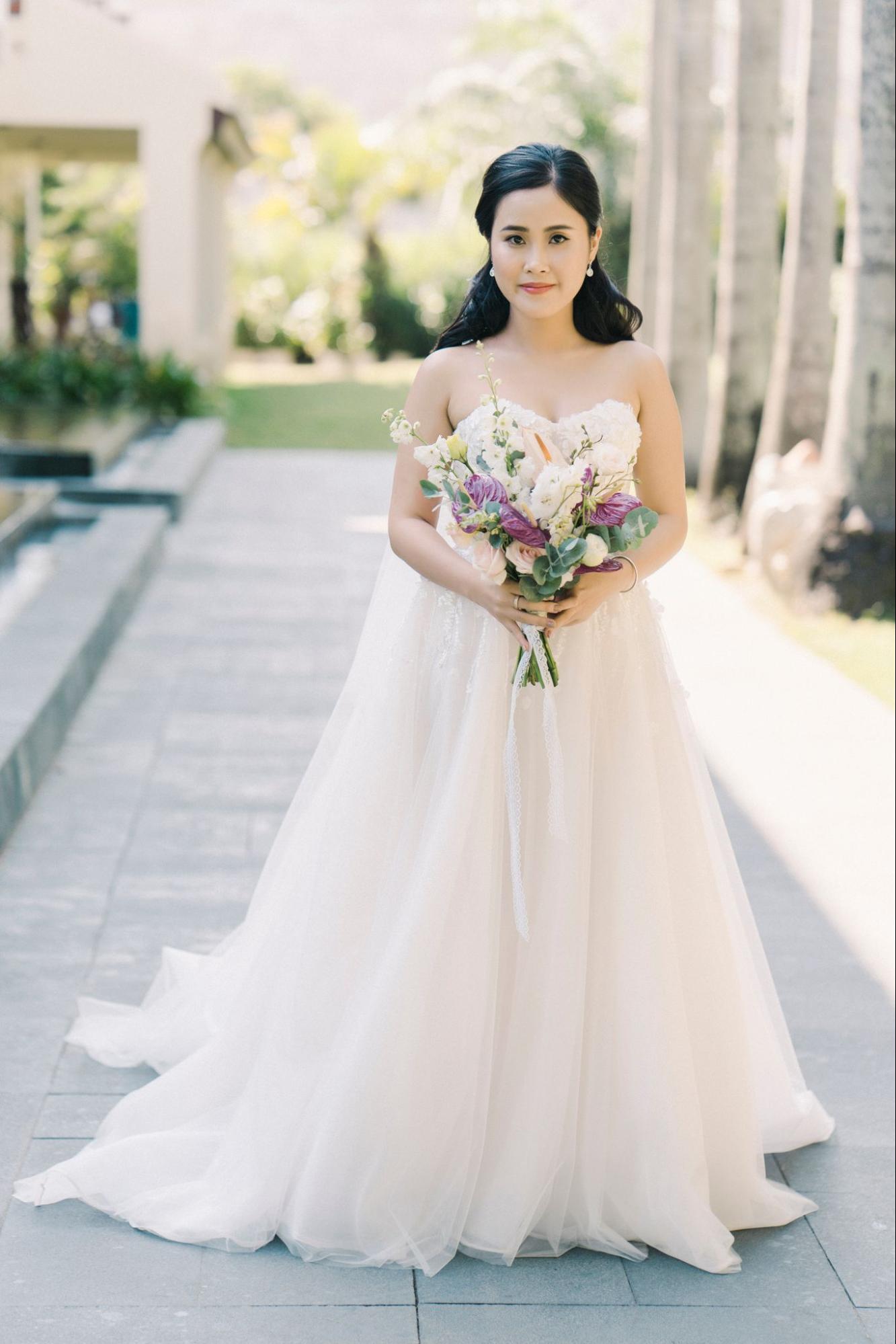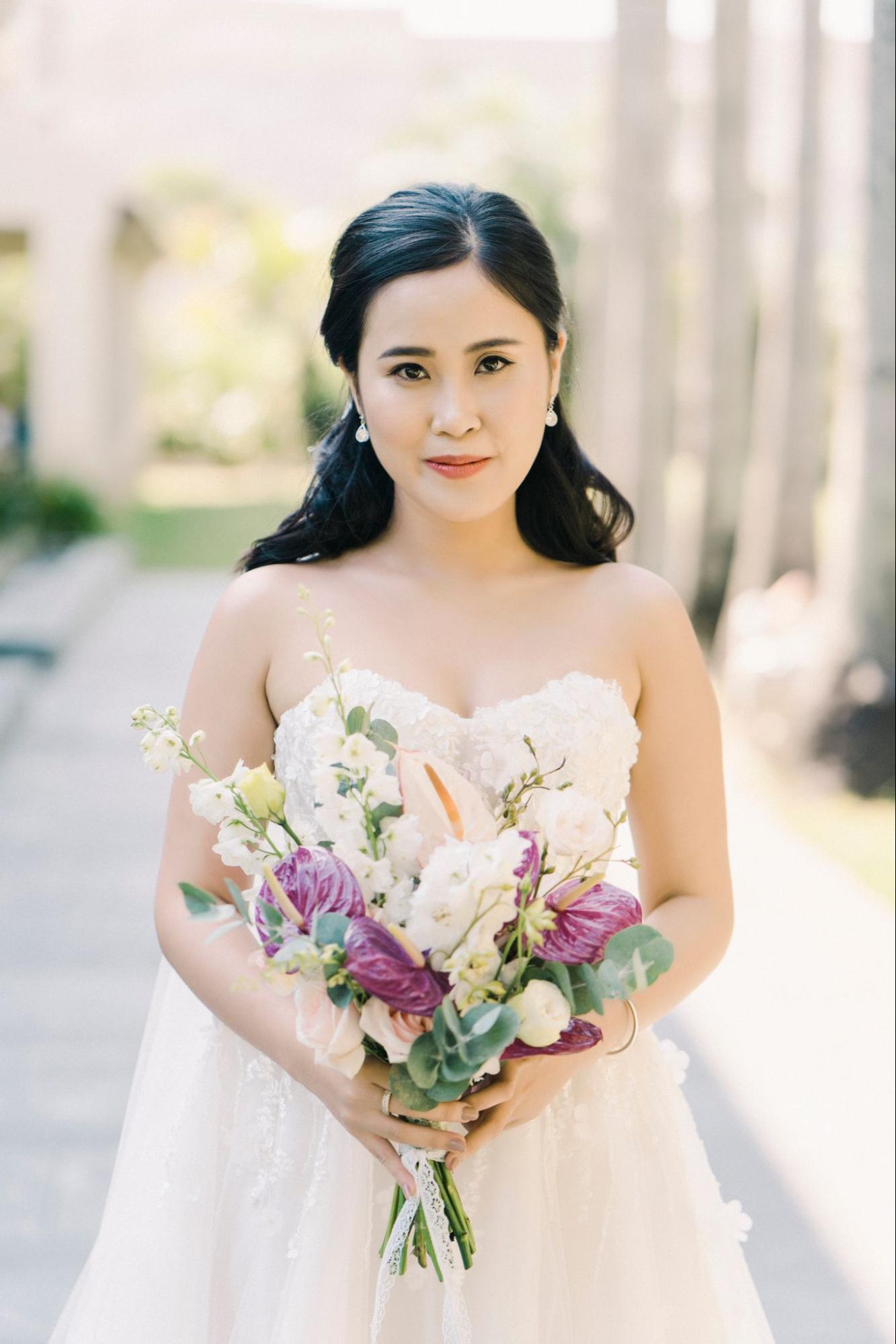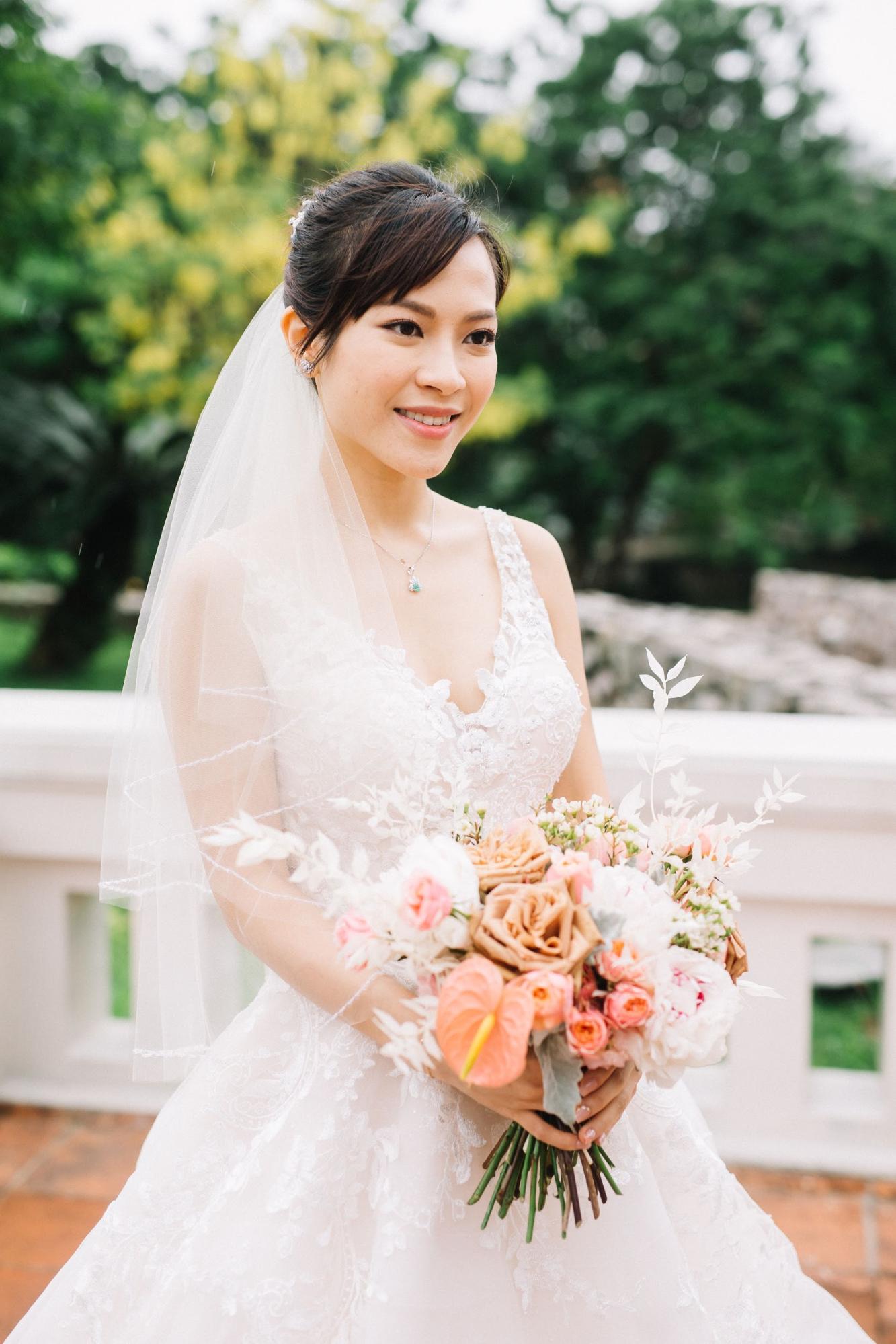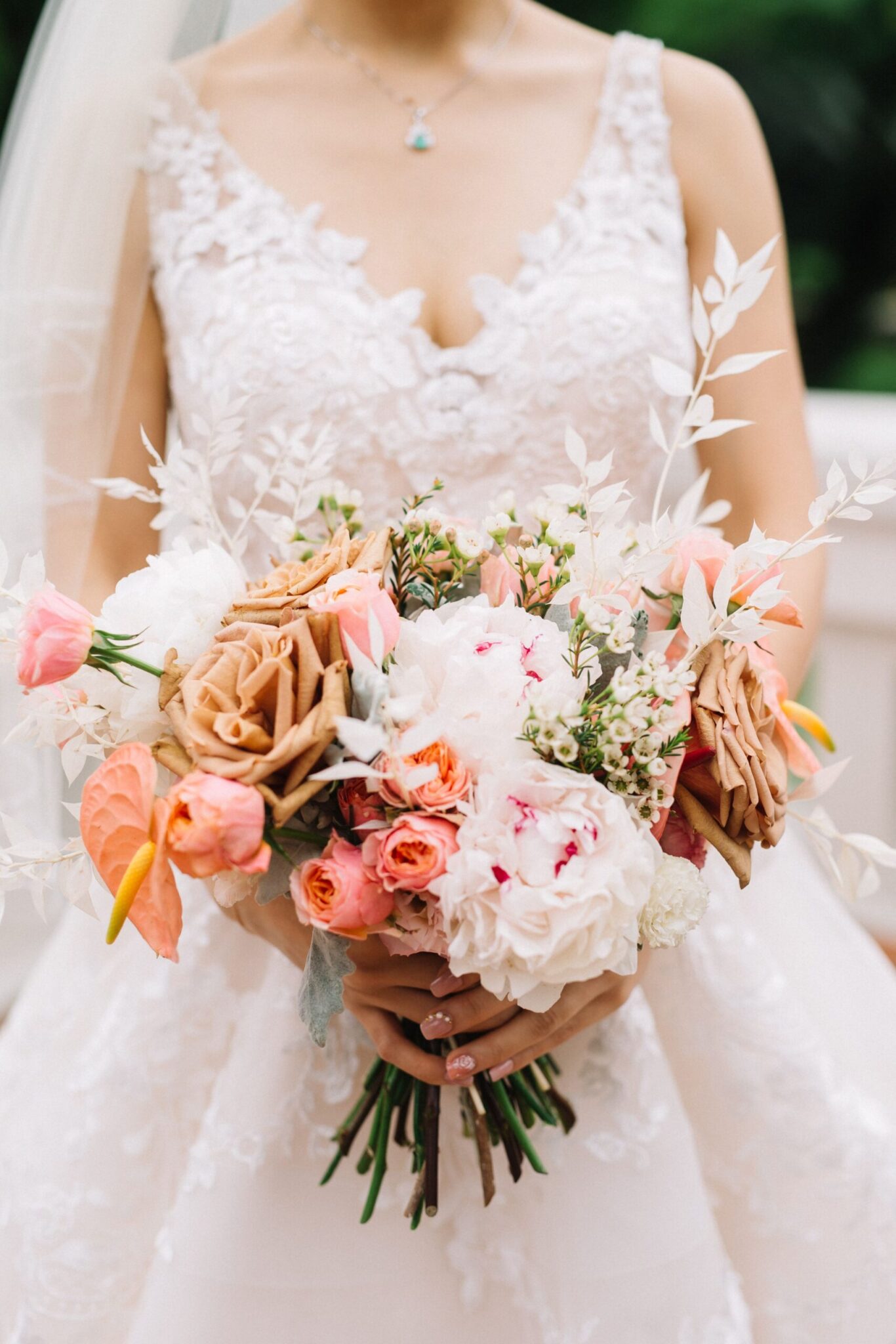 Hand-tied bouquets are super popular lately since they envelop that lush, laid-back, wild aesthetic so many brides are going for with their florals. Being one of the most simple styles available for a bridal bouquet, they are typically tied off by ribbons or twine (with stems left showing at the bottom for that "fresh-picked-flowers" feel). They're usually chock-full of an assortment of both flowers and greenery and are meant to feel less constricted and "looser" than typical round bridal bouquets.
Also, this type is a top pick for brides, giving a classic look that looks similar to a bouquet that was picked by hand and offers a lot of flexibility for both brides and the florist creating it.
Some brides choose to hold only three to four similar long-stemmed flowers. This bouquet can offer a rustic look as well as many other styles based on the choice of flowers requested by your client.
Freer than other bouquet styles (as its name shown), hand-tied bouquets can include a wide assortment of flowers and greenery, and as their name suggests, are secured simply using ribbon, fabric, or twine (other bouquet styles utilize wire to achieve a precise look). Hand-tied bouquets have a "fresh-picked" feel and are ideal for bohemian or rustic weddings.
Our brides who are looking for something that's wild, free, and boho-inspired will love a hand-tied bouquet. Hand-tied bouquets are perfect for bohemian affairs and outdoors wedding ceremonies set in a garden or forest. If you want something that feels organic and fresh-picked, a hand-tied bridal bouquet is for you!
In some occasions, these bouquets can get heavy since a hand-tied bouquet is meant to look super lush and often contains tons of both greenery and flowers, causing a little burdensome to carry for long periods of time. That said, if you're going for something that's super lush and free-form, the aesthetic is well worth the arm-workout.
5. Posy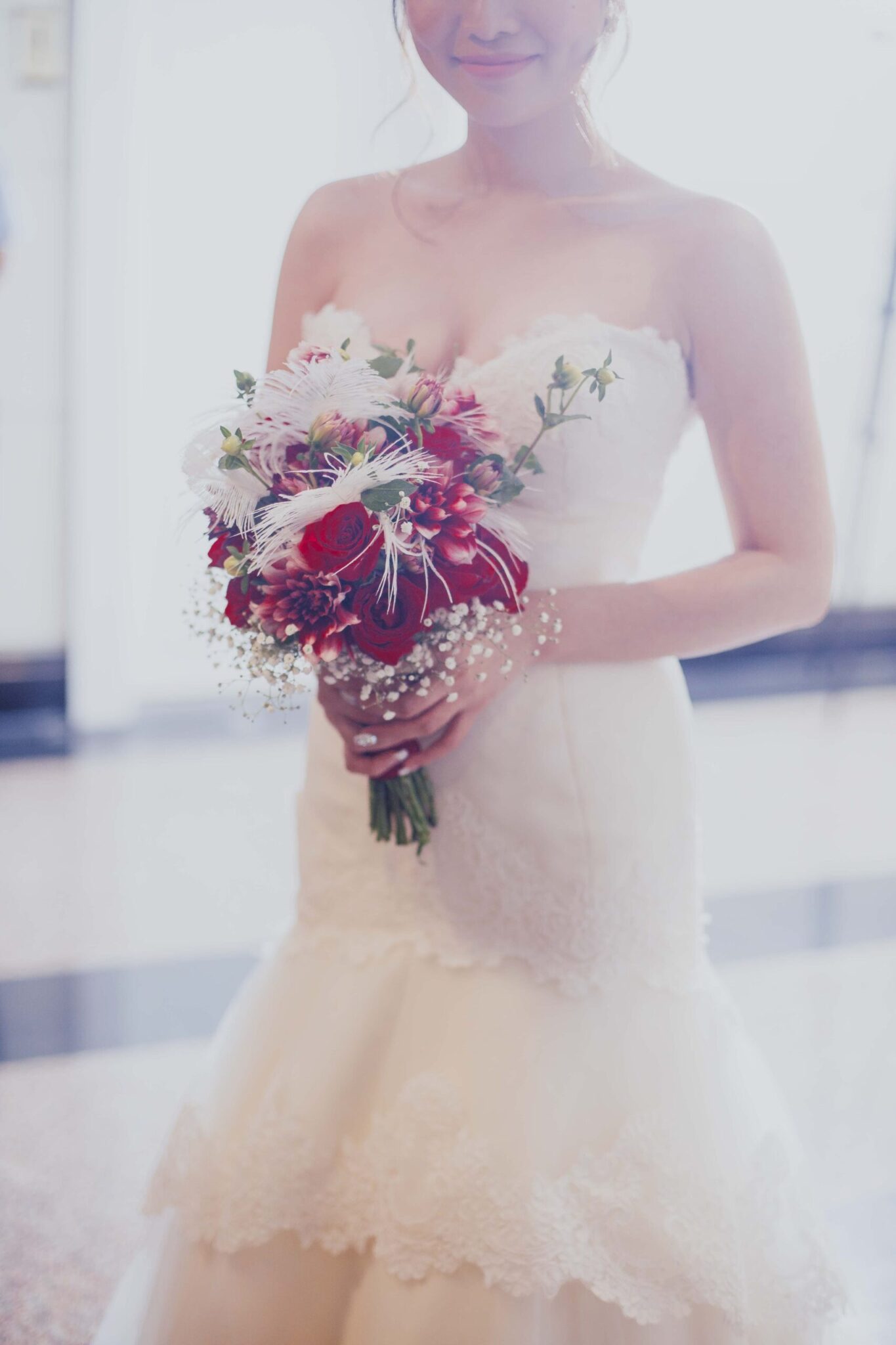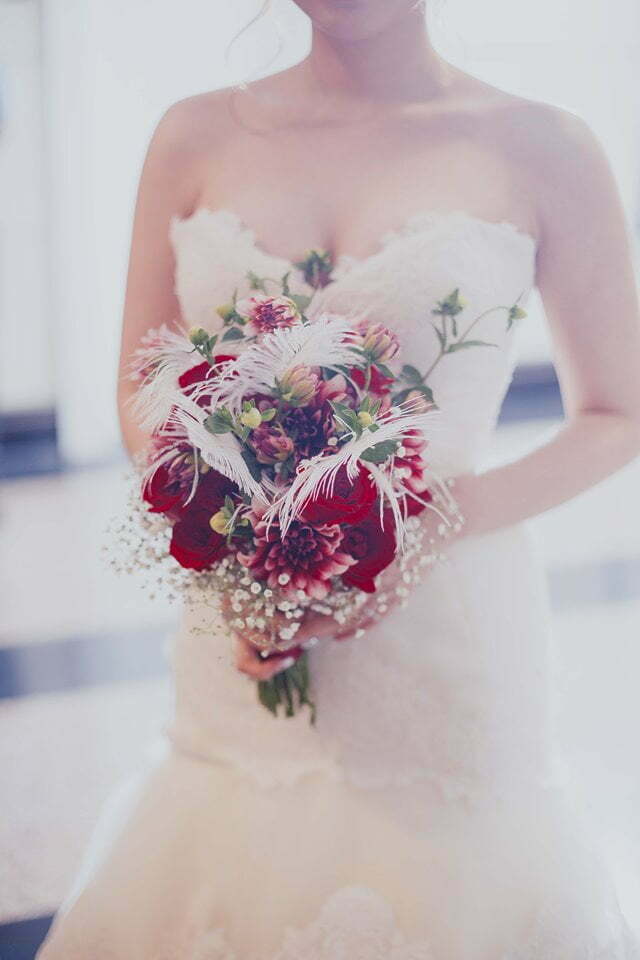 Think of a posy bouquet as a round bouquet's younger sister. This bouquet type is one of the more often-chosen for brides and bridesmaids alike because of its ability to incorporate a wide range of flower types and shapes that are rich in color and interest. Posy bridal bouquets are typically meant to be held in one hand (while round bouquets are held using both hands) and are often given to grandmothers, mothers, or bridesmaids for their walk down the aisle. Just like a round bouquet, they're arranged into a round dome.
A posy wedding bouquet can either be constructed loosely with a hand-wrapped, wedding color-coordinated ribbon and an embellished trim, or by replacing the stems with florists wire for a more structured look with one type of flower. We recommend using flowers that work really well in these wedding bouquets such as roses, gerberas, peonies, tulips and ranunculus to achieve high aesthetic.
If you are looking for something small and petite that won't overwhelm your gown then you will likely love to have a small posy bouquet. However, because these are smaller and typically used as bridesmaids bouquets, you might want to consider a floral mockup first to ensure a posy bouquet isn't too small or underwhelming for the look you're going for.
6. Nosegay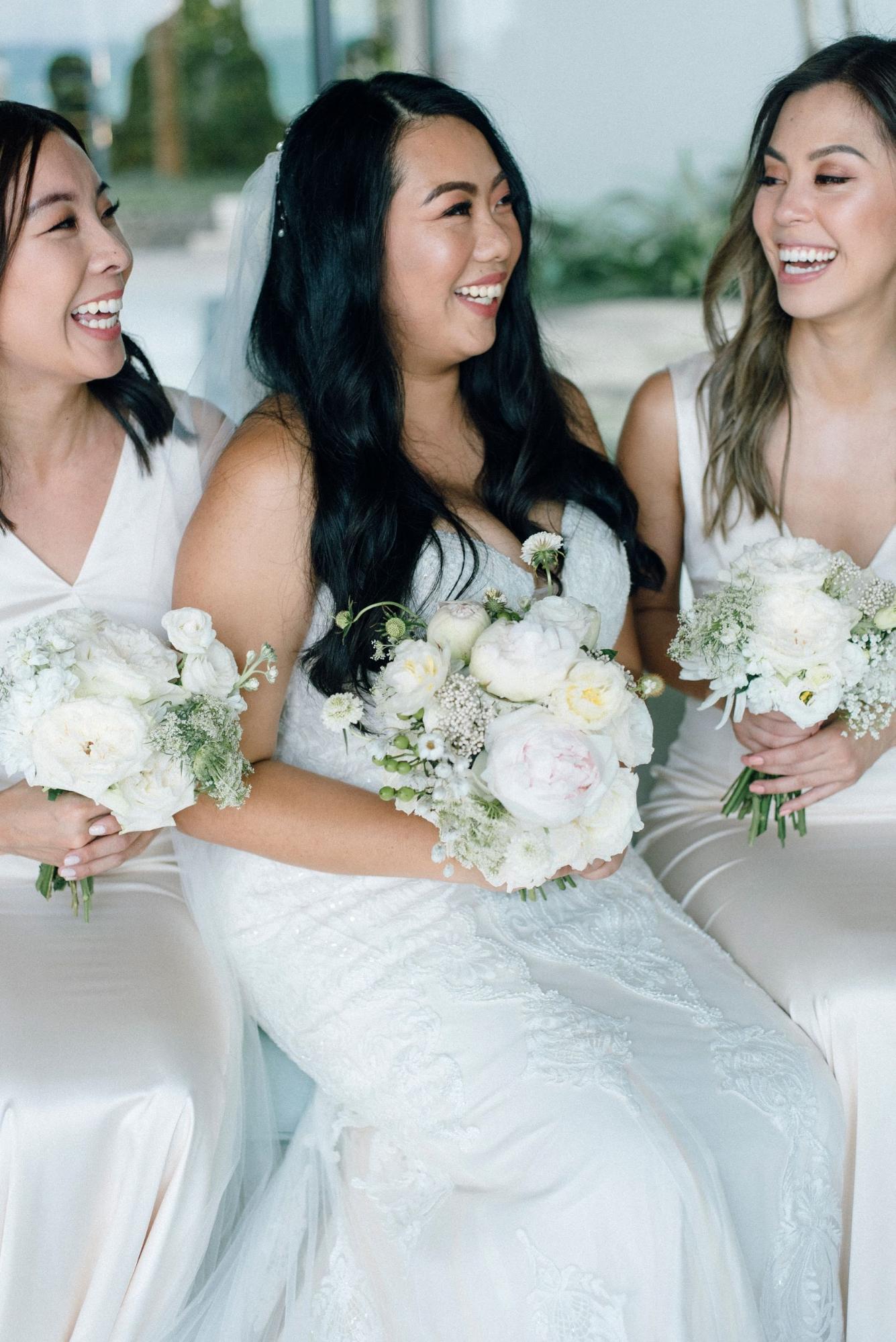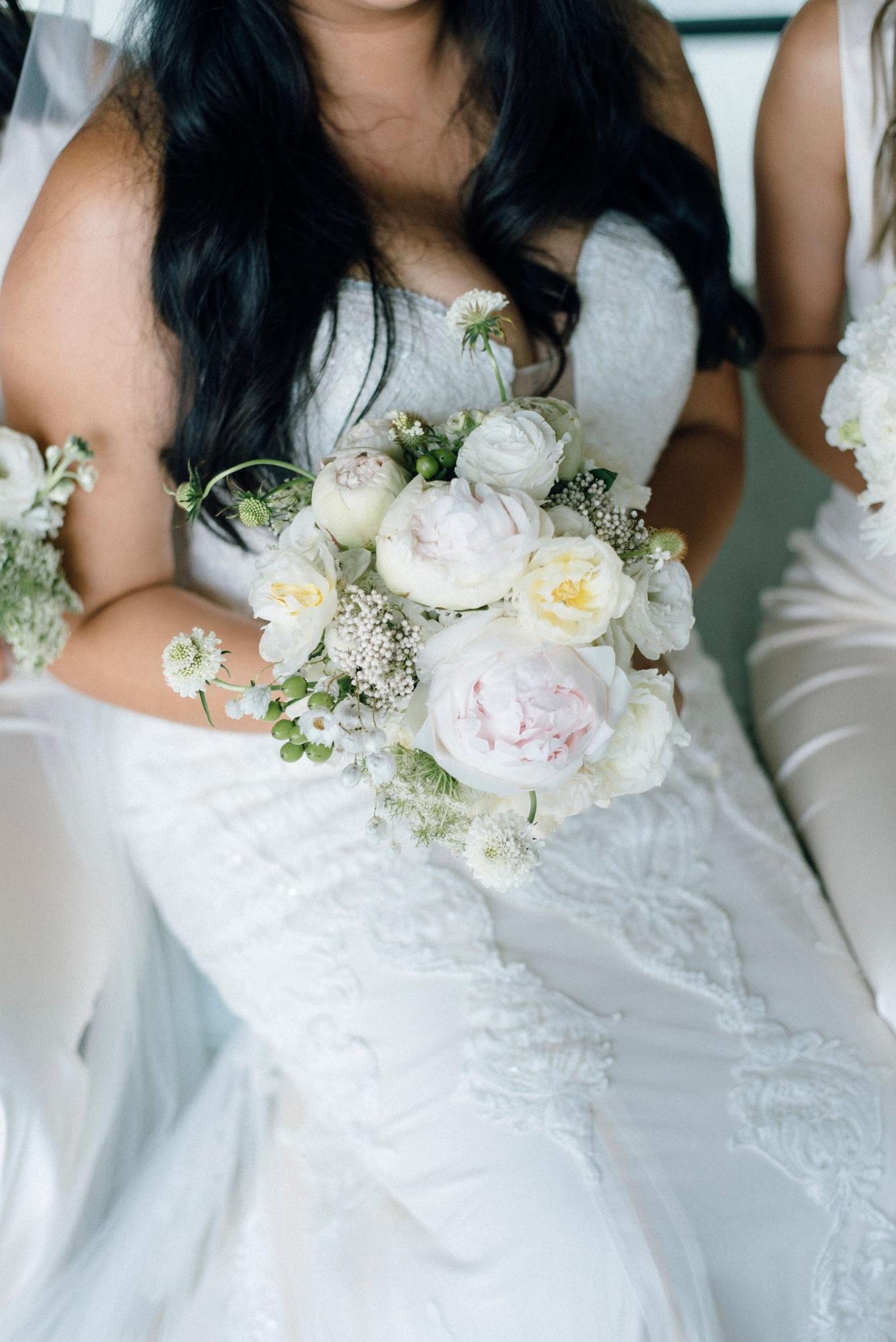 A Nosegay bridal bouquet is super similar to a Posy bouquet, only it contains more greenery than a Posy. While a Posy is typically focused on all florals, a Nosegay will have leaves or greenery that peep through as well, with the focus being on just a few floral stems (as opposed to an entire bunch of them). The bouquet is usually a compact cluster of flowers where stems are wrapped tightly, often with organza or satin ribbon and cut to one, uniform length. Nosegay wedding bouquets are a very trendy choice for bride's but also popular for bridesmaids in a smaller arrangement.
Even though these are typically given as gifts for bridesmaids or grandmothers/mothers for their walk down the aisle, but they can work well for petite brides or brides who want to opt for a smaller bouquet and keep the focus on their gown instead of on florals.
One interesting fact that we want to share with our brides is the term "nosegay" arose in the 15th century ("gay" then meaning "ornament"), denoting an ornament that appealed to the nose. That explains why scented roses are a popular floral choice for these types of bouquets.
If you're searching for a petite clutch to hold down the aisle, something small and understated but with a stronger focus on greens, consider the nosegay, which is often tiny enough to hold in one hand. You can easily achieve this classic style with bunches of ranunculus, sweet pea, hyacinth, and musicari. Also, this particular bouquet shape is about to skyrocket in popularity since the new trend will be less about shape and more about scaling down the size – totally suitable for our trend-setting brides!