Every bride dreams of having a perfect gown which does not only show the most beautiful features of her but also highlight her personality. Among thousands of styles and brands, choosing just one wedding dress for your big day does not seem like an easy decision. Let The Planners assist you through that with some inspiration from the most iconic celebrities wedding dress of all time.
1. Kate Middleton in Alexander McQueen's wedding dress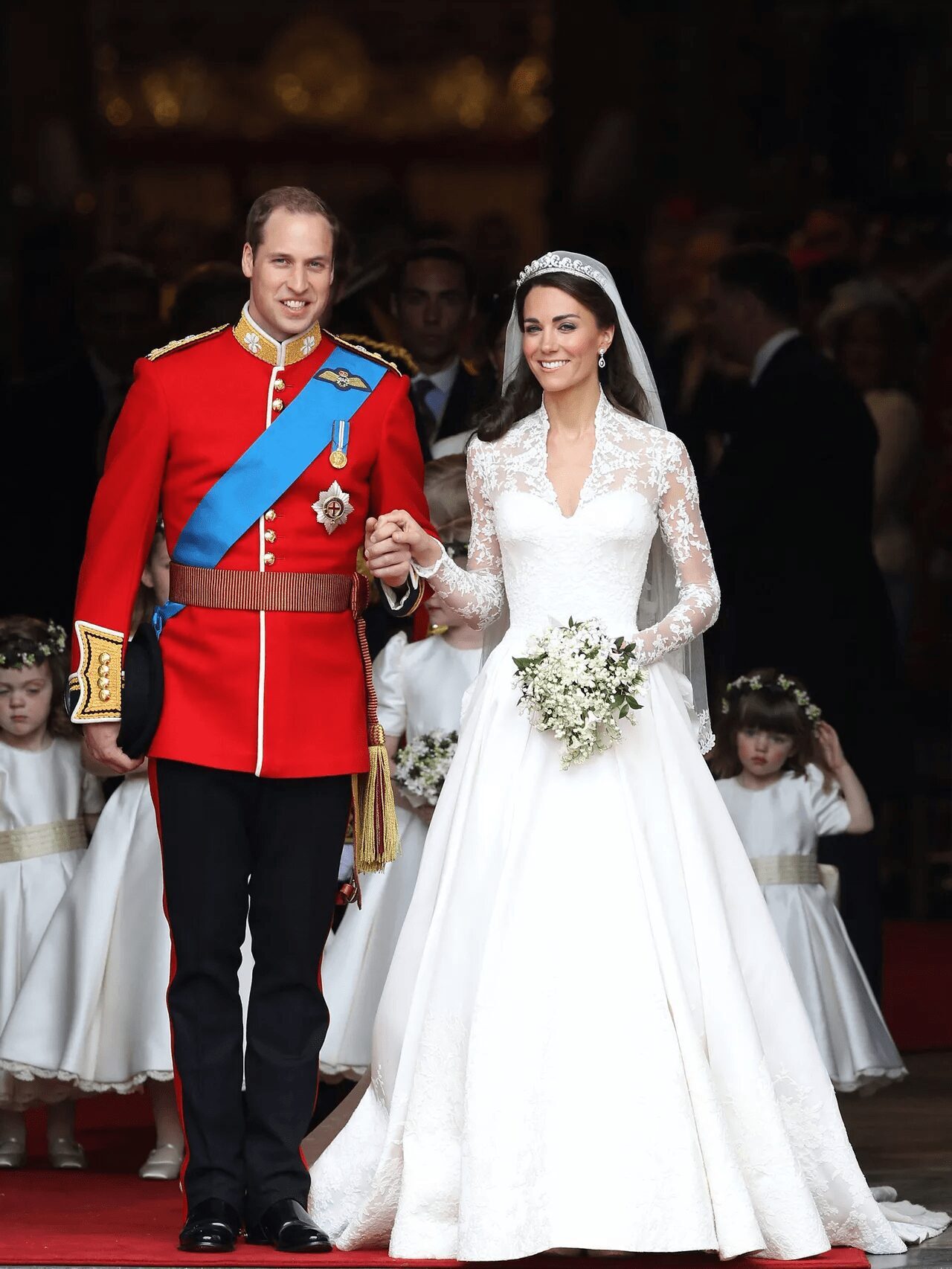 The marriage of Prince William and Kate Middleton once was on the front page of every major news. People looking forward to it not only because they want to see what a royal wedding is like but also curious about the wedding dress chosen by the future Duchess of Cambridge.
The now-duchess made her breathtaking entrance in a custom Alexander McQueen gown designed by Sarah Burton and at that moment a new generation of the stylish royal was born. Prince William's girl was nothing short of stunning in the beautiful wedding gown that inspired thousands of brides all over the world and is still one of the most talked about royal bridal gowns of recent years.
The dress featured a hand-cut lace bodice and a sweeping silk-gazar skirt. When creating the gown, Kate wanted to merge royal tradition with her modern sense of style. Kate's lace was crafted at the Royal School of Needlework and the lace-makers had a tough time finding lace that was all the same color due to the fact that it was crafted out of hand-cut English and Chantilly lace. Her veil was created at the Royal School of Needlework and crafted with hand-embroidered flowers. The gorgeous veil was held in place by a Cartier halo tiara, which was lent to her from Queen Elizabeth, who was gifted it on her 18th birthday. The back of the wedding dress was held together by 58 organza-covered buttons and Rouleau loops.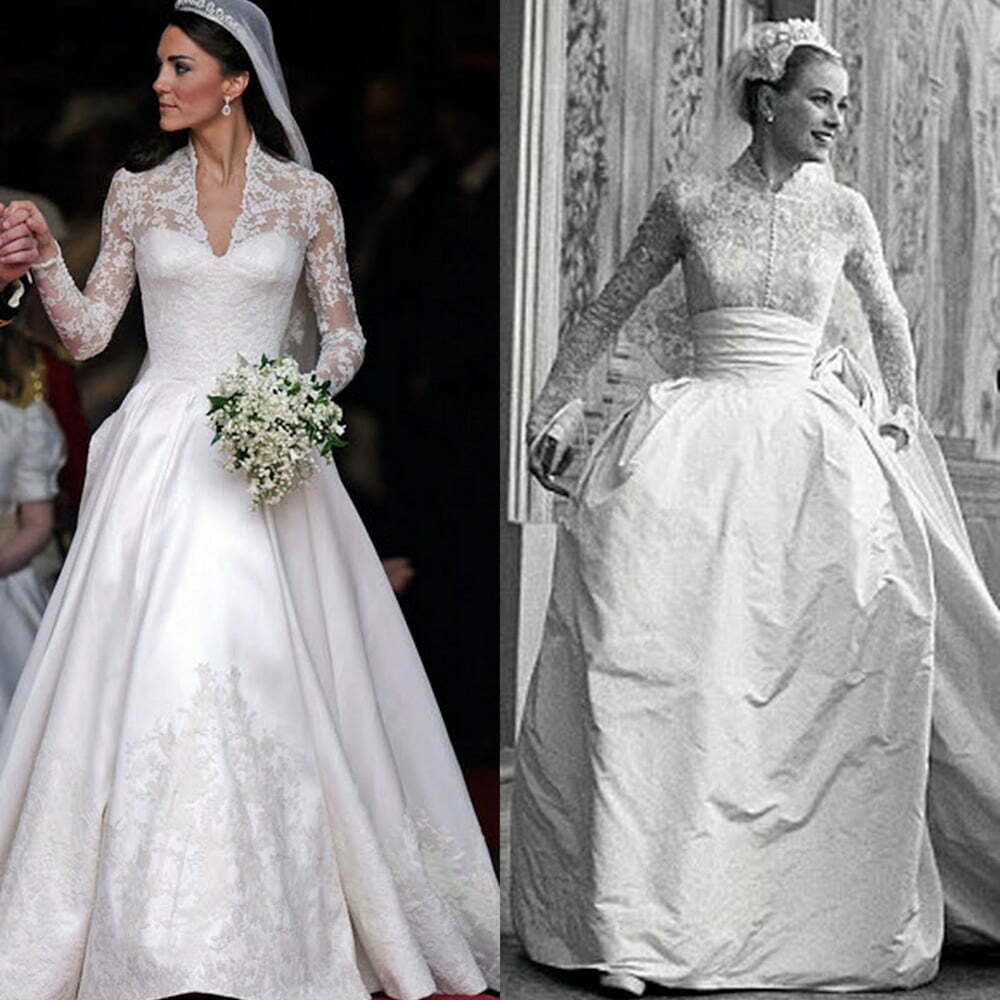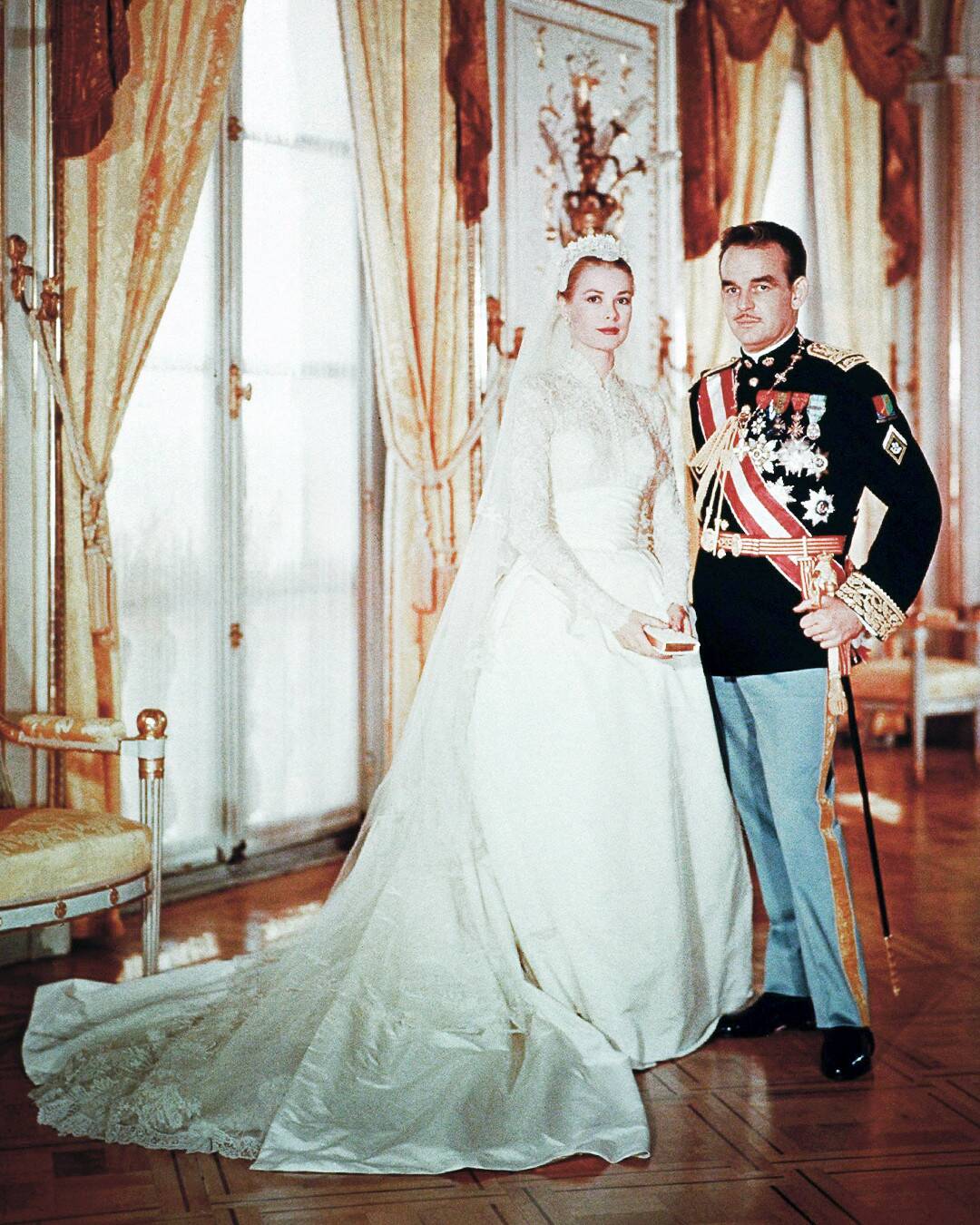 The difference lies in a small but tasteful amount of skin with deep V-neck of the new Duchess's wedding dress while the screen legend covered them up.If you are a hard-core fan of celebrity weddings, you might notice that Kate's gown looks strikingly similar to Grace Kelly's iconic dress in terms of the long sleeve and lace. Both ladies also opted for waist-cinching bodices and voluminous skirts to show off their gorgeous figures, their trains were dramatic but not too much, and they both went with short veils.
Answering the question whether Kate Middleton was inspired by the classic style, Fashion Police host and celebrity stylist George Kotsiopoulos shared:
"Undoubtedly, Grace Kelly was Kate's (and Sarah Burton's) inspiration for her gown. Fashion is derivative and always takes inspiration from past icons."
He continued, "The dress is definitely safe, but totally appropriate for this occasion. With a gazillion people watching, this is not the time to have a Demi Moore or Kim Basinger 'design your own dress' moment.
2. Carrie Bradshaw in Vivienne Westwood's wedding dress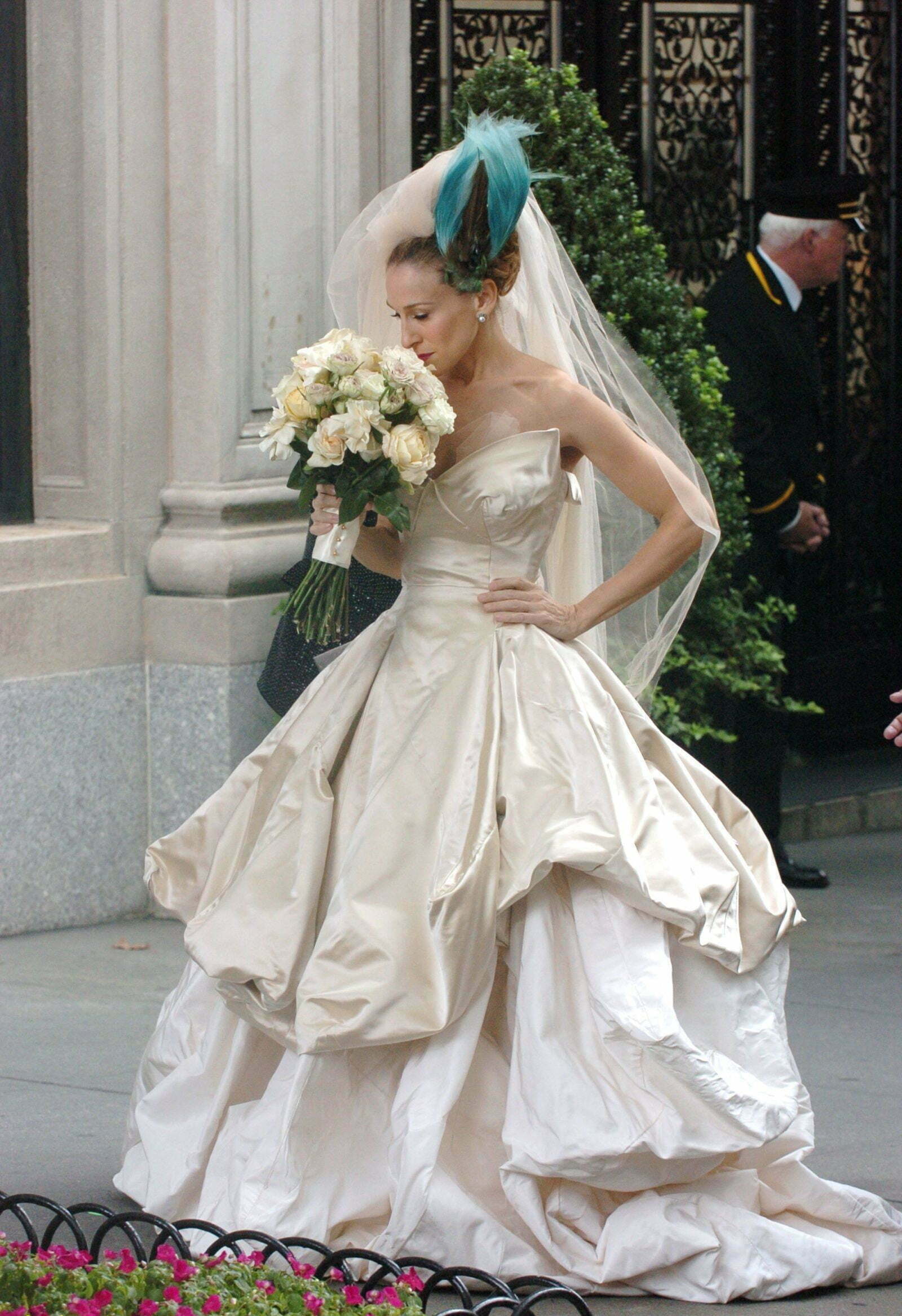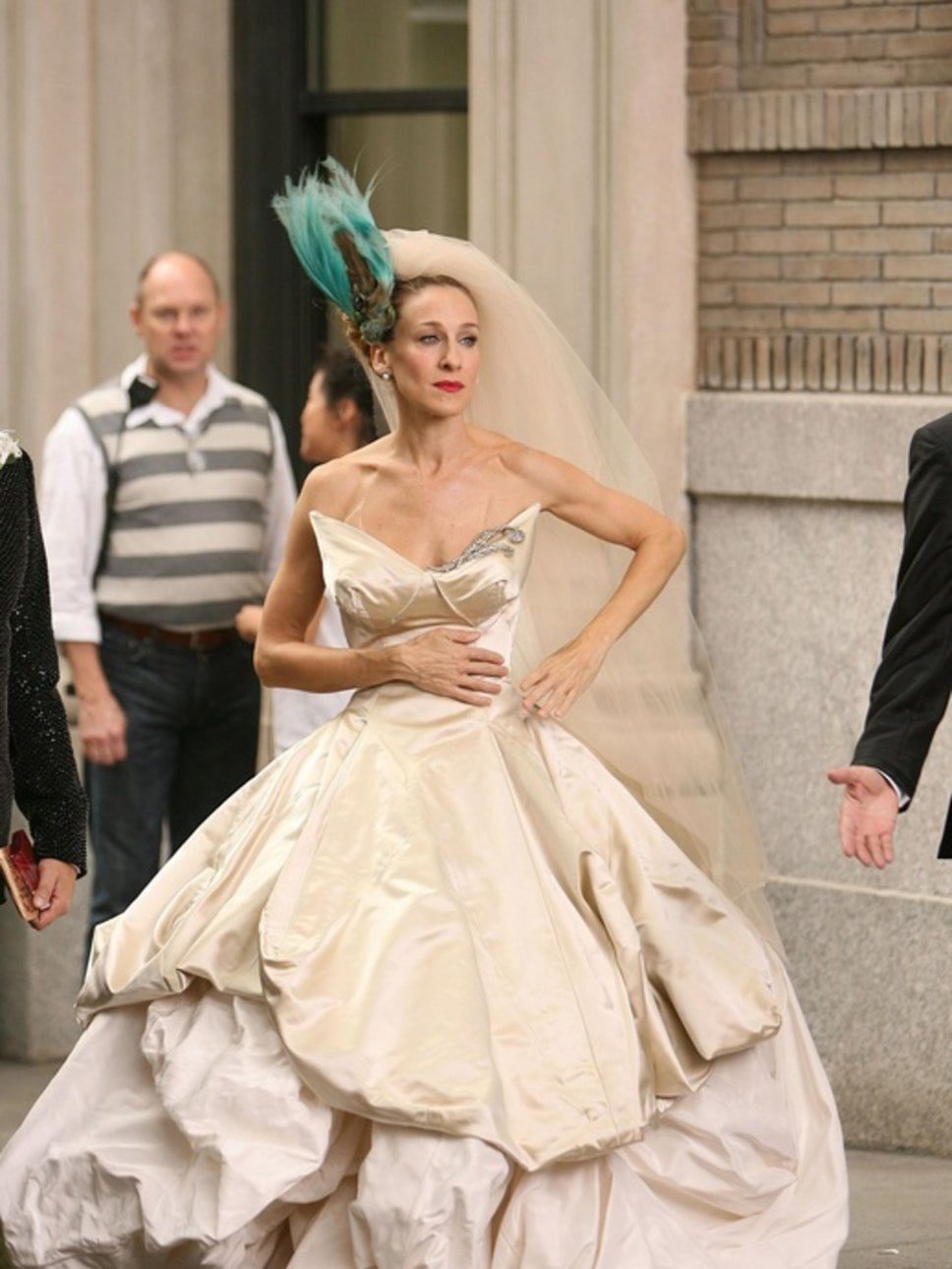 It's been 10 years since the Sex and the City movie was released, but you're not alone if you're still not over the rollercoaster ride of emotions caused by Mr. Big abandoning Carrie Bradshaw outside their lavish wedding at the New York Public Library before finally re-proposing and marrying her in a much less over-the-top ceremony at city hall.
The "cloud dress" Carrie wore on her ill-fated trip to the library first popped up in the designer's Winter 2007/2008 collection and was then re-designed for Sarah Jessica Parker's Sex and the City character.
The strapless gown featured two different colors of material with the corset top made from gold backed ivory silk satin duchess while the skirt was crafted from ivory silk Radzimir taffeta. The original provocatively low neckline was replaced for the actress with a more structured bodice and was also trimmed on one edge with sparkling crystals. Worn with a vertiginous bird-of-paradise headpiece, tulle veil and customized Dior "Gladiator" heels, the dress was at the center of Carrie's fairy tale wedding.
Bradshaw describes the dress as "so special it would bring a wedding tear from even the most unbelieving of women." It was truly one of the most magnificent wedding dresses from television series, and please do not be embarrassed if you are still obsessed with the gown (cause we are still too!).
3. Kim Kardashian in Givenchy Wedding Dress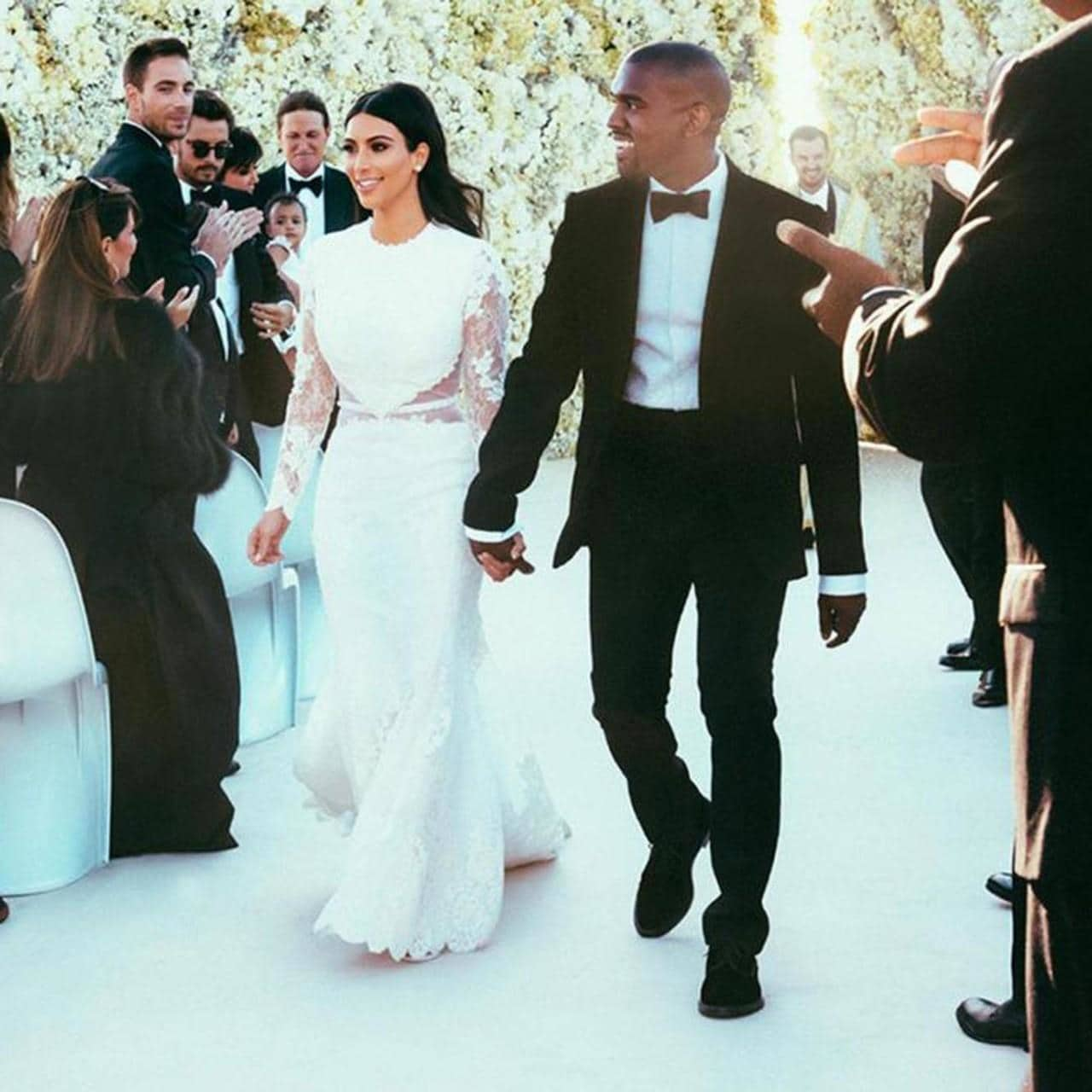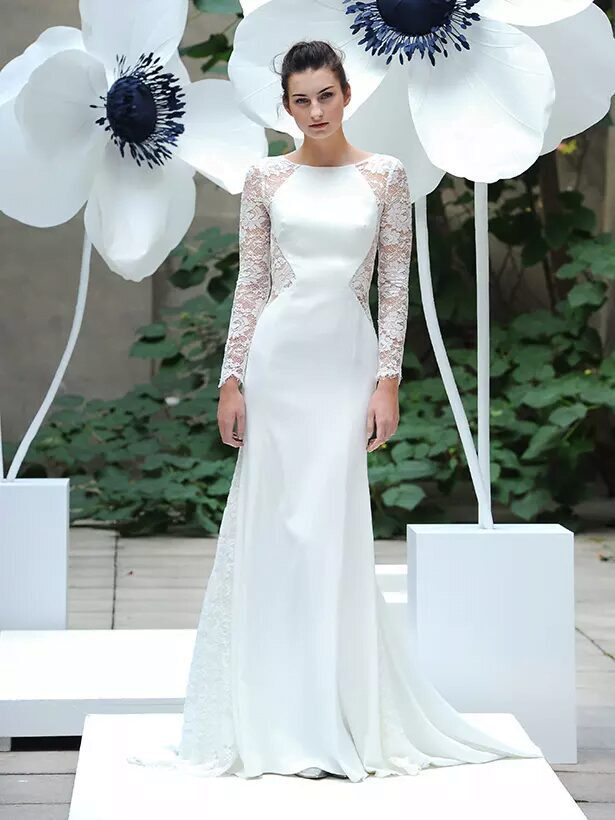 Whether you love her, loathe her, or couldn't care less, if there's one thing to take away from Kim Kardashian's wedding to Kanye West in Florence, Italy; it's that her Givenchy Haute Couture gown was perfectly on-point.
Wearing a haute couture creation by Givenchy creative director Riccardo Tisci, Kim looked jaw dropping more than ever. With intricate lace long sleeves, a modest high neckline and strategically-placed sheer panel cutouts, the dress was just the right amount of sexy. Added with a simple white belt and open back with illusion netting, there are tons of stunning detail to consider for your own wedding dress if you dream to be both sexy and elegant in the big day.
Kim's Givenchy confection also showed off her curves and included a picture-perfect train. The see-through panels at the waist are what made this look feel sultry and fresh; sheer wedding gowns were trending at that season's bridal runway shows and gained even more momentum in the year ahead.
It's not too much to say that Kim is truly a sexy dynamite, even in her wedding dress.
4. Kate Moss in John Galliano's wedding dress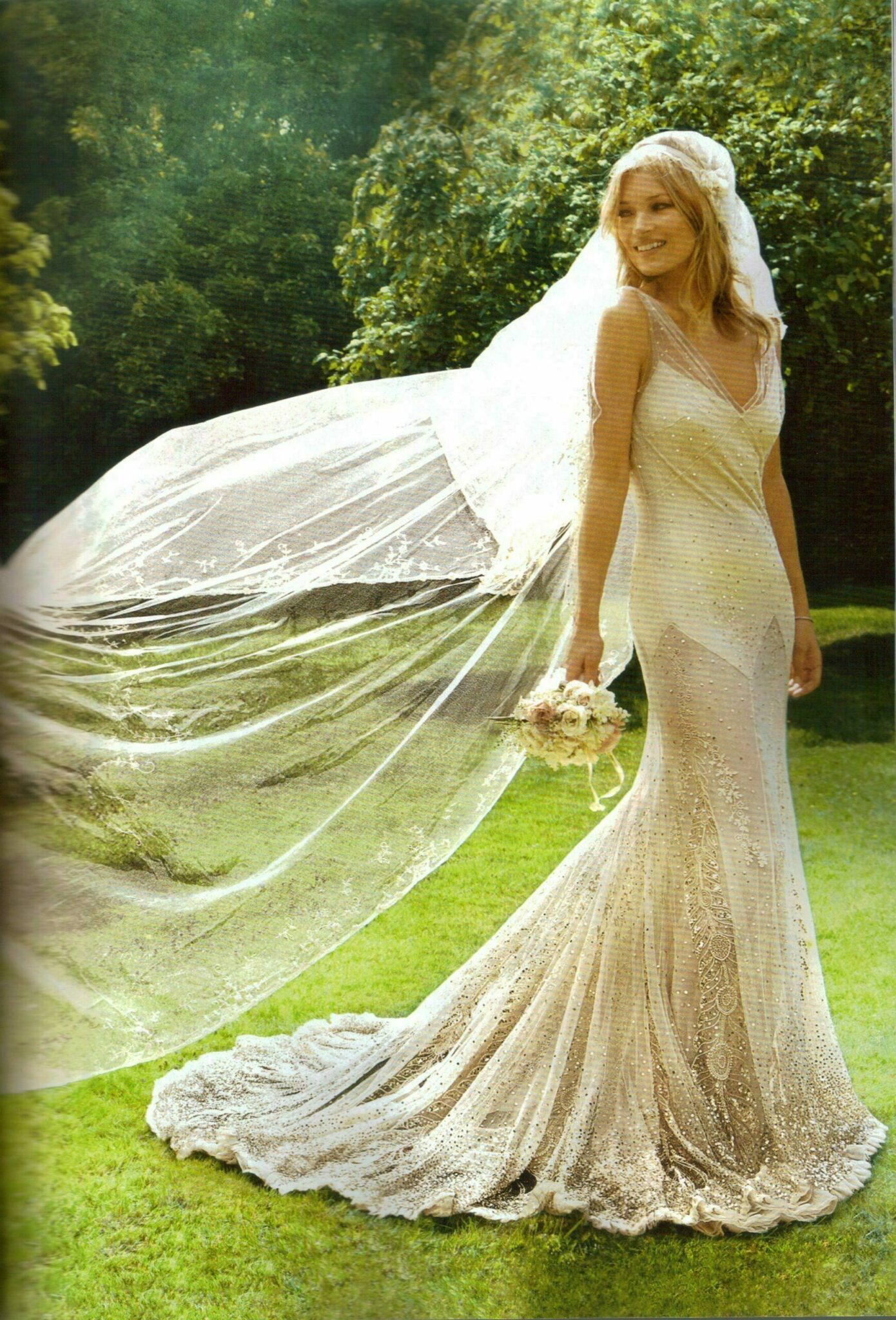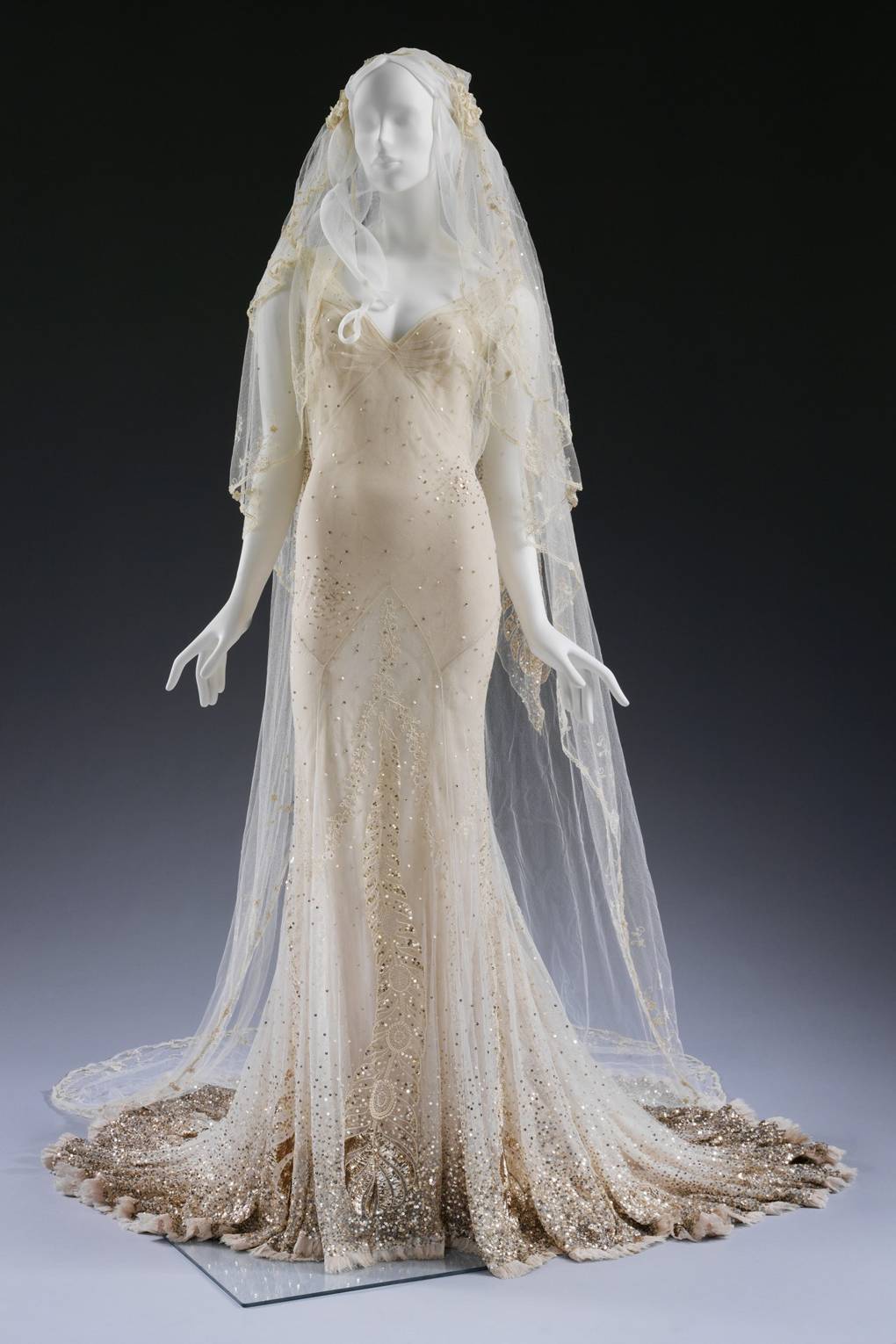 Kate's beautiful vintage-inspired wedding gown was a mix of the 20s & 30s styling – a sheer slip dress, bias cut in silk, the bodice had a sheer overlay embroidered with gold sequins, while the skirt was an intricate web of gold beading, embroidery and rhinestones. In our perspective, the detail and craftsmanship are magnificent and this is an ideal look to start with if you would like to go with vintage style in your wedding.
The stunning custom champagne-colored John Galliano gown dazzled with gorgeous metallic and rhinestone embellishments and a sheer overlay that made for a unique neckline (not to mention, showcased those killer legs!). To emulate Moss's signature boho-glam style keep an eye out for playful sheer necklines and don't be afraid to go for beading or on-trend 3D flower embellishments.
In terms of her veil, Kate continued her vintage bride style with a 1920s style lace cap one, embroidered with flowers, and set either side of her head with fabric flowers. The veil perfectly completed her look and it would not be too much to say that she looked even more like a goddess in that day.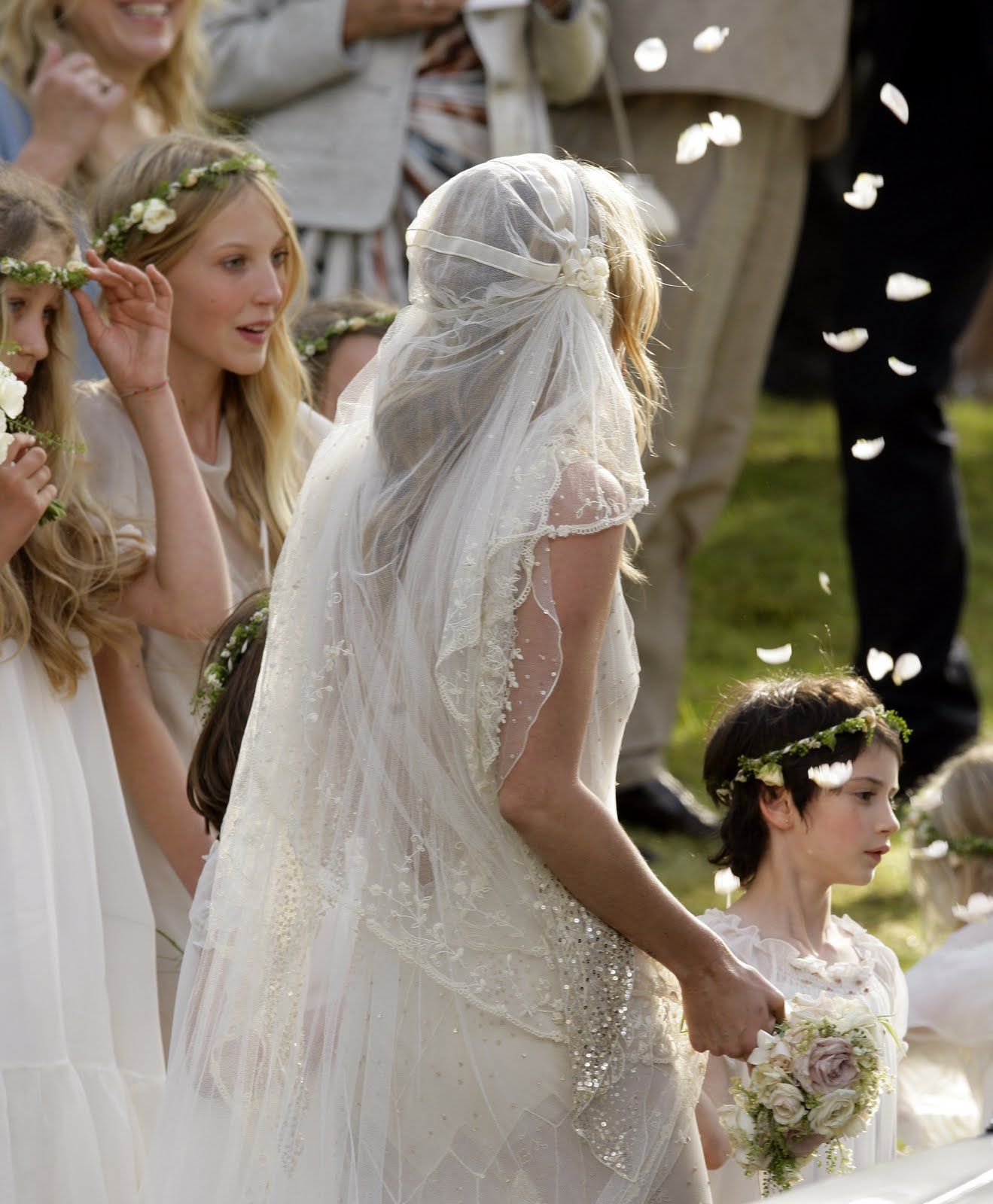 The designer later and also her friend – John Galliano described the process of making Kate's dress as his 'creative rehab' and we totally understand that because was there ever a more perfect wedding dress than Kate Moss's bias-cut, thirties-inspired slip of a gown?
5. Miranda Kerr in Dior's wedding dress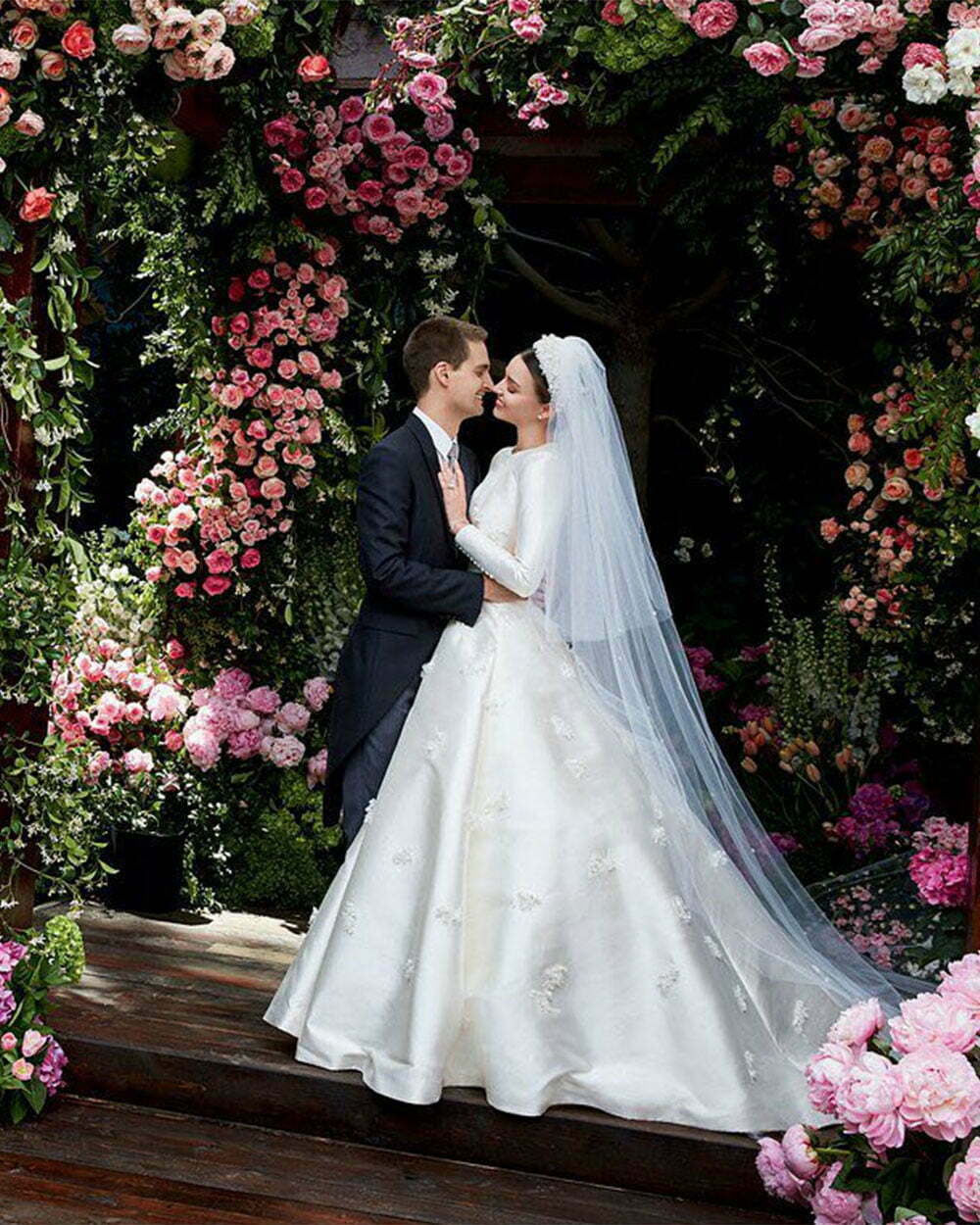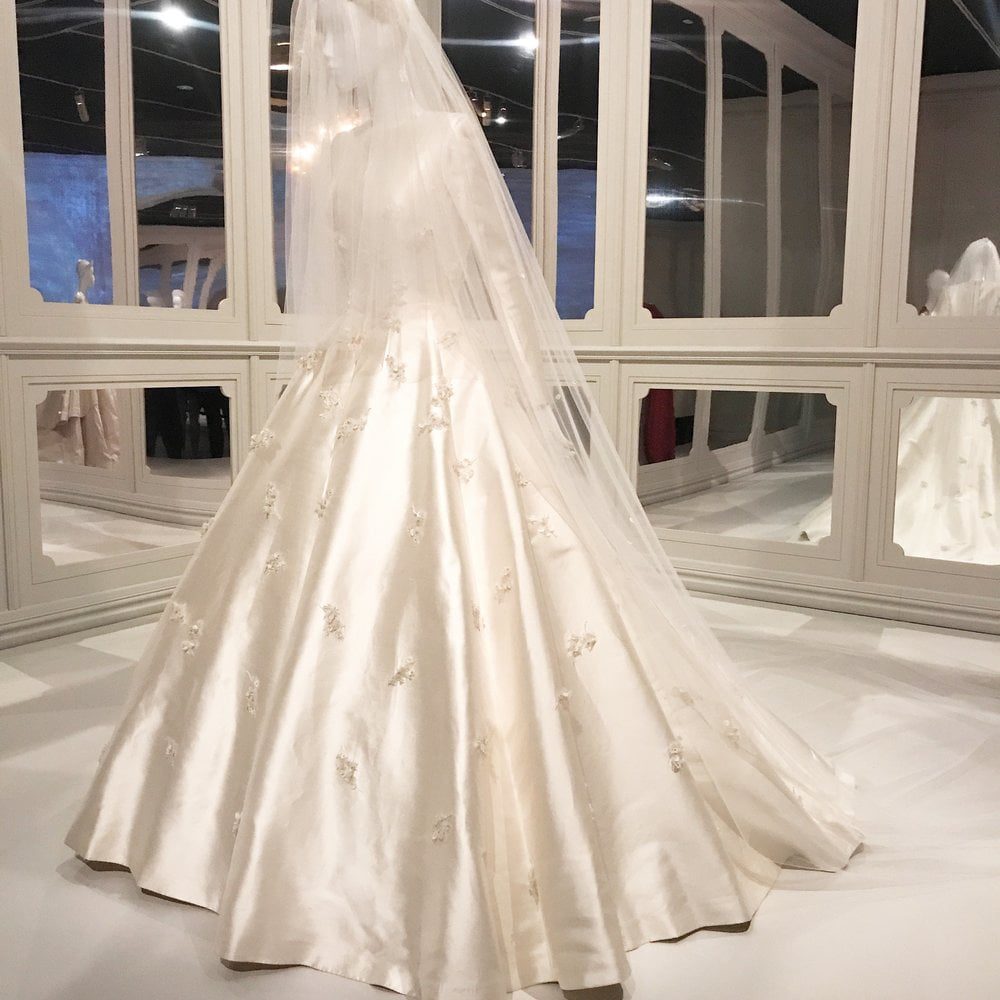 Also inspired by the "iconic" gown worn by Grace Kelly at her 1956 wedding to Prince Rainier of Monaco, the Victoria's Secret Angel chose to go with classic and graceful vibe in her wedding dress with long sleeves and a high neck. Designed by Dior creative director Maria Grazia Chiuri, the Haute Couture Dior gown for Kerrr's wedding to Snapchat founder Evan Spiegel in LA was such a dress and did a great job of honoring Miranda's beauty.
"I think it's every girl's dream to have Dior design her wedding dress," Kerr says. "I thought, If she's up for it, I'm up for it." After the wedding, she claimed "Honestly, I couldn't have imagined a more beautiful wedding dress."
Appliquéd with lily of the valley, Kerr's satin dress was altogether a demure design: "A dress that fully covers you creates a sense of purity and mystery," she said, referencing the high neckline and full-length sleeves of her Dior bridal gown. "I've had a lot of fun with fashion, and I used to be more wild, free, bohemian. But in this period of my life, my style is more pulled back."
Speaking of the design, Chiuri said: "She wanted something like a fairy tale, and she gave me this idea, to make a dress that was emotional and simple at the same time."
If you also love to have a fairy tale wedding gown, consider Kerr's dress as an inspiration and then let us know how you want to adjust it to be your own.
As the famous designer Carolina Herrera said, " a wedding dress is both an intimate and personal for a woman – it must reflect the personality and style of the bride." Well aware of that, we are always ready to assist our brides finding out the right gown and shine their own ways on the weddings.