f you have a fancy for wedding dress, this is a must-read fashion highlight to know their diversity of uniqueness and charm to become the endless source of inspiration for designers
Silhouettes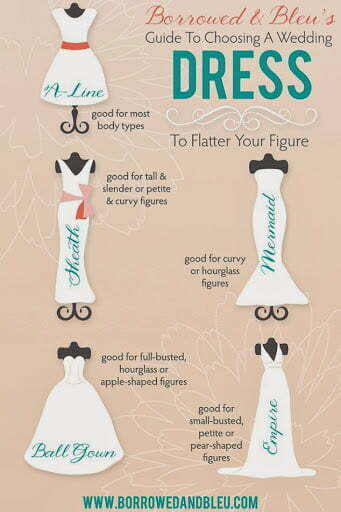 The A-line: Fitted bodice through the waist and flows out to the ground, resembling the outline of an uppercase "A." Ideal for all body types
The sheath: Narrow shape that flows straight down from the neckline to the hem. Ideal for lean frames, such as petites and bananas. Also good on hourglasses who are willing to show off their curves. Not good for pears; sheaths will accentuate extra inches and can be unflattering.
Mermaid: Fits closely to the body from the chest to the knee, then flares out to the hem. If you are hippy, avoid the mermaid.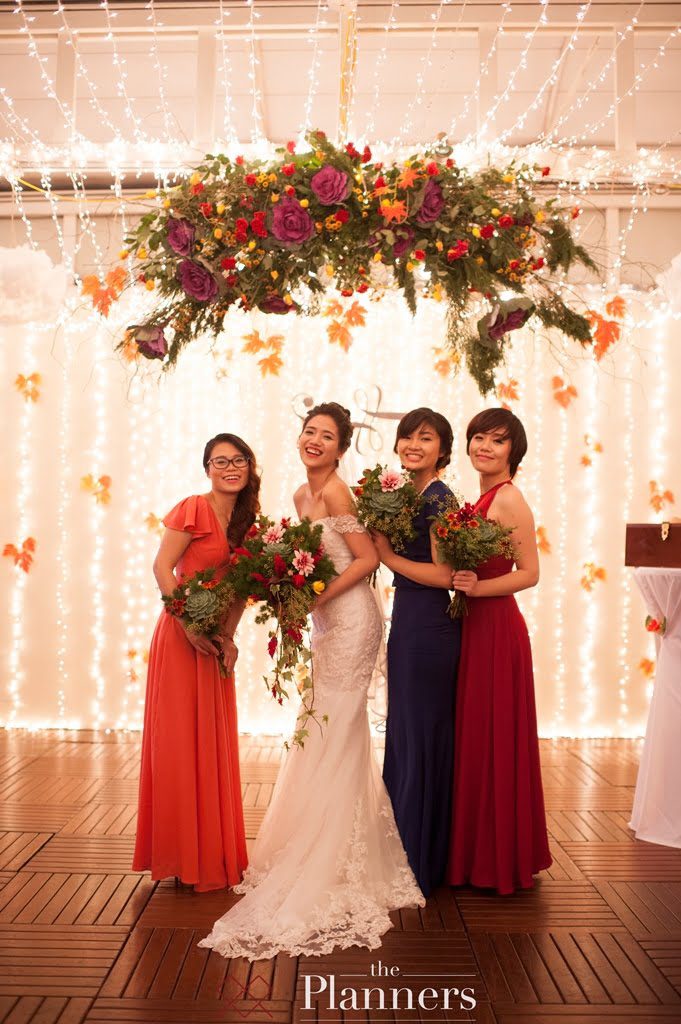 Ball gown: These gowns are normally quite formal, reminding you of Cinderella. The bodice is fitted with a very full skirt. Ball gowns can be long-sleeved, sleeveless or anywhere in between. The full skirt of a ball gown can hide large hips and thighs.
Empire: Empire gowns have a raised waistline that starts right under the bust, flowing to a skirt that skims over the hips then flairs slightly to the floor. This romantic silhouette is flattering to most body types and is particularly flattering to small-breasted women.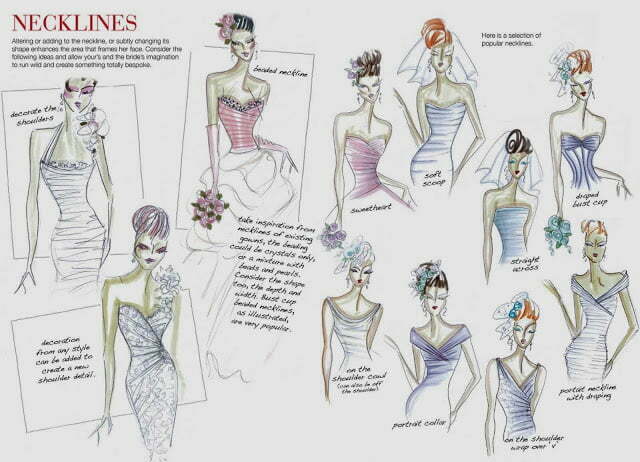 -Bateau: This wide top follows the natural curve of your collarbone and is a basic neckline selection. The front and back neck areas are equally and minimally exposed and works well to naturally enhance the chest area (so avoid if you are already well endowed).
Good for: Small breasts
Bad for: The well-endowed
-Halter: Halter necklines may be high or low, but they share a common characteristic: fabric that ties or buttons behind the neck to hold the bodice of the dress in place. A dress with a halter neckline is almost always sleeveness, too. By definition, a halter has a high back at the top, but many open below the nape to reveal the bride's back.
Good for: Broad shoulders
Bad for: Narrow shoudlers
-V-neck: V-necks are classic necklines and look good on almost anyone. They are generally seen in casual wear, but V-necks are a wonderful choice to visually "lengthen out" the features of brides who have short necks or faces. They are also generally a good choice for someone with a rounded, softer face.
Good for: B or C cups
Bad for: Anyone bigger or smaller
-Portrait: Follows the same concept as the Off the Shoulder neckline mentioned previously. The difference here being that a scoop is provided to frame the shoulders and collarbone. A safe selection if you have full arms and prominent collarbones, as this selection will work with them but avoid if your collarbones are hard to see.
Good for: Fuller arms and prominent collarbones
Bad for: Undefined collarbones
-Sweetheart: Sweetheart is a dipped neckline, it looks like a heart. It is flattering to most people. This may or may not be strapless depending on the designer of your dress but works well in accentuating cleavage and if your are already well-endowed.
Good for: Serious decolletage
Bad for: The decolletage-impaired
-Cowl: Pippa Middleton's Royal Wedding gown is a prime example of the cowl neckline, which features loose-fitting draping in the front. Women with very small or large busts are favored by the cowl neck as it's stylish folds create the illusion of a perfect upper body.
Good for: Great shoulders and collarbones
Bad for: Smaller-chested women
-On/Off the shoulder: It is below the shoulders and highlights the collar bone and shoulders. A gown that's worn off the shoulder is designed to reveal the whole upper curve of the shoulders and sometimes the uppermost arms.
Good for: Full-chested and pear-shaped women
Bad for: Broad shoulders, fuller arms
Follow us at www.theplannersvn.com or https://www.facebook.com/theplannersvn/ to enjoy amazing stories about wedding.