So you are about to have beach wedding at a tropical country, say Vietnam. You leave it all for the wedding planner to plan your freaking amazing wedding and all you care about is how to look deadly gorgeous on the day. And the first thing that came to your mind, of course, is what I should wear on that day? Yes, that is the biggest concern of every single bride.
But seriously, what should you wear and prepare for a perfect appearance Let The Planners help you clear your mind and picture how things is going on if you have a beach wedding.
Unlike wedding in ballroom where the climate and facilities conditions are stable, wedding by the beach may require some special preparation for costumes.
Here are things that you should know of to be beautiful and comfortable during the long day.
1. Wear a dress that you can move comfortably
Holding a wedding by the beach means you will move a lot from the resort/hotel to the wedding venue and back to the reception dinner venue ( in some cases). You should wear dresses that are light in weight and flowing in design. The dress shouldn't cause you any discomfort. For example, a ball gown wedding dress is not a good choice for beach wedding. It is too big and will cause you some troubles in moving, not to mention, it may make you sweat a lot during hot weather, especially in a country like Vietnam where the climate is usually above 30 degrees in the summer.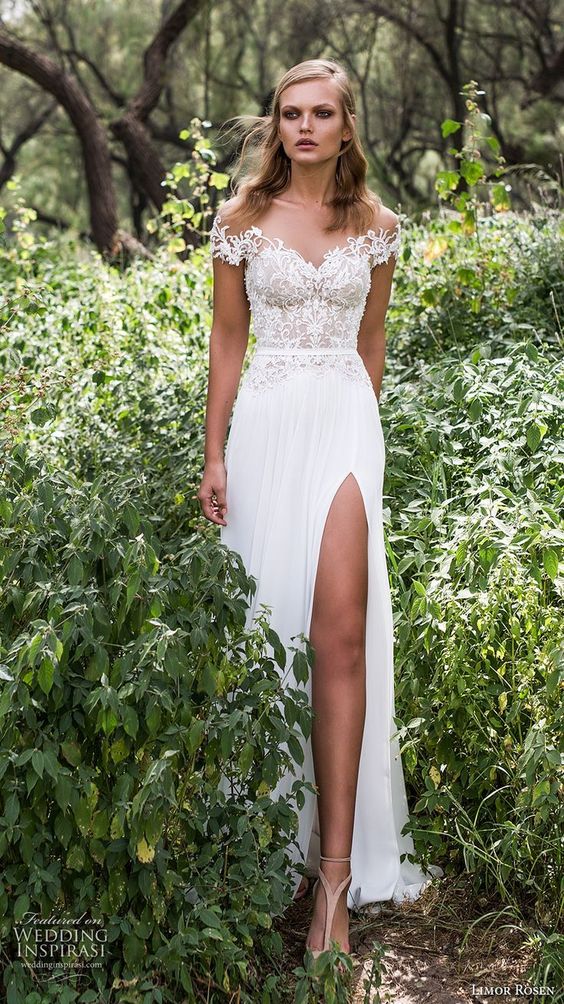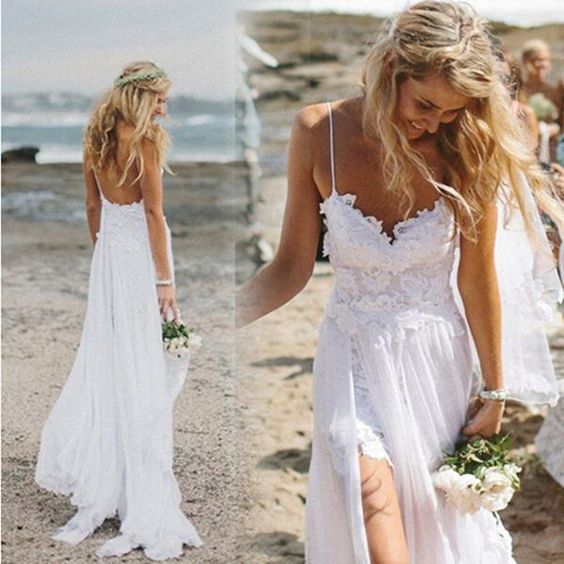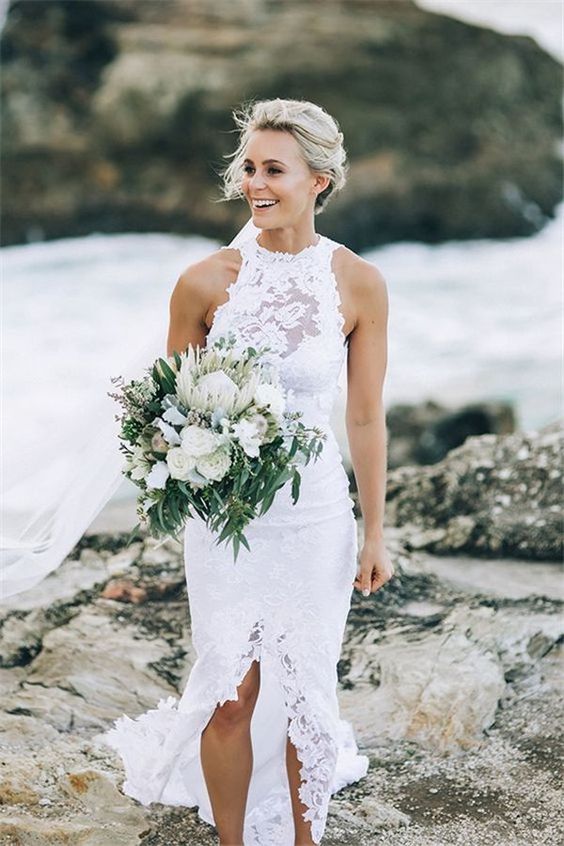 However, if you insist on looking fancy as much as you can since this is your day. You can choose to wear a full ball gown or Cathedral-length veils on the sand. But you should be aware that the cost for transportation could be higher. You know, the bigger the dress, the heavier it is. Adding to that, you may pay more for steaming and cleaning at the destination.
2. Choose the right wedding shoes
Well, this depends on the place where you will have your wedding at. If the wedding is held on the sand, we advise you not to wear heels because it will cause you a lot of troubles in moving. Rather than that, you can wear barefoot sandals which match with your style on the day.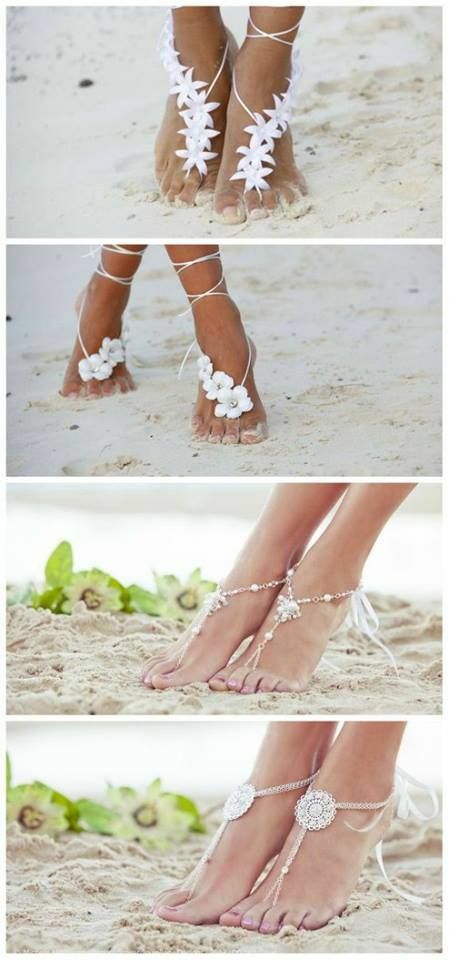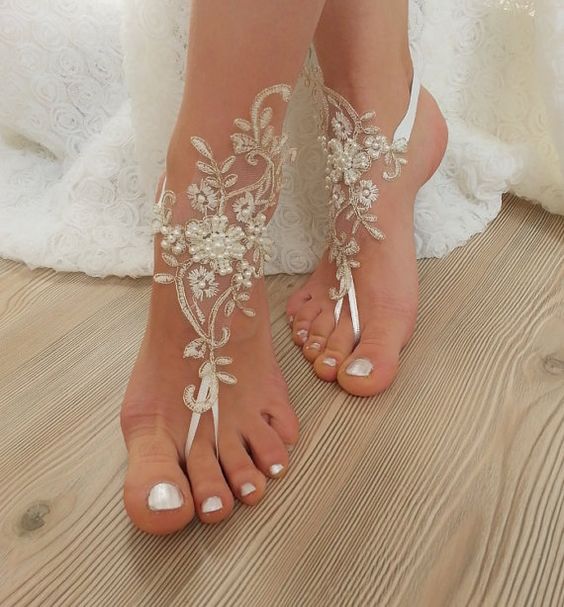 If you don't want to walk with barefoot, you can ask your wedding planner to make a platform along the aisle and make sure that you can walk on it without any troubles.
We made a wooden platform and covered it with petals so that the bride can walk on
3. Don't skip makeup test – Make sure your foundation stay on all day
Since this is an outdoor wedding, the climate is normally higher than room's atmosphere, make sure that you check the weather and have the right cosmetic products that are suitable to wear on a long hot day. For example, the weather in Vietnam tends to be much higher than that of Europe countries during summer. The humidity is also higher, which may make your skin oilier. For that, you should do a makeup test right when you arrive the venue to ensure that you don't have a cakey face or panda eyes because of the hot weather after a long day outside.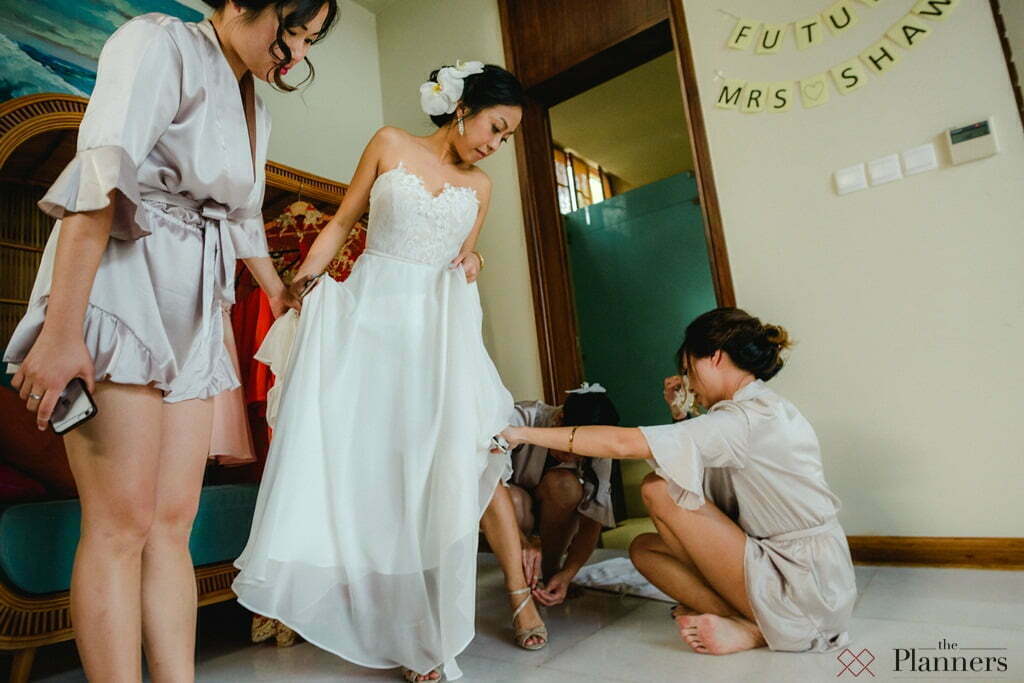 Another side note is that you shouldn't wear lip gloss or lipstick that is too shiny or moisturizing cause it could be sticky and the veil and your hair can stick on it.
4. It could be a windy day
The rain is your biggest enemy when you have a beach wedding but don't underestimate the wind. Yes, the wind can cause you some discomforts and unexpected situations while doing the ceremony. We witnessed a bride who couldnt finish her vow just because the wind kept messing with her hair and the veil stuck on her face. It was such a windy day and the bride made a mistake to let her hair down and wear a veil over her face.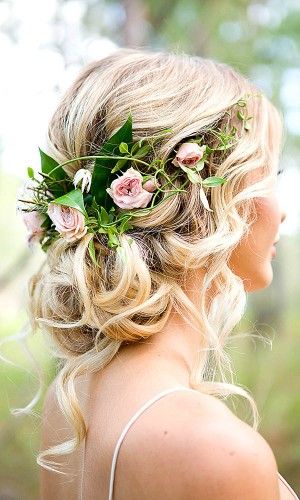 Our advise for you is when the day comes, the first thing you should do in the morning is check on the weather. If it is a nice less windy day, congratulations, you can do the hairstyle that you like. However, if it is a windy day, you should select a style that is a bit more contained rather than loose curls. Besides, we also recommend you to use a humidity-proof hairspray to lock everything in place.
So have you got a clearer vision of what you should prepare for the beach wedding? If you have more questions and need professional assistance to plan the wedding perfectly, dont hesitate to contact us at +84 968 344 735 or email info@theplannersvn.com
Check out our fanpage for more updates https://www.facebook.com/theplannersvn
It is time to plan your dream wedding !