In previous articles, we have shown you how to choose the right wedding gown, floral bouquets and several details but somehow haven't mentioned about the right colour palettes or concepts for your wedding. Don't worry anymore because today we are going to present to you five beautiful wedding color concepts in 2019. You can apply those from the big details, like the wedding venue and season, then think about the mood you're trying to set other design elements down the road, like bridesmaid dresses, flowers, cakes, etc. Do you want a playful and fun palette like bright and vibrant hues or lavish and intimate such as moody jewel tones and luxe textures? Whether you love neutral shades with bold accents or vibrant shades with lots of contrast, The Planners believe that these following wedding color palettes will add a romantic and elevated feel to your wedding.
Rustic concept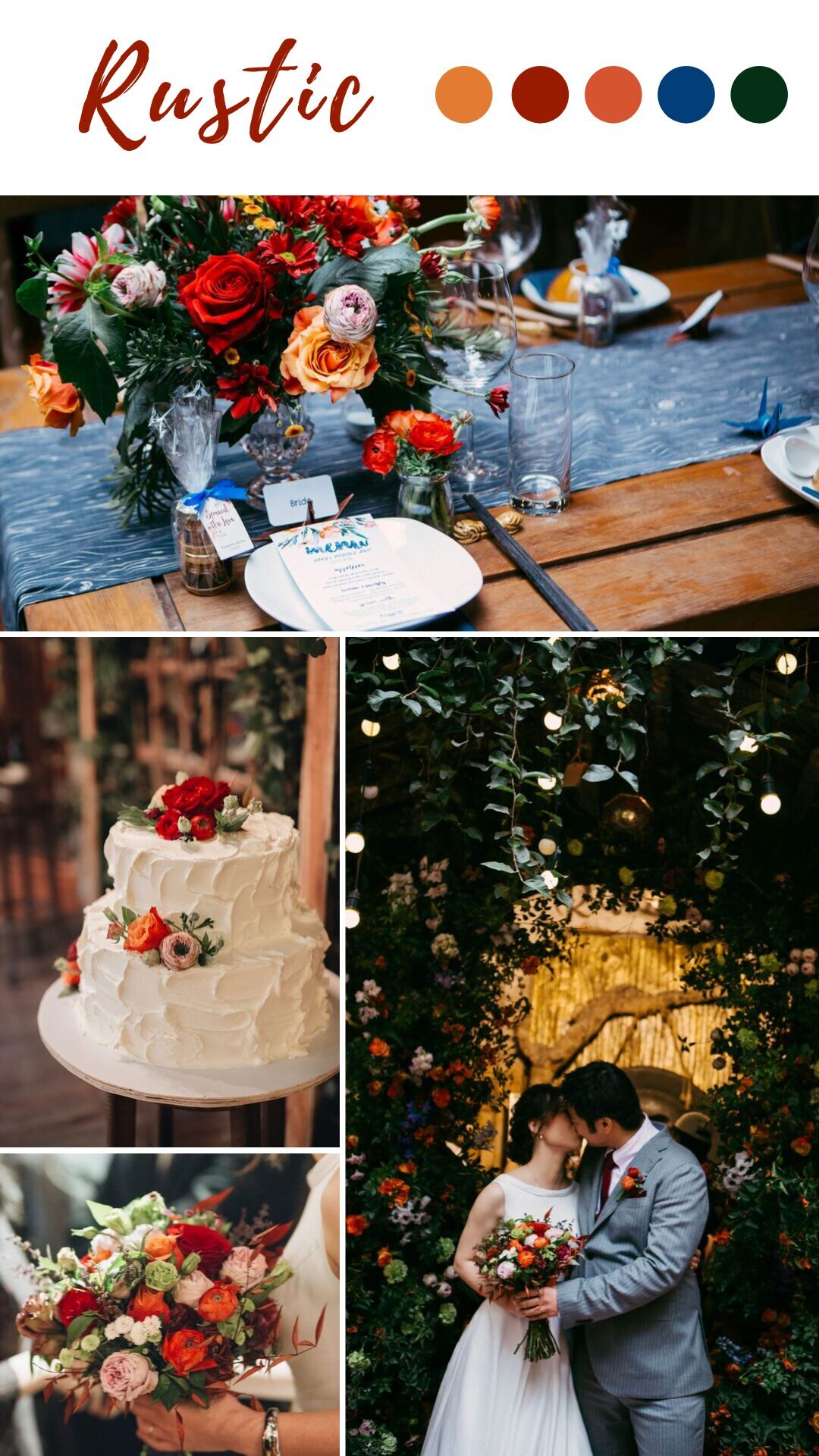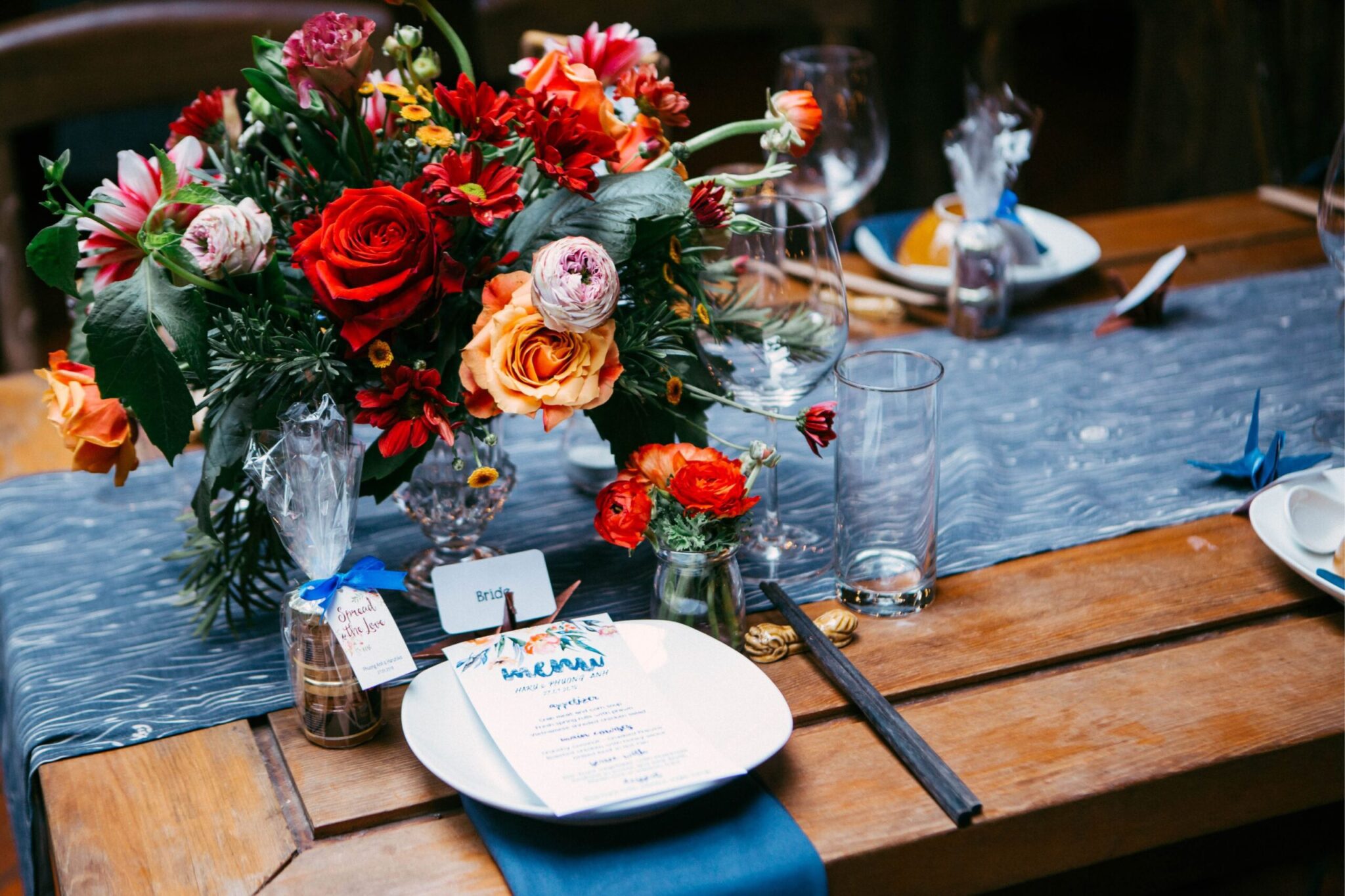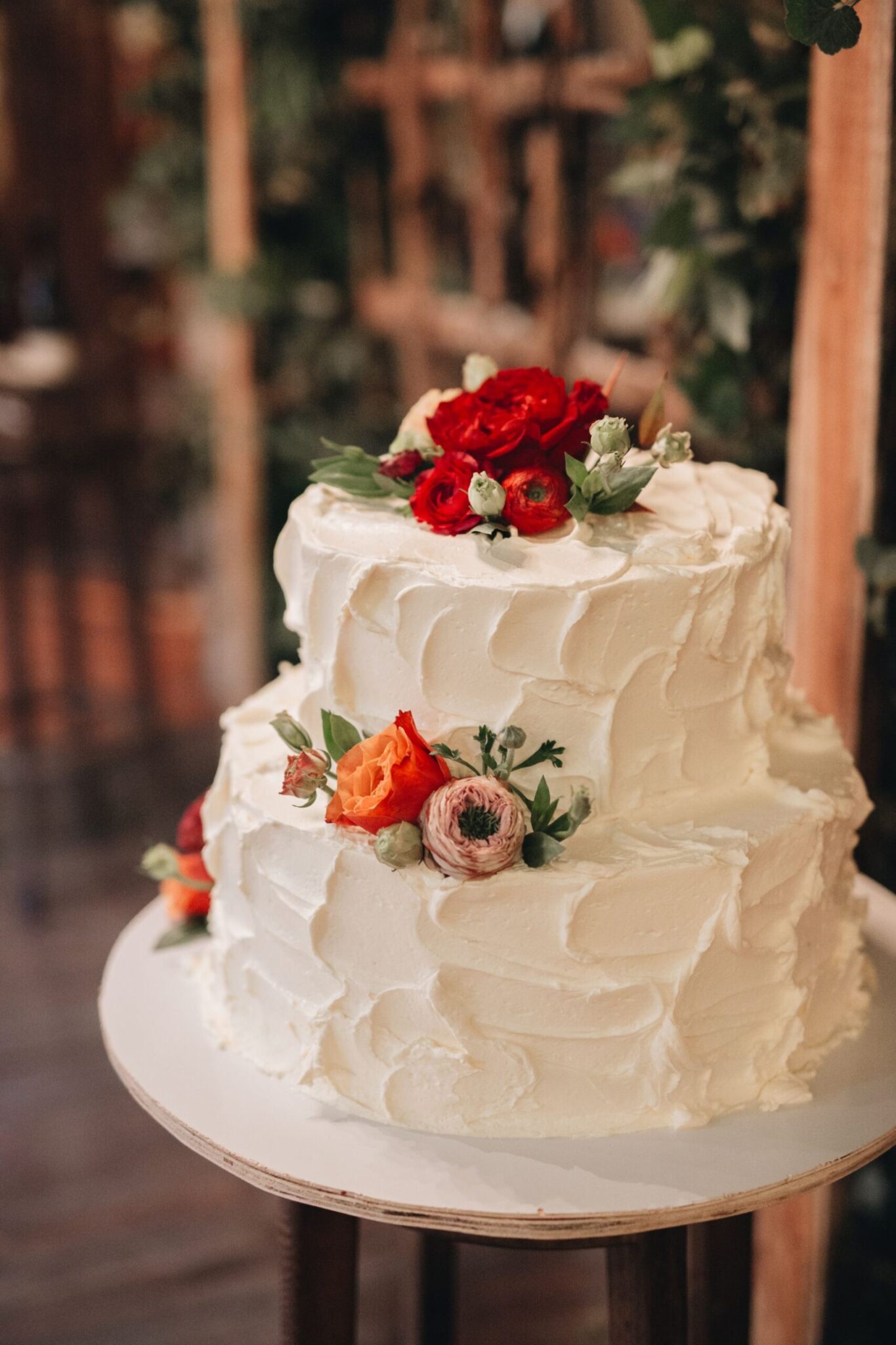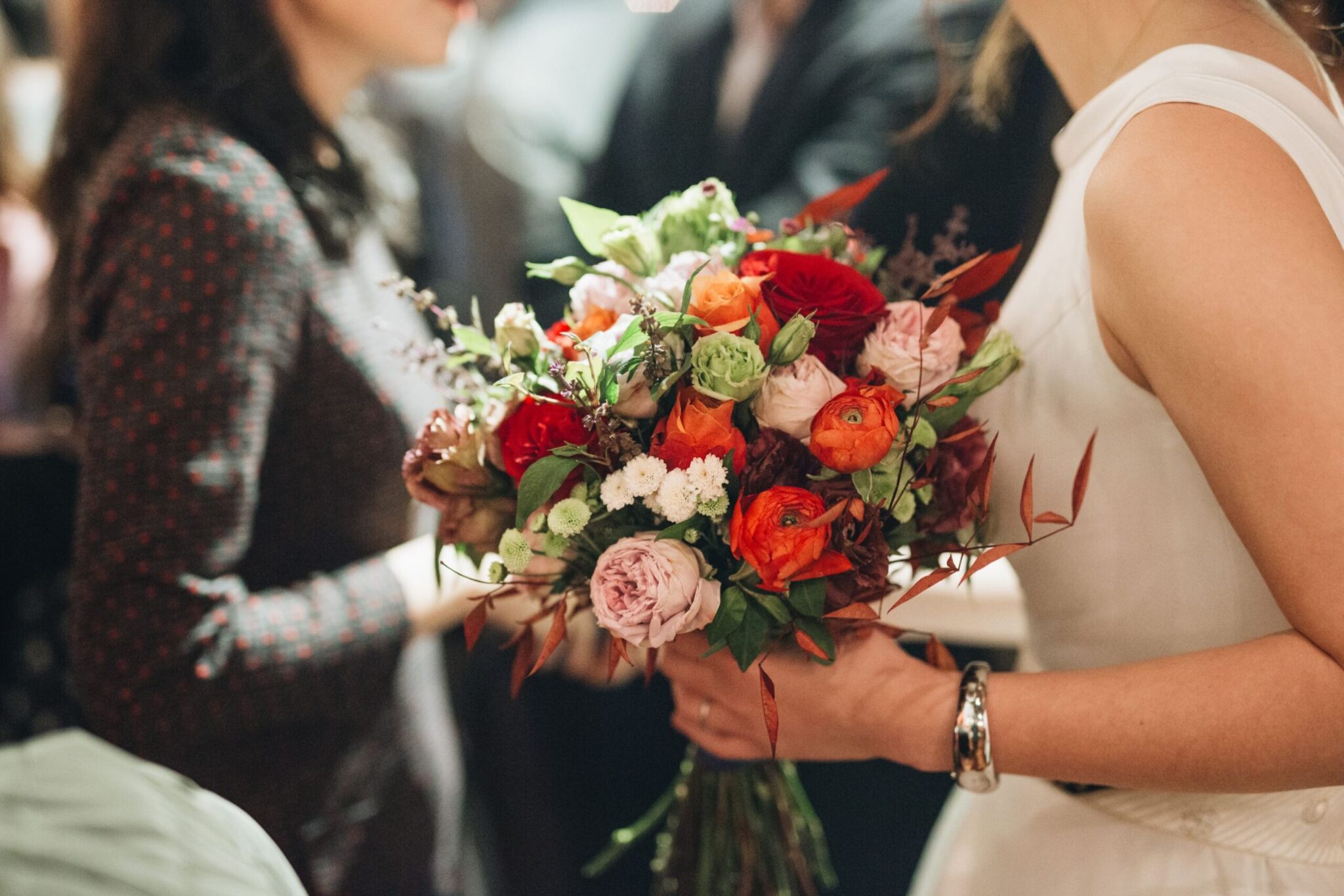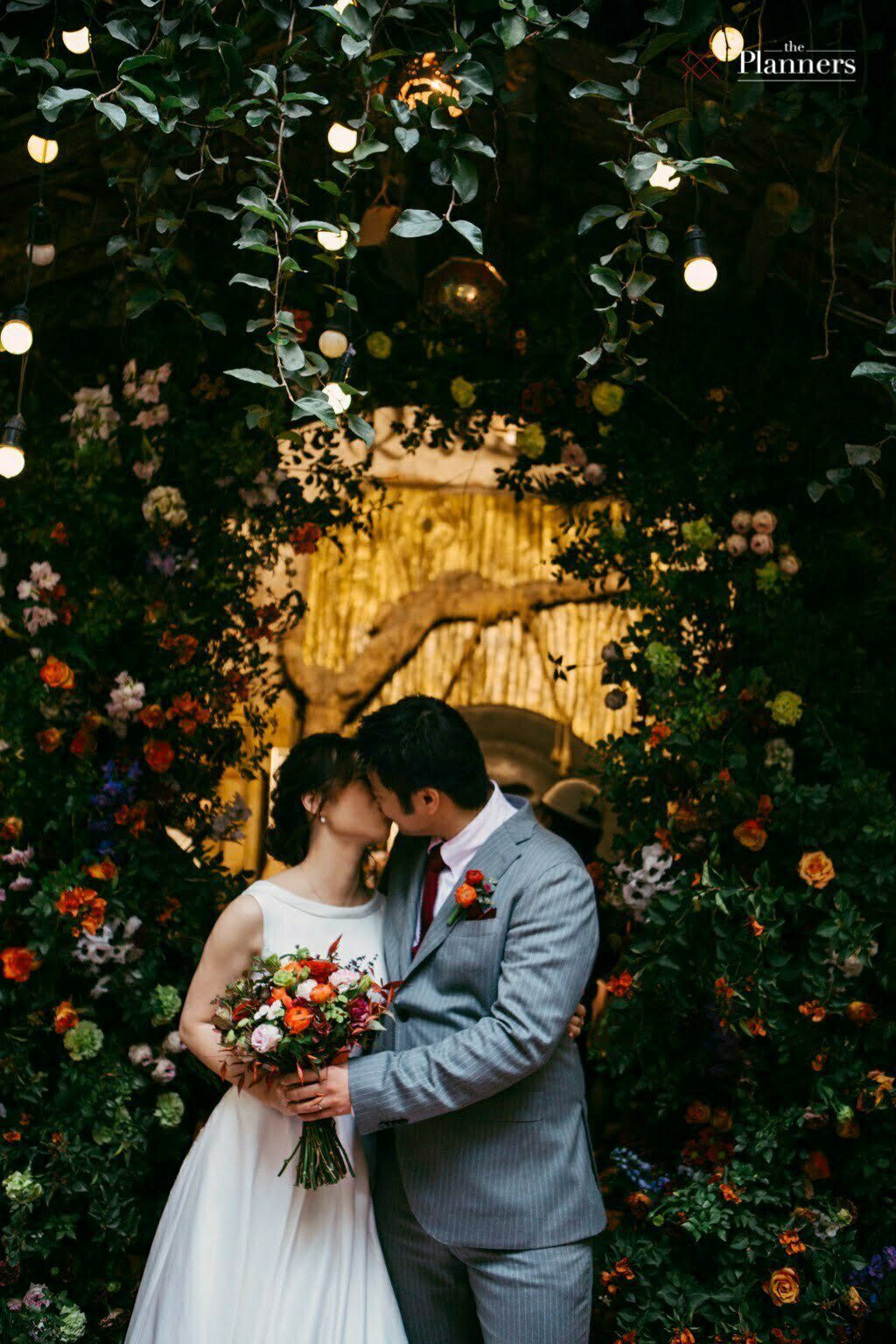 Rustic have an old-world charm to them, and when decorated with deep, moody details, they're even more romantic and intimate. Place stems in individual bud vases and hang floral arrangements overhead to really complete the look. One thing to keep in mind is that this theme is all about being down to earth and shabby chic. Our recommendation is to try to work as much natural wood into your décor as possible, then balance out the natural surroundings with some dramatic elements like chandeliers or a luxe lounge space.
As in Haru & Phuong Anh's wedding, we use vivid colors with warm tones such as cadmium orange, rufous, medium vermilion, dark cerulean and dark green to create a cosy and joyful vibe. After choosing The Forest – House of Rustic as the wedding venue, the couple decided to go with concept Rustic as we proposed since it would elevate the overall wedding atmosphere.
Sweet concept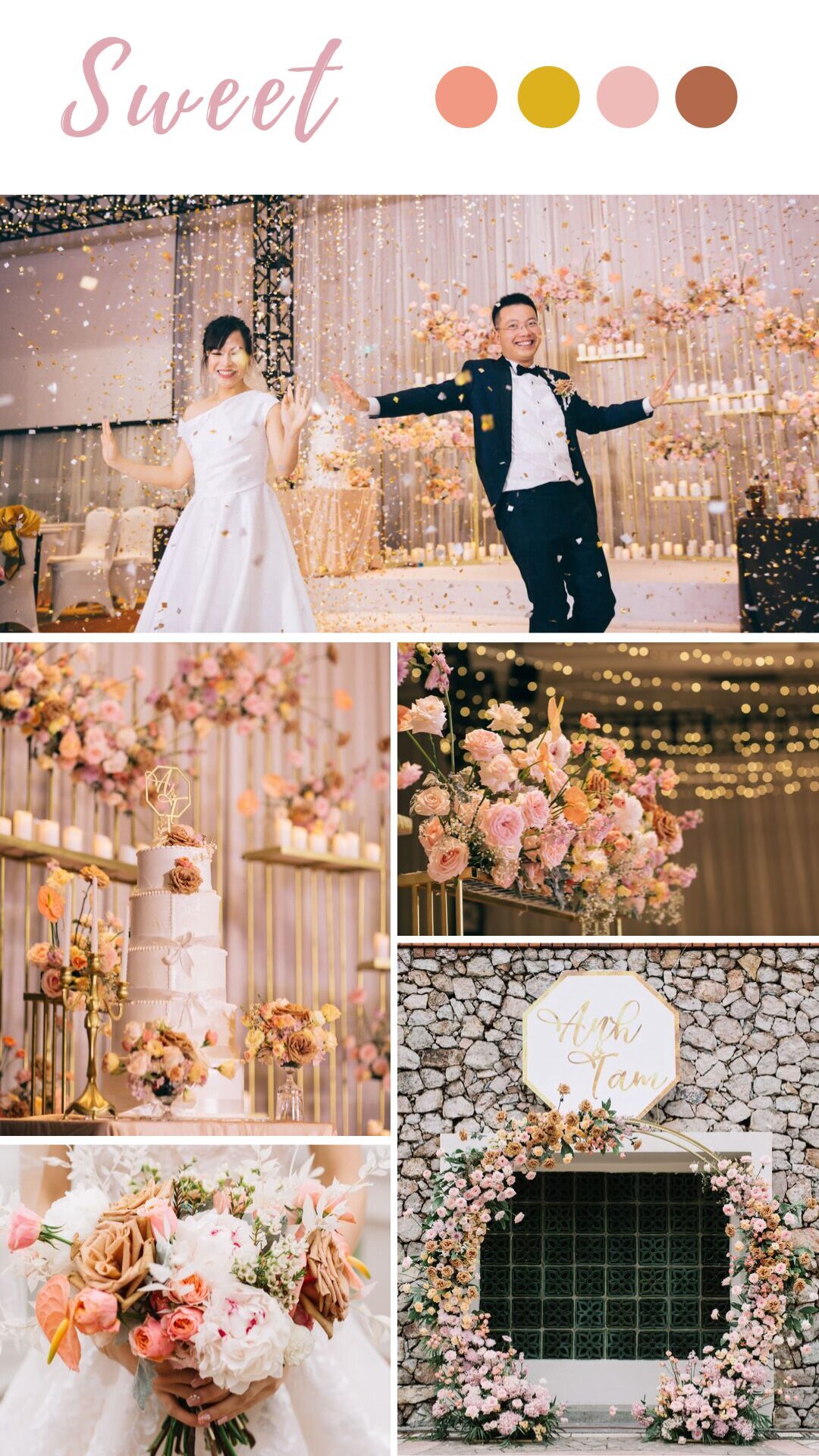 Pastel is one of the most popular and familiar palettes which majority of the brides would go to, since it has a wide range of colors and shades to choose from and hardly anyone can go wrong with it. One important tip for the couples out there who would like to pick up this palette, personalized details such as a custom invitation design, monograms and unique accessories bring this preppy wedding color combo down to earth and give it a sophisticated vibe.
Speaking of the wedding concept, since Hoai Anh – the bride is fond of a cozy, elegant concept, we try our best to come up with a sweet but not typical color palette including: rosy, peach and brownish. Sweet as a candy bar, not too overwhelming but rather cozy and intimate – This is the vibe that we brought to their wedding.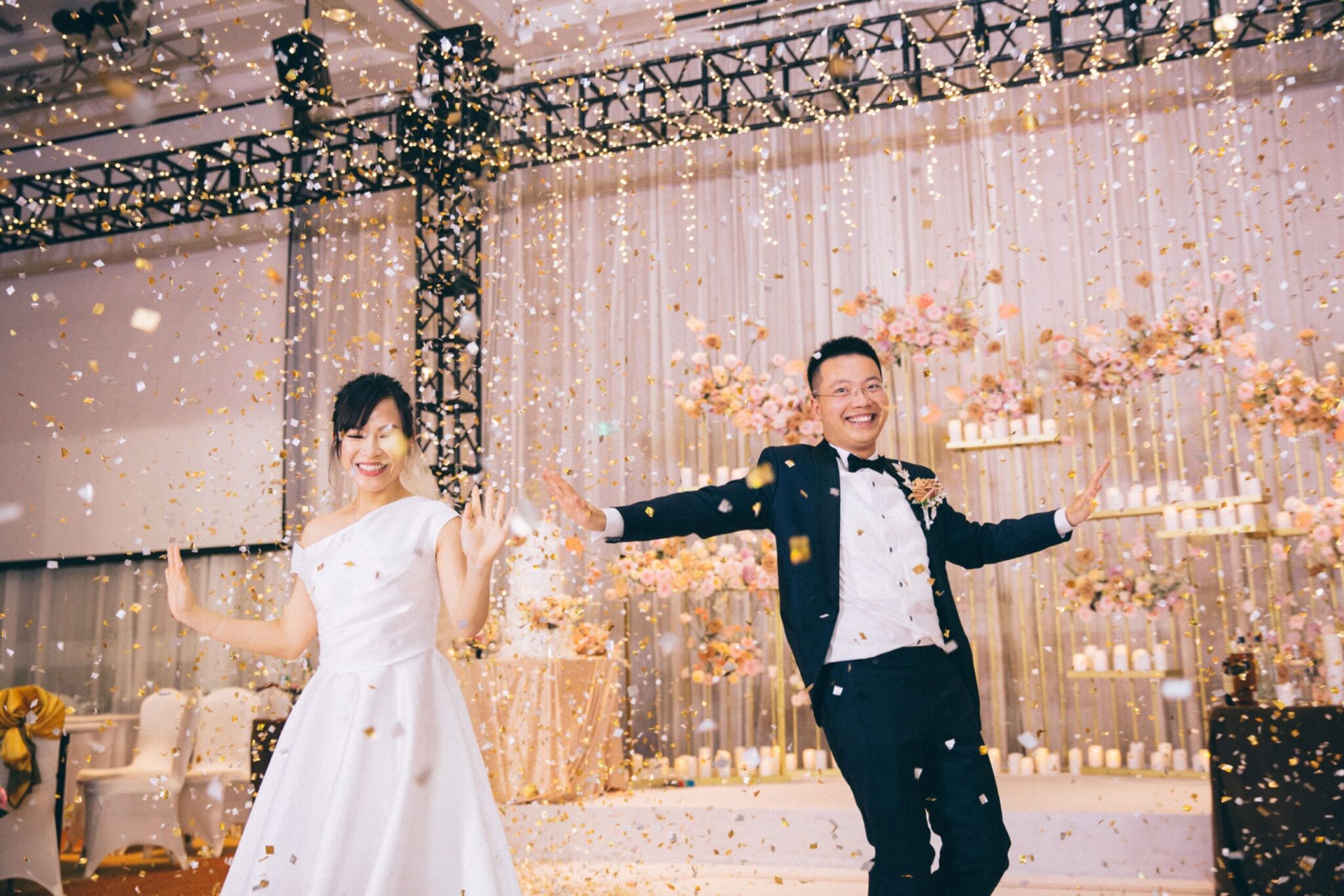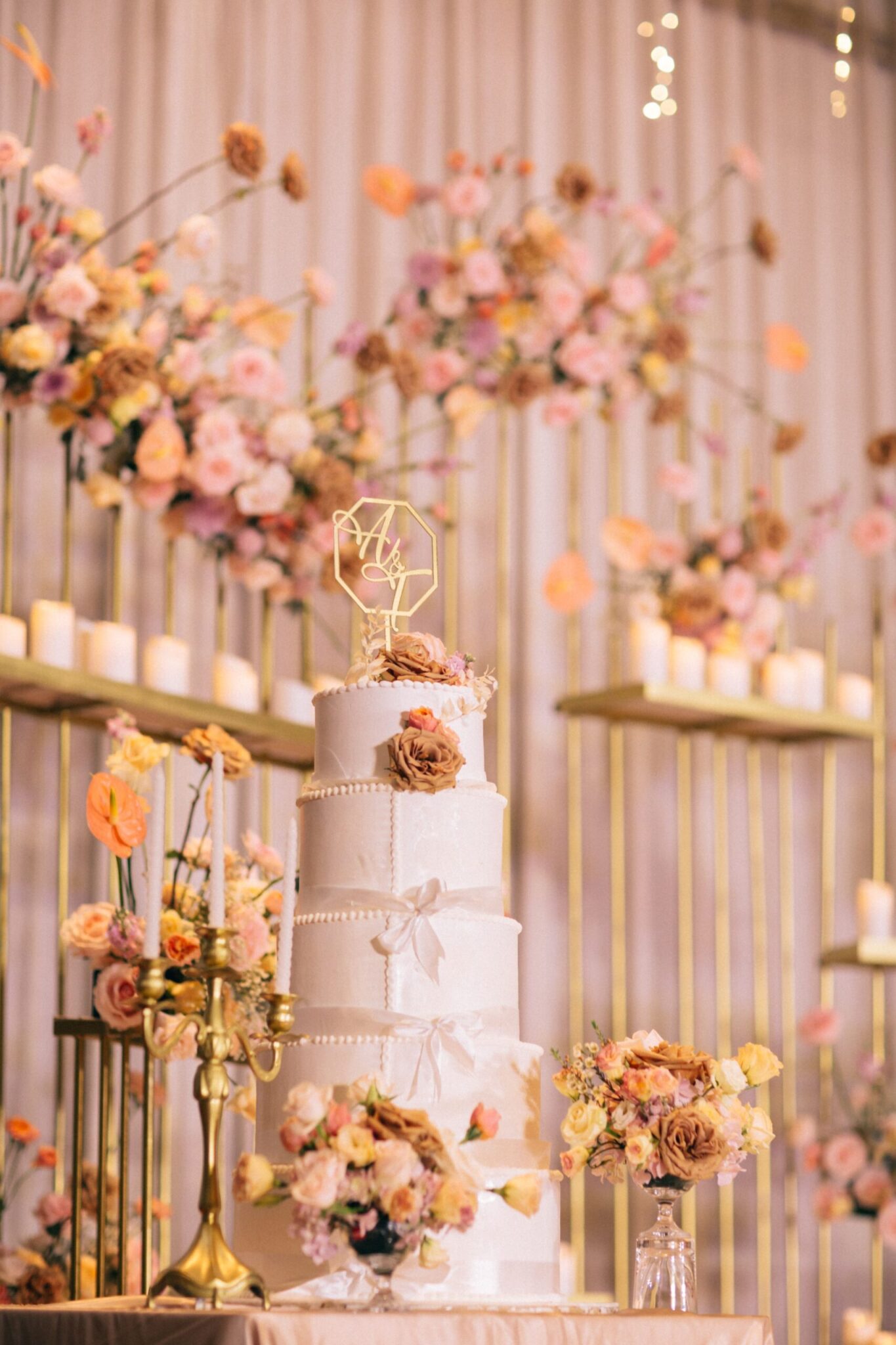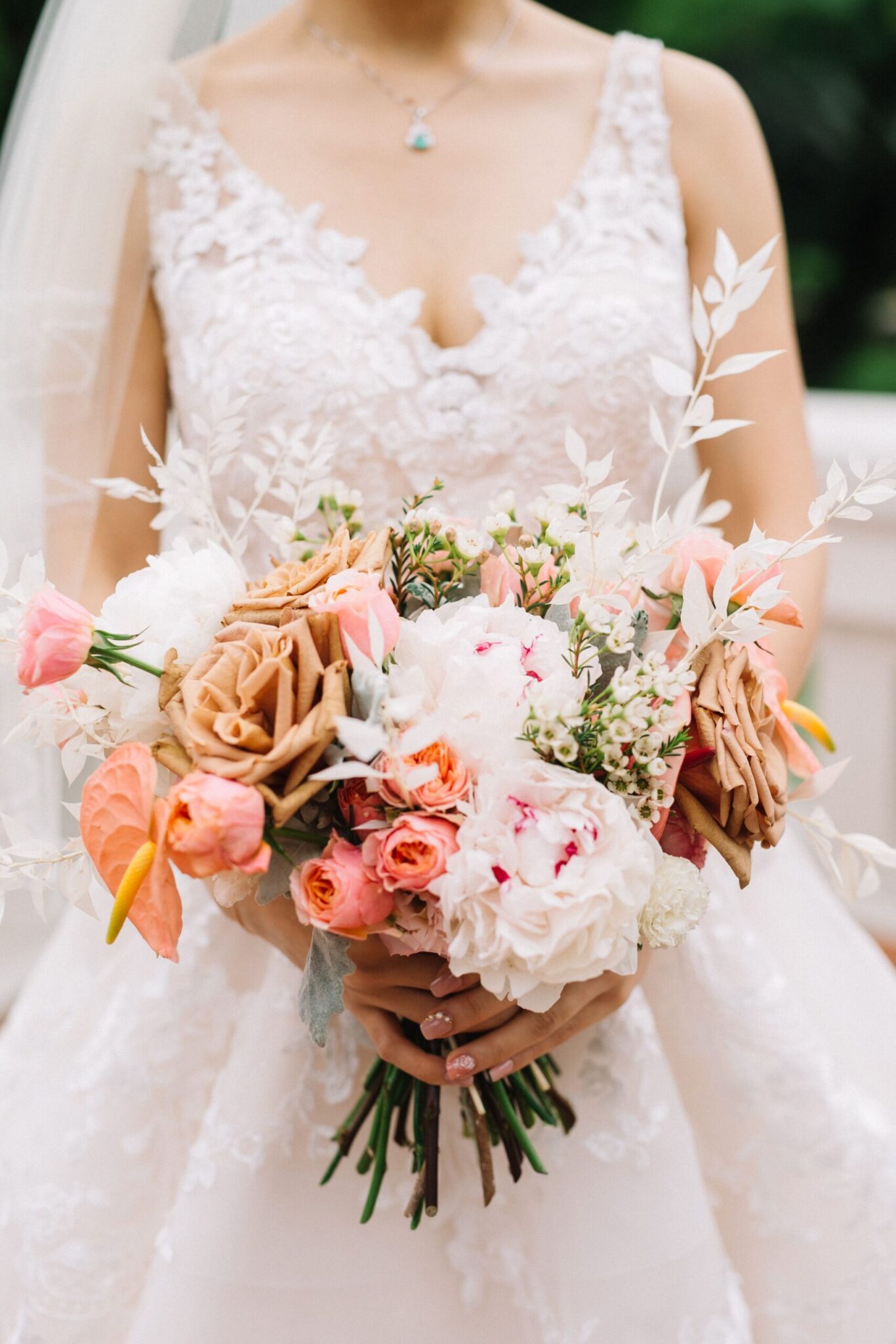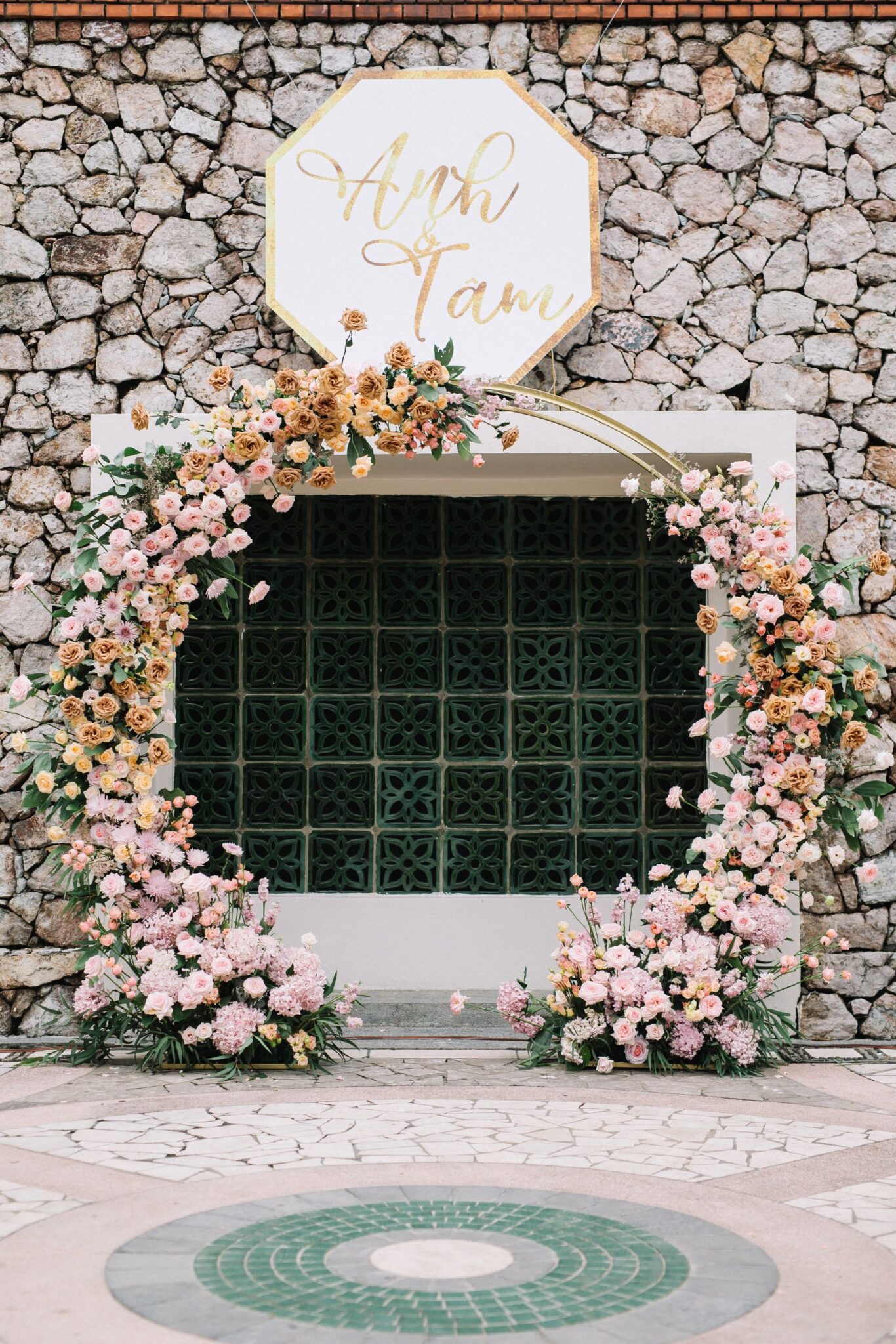 Applying this palette into Hoai Anh & Tam's wedding, we select neutral colors like vivid tangerine, few shades of pink, brown sugar and add a touch of bilirubin – a dark yellow shade. As you can see from the photos, the palette delivers such a warm, elegant yet luxurious vibe to the wedding and how the couple looked happy in those.
Blush concept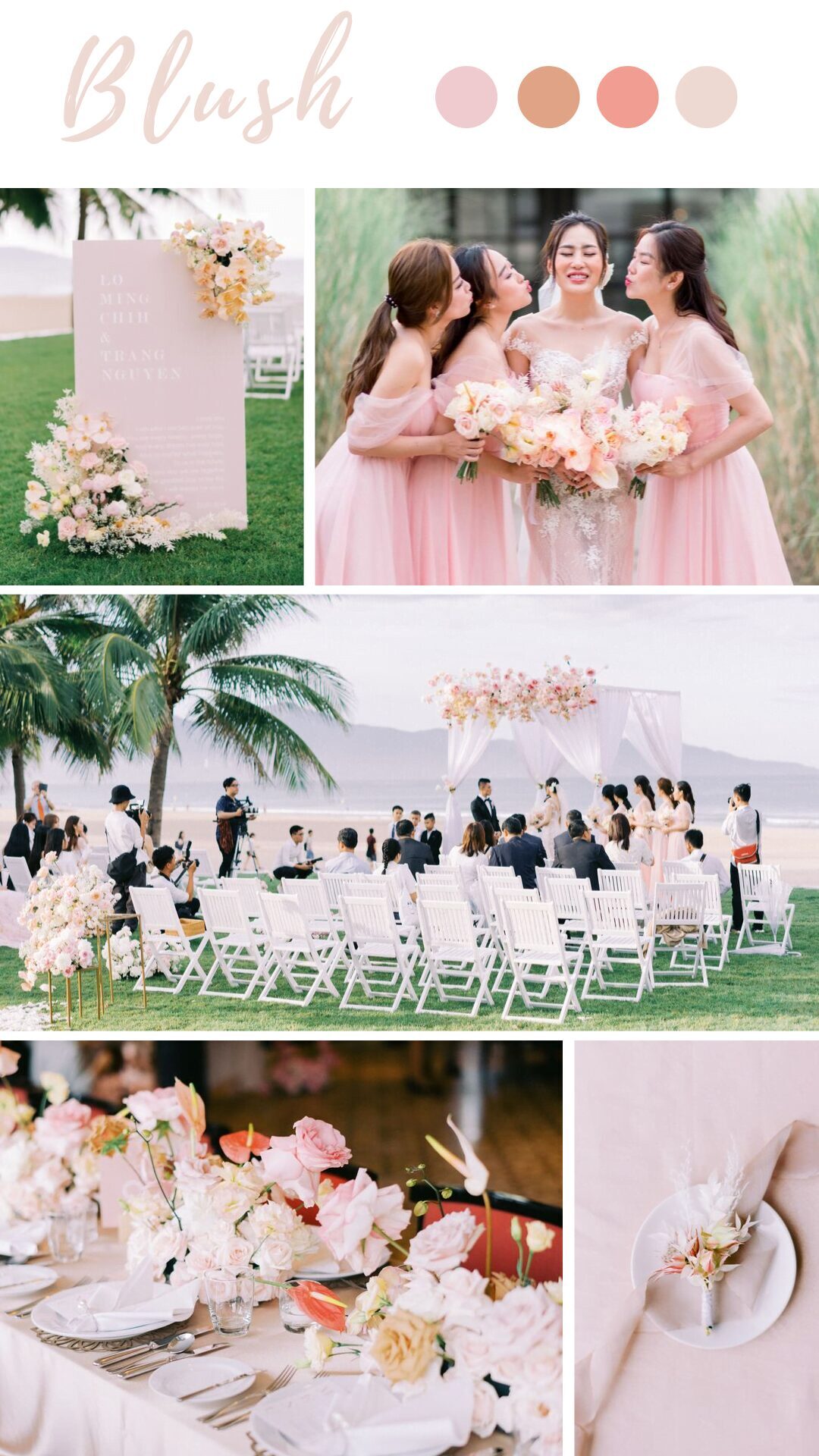 For brides dreamed for a fairytale wedding, blush color palette is the best choice. The wedding accented with some greenery or gold will always stand out all rustic weddings. And how wonderful is the pairing of Blush and Light Pink? So many options in so many categories is what makes this a winner! Pairing these two beauties with beige really helps them stand out and not get overwhelming. Why? Because the beige is the new ivory, and blush is, and always will be, beautiful. If you are going for timeless and romantic, these are the colors you need to strongly consider. With our experiences in wedding planning, we are pretty sure that you will be more than happy with this color combo.
Let's take a look at Anne & Rex's wedding. Our bride Anne is a sweet and elegant woman who dreamed of having a dreamy wedding, which presents her personality best. We decided to use four shades of pink which are queen, light salmon, champagne pink and pale chestnut to emphasize the Blush concept after thorough consideration and discussion with the couple. Also, in order to highlight the wedding and adding a touch of creativity in the palette, tumbleweed color is applied in the wedding decoration and together they create a perfect vibe for the wedding – sweet, dreamy and fairy-like.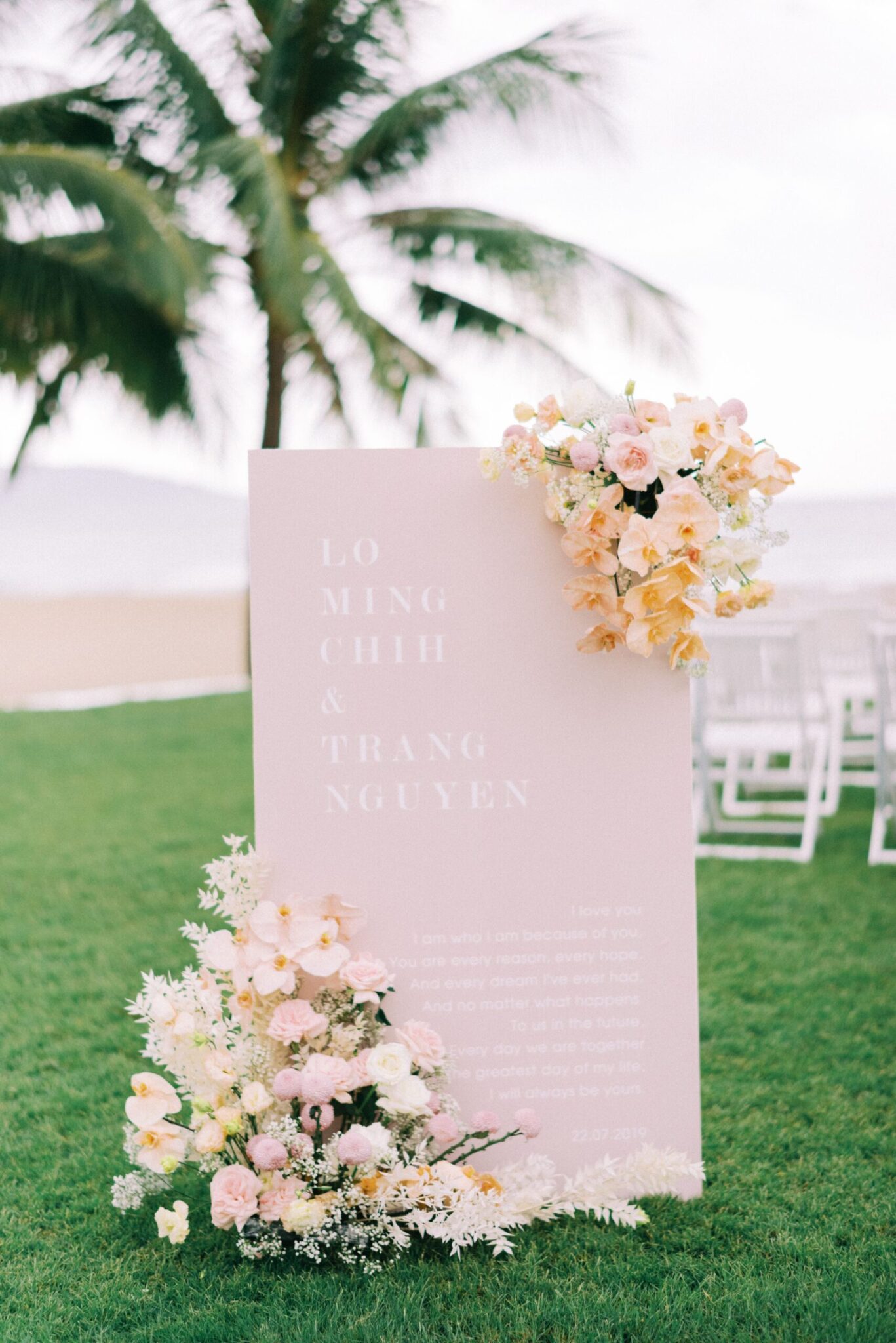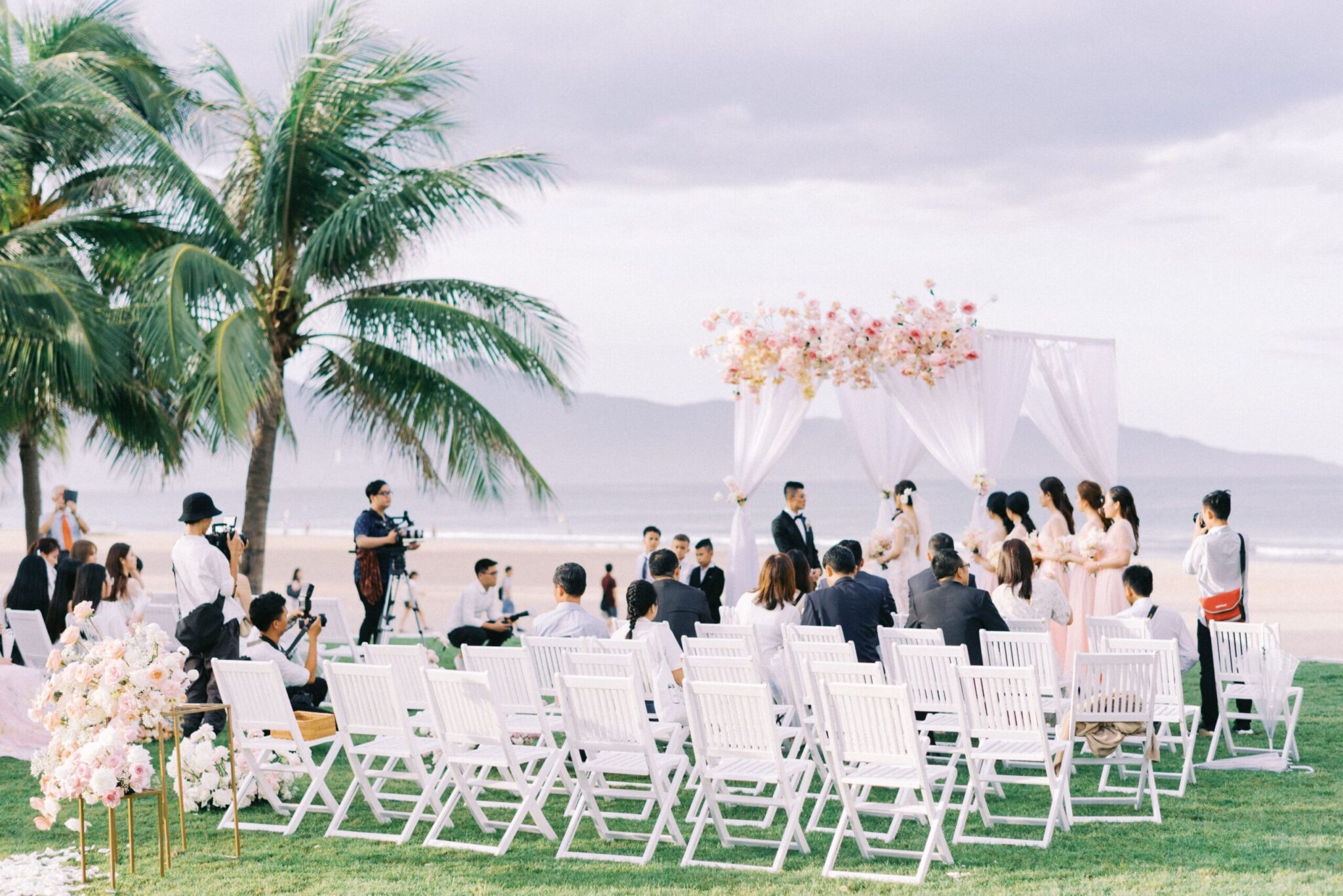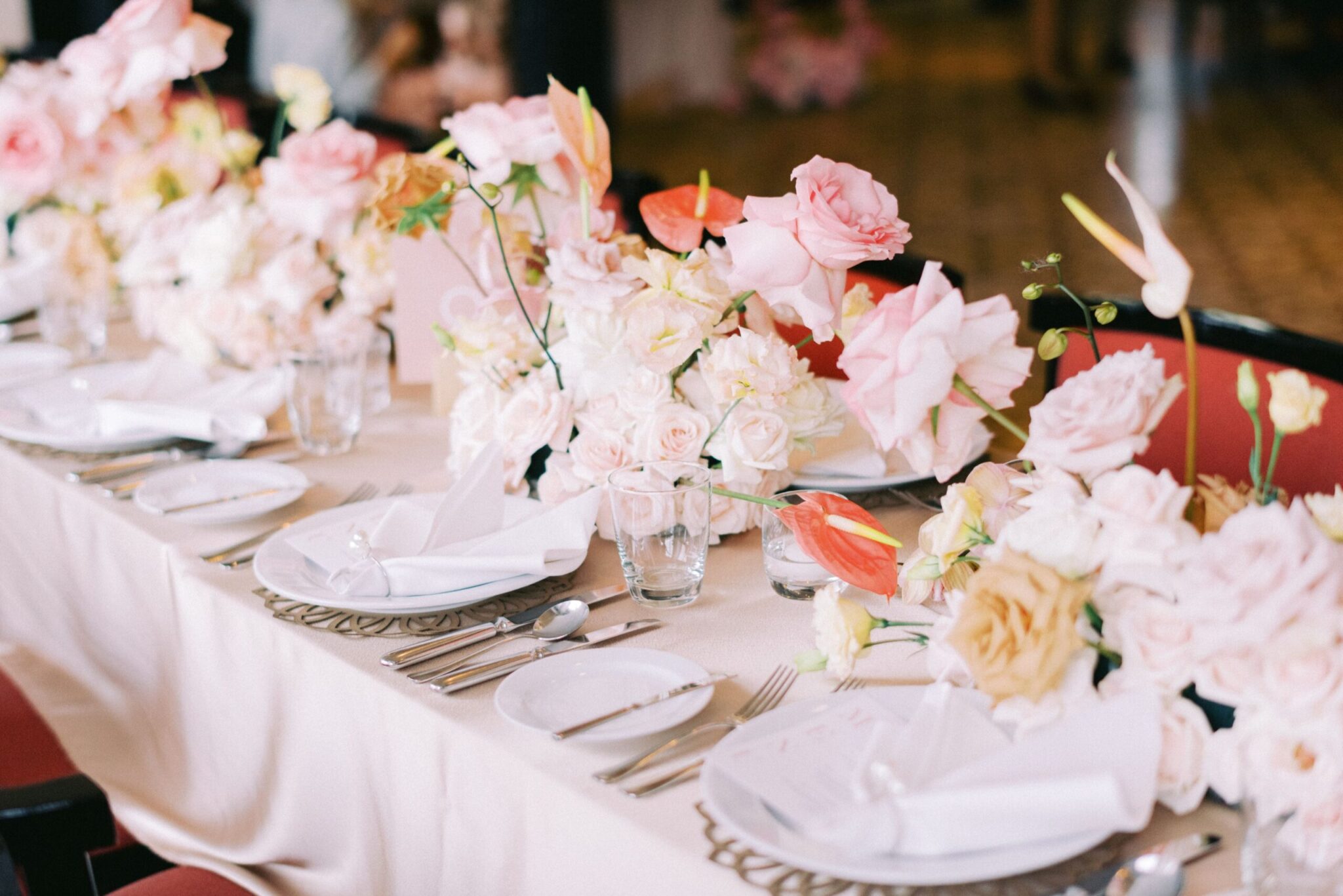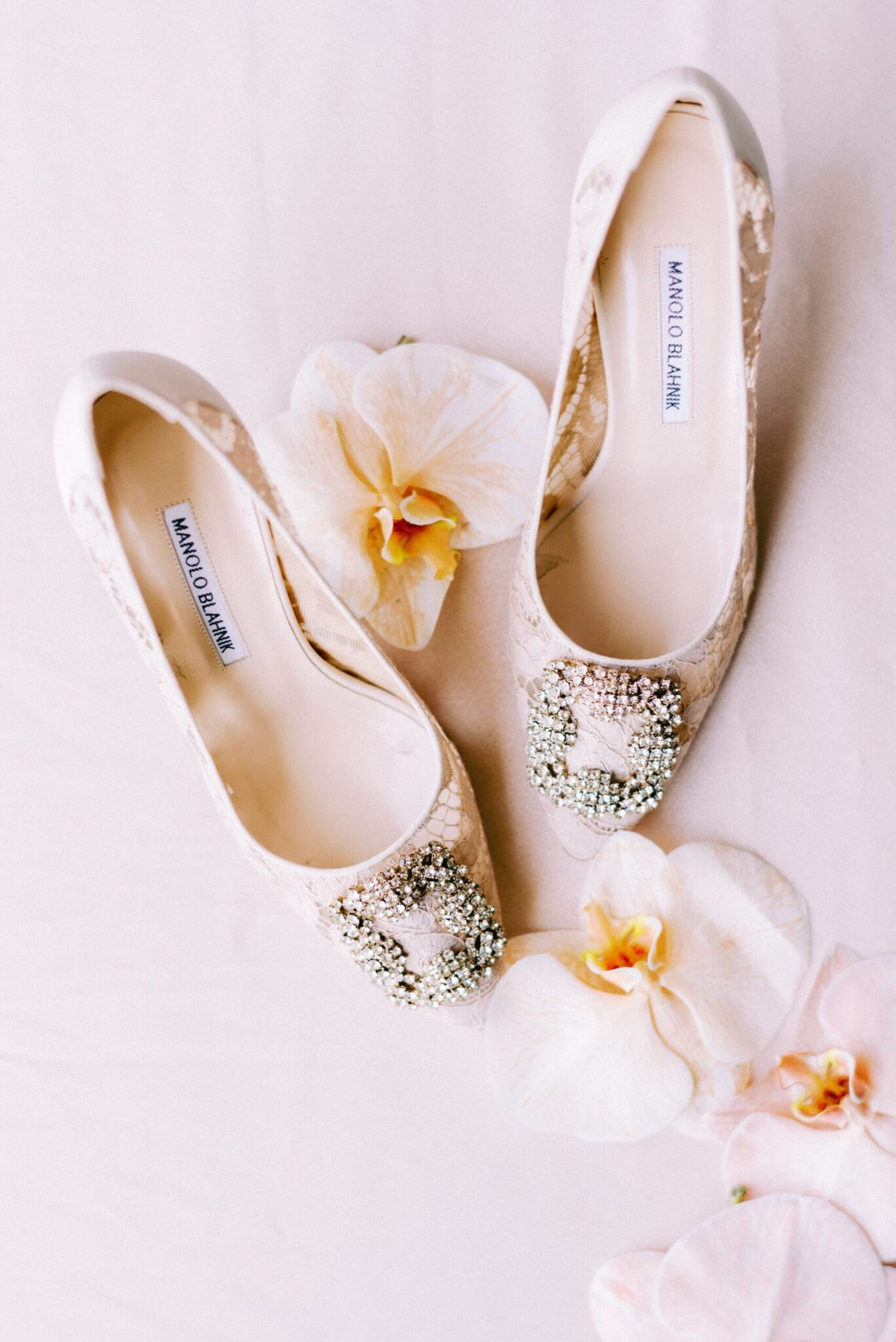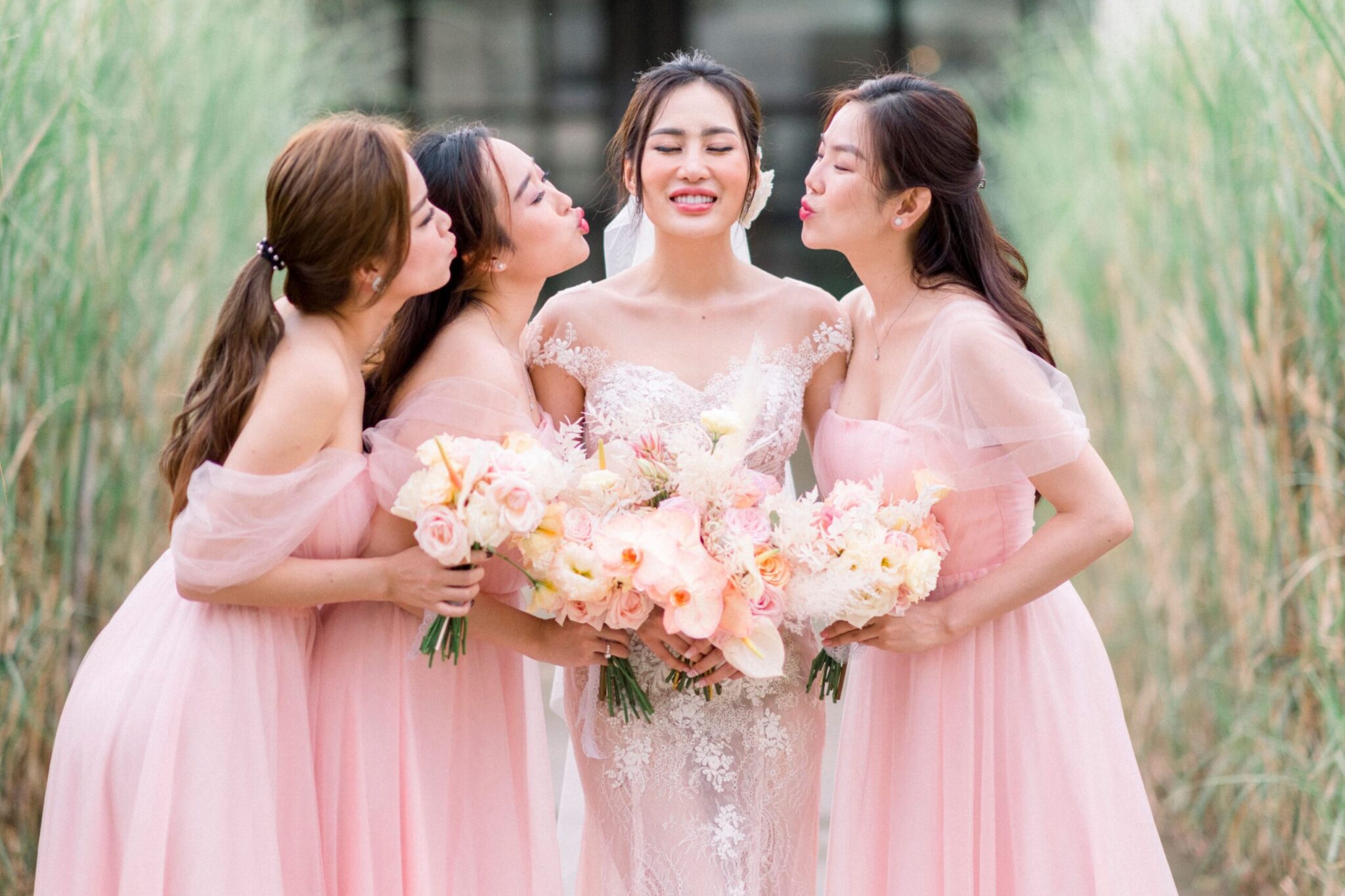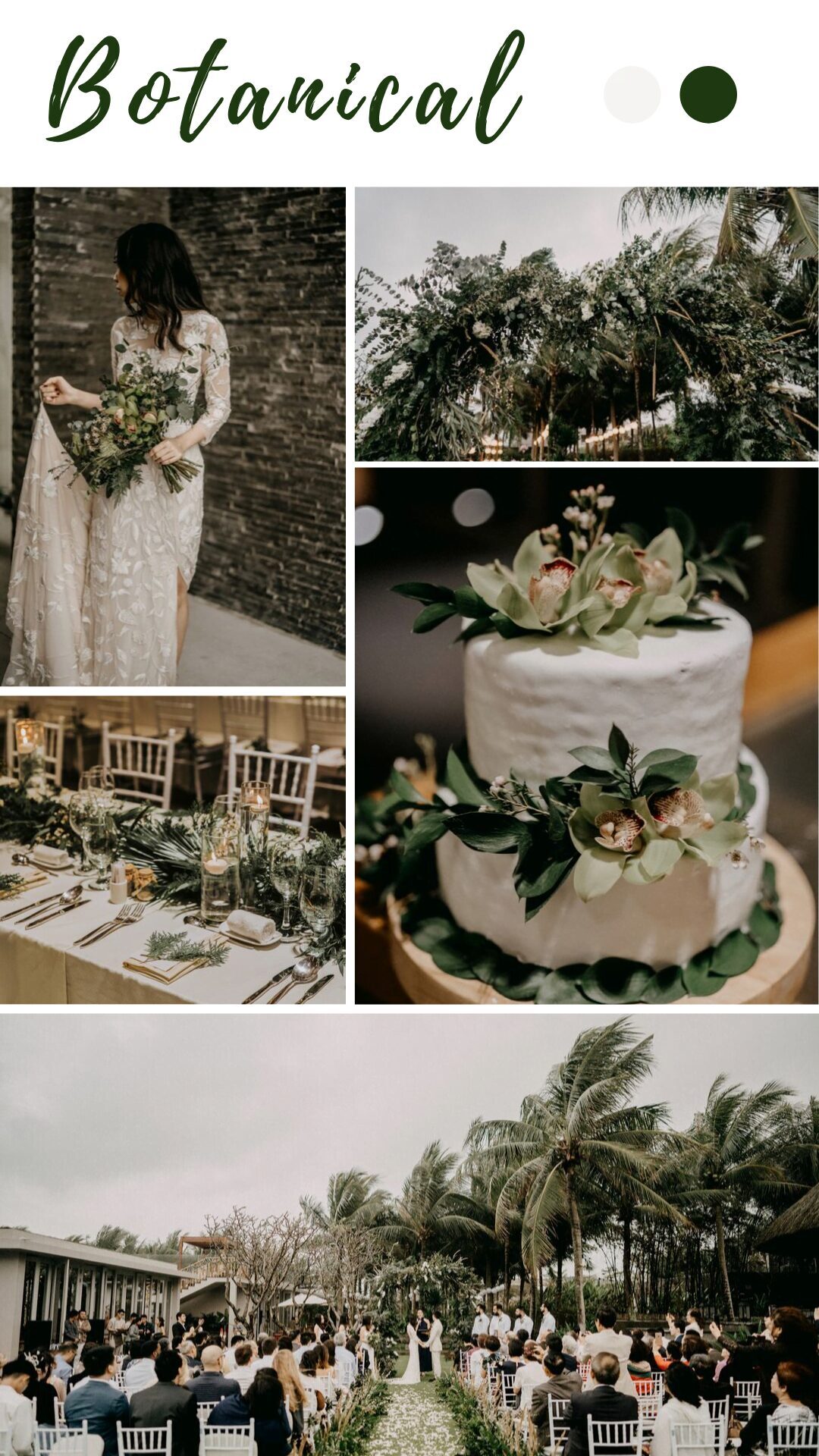 Talk about a color palette that is a true classic and you are talking about greenery and white. Greenery for your décor is hugely affordable (and hence why it's become so popular recently). If you are looking for a timeless, easy to work with, palette, then this is the choice for you. Keep your wedding colors from looking too stark by mixing cream or ecru white hues into the mix, and pull some greenery inspiration from the dusty, natural green shades of succulents.
As in Kelly & Kenny wedding, our bride has a unique style and knew exactly what kind of palette she likes. Taking into consideration that, we went with two colors only – dark green and white with a little touch of gold. Since it is an outdoor wedding, we also took advantage of the natural greenery and design both the wedding arch and bridal bouquet accordingly. This combo successfully delivers the elegance and delicacy of the wedding.
Vivid concept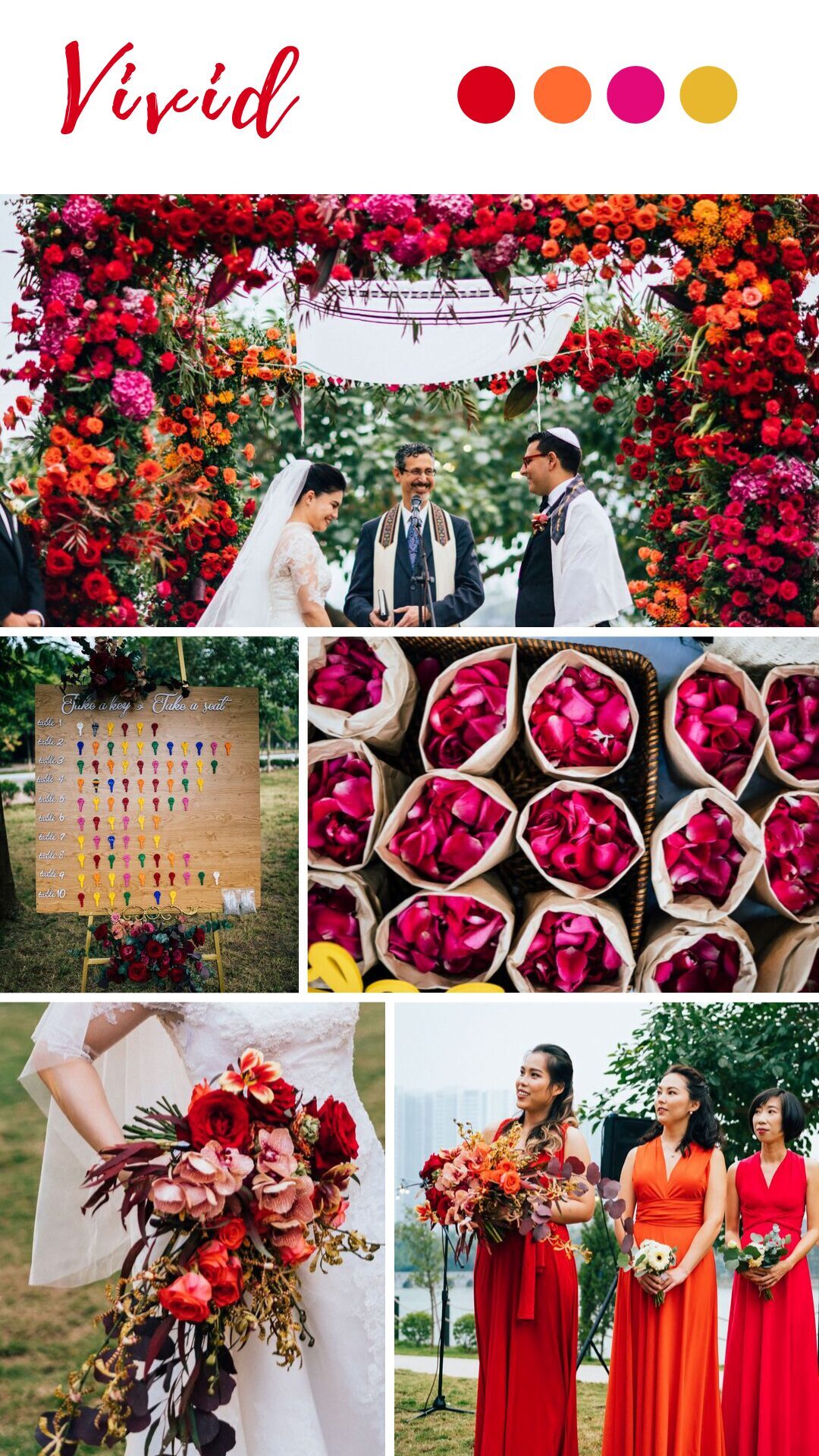 With such a vibrant color scheme, we recommend to dress the rest of your reception in neutrals. Plain tablecloths work, or go sans tablecloths and let the natural wood show through. For the finale, turn your wedding cake into a show stopping display of lush blooms.
Let the flowers do most of the talking with this palette by incorporating white backdrops, accent mirrors and simple table settings so your guests aren't overwhelmed by color.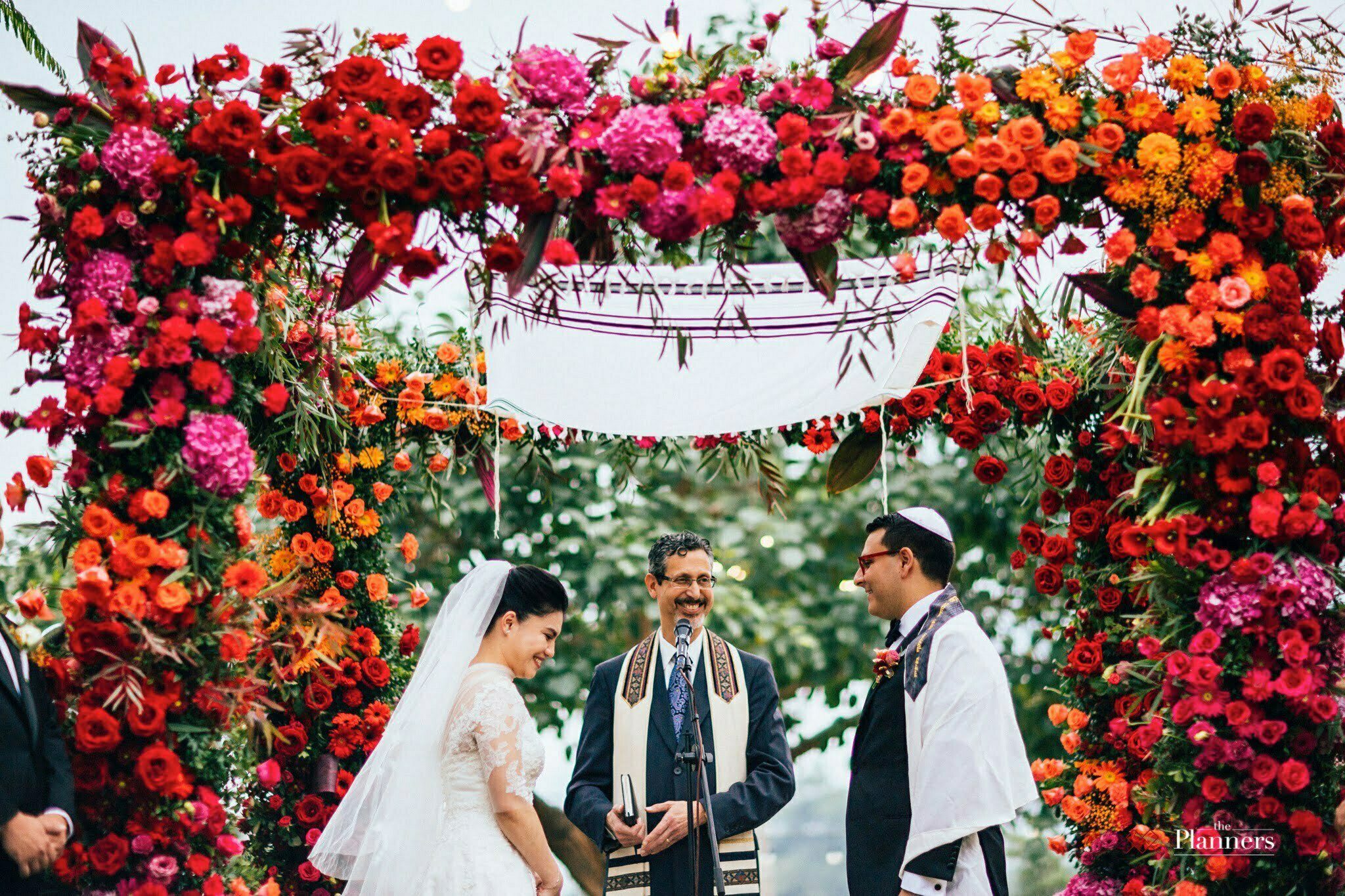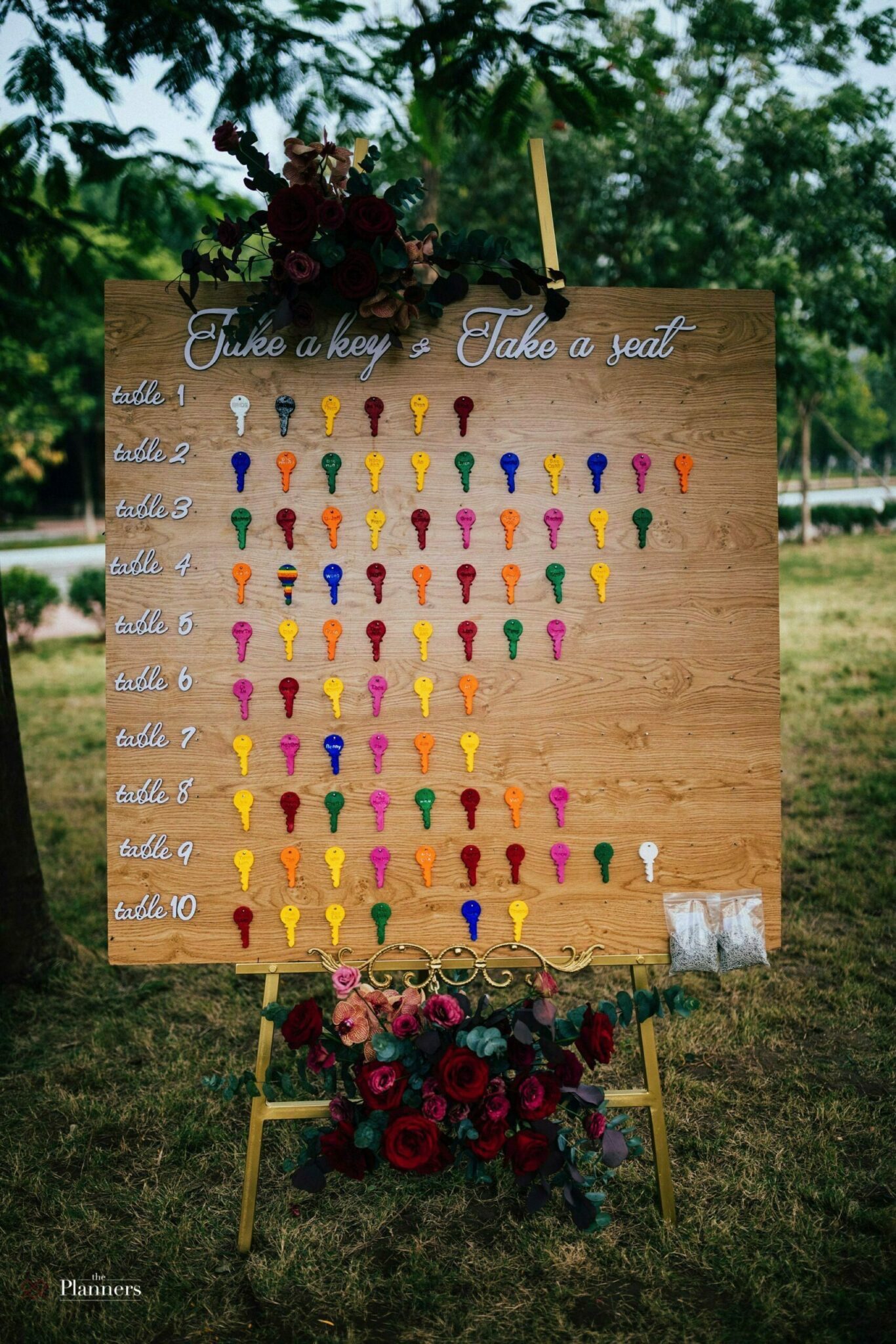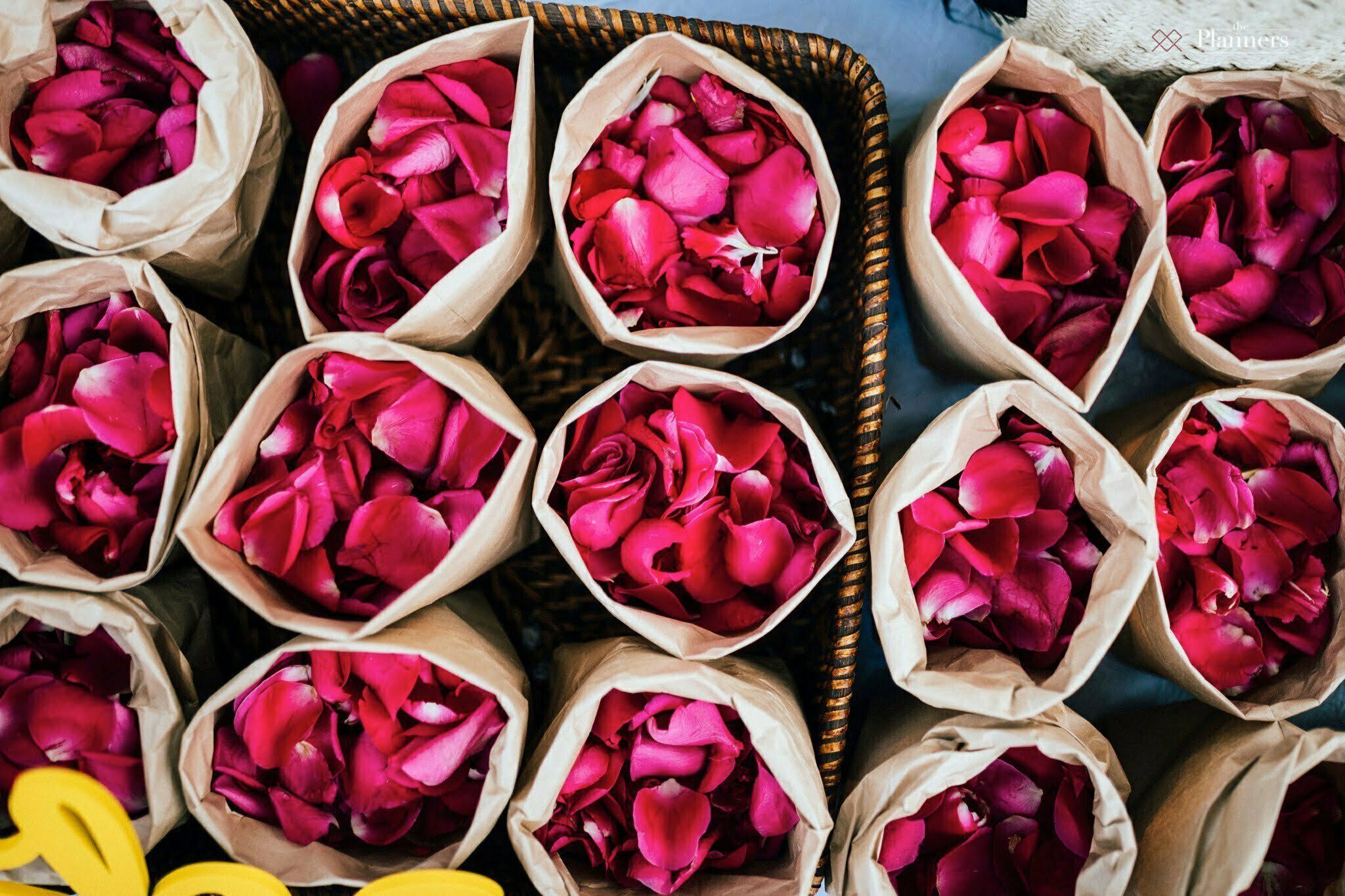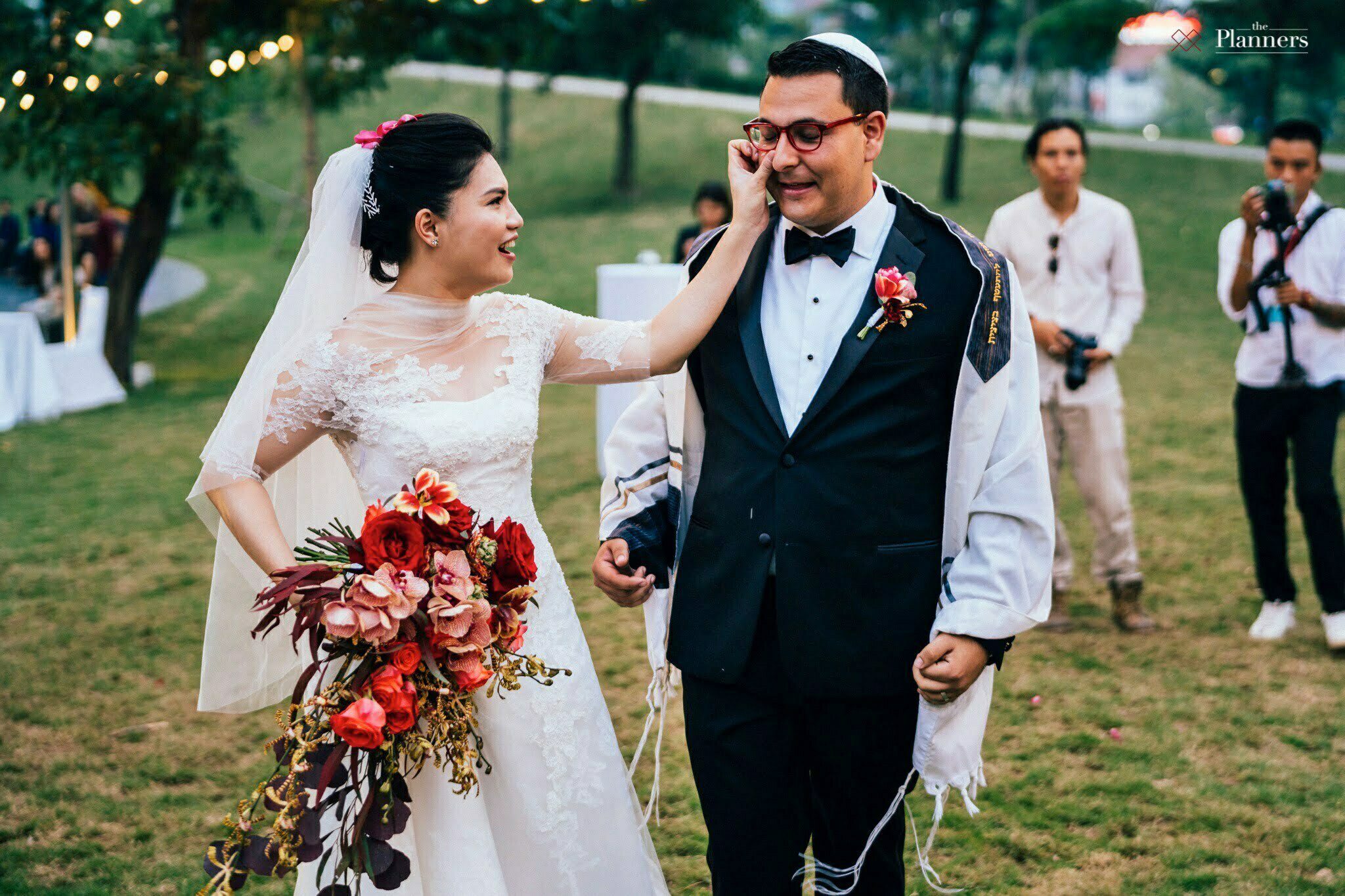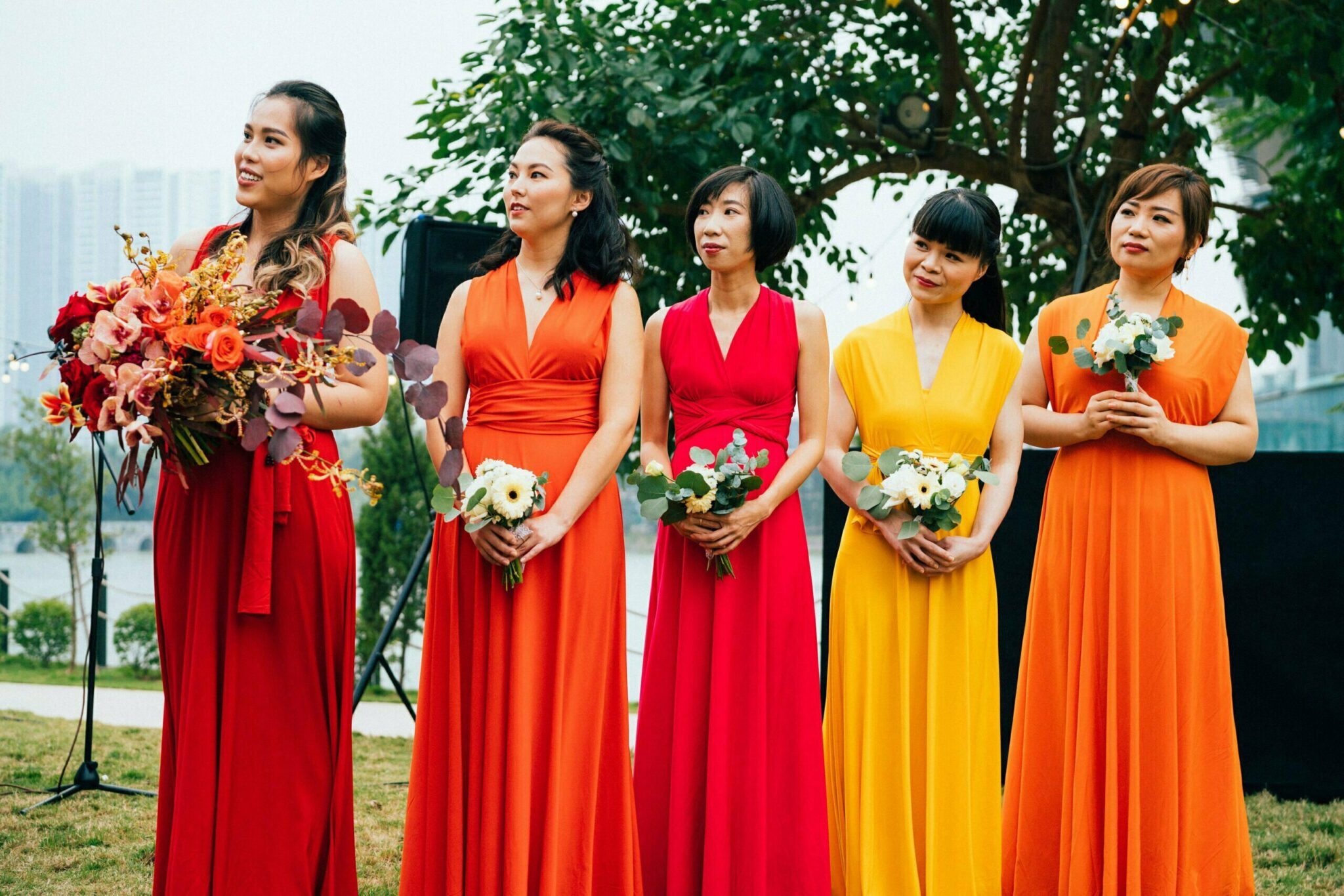 While planning the concept for Thuong & Max's wedding, we know that the bride has a strong personality and is a huge fan of vivid colors. Based on her personality, Thuong preferred to have a combo of hottest colors such as heidelberg red, orange (smashed pumpkin), mexican pink and yellow (meat brown) for the wedding concept. And we had managed to apply those and create one of the most beautiful vivid weddings ever ! We carried out her wish through colorful bridesmaids dresses, wedding arch, flower bouquet and petals and reach out for the balance by having white & black dress code for the couples and their guests, as well as taking advantage of the greenery of the venue and wooden chairs and welcome board.
The Planners understand how important and meaningful a wedding is to the groom and bride and how much they dream for a perfect one. That's why we always strive to provide the best services possible to create a unique experience for the couple and pay attention to every detail. So don't hesitate to reach out to us and start making your dream wedding come true!